Unnecessary Costs and Risks?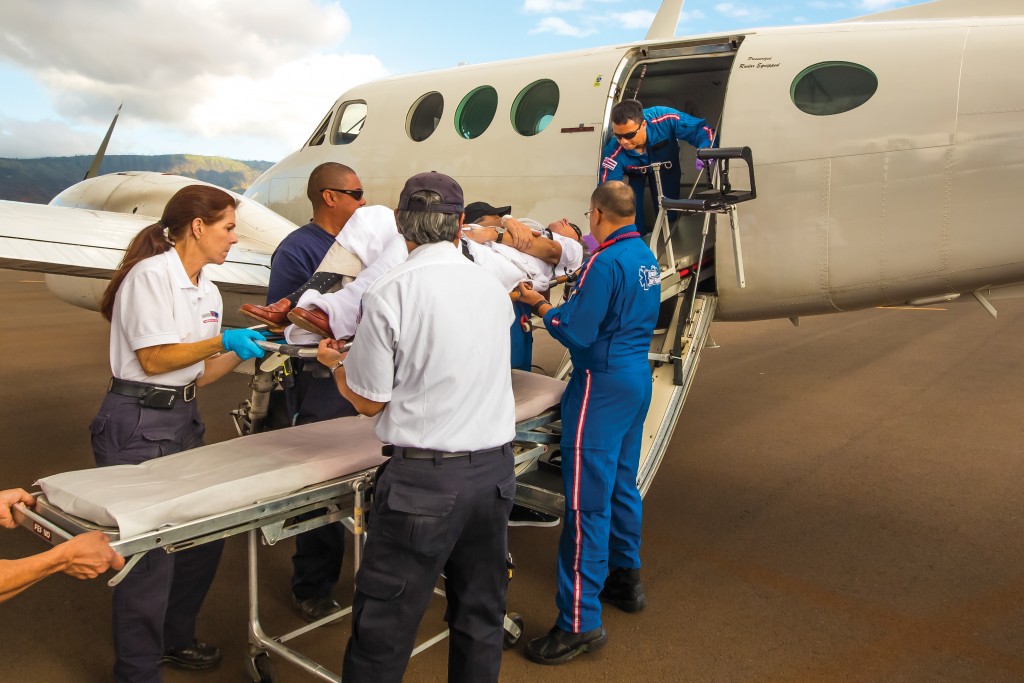 Dr. Kazuma Nakagawa was frustrated. Time and again, the neurointensivist at The Queen's Medical Center saw patients transferred from Neighbor Island hospitals with intracerebral hemorrhage – a type of bleeding in the brain – even when it was clear no surgery or specialized care was necessary.
"Someone has to pay $15,000 (or more) just for the ambulance ride," he says. "Then the patient gets here and we just provide the regular medical care the other hospital could have provided."
Nakagawa decided to look closer at the issue. In a study of 100 intracerebral hemorrhage patients transferred to Queen's from the Neighbor Islands from 2006 to 2012, he found that only 29 actually required specialized care. The cost of the unnecessary transfers totaled more than $1 million for the period, an estimate Nakagawa calls conservative.
Nakagawa's paper on the subject was published in The American Journal of Emergency Medicine.
A few decades ago, it was standard practice to operate on nearly all patients with intracerebral hemorrhage, with the goal of removing any blood accumulating near the brain. But the standard of care has changed, Nakagawa says, with more recent studies finding that surgery is only beneficial when bleeding is so severe that it puts pressure on the brain. In lesser cases, "with time, the body just absorbs the blood clot and it dissolves," he notes.
Yet, Nakagawa says, many Neighbor Island hospitals still send such patients to Queen's.
"A lot of physicians are uncomfortable caring for them and fear caring for them if they don't have a specialist as a backup," he says. "Even if we say, 'This is not something where we can do anything,' they pressure us to take the patient."
In addition to the price tag of the medical flight, transferring a patient can add stress and cost to family members who must travel to Honolulu, he notes. It's often riskier for the patient, too; another study found that patients who had to be transported to another hospital had worse outcomes than those who stayed put with the same medical condition.
"You can have a medical complication on the ride as well," he says. "They could be better off staying in the original hospital."
But many Neighbor Island hospitals may transfer patients because they believe the patients will receive better overall care – even if surgical intervention isn't needed, notes Arthur Sampaga Jr., acting director of nursing at Hilo Medical Center. For example, there's only one neurologist serving all of East Hawaii. "If we were to keep these patients and care for them, they wouldn't be examined as frequently as we would want them to," he says. "So the level of care may not be there."
Smaller hospitals might not even have the right equipment or training to assess, diagnose and monitor the patient with confidence, he adds.
Maui Memorial Medical Center CEO Wesley Lo agrees, noting that hospitals with small, infrequently used ICUs might be ill-suited to care for and monitor patients with complicated, risky conditions.
"It's not as simple as saying, 'Well, they didn't need to have the procedure done,' " he says. "These are complex patients."
He notes that Maui Memorial's robust neurological capability, which includes a neurologist, 24-hour interventional neuroradiology coverage and 24-hour neurosurgery backup, has meant that Maui now treats most stroke patients on island and even receives some patients from other Islands. In January, the hospital added a second neurosurgeon who came from a level-one trauma center on the mainland, he adds.
"We keep a lot of patients here, and that's good, but that's because we have the capability of taking care of those patients," he says.
And while sometimes the decision comes from the physician, it's often the family pressing for their loved one to be shipped off island, notes Jolene Hughes, heart attack and stroke coordinator for Hilo Medical Center.
"We have family members saying, 'My dad's head is full of blood. Let's get him to a hospital that has a neurosurgeon,' " she says. "Even if the patient goes over there and they don't do anything, to the family, we still did something."
---
Read a summary of the article in The American Journal of Emergency Medicine or purchase the whole article using this shortcut: tinyurl.com/prrn37m