Up in a Down Economy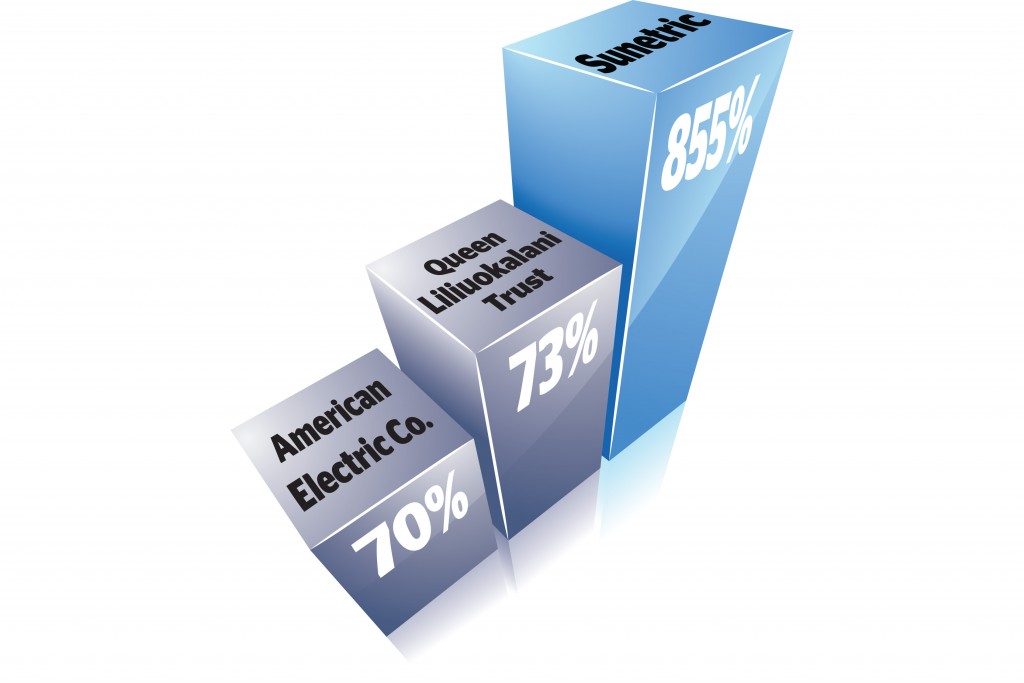 3 reasons why these Top 250 companies beat the odds
No. 1 Reason for Big Gains: Strategic Growth
Many Top 250 companies are Hawaii institutions that have defined local business culture for decades and employ the most experienced and talented individuals in the state. It might seem like a fluke, then, that two of our top three biggest gains companies are less than 10 years old and the third was taken over by new management just six year ago.
Sean Mullen, president of Sunetric, formerly known as Suntech Hawaii, never imagined his four-year-old business would grow so fast. What started with a staff of four – him, his wife, an installer and a salesperson – has grown into one of Hawaii's most trusted solar-energy contractors. Last year, Sunetric raked in $29.6 million – a whopping 855 percent jump over 2007.
"We didn't have any real projections as far as a point when we thought business would pick up," Mullen says. "We just did our best and kind of strategized slow growth throughout the years."
Sunetric profited from a couple of things outside its control – high oil prices and solar tax credits – but its strategic plan allowed it to take full advantage of those factors. Unlike most businesses, Sunetric benefited when the local price of regular gasoline hovered around $5 a gallon last summer because consumers sought alternatives. "I hate to say it, but that made our business and what we do so much more attractive," says Mullen.
A 30 percent federal tax credit for the purchase and installation of residential solar electric and solar water heating systems was set to expire on Dec. 31, 2008. "So anybody who was thinking about putting in a solar system was really motivated to put it in last year and get it done by the end of the year. That really drove a lot of business," Mullen says. To his delight, the federal tax credit has been extended through the end of 2016.
"You have to always plan for success and then do what you can to see that plan through. Sometimes things go as planned; sometimes they don't, but without that initial strategy, you'll be lost," he says.
Robert Ozaki, president and CEO of the Queen Liliuokalani Trust, also attributes his organization's success to forward thinking and strategic growth.
"Our mission, which is to look after the welfare of orphan children, is perpetual, so we're a perpetual trust, and that means we have the advantage of taking a long-term view of our assets," Ozaki says. "We're not hung up on year-over-year growth because we're focusing on our future goals and we're looking to build value long-term."
"You have to always plan for success and then do what you can to see that plan through. Sometimes things go as planned; sometimes they don't, but without that initial strategy, you'll be lost."

Sean Mullen, president of Sunetric
QLT has a 10-year strategic plan that it reviews annually and that Ozaki says provides trustees with clear goals and benchmarks to work toward. "We feel like we're creating that platform to make the next jump to grow," Ozaki says. "It's all about planning and vision. We're taking the necessary steps to build our assets over time and we believe that gives us value now. The more we make, the more we give. We actually increased budgets this year – and nothing makes us happier than to write those checks for programs in the community."
Bob Dewitz, chairman of American Electric Co., which reported a 70 percent increase in 2008 revenues, says his company's success is also a result of a deliberate growth strategy. When Dewitz bought American Electric in 2003, it was generating about $5 million a year and had offices on Oahu and Maui. His goal was to increase market share and spread to other islands. Today, American Electric also operates on the Big Island and Kauai and has acquired three companies – the Hawaii operations of Volt Inc., a telecommunications contractor that became American Electric's Telecom Services division, Summit Electric Services and G-Y Electric – plus a franchise maintenance company called TEGG.
"Our growth really is the full impact of these three acquisitions," Dewitz says. "It's the cumulative impact of everything we've planned."
According to Dewitz, it's always the right time to expand – even in a recession. "But, you've got to crunch your numbers, do your homework and take calculated risk." There is also a time, he says, when expansion needs to pause if a company outgrows its internal systems. "You have to make sure your foundation is solid first before you can move on." Dewitz says that, while the drive for growth comes from the top, the team is what enables it.
No. 2 Reason for Big Gains: Diversification
Diversification can mean the difference between being in business and bankruptcy. This year's top three gainers created multiple revenue streams, which is especially valuable in tough times when one source of income could be crippled.
To diversify, QLT last year sold the leased-fee interests for three of its Waikiki properties: Liliuokalani Gardens, Waikiki Banyan and Waikiki Sunset condominiums. Ozaki says those sales were largely responsible for its 73 percent spike in 2008 revenues. About 85 percent of its assets are now in Hawaii real estate and 15 percent are in its investment fund portfolio. In 2001, when QLT regained control of its assets from First Hawaiian Bank, which had been managing them, the split was 95-5.
"When we started the trust office, we weren't in very good shape financially," Ozaki says. "We had to lay off 25 percent of our staff at the Queen Liliuokalani Children's Center. We had to put together a turnaround plan. We had very little cash and very little liquidity, so that was a priority. We were told that we needed to diversify our assets because we were too heavily concentrated in Hawaii real estate. On top of that, we had no top-line growth, so we had to change that and I think we're at a good place because we were able to diversify. And don't forget, our office isn't even seven years old yet." Ozaki says his goal is to achieve 70 percent Hawaii real estate and 30 percent liquid assets. "It's ambitious, but we hope to be there in 10 years."
Mullen and Dewitz also credit diversification for their huge revenue jumps.
"Initially, our focus was on commercial solar projects," Mullen says. "But then people started to ask us to do their residential projects so we decided we didn't want to pigeon-hole ourselves into one market. We wanted everyone to benefit from solar energy – and we knew it was the responsible thing to do for the planet as well."
That decision, Mullen says, is the major reason Sunetric let go two of its vice presidents in May. "I wanted to keep commercial and residential, but they really wanted to be strictly commercial."
"You've got to crunch your numbers, do your homework and take calculated risk. You have to make sure your foundation is solid first, before you can move on."

Bob Dewitz, chairman, American Electric Co.
Mullen says Sunetric completed 30 commercial jobs last year and nearly 700 residential projects. "Logistically, it's a lot more intense being in the residential market, but just being able to offer solar to everyone is my goal. Just because it might be more profitable to install commercial solar, is really not a reason not to bring solar to the masses. And there are a lot more residential homes in Hawaii than there are commercial businesses." Mullen estimates Sunetric will do $15 million to $20 million in residential work in 2009, up from $5 million last year.
Dewitz says American Electric is the preeminent electrical contractor in the heavy industrial infrastructure market, but his goal is to be No. 1 in all segments. "We're a solid player in commercial markets, but this year, one of our big initiatives is to roll out a residential division, which no other union contractor in the state has ever done," he says. To diversify further, this new division will also handle alternative energy services.
Another revenue stream is military jobs – about 15 percent to 20 percent of American Electric's income – and Dewitz expects the federal stimulus package will generate more military infrastructure projects in 2010.
But he cautions that "You need to achieve diversification within your core competency, that's the key. If you get diversified outside of your core competency, you start losing focus and you can't manage it."
Right now, rail is at the top of Dewitz's priority list. "We believe that we're well positioned to get a piece of the pie," he says. "It would mean work for 100 of our electricians for the duration of the construction buildout. That's a lot of jobs that we need."
Dewitz says other local contractors had projects stalled for lack of financing, but his company was fortunate to have the right customers for a recession. "When your customers are the ones who provide core services for the Island, such as infrastructure, power, water, sewage, paving and concrete, chances are, there will always be jobs," he says.
"We only have seven people on staff and we try to keep our fixed costs down because it keeps us more nimble and entrepreneurial and that's what we want to be."

Robert Ozaki, president and CEO of the Queen Liliuokalani Trust
"It's always good to find customers that you know can pay their bills. For example, the state, the military and large companies like HECO pay their bills on time so that you can pay your bills and your people," Dewitz says.
No. 3 Reason for Big Gains: Outsourcing
Many companies are saving time and money by outsourcing noncore functions to outside specialists. Last year, Sunetric subcontracted some of its installation work toward the end of the year when business picked up. "We're always busy at the end of the year and slow at the beginning because all of the incentives are based on tax credits," Mullen says.
Sunetric's goal for 2009 is to keep a core group of installers and strategically hire temporary labor and contract out the rest of the work. Mullen is also looking into outsourcing the company's human resource functions. He says those measures will save thousands of dollars each year and allow Sunetric to focus on its core business.
Ozaki says QLT also runs lean. "We outsource engineering, architectural work and a lot of other major job functions," he says. "We only have seven people on staff and we try to keep our fixed costs down because it keeps us more nimble and entrepreneurial and that's what we want to be." However, since the trust is growing, Ozaki says, he is beefing up staff. "We're actually growing in a recession," he says, admitting that, before opening the trust office, he worked out of his car and held meetings at his "downtown office" – the McDonald's restaurant on Keeaumoku Street.
"Outsourcing saves us a lot of money every year," Ozaki says. "We run a tight ship because we know that every little bit we can save on the operations side can go toward helping our beneficiaries, so we do what we have to do on our end – even if it means wearing multiple hats."
Sunetric
No. 215 (new to the list)
'07 gross sales
$3.1 million
'08 gross sales
$29.6 million
Up 855%
Queen Liliuokalani Trust
No. 117
(178 in 2008)
'07 gross sales
$45 million
'08 gross sales
$78 million
Up 73%
American Electric Co.
No. 144 (didn't submit last year;
No. 185 in 2007)
'07 gross sales
$33.7 million
'08 gross sales
$57.4 million
Up 70%
Something(s) in Common
QLT is heavily invested in Kona Commons, the biggest shopping complex on the Big Island, with 630,000 square feet of store space. The trust is leasing 65 acres to the developers, The MacNaughton Group and The Kobayashi Group.
"As the center grows, we grow, and we get percentage rent on some of these," Ozaki says. Phase one is open for business, with big name stores such as Petco, Sports Authority, Office Max and Target.
Coincidentally, Mullen credits Kona Commons as being Sunetric's breakthrough project in 2008. "That's basically our flagship," he says. That's where the company installed the largest rooftop photovoltaic system in the state, which produces a little more than 1 million kilowatt hours of energy a year – enough to power more than 100 homes, Mullen says.