Variety of Tenants at Barbers Point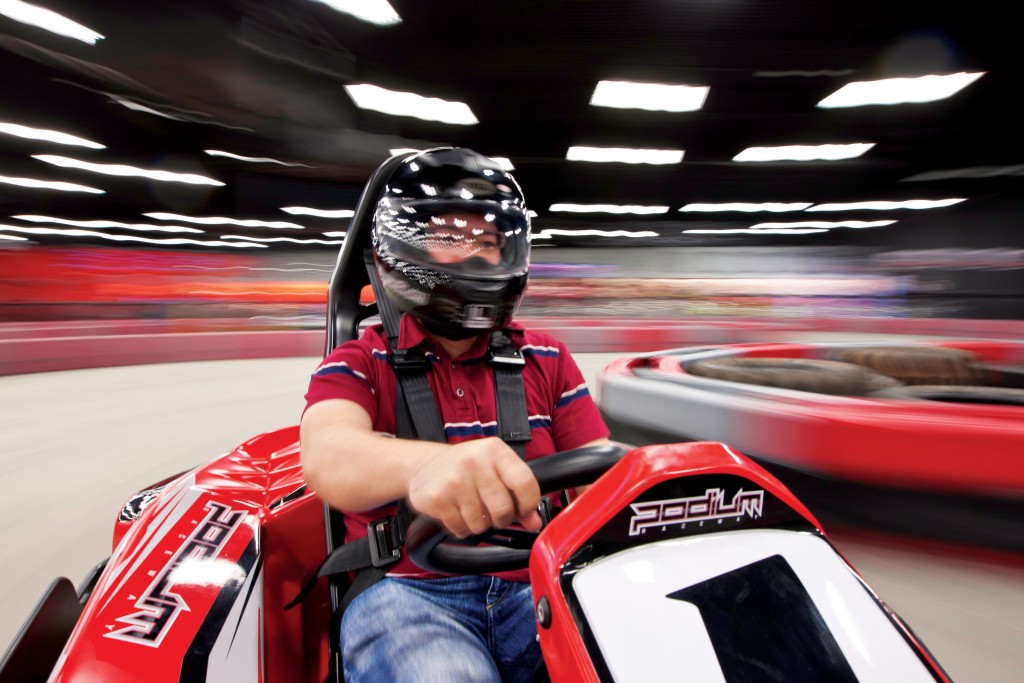 Since it opened in January, Podium Raceway has been packed every weekend with screaming kids and screeching tires. The presence and popularity of the indoor electric-go-kart track signals a new plan for Barbers Point, at least for the short term.
Until recently, only a handful of nonprofits and churches had moved into the area, isolated among the many abandoned buildings and overgrown lots on the former military land. Now, Kapolei is spilling over into the area also known as Kalaeloa, as more small businesses and other organizations are lured by large spaces and low rents. Homes, too, are being rented and the new FBI office building being built at the intersection of Roosevelt and Enterprise will bring 200 workers to the area when it opens next year.
Coast Guard planes and helicopters still fly search-and-rescue missions from Barbers Point. The Navy has retained about 1,100 acres for military housing and other uses, but has turned over more than 2,150 acres since 1999 to federal, state and local government agencies.
Commercially, a long-term development plan is in the works for what is known as the Kalaeloa Community Development District. But, for now, the landowners want income. "I was hired last year to develop cash flow in the time it takes to get a formal development going," says Mark Ambard, a commercial real estate broker for Ford Island Ventures – a partnership that includes Hunt Building Co. and Fluor Federal Services – which leases the 500 acres of Barbers Point dedicated for commercial development.
"We've got these funky old buildings. They're not necessarily in great shape. But there's a pent-up demand for entertainment," he says. "Podium is a draw as a destination, so it works in Barbers Point."
Soon after the raceway opened, Tamura's Fine Wine and Liquors took over the old commissary. "I was looking to go into Kapolei for a while," says Glenn Tamura, president of Tamura Enterprises. "The price was better than in the surrounding area and it's not even five minutes from Kapolei and Ewa Beach to my store."
Ambard admits Barbers Point isn't for every business. "We can give them a building with a dry roof, working doors and windows, stuff like that. It's really an incubator space. Yes, it's a little off the beaten path. It's a little rough. You'll have to put some money into it. But the rent is low."
The broken-down buildings behind Podium house Kapolei Airsoft, where patrons barrage each other with pellets of paint. For simulated urban combat, no amenities are necessary, so the site is a good fit.
On July 1, Advantage Landscape Hawaii signed a lease for an 8,000-square-foot warehouse and 4,000-square-foot storage yard. On the same day, Elam Sports doubled its floor space to more than 8,000 square feet by signing a lease for the building next door to its existing facility.
Food trucks parked outside of Podium signal a need for dining nearby, though Ambard says there are many other possibilities for further tenants.
"I want businesses that will work in the space and that will be fun."
Click
 

here

 

to enlarge image.

1    Hope Chapel Kapolei
2    Kapolei Korean United Methodist Church
3    Kapolei Airsoft
4    Steel Truss & Panel
5    Podium Raceway Hawaii
6     Elam Sports
7     Ohana Warrior Medical Home
8     Responsive Caregivers of Hawaii
9     Barbers Point Bowling Alley
10   Tamura's Market
11    A & L Motors
12    Oahu Baptist Network
13    Kamaaina Kids
14    Tropical Garden Accents
15    American Machinery
16    Mid Pac Petroleum
17    Batter's Box
18    Environmental Services Dept.
19    Pumper's Inc.
20    Hunt Building Co.