Wahine Forum Inspires and Informs Sold-Out Audience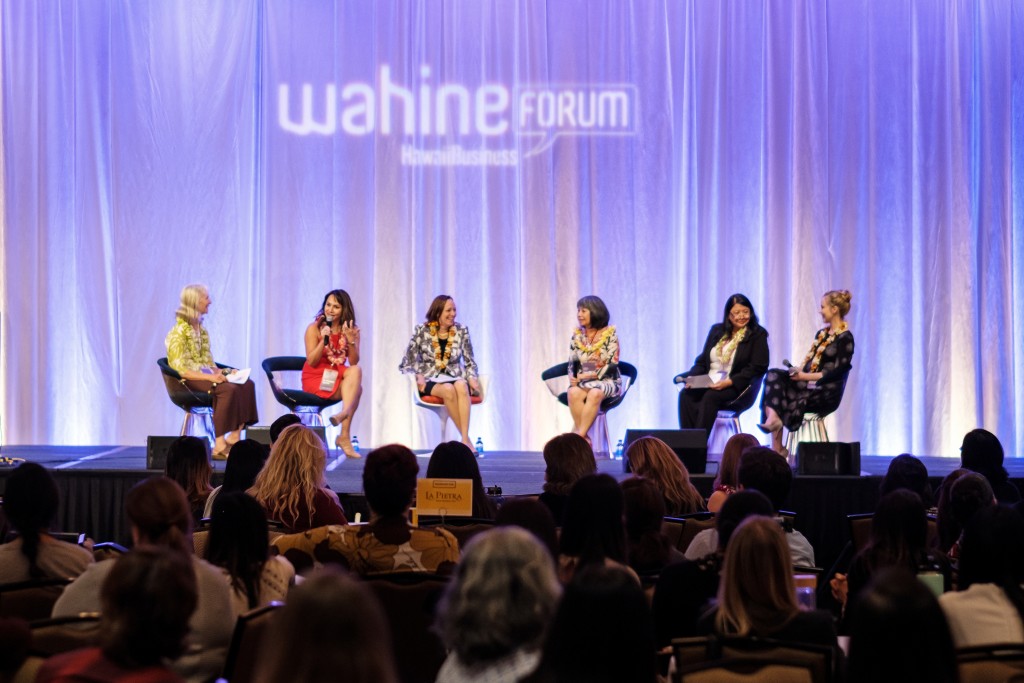 More than 1,200 people attended Hawaii Business Magazine's 12th annual Wahine Forum, a sold-out daylong conference that was held Thursday at the Hilton Hawaiian Village.
The theme of this year's inspiring and informative event was "live fearlessly."
"It's really a captivating theme because it's all about hope, it's all about resilience, it's all about supporting one another, and it doesn't surprise me that Queen's is supportive of that message or that mission to continue to support not just women but individuals to live fearlessly, be healthy," said Laura "Kauʻi" Nishizaki of The Queen's Health Systems' Native Hawaiian Health Program. The Queen's Health Systems was the event's presenting sponsor.
Here are three takeaways from the Wahine Forum:
1. Learn to love yourself and be your own best friend, said Rose Hata, director of the Queen Emma Nursing Institute at The Queen's Medical Center, during a panel on strategies for work-life harmony. "A lot of times, especially women, we are our own worst enemy. And the things that we say to ourselves: 'Oh, I shouldn't have done that. Oh, well I wasn't good today.' But we have to really change our mindset to be our own best friend," she said.
2. "There is a really big strength to saying no, and that's personally or professionally," said actress Amanda Schull during the closing general session. "We all have vampires in our life who metaphorically suck energy, suck our time, don't fill our cup."
Margery Bronster, founding partner of Bronster Fujichaku Robbins, added that you shouldn't beat yourself up when you're unable to maintain a balance between your work, family and other responsibilities. "There's so many things pulling at all of us. In my history, I've known there are times when I've neglected my family, there are times when I've neglected my job, and there's certainly been times that I've neglected myself," she said.
"And you have to realize that there's going to be an ebb and flow and it would be very easy to say, 'I can't do it, I've been a failure because I've let down one aspect of my life at one point or another.' Just recognize that tomorrow is another day and you can face new challenges then," Bronster said.
3. It's important to establish relationships with other women and help them advance in their careers, said Darolyn Lendio, a district judge of the First Circuit Court of Hawaii, during the closing general session. "Because unless we change the culture in the C-suite, in anything in management, it's not going to change," she said.
"My advice is everyday lift somebody up. Lift somebody up to that position because we have responsibilities to change the culture, and it'll change after we get women up there," Lendio said.
---
This video is a tribute to all the women who broke down barriers, took a stand, and rose up to the call of leadership in the face of adversity. Video features the young women of La Pietra School for Girls. | Created by RKT Media