5 Takeaways from the 2018 Wahine Forum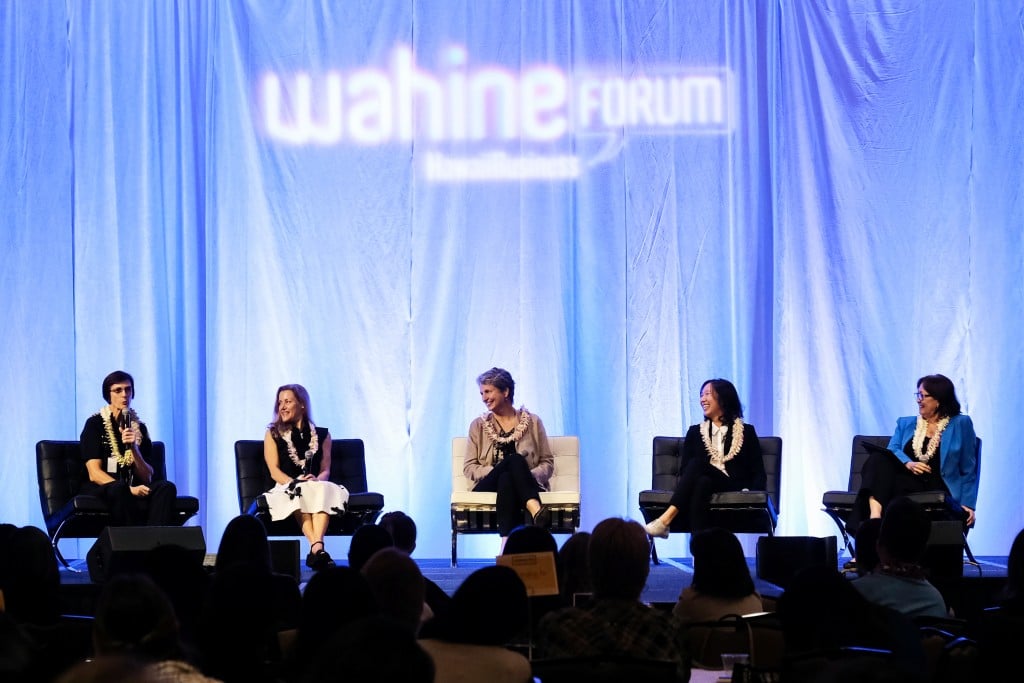 Thursday, January 1, 1970, 7:30 am – 4:30 pm
It's 2018 and ninety-one percent of countries still have laws that discriminate against women, said Amanda Ellis, an adjunct senior fellow at the East-West Center.
"We still do not have a level playing field," she said, "and that's what gets me up in the morning and why I'm so excited to be here with you today as tomorrow's leaders who are really going to shape the future."
Ellis addressed about 1,000 people at Hawaii Business magazine's annual Wahine Forum on Thursday. The day-long conference featured 55 local and national speakers who focused on leadership, negotiating, returning to work as a new mother, public speaking and grit.
The Queen's Health Systems again partnered with Hawaii Business to present the event. Keala Peters, Queen's director for strategic marketing, said about 72 percent of the organization's workforce is made up of women, and the organization brought about 30 employees to the event.
"We know that women are so selfless and oftentimes forget to take care of themselves. And so by supporting a day for women to be able to forget about all of their other responsibilities and just focus on themselves, is something that Queen's works to support," she said.

Here are five takeaways from the Wahine Forum:
It truly takes a village to raise a family and have a career, and sometimes women must be the ones to create that village, said Amanda Corby Noguchi, creative director and owner of Under My Umbrella and co-founder of Pili Group. Family isn't always able to take on that role, she said, so women need support from many people: neighbors, friends, employees and clients. "We all are looking for … people we can call on and say, 'My life looks really ugly, can you help me?' And we need to honor that from one another and really be there," she said.
Women need to take advantage of the opportunities they have to shape company cultures, said Christine Matsuda Smith, VP at Bennet Group: "If we have the chance to identify the strengths of working moms and celebrate those, and the strengths of all the different kinds of unique and wonderful ways that people can figure their lives and what it can add to a company, we need to do that."

Women tend to be humbler than men and, therefore, downplay their contributions to a company, said Kristina Lockwood, VP and general manager of KHON-TV Broadcast Center. "I think that has actually prevented women from being able to make an ask for a higher wage," she said. Her advice: women should negotiate with a win-win mindset – they should focus on their own strengths and contributions while also keeping in mind the company's needs and values.
It's like a wave when women support each other because then we all rise, said Ellis, who is also executive director, Hawaii & Asia-Pacific, for the Julie Ann Wrigley Global Institute of Sustainability. There should no longer be a mentality of "we already have one female, so there's not room for anybody else," added Susan Ballard, Honolulu Police Department's first female chief. "There's more than enough room for all of us to be out there – to be successful, to lead our many companies, to do anything we should want to do."
Women should get involved in reversing the damaging effects of climate change, said Bettina Mehnert, president and CEO of Architects Hawaii Ltd. There's no future if we don't figure this out quickly, she said: "I am incredibly optimistic that women will play a major role in accomplishing that. We have a history of fighting, we have a history of standing up, and we are bright, and we can do this."
Hilton Hawaiian Village Waikiki Beach Resort, Kalia Road, Honolulu, HI, USA