Waikiki After Dark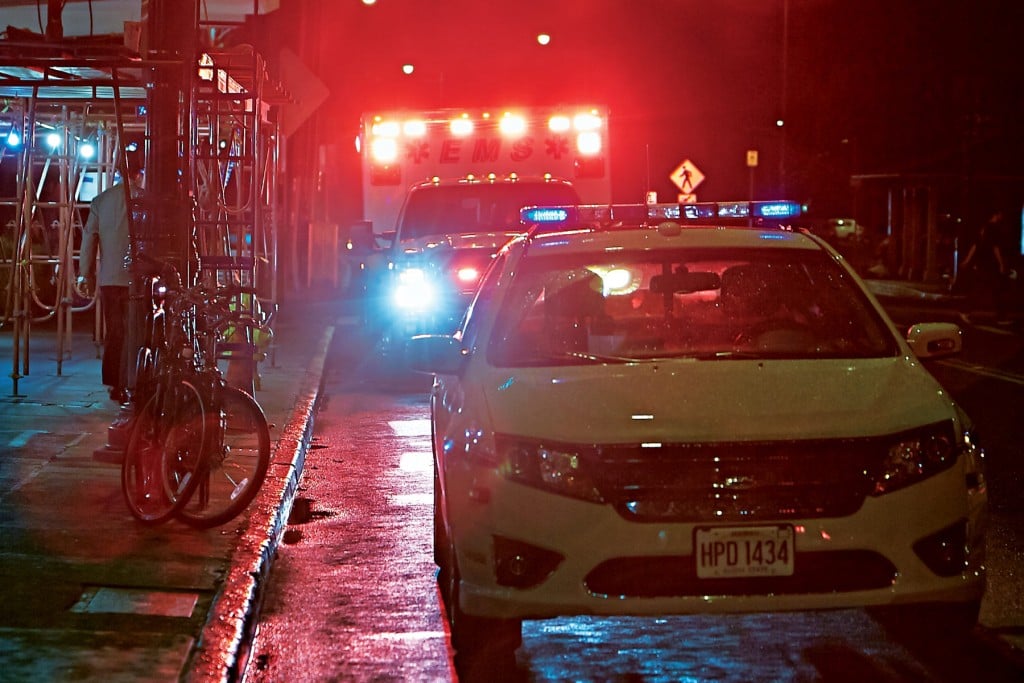 Waikiki is the Honolulu Police Department'ssmallest district, but, at three square miles it is also the most densely populated, says Officer John DeMello, who has been patrolling these streets for the past 10 years. I accompanied DeMello one Friday evening and early Saturday to glimpse the darker side of Waikiki that visitors and kamaaina may never see.
Friday and Saturday nights are the busiest for police, but DeMello calls this a slow weekend night:
10:45 p.m. As we drive through Waikiki, the police radio carries a report of a man threatening to jump from the 24th floor of the Hilton Hawaiian Village. Officers arrive and the man voluntarily agrees to be taken to a hospital.
11:34 p.m. Officers see a woman driving erratically on Kalakaua Avenue at Pau Street. She fails the field sobriety test and is driven to the main police station. Two Chihuahuas in the car are taken by officers to the Hawaiian Humane Society.
11:54 p.m. On Kalakaua Avenue, across from Royal Hawaiian Center, an Australian visitor complains to police that he gave a "street magician" $50 to do a disappearing trick and the street performer walked off with his money. As the tourist files a police report, the street performer comes back and returns the money. Offering services for a fee on the sidewalk without a permit, as street performers do, is against the law and HPD has a special unit to address this. No arrest is made.
Midnight. As we patrol on foot, homeless people begin walking from Kapiolani Park, which closes at midnight, to the mauka side of Kalakaua Avenue to set up makeshift beds along the sidewalk. Interestingly, no one camps on the makai side of Kalakaua – apparently because the homeless feel they must keep some distance from the beach, which closes at 2 a.m. An HPD ATV patrol makes sure no one is in Kapiolani Park after midnight.
12:01 a.m. A New Zealander approaches DeMello to report his 30-year-old son has been missing for the past few hours. DeMello takes down the son's name and description and tells the tourist to call back if he does not find his son in the next few hours.
12:04 a.m. DeMello tells a young man he cannot skateboard on the sidewalk. Rollerblades, skateboards and bicycles are not allowed on Waikiki sidewalks, but Segways are OK.
12:15 a.m. DeMello tells a handful of tourists crossing on a red light that there is a fine for crossing on red. They apologize and keep walking.
12:19 a.m. Met "Tina," a young, local woman hanging out at the Kuhio Beach pavilion. DeMello tells me she has been on the streets for years and would steal from tourists as a teenager. She and a group of other local homeless people exchange friendly greetings with the officer.
12:25 a.m. Homeless people line the mauka sidewalk along Kalakaua Avenue. Many are sleeping wrapped in blankets. Others are sitting and talking story.
12:41 a.m. Police respond to an SUV crashing into a wall on the Ala Wai. The driver abandons his vehicle and flees on foot. Police drive through Ala Wai side streets looking for the driver and question pedestrians walking along the canal, but he is not found.
12:56 a.m. We observe two prostitutes standing outside a Seaside Avenue business. Prostitutes operate mainly on Kuhio and Seaside avenues and come out around 11:30 each night. HPD has a separate task force to address prostitution.
1 a.m. Police stop a truck on Ala Wai Boulevard after it allegedly ran a red light on Seaside Avenue. Field sobriety tests shows driver is over the limit. As police prepare to take him to the police station, he jumps into the Ala Wai Canal and begins swimming to the other side. As he emerges from the water, he runs and climbs a fence, but police are waiting.
They chase and capture him.
2 a.m. More homeless people make their way to the mauka side of Kalakaua Avenue after the beach and pavilions close at 2 a.m. An HPD ATV patrol makes sure the beach is clear.
2:58 a.m. DeMello sees a truck with its radio blasting on Kuhio Avenue. He gets the driver's attention and tells him to turn it down. HPD's most frequent complaint in Waikiki is loud noise from car radios and mufflers. The second most common complaint is about bicycle riders on the sidewalk.