Waikiki Present and Future – Extended Version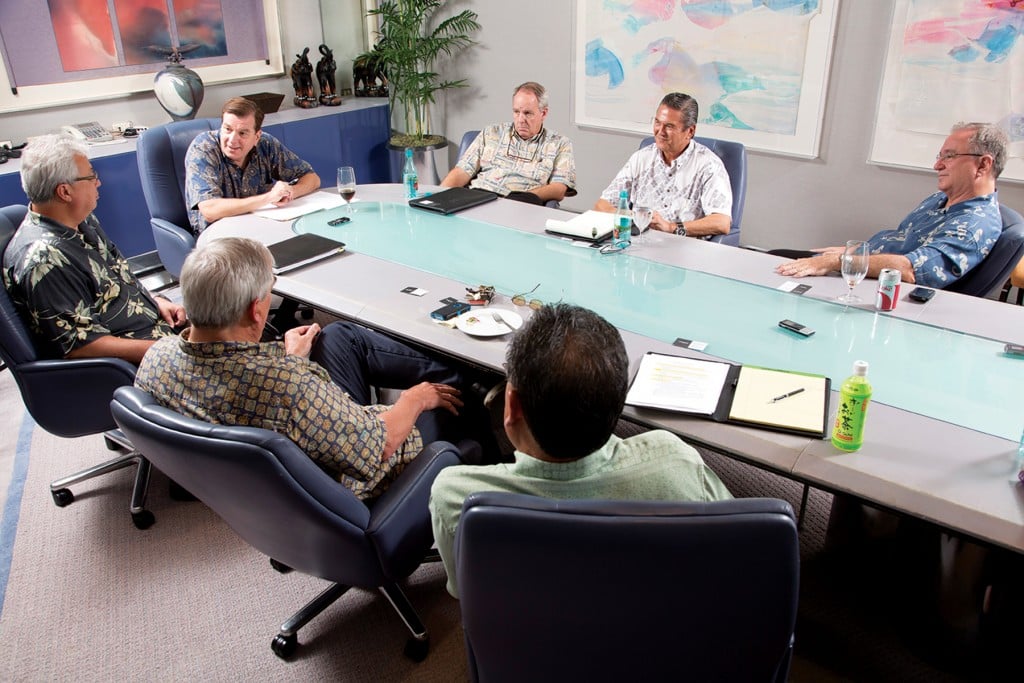 Panelists:
W. David P. Carey III: President and CEO, Outrigger Enterprises Group
Rick Egged: President, Waikiki Improvement Association
Eric Gill: Financial Secretary-Treasurer, Unite Here Local 5 Hawaii
Ernest "Ernie" K. Nishizaki: Executive VP, Kyo-Ya Co. LLC
George D. Szigeti: President and CEO, Hawaii Lodging & Tourism Association
David Uchiyama: VP, Brand Management, Hawaii Tourism Authority
Moderator: Steve Petranik, Editor, Hawaii Business
Petranik: What has improved in Waikiki over the past decade?
Egged: Over the last 10 years, it's become better. Properties have improved and many hotels have been renovated, so streetscapes have improved, although we're still working on redoing all the sidewalks.
Szigeti: I read an article that says, in the past, people would go to Maui and all the Neighbor Islands as a destination, not wanting to come to Waikiki by design. But with all the improvements that have been made, Waikiki is now a destination. People want to come here and experience Waikiki.
Carey: There is a change in vacation habits and preferences, too. When I started, everybody would lie on the beach, read a book, relax and not do very much. Nowadays, there's a much higher bias toward activities, shopping, restaurants. The Australians, in particular, like a much more active lifestyle vacation than say the Americans or the Canadians. And the Asians like to shop.
Ten years ago, if I wanted to take somebody to a restaurant of high quality, there were not many choices in Waikiki.
Today, you have plenty of choices, lots of different places, lots of different menus, though not as much entertainment. And there's a much wider variety of retail that appeals to more markets.
Nishizaki: I agree the overall Waikiki experience is better. The investments have been done, more and more visitors are here and, obviously, the employees are happier, enjoying working here. Waikiki has reinvigorated itself in the last 10 years.
Petranik: Let's invert that. What are the problems that Waikiki still has?
Egged: Our beach erosion. We've been working on sand restoration projects over the last few years, but it's clear that we need a plan for ongoing beach maintenance or redoing some beach structures in order to maintain Waikiki beaches. We did a study in about 2008 that said we'd lose $2 billion a year if we didn't have a beach. Today, it would be even more.
I think there needs to be sand replenishment on a regular basis – every so many years, we should do each area, because you can't do the whole beach all at once. We can do it in a phased way and add beach structures to widen the beach.
Frankly, with sea level rising and climate change, we need to reinforce the beach as a buffer between our properties and the ocean, in addition to the beach being a big attraction. This is going to be on our agenda over the next few years.
Szigeti: The homeless situation has been a long-term problem and it's epidemic. But it's not just a Waikiki problem, it's a universal thing – countrywide, statewide, countywide. We've been working very closely with Senator (Brickwood) Galuteria, the mayor, the private sector, (state homeless coordinator) Colin Kippen. Everyone seems very engaged in the process of tackling a very difficult subject. The mayor has an action plan; the Housing First model looks like it could really work. It's working in other states and I think we've made some progress.
Egged: Along with Housing First, we need to defend public spaces, too. I think the city has taken a front and center role in doing what Colin Kippen calls compassionate disruption by not allowing the homeless to occupy public spaces.
Szigeti: It's a health and safety issue, too, because you can talk about cleaning beaches, but if they're going to defecate on the beach at night, and locals and visitors put their towels down there the next day, it becomes a health and safety issue for everyone.
Gill: From my point of view, the physical improvement of Waikiki is great. It draws visitors and visitors drive business that creates jobs. The problem is we don't see a similar commitment to the jobs. This is a function of the ownership patterns of our hotels. Many of our hotel owners are private-equity companies and they're not really in the hotel business. They are more than happy to put the capital expenditures in to increase the value of the property on resale, but that increases the debt load on the property, with the same number of rooms. We're already running virtually 100 percent occupancy on most of the beach, so where does this new money come from to pay for these improvements and it's our observation that it comes from the workers. As it stands, we lose jobs when hotels change hands and the debt service associated with that.
Most of these private-equity firms are on a strict timetable to pay investment groups, so we're faced with a constant flipping of properties and a constant increase in debt service and there's only so much room rates can increase.
Occupancy is already maxed out pretty much and so the difference comes from our community, from our jobs base, employment base, tax base provided by the workers in the hotels.
What happens when these guys don't make their numbers and then need to retire their position? They look into selling condos and condos do not provide the long-term employment base. In some cases, they eliminate it entirely and that reduces the tax base. Our interest is in providing good jobs for Hawaii's people and this industry is the primary job generator. We're concerned that the commitment to the jobs weakens as each new owner comes in.
Blackstone (Group LP) just put $100 million into the Hyatt. It's all capital expenditures. They will put that on the purchase price when it sells. In the meantime, I'm expecting we're going to lose jobs in that. We had a record year for hotel sales, but that doesn't translate into prosperity for Hawaii's economy.
Petranik: Do you see a way out of this?
Gill: We think investors who wish to convert hotel properties to condominiums should stay away. We have given our beaches over to these corporations in return for jobs. Well, they built and got the beach, and now they want to take away the jobs. That's irreplaceable beachfront for the people of Hawaii. I had the privilege and opportunity to have to deal directly with Blackstone and their vision of the future of the (hotel) industry is very different from ours and I don't think that works well for the people of Hawaii. I'm not singling out Blackstone (owners of Hilton and Hyatt hotels) – the biggest hotel owner …
Carey: The biggest hotel owner in the world.
Gill: And when they make certain moves, it creates ripples and rumbling in the market. We're very concerned about that. On a different subject, we've certainly seen a marked improvement in the quality of the physical space in Waikiki. What we don't see is any significant return to Waikiki of local business.
Carey: Sorry, I have to disagree with that. In our business, we have seen quite a return of locals to Waikiki. At Beach Walk, we have a lot of locals who come now. We run a place called Kanikapila Grill, where locals come all the time.
Gill: I agree that we have seen some return. The reason I raise it not to disagree with you, but because the biggest job losses we've had are in food-and-beverage operations and those food-and-beverage operations used to be fairly well supported with local coverage. Everybody does well when the hotels are full, but when they're not full, nobody's working.
Local business for our food-and-beverage operations used to smooth out those peaks and valleys. So, I agree with you.
Carey: Again, some counterpoint on that: It looks like Duke's Waikiki has continued to add jobs and that 25 percent of its market is local.
Egged: Most successful restaurants in Waikiki have a very strong local component for exactly the reason Eric mentioned: It gives them that steady business.
Petranik: We've heard of the Hyatt improvements and those Kyo-ya has done or planned. Anything major coming up that's under the radar?
Carey: We constantly look at refurbishment. Every five to 10 years, there's something that needs to be done, depending on where the marketplace is. One of the challenges for Waikiki is the cost of operating hotels in this market has continued to rise and it isn't just labor. Utility costs here are very high. Property tax costs are very high. Ongoing regular taxes are very high. So, some hotels can't charge enough to cover those expenses and pay for renovations. You do that on the beach, you can do that in renovated properties, but the challenge for Waikiki is what happens to the off-beach properties that are going to run out of their life cycles and need to be renovated? Will the capital be willing to put the money in to do that, without, as Eric mentioned, converting to condominiums? I don't know the answer to that. The business model is very tough and that's not good for tax revenues, it's not good for employment, it's not good for retailers and shops, but that's the economic reality of what happens to a building if you can't manage the revenue above cost.
Petranik: George, some of your association's members own these hotels. Do you sense a willingness to reinvest in some of the less expensive properties?
Szigeti: They're always willing to upgrade their product, but I've not heard any specifics on it. I would like to address the food and beverage situation: In that business, the cost of electricity and everything else has really gone up. In my understanding, hoteliers usually break even or lose money on in-house food-and-beverage operations. It's a tough component, but it is something they need to have.
Nishizaki: One of our current strengths in Waikiki is also a problem for us: We are heavily dependent on Japanese tourists. We need to get more group business (meetings and conventions) into Waikiki. If we get more group business, we will have more banquets and more meetings here, and that will help the food and beverage operation. Those business groups are something David (Uchiyama) and the convention center are working on and will create a different and important market for us.
Gill: I would echo that. We have a convention center. It is supposed to be generating group business for this town. It has not been particularly successful in doing that, and we have a real problem marketing in the business sector because we have an image issue and that's probably a problem of our own creation. We – meaning the community and the industry – have a very successful marketing program for the leisure market that has counted against us in the convention market.
We've see people come into conventions here and then go home and get into scandals like, "How can you possibly have a meeting in Hawaii," and yet we know this is a very hardworking community. The people here work as hard or harder than any other community in the country.
I support the successful operation of the convention center and I think we have a new opportunity with a new contractor.
I wasn't invited to the discussions on that, however, my understanding is they have made commitments to the authority (Hawaii Tourism Authority) and the community, in essence, that they are going to redouble their efforts to do that and do it more successfully.
Petranik: David, can you tell us if there are any developments in meetings and conventions?
Uchiyama: I agree with all that's been said. I don't think we did a good job in this area. We've restructured the sales and marketing and doubled up our sales coverage and redeployed our staff. We also have changed the convention center operator and I think it matches better with what type of customer we are looking for. SMG (the old operator) had a lot of strong positioning in the rest of the U.S. with large convention centers, McCormick (Place in Chicago), Mosconi (Center in San Francisco), others, and AEG (Facilities, the new operator) comes in with a lot of global strength, Beijing, Singapore, Sydney, Europe, and I think those types of customers are willing to take offshore meetings, so I think we are going to grow very quickly.
We've also restructured our international offices where the emphasis had been on the leisure market. If you go back and read the original contracts, the contracts with international contractors (representing Hawaii overseas) had been focused on representing the destination but not necessarily the meeting segment versus the leisure segment. We've restructured that.
So, now we have dedicated MICE people (meetings, incentives, conventions and exhibitions) in each of those offices in Japan, Korea, China. All of them have targets and goals they need to meet, and I think there's going to be a lot of development in this area. The other thing that's important to MICE is being able to have a seat inventory for these large groups. And, for a while, we didn't have that seat capacity. We didn't have that out of Japan. We didn't have it out of Australia. We developed Korea. China is starting to evolve. So, I think all of these are going to create opportunities for us in the meetings, incentives and conventions business.
Petranik: The convention center isn't that old, but it is old in convention center years. Does it need physical upgrades or other upgrades?
Carey: Unfortunately, it wasn't utilized as much as it should have been so, in upkeep, it's still fairly decent.
Egged: It's in pretty good shape.
Carey: Let's be fair. There were some laws passed that constrained HTA's ability to effectively market the convention center. It was a requirement that the operator would be the marketer. Well, SMG had done a wonderful job of operating in a number of cities, but they were not deep in marketing experience, and it made it more difficult to connect with the other marketing resources that Hawaii has, through the overseas marketing agencies or HVB in North America. They're trying to correct that now with some structures that sort of get around the constraints put in place by the law, but it hurt us for a bunch of years, and I think we fell way behind because we had the wrong marketing structure in place for the wrong folks because the law said that's what the HTA can do.
Petranik: Is a meeting visitor more profitable to Waikiki than a leisure visitor?
Uchiyama: Definitely, per daily spend is greater for a meeting or conventioneer. I think the other thing it brings to the industry is that the meetings business is booked further out, so it gives us a foundation to build off and allows hotels to revenue manage. So, you know, looking at 2014-2015, we've got a fairly decent amount of business on the books and we will continue moderate growth in those years. But, as we look at 2016, '17 and '18, we don't have that backlog there, but that's what we're focusing on. It also gives compression to the state as a whole and the Neighbor Islands benefit as well when we have a citywide (major convention) here.
Carey: Every time there has been a citywide and Oahu is full, the Neighbor Islands do well.
Egged: We may see AEG bring in the element of entertainment and athletics. They are big spenders in that component because they have the Staples Center (in Los Angeles) and they have other big venues, like the San Diego center.
Nishizaki: When David says the spend is better from conventioneers, understand that on the profit and revenue side, the Japanese market can be better because our rates are a little higher. So I think it's important that when looking at meetings, and David (Uchiyama) is trying to do this, is schedule them during the right time of year, such as when the Japanese visitors don't travel much.
Carey: It doesn't help much to have a citywide between Christmas and New Year's.
Gill: I share the optimism. AEG has a lot of expertise in these areas. But I think we have to look at it in a broader sense, too. It's not just the convention center building itself that is the venue, but also the surrounding areas. For better or worse, we put it out there and the surrounding area is kind of a desert for walkout traffic. Compare it to what other communities have done. I just came back from San Diego. The convention center was a stand-alone building, but now it has a building on either side. They've redeveloped that whole Gaslamp area. They made an attempt as a community to create a better venue. We've talked about doing the same things but we just keep talking about this. It's not just HTA or the tourism industry, that's a city issue.
Egged: The convention center area is a special district that is governed by the state basically, so developers wouldn't necessarily have to get building permits from the city, although they do any way. When I worked for the state, we looked at expanding the district to clean up, improve and redevelop the area. We decided not to do so, because at the time, the convention center wasn't generating the kind of business that would support that kind of effort. But, hopefully, as we become more successful, that is something they can look to in the future.
Gill: The city just permitted an old folks' home right across the street, next to the Century Center tower. Is that really the right thing for that location?
Carey: There's an interesting challenge to hotel development. Today, it probably costs between $400,000 and $600,000 a key to develop a high-rise hotel in the marketplace and the traditional rule of thumb, which is not exact but not far off, is you need about a dollar in average rate for every $1,000 in construction costs. So, in order for a hotel to pencil out that $400,000 to $600,000 a key that's largely an average rate of $400 to $600 a room and, unfortunately, the only place where that works is on the beach right now and there aren't any more sites.
In the current market, it's a long shot to get anyone to develop a brand-new high-rise hotel building off the beach unless there is really something special. The only way it has happened around the country is with subsidies and that creates a whole other round of problems politically. That's why a lot of people choose to condominiumize because the condo owner buys the unit upfront and a developer doesn't have to carry the risk and they don't expect the kind of turns expected by the Blackstones and the Whitehalls of the world (Whitehall Street Real Estate Funds are run by Goldman Sachs).
I appreciate Eric's challenge. If you have a home-ownership condominium with a lot of residents, they don't employ a lot of people. We operated a hotel that had 600 rooms and got converted to a residential apartment building. It had 200 employees, paid TAT, GET, commercial real property tax rates and now has five employees, pays no TAT, no GET and pays residential real property taxes, and the money all comes from here and it doesn't come from outside the state. That's the fundamental problem for our community.
Egged: A good example of that in Waikiki is the Ilikai. The Ilikai was a disaster for Eric's workers.
Gill: An ongoing lumbering disaster (laughter).
Egged: It came from an unwise investment in the first place, then the investor tried to bail out by selling out condo units.
Carey: It started with Westin's predecessor selling out these little bits and pieces of condos throughout the building for residences and it's really difficult to mix in residents in a commercial operation.
Gill: The practical result is that, at one point back in the '60s, we had 600 workers in that building. We have 63 left. All the food and beverages are basically out and much reduced standards. The latest buyer acquired it in foreclosure and is trying to sell off the last 200 rooms and eliminate the hotel in its entirety to make its numbers and then those 63 jobs are gone.
Aside from the iconic nature of the Ilikai – people have an emotional connection to it and it's part of the (state's) marketing – but it's a real problem that they had a hard time finding a buyer to operate in that environment. Timeshare is a similar trend on the financing side. Equity wants to deal with only limited service rather than any full-service hotels.
Timeshare is limited service. You clean twice a week; that's two-sevenths of the housekeeping staff. Your bags up and down once a week, you're checking out once a week. By definition, timeshare provides fewer jobs, but now they are going a step further. They are saying, "We're going to build limited-service hotels," and the City Council permitted them, and I was shocked. We are permitting limited-service hotels, defined in this new law that they just passed, that's opening up limited-service development (outside of Waikiki) without a conditional-use permit. So, why is our government defining what we are permitting by the lack of jobs that it creates, because when you say limited services, you're saying limited jobs.
Carey: But there will be more jobs than zero if a building like that is built.
Gill: There will be a few of them, but that room night is coming from somewhere and they all testified before Council that it's coming from Waikiki. They want to build out there (in West Oahu) so people don't have to drive. There is a long-term threat from billionaires who live in a spreadsheet world, but the bottom line is we need to take care of our community here. That's our mission in life. Our job is to try to defend standards and try to provide good jobs to the people of Hawaii and it's getting harder and harder to perform that function where all the investment money is just pushing everyone. Should there be more condominiums in Waikiki? Should we turn it into a rich people's home or is it going to be an economic driver for our economy?
Petranik: A lot of baby boom workers are going to retire soon and young people may not want some of these jobs, whether it's housekeeping or wait staff. Is there another generation of Hawaii residents ready to take over those jobs?
Carey: The average age for a housekeeper in Waikiki is probably in the mid to low 50s, with an average length of service of 18 to 25 years.
Gill: We have a whole generation of people who came to work in the 1970s when Waikiki basically tripled its size – the Sheraton was built, the Hyatt went up, the Tapa Towers went up. And that group is retiring now a lot. I started in 1976 here (at the Sheraton) and I am at the young end. We're seeing a lot of people retire and not enough backfill.
Nishizaki: We've been talking about workforce development and how do we create jobs and support the younger people who are not necessarily aspiring to take the jobs that perhaps their parents had? We've been working with Local 5 and we need to look at maybe combining positions, doing some things that don't necessarily take away jobs, but make them more interesting and finding people that are more multitasked.
Egged: One of the ideas that came out of our Waikiki 2020 planning process was to develop workforce housing closer to Waikiki. Maybe you can't afford to make affordable housing on the Kapiolani corridor, but what about the Kapahulu corridor, where we can build additional housing that would be affordable by workers in Waikiki? They would have fewer transportation issues because they could walk to work.
Gill: Just as Kakaako was supposed to be, but now we're seeing affordable units going for 400 grand. The city's blowing a chance here to let people build nearby.
Petranik: What's the average commute for your workers? An hour and a half?
Carey: If you live in Waipahu or Waipio or Kunia, you're on the road by 5 o'clock in the morning to get here before the traffic builds up. And then we have this issue of whether they can sit in the cafeteria or not. But certainly if you're going to drive during the peak hours, it's going to be an hour and a half for sure. But there isn't affordable housing closer.
I remember when Kakaako was first discussed people said we have a great resource in the city center, close to the bus lines and everybody doesn't need a car and that's even without the train. Yet we're building high-end condos in that area where we should be building working people's homes, so that we can get them off the freeways, so that we can reduce the traffic congestion, so that we can get people to work. And, of course, if you throw another APEC, then it's a four-hour commute by train, if you can get there.
Nishizaki: In developing the McCully area, you could have nearby affordable housing not just for the workers here, but perhaps for the university students, too. That would also make it easier for university students to work part-time in Waikiki. Developing McCully would not just create university and workforce housing, but areas surrounding Waikiki will start to look a lot better. This could be a smart community, to Eric's point about San Diego and the areas (surrounding the convention center) and developing areas where businesses can run nice restaurants and other things that can be used not just by the visitors but all of the residents in that area.
Egged: There are a lot of components to that. We're looking at the whole transportation plan for access to Waikiki and how you move around Waikiki, not just in cars but in transit. We're looking for a circulator system for Waikiki. We're looking at developing pedestrian and bicycle connectivity. We're talking about an additional pedestrian and bike bridge (across the Ala Wai) that would connect Waikiki to the university.
Petranik: By circulators, do you mean like a bus system that would loop through Waikiki?
Egged: Correct. The idea being that the circulator would be in place of a rail link into Waikiki.
Carey: There are a number of us who think that if you put an elevated rail down Kuhio or down Kalakaua it's going to destroy a huge part of the success of Waikiki. So rather than complain about it, a lot of Hawaii businesses, under the WIA's (Waikiki Improvement Association) guidance, have been discussing an alternative solution, some kind of circulator system that would connect with an ultimate transit plan and yet not create a concrete mass in the middle of Waikiki.
Egged: It will probably be a rubber tire (bus) system, a regular circulator that a lot of existing buses would feed into and rail would feed into when the rail is finished, but we're hoping to get it into place before rail is finished. It has fewer stops and we're looking at streamlining the trip by having better information about connecting to various bus lines and getting to various areas, prepay as opposed to paying as you get on the bus. All these things that slow down by seconds for each person the time it takes for the vehicle to circulate. The idea is that, as you wait at a bus stop, a bus comes every three to five minutes.
Nishizaki: David, I would imagine that would be great for a convention center with a circulator taking people from their hotels easily to the convention center – some of our private bus companies may not like the idea – but I think that would make the convention center even better.
Gill: One of the problems that hasn't gotten better in Waikiki, and isn't going to, is the parking infrastructure and that's going to be exacerbated in August when Princess Kaiulani Hotel's parking lot is torn down and a lot of the Moana customers will end up looking for parking here (at the Sheraton) and the workers will as well. We've had this discussion in various venues with various developers.
For example, when the new tower at Hilton was built, very little parking was put for those 500 or so rooms and there was a dispute about whether those rooms were residences or resort rooms, which have different parking requirements – 20 percent parking requirement for a transient hotel and so developers have been exceedingly squishy about that. Hilton, for example, in its 2002 documents, described those rooms variously as resort rooms or long-term rooms, depending on how it served their purposes in developing parking or not and that same thing just went through for the new Ritz that's going up on Kuhio. For once, the (city's permitting) department actually agreed with us that it shouldn't be a big switch.
You can't say it's a resort, then put it up and all of a sudden say it's now condos and, oh, by the way, now you need more parking.
Parking is one of the big disincentives for locals to come to Waikiki. That's what we hear again and again: "I don't want to go down there. I don't know where to park. It costs too much. There should be free parking for food and beverage," and that sort of thing. So, we have been supportive of the rail overall because something needs to be done. People are going to need to get to work one way or the other and the parking is drying up. We are sensitive to the ongoing viability of Waikiki, but we're also supportive of the rail because we need to ensure that our workers can get to work.
Carey: I don't think anyone disagrees with the notion of connecting Waikiki to the rail, but where? We looked at the models of it on Kuhio Avenue and it would be a massive concrete structure, which would destroy the retail and even worse while it's being built. It would be best if it was close to Waikiki and then just connect up, like most cities have done.
Uchiyama: I want to address workforce development because it is really important. Two years ago, with the industry, we got together with the DOE and their career and technology education program (CTE) and developed a curriculum with two classes that have been introduced to high schools: hotel management and travel industry management. We have it now distributed to 12 schools and the objective is to get it on to 26 schools statewide. With the DOE's collaboration with the community colleges, it was able to get those high school classes accredited so that students get a jumpstart in travel industry exposure and they can go to the community college to get an associate's degree or continue on to travel industry management. I think educating the community a little bit more through our kids is really important so that people can connect with what tourism brings to our community overall.
Gill: Getting people into housekeeping jobs is what was mentioned earlier. We don't want to tell our youth the only good jobs in hotels are management jobs. Our training trust is working on a workforce development plan. But the standards that Kyo-ya (owner of the Sheraton, Royal Hawaiian, Princess Kaiulani and Moana hotels) have maintained for employment here are not universal. Not the wages, not the benefits and so on.
You walk across the street to the Hyatt and you got people paid half as much with no family medical or retirement medical or retirement benefit at all and so there is an uneven standard. When I was with the Teamsters, I was bargaining with gas companies, the bus companies and various trucking companies. This hotel provides better jobs than almost every other operation in the state and, at this hotel, you have family medical – you don't pay for it. You have childhood medical. You have a decent pension, you can afford retirement. So you have what amounts to $29 an hour total package being delivered by this hotel and the other beachfront hotels to some extent farther back in the ranks.
That's a very attractive package for any young person who wants to get a job and I think a lot of the problem is that people don't recognize the value of the job. "I don't want to clean toilets?" Do you want to clean toilets for $20 an hour and another $10 in benefits? That's the question. I was a dishwasher here. I washed a lot of dishes. I made more washing dishes here than people driving trucks and the benefits are better. So, I think part of it is educating our young people about the fact that these are good jobs. We're the third-highest total compensation package in the country.
Carey: It is important to realize that there are unique jobs that cover a full gamut. Not everybody is going to go through college and get a master's degree. That's not what everybody wants.
Gill: Even the master's are working tables.
Carey: We have three-generation families in our housekeeping departments. I would invite you to come down to housekeeping briefing in the morning and or lunch and look in the eyes of these housekeepers – generally women, but sometimes men – and say they are not satisfied with what they do everyday. When someone cleans your room, how does it make you feel? It makes you feel great and the staff knows they are creating that feeling.
Gill: Is that invitation for me? Can I come to your place? (laughter)
Carey: There's two buildings you can come to. (more laughter)
Gill: Just the two we have in the contract? (more laughter)
Egged: One thing that goes unnoticed, in the 15, 16 years we've had HTA, we have had a government agency that actually works on all the different aspects of tourism, such as workforce development. Like George and I, Mike McCartney is right on the frontlines and dealing with homeless issues, beach-erosion issues and the like. The HTA's role in between the industry and government and the community is an extremely valuable one. So, I think our internal government system works better now than it ever has in the past.
Nishizaki: Another good thing the HTA has done is educate young people in the importance and value of our industry, because all too often people who are not in the industry look at us and say, "This is only for the visitors. Waikiki is only for the visitors. Don't go there." It's important that young people learn the importance of the industry, more so than people of my age who are not in the industry.
So, David, you guys should be commended for what you're doing about developing a workforce, not just for the management side but if they decide to get a culinary degree at community college and work in their own town, I think that's equally important. We'll find managers, but we want to find people who understand the value of hospitality and understand how important this industry is to the state and that is something that you can do.
Gill: We're making an investment. Our training trust is taking this up and that's going to cost money. Getting more people in is a real problem. On the other hand, people stay forever because it's a good job and there aren't better jobs out there. I thought I would work for six months or maybe a year in 1976, and, much to some people's chagrin, I didn't quit. The truth is that's what happens to a lot of people. They come in and they're not sure. They look around at their options and realize these are good jobs, not universally, but in general our industry pays better and the benefits are better here not just because of the settlements we've reached, which sets a certain bar, but also because of the law (Hawaii Prepaid Health Care Law of 1974). We can be grateful that we have a better law here, which spreads the cost out equitably. But we need people to recognize that these are good jobs and let's not lose them. Let's not give away these jobs.
Egged: When you look around this table, you assembled six industry leaders. Four of us, I think, were born and raised here. George and David (Carey) have been here most of their lives. The industry is led by people with a long-term stake in the market.
Petranik: Rick, I want to follow up on rising sea levels. The redo of the Moana is taking that into account. What else is being planned to prepare for rising seas?
Egged: Ernie and I met with NOAA (National Oceanic and Atmospheric Administration) about a year ago and we talked about rising sea levels. All of our infrastructure, sewer systems and power, everything is gravity fed and everything goes to the bottom. As we look to the future, I like what Kyo-ya has done in elevating those systems because I think we're all going to need to do that as we engineer the new buildings. We need to start going up.
Carey: At Waikiki Beach Walk, we put systems on the roof of the second floor that used to be in the basements.
Egged: If you look at the projections, any substantial sea level rise is still 50 to 60 years out. So that means that it's not on a lot of people's redevelopment horizon because you're normally looking at what 30 to 40 years when you're putting in a substantial amount of money. So, yes, you know it's out there and it is starting to be included in some of the redesigns, it's still not close enough to force substantial redevelopment at this point. That having been said, we are following it closely because it obviously is important. There are a lot of ways you can address the sea-level rising: You can pump ground water, for example. That's why we were talking about building up the beaches, because that gives us a buffer. So, there are a lot of things you can do to forestall the issue and keep us competitive even beyond the time scientists are currently saying if we don't do anything, Waikiki will be flooded.
Szegeti: Some of the really positive things I've seen recently include HTA's support and things like the Hawaii Food and Wine Festival. People enjoy the sun and the surf, and when they are done, they want the culinary experience. The synergy between the culinary experience and the overall visitor experience. As they get on the plane and leave, a lot of times the last thing they remember is their dinner at RumFire or at Roy's or at Alan Wong's. The Farm to Table initiative that Kyo-ya is doing is really a hit. David mentioned that, five to 10 years ago, you couldn't find a good place to eat but now you've got Roy's, D.K. Kodama, Nobu's.
Egged: Waikiki has once again become the culinary center of Hawaii.
Szegeti: That's why the culinary center on Diamond Head (part of Kapiolani Community College) is very important to us, because it's going to bring a whole new culinary experience.
Egged: Also important to Waikiki's future is we have been able to increase our room values. We have gone from having 24 percent of our rooms fit into the luxury or upper mid-scale level 10 years ago to having 44 percent, and it is increasing, because as new units come online they are not going to be at the low end of that scale.
If you look at the total dollars generated from Waikiki using HTA's figures over those 10 years, the total dollars generated just in Waikiki have grown 60 percent because we're bringing in a higher-end spender to fit into our higher-end product.
Gill: That's where some of the collisions have occurred with the investor groups. They have said tourists are not going to pay for services, so they are going to eliminate service, and that's what we've seen. Hilton has eliminated room service.
We're seeing 45-minute waits to check in because they're not staffing the front desk. There is a push from the investors to reduce customer expectations. I've heard it described as similar to what the airlines did; nobody expects a flight meal anymore. You don't get any of those amenities. You don't get pillows any more so that the traveling public has learned to accept reduced expectations. There's an international trend or at least a national trend that they are not building full-service hotels; they are building limited-service hotels.
The danger is in my mind that the investors' short-term interest is going to drive a reduction in the quality of the visitor experience. We've got to have a product that survives some of these investor-driven fads. How do you sell a Hawaii vacation at the prices we're asking without providing good service? There might be some market advantages for particular investors temporarily, but, in the long term, how does that serve our interest in terms of maintaining the quality of this resource for our people's sustenance? We need people to understand they will get good service when they come to Hawaii and there are just some fundamental differences here in terms of economic interest. Bridging those differences of interest is very important.
Petranik: We're in the middle of a boom now, but we've been around long enough to know it's not going to last forever. How are we getting ready for that next downturn?
Uchiyama: There's not going to be another downturn (laughter). We see the meetings, incentives and conventions market as being a problem already in 2016, '17 and '18. We see the rates of hotels going up, which is a concern. I think hotels are not going to be able to do away with some of these services because of the global customer that we are going to be attracting. Our seat inventory went up by 24 percent from 2011 to 2012 and that was all the international markets.
The growth is in the international markets and they're used to certain standards of service.
Nishizaki: I think ultimately the customer will dictate what services they are going to have and that's why in our portfolio we have hotels at various levels. We're able to service the high-end customers whose expectation is here and they are going to pay at this level and therefore the service has to be at that level. That means there will be full turndown service at the Royal Hawaiian, but, at another hotel, such as the Princess Kaiulani, there is no turndown service at night because the price is different. The customer who pays $100 a night, one would hope, knows the quality of the product and the services are going to be on a different level.
Egged: Basically, we're all saying the same thing, and I think Eric is right. In order for Waikiki to continue to be successful in a competitive environment, we have to have good service and good service means that we can't be operating on a skeleton crew. For a long time, we went through a rough period. A lot of the properties tried to hold off as long as they could to add people because they were trying to cover a lot of red ink in Waikiki. But we can't keep operating properties with less than full staffing. You're going to have to add the staff that customers demand and provide the services customers demand. So, in the long pull, the higher-end product serves Eric's purposes as well, because to maintain a higher-end product you have to have better service and more staff.
Gill: Obviously there are these points of divergence. I don't expect, for example, Outrigger to express the same concern for the bank investors that I do. But we have an opportunity in the next few years. We have a contract now going forward to 2018, which is the first time since I took office. We don't have a contract dispute with the Hilton or the Sheratons, the Starwoods. Hyatt is now resolved. Marriott is about to ratify the agreement. So, we have an opportunity to do something we've had little opportunity to do in the last 10 years, which is to find areas of common interest. In fact, the interests of workers and the interests of the company in most cases are alike.
Egged: Another major concern for Waikiki is energy, it's our second-biggest operating cost (after labor), and we're seeing interesting opportunities on the energy front. The state completed a study last December that said if we switched from oil to liquified natural gas we could save 40 percent on (generating electricity). LNG is not a Waikiki issue. That's an issue for the entire island, the whole state. It's important that we follow through on investigating it. We're also looking at the idea of creating a seawater air-conditioning unit to bring cold ocean water to help us with our air; our biggest electric cost is air conditioning.
Nishizaki: Let me add on to something Eric said about training employees: It's not just training new employees, but also retraining current employees. As customers' needs and expectations change, we need to continue to upgrade the training levels of current employees.  What the customer goes away with is the experience they get from our associates at the hotel. That is something we will work on together to see if we can accelerate it. At the end of the day, what we want is a good employee because, frankly, a bad employee ends up becoming a problem between some union representative and our management team.
Gill: Do you have any bad employees, Ernie? (laughter)
Nishizaki: We have no bad employees.
Gill: I don't get your point. (more laughter)
Petranik: David, are there new markets that you or the hotels are reaching out to that seem particularly suited to Waikiki?
Uchiyama: I think Latin America is of interest to us as well as expanding Southeast Asia.
Petranik: Which countries in Southeast Asia?
Carey: Hong Kong, Singapore, and we are seeing some of that captured with the new routing. China Airlines has a pretty good overall route structure within Southeast Asia and coming through Taiwan as a gateway and then on to Hawaii.
Carey: But that's not good enough. We need a direct flight from Hong Kong. I fly this two, three times a year and it's painful to get to Southeast Asia and back.
China will soon be the largest outbound country in the world. For us to get our fair share of that will require adjustment to the visa processing. Right now, it is very difficult for an average Chinese tourist to get a visa to travel to the United States. Over time, markets ebb and flow and the lesson of the early '90s, when Japan and the U.S. went down, we had nowhere else. Right now, we've got Australia, Japan, North America, and we've got some burgeoning broad business out of Korea, some potential out of Taiwan, nascent business out of China. Ideally, you have a little bit out of a lot of markets so that as the economy slacks a little bit we always have a steady flow of regular visitors. But Australia doesn't have a (similar visa requirement for Chinese visitors), Thailand doesn't have it, Bali doesn't have it. These are our competitors.
Uchiyama: We've created a lot of headway. It used to be three months (for Chinese to get a visa to America). It's down to two weeks. As we see the new airlift coming to the China market – Air China starting in January and then Hawaiian follows in April – then we'll have service from both Shanghai and Beijing. I think it will start to pick up, but getting further into Southeast Asia is something we need to do as well.
Egged: Just to be blunt about it: You want to be in places where the income demographics are higher so they can travel here, and they are in Singapore and they are in Hong Kong, and there is enough of the population in China to do that.
Certainly there is in Japan and there is enough of the population in Korea. We are an expensive destination but, I always say to our people, it's worth it. The quality that you get here in terms of the number of the resorts, the quality of climate, the cleanliness of the air, the friendliness of the people. You can't buy that. I go all over the place and there is no place like Hawaii.
Petranik: Is India a potential market or are the plane rides too long?
Uchiyama: India is a potential market. In fact, we just met with Emirates (airline) at our last World Routes Conference. Very interesting developments. They have fifth world freedom rights, which allows Emirates to go into other markets and transport people within the United States. They are looking at a code-share agreement with Korean Air right now, which might be the first phase of them considering running the route themselves. So, India is a possibility with the new generation of aircraft, the Airbus 350s coming on. Some (other markets) can be reached with a 787 and those all start to come into the mix.
We're looking at Latin America right now because there is a merger of two Latin American airlines that have already acquired 787s (Boeing Dreamliners) and we think that's an opportunity for direct services. Right now, they are gatewaying through Houston or Dallas, and we see that potentially as a direct service.
Europe becomes a possibility as well with the 787. We've talked about possible charters to start. Our European business has grown. We were pretty much right about 114,000 arrivals every year and that has grown to 134,000 and it looks like we are going to exceed that this year, so that may become another opportunity for us. So, the globe is becoming smaller and we just had the international airlines symposium here with a lot of different carriers. This really becomes the gateway for everyone to come through, so, hopefully, we'll see more and more diversification because that is what we need to have a more sustainable industry.
Nishizaki: Are those markets using the Neighbor Islands, because Waikiki is already running at a very high clip?
Carey: That's a legitimate challenge, for us to change that dynamic.
Uchiyama: We didn't realize it but we were marketing ourselves as Hawaii. We went and did some research and the perception of Hawaii is Waikiki, so we changed that and now are marketing the Hawaiian Islands, so right out of the gate they know it is multiple islands. Before, we didn't push the contractor or offices in Japan to distribute business. Now, we've got goals for each island out of each market, so that there's a conscious effort to push business into the Neighbor Islands.
Carey: We must be careful about activity availability on the Neighbor Islands. Now, if we rank the Neighbor Islands by activities, Maui is No. 1, next is Kauai and the Big Island is further down the list. Those islands used to drive a lot more energy in the MICE business. When I first started, you could go up and down the coast and every insurance company, car company and bank were doing their incentive business there, and now because of the stigma of doing business here, it has declined significantly.
Having said that, talking with AEG guys, they believe the incentive  business out of Asia is still in the beginning stages and we'll see more of that because Asians don't have the same issues.
Gill: If you hold a convention in Denver and hold the same convention in Hawaii, you're going to get twice as many people show up in Hawaii because it is a popular destination, and we're not Denver, Phoenix, Albuquerque or these other places. Hawaii, unless we screw it up, should always be a draw.
If you go to hotels in China or in Japan, you're going to have good service and you're not going to want to come here and get nothing. So, I think that is good for us if we maintain it. There are other issues that we're going to have to sort through. If we get a lot more Chinese, a lot more Koreans, how do we talk to them? We had 20 years or 30 years of arguments over linguists for the Japanese groups and they took a while to resolve. That creates issues in terms of who you retire for what jobs and so on. We're going to have to address that through training as well. If you've got to put five linguists at the top of the seniority list, we're going to have a problem with local people who don't speak (an Asian language) losing opportunities to junior people. But we are training people in Chinese and we have a trust fund for that.
I'm very optimistic.
Szegeti: I've heard it from some Chinese groups: They love Hawaii, but they felt like they were in Japan. We ought to look at it from a marketing standpoint. If you go to any of our restaurants, the food and drink menus are in English and Japanese because it is the right thing to do. They have been our bread and butter. But, if we get that big influx from China, they will look at it as, "OK, where's mine?"
Egged: We have the beginnings of that. I was just in PF Chang's and they have their menus in Korean and Chinese, too, so I think that's coming. We had a great presentation at our 2020 Conference on the Chinese market and the point was made that there are a million millionaires in China and all of them can fly whenever they want. They do not have to get a visa if they want to come and visit Hawaii as they have already got their 10-year visa to the U.S. We want to make it even easier to get a visa from China, but there is no question that today China is a strong market. About how many in 2013?
Uchiyama: About 160,000.
Egged: Another strength of Hawaii is that we are such a safe destination. In the Waikiki 2020 conference, we were looking 20 years back and 20 years forward. The incidences of crime are 40 percent less than they were 10 to 15 years ago, and a lot of that is due to a great police force but also because of improvements in the community.
Gill: I think it is related directly to the perception of the local people that these are good jobs. If you go to Cancun, you have armed guards keeping the local people out of the place. My nephew is in Jamaica for a year with the Peace Corps and he got carjacked four times. If you drive in a taxi there, you are going to get carjacked, but that's a function of the surrounding community being dirt poor looking at this fabulous wealth on the beaches walking around with pieces of it falling out of their pockets. The key to keeping Hawaii attractive in that sense is to make sure this industry pays for the local people and they know it. That's when everybody's aunties work in hotels and make good money and are able to raise families, that's when they appreciate the job. Our mission is to increase that compensation. There may be disputes about what that compensation is, but overall I think it's in everybody's interest to ensure this industry produces for the people so the people don't turn on the industry and on the visitors. Right now a visitor can drive out of Waikiki, go to Haleiwa or Waianae or Waimanalo and have a meal and drive back. If that changes, we're dead.
Petranik: You guys have been very generous with your time. Thank you for answering my questions. Final thoughts? Ernie, you're our host, thank you very much.
Nishizaki: This has been a great session. I appreciate the time that all of you have spent and I can see that the partnership with Local 5 is going to be even greater in the future (laughter).
Gill: The next few years is going to make a big difference and it is very important for us to take a deep breath and take a look at the long-term viability of this industry as it relates to our community's prosperity or lack thereof and make sure that we collectively move forward on things we agree on. We have an opportunity and I don't want to botch it, but we're also in a very dangerous place. (Turns to Nishizaki), I don't know how you guys are going to come up with the money for that extra $500 million on your debt. I don't know where that money's going to come from. Ernie's my friend and Kyo-ya has been a good employer and my employer. I'm very worried about the challenge in the ownership pattern, in essence, from hoteliers to bankers and real estate people, which creates a divergence of interest that we have to address as a community. We have to lock in the long-term benefit for this industry for Hawaii's people.
Petranik: David?
Uchiyama: I want to mention the importance of emphasizing our identity and differentiating ourselves from the rest of the world. From HTA's standpoint, we have lots to work on. The meetings and incentives business is something, short term, we need to get right; we need to get air access and grow that into other markets so we can diversify a lot more, because that will give us more stability and we will lose the (up and down) cycles we've seen in the past.
Petranik: David?
Carey: We're enjoying a moment in the bright sun right now and you always worry about, "When will the other shoe drop?" and "What might it be?" From my perspective, it is continued marketing and market diversification and attention to product. We're fortunate, there's been a lot of investment by the city, a lot of investment by private owners. There has been a lot of support from government for making this a safe and nice destination. If we blink on any of those things, our risks increase.
A 200- or 300-basis-points rise in interest rates could change the whole dynamic. The problem with being a leisure destination in an island place like Hawaii is there are a lot of things we don't control that can affect our business viability – whether it is SARS or a terrorist incident or an economic slide or other problems – so we need to work together to fix the things we do control.
Gill: We have conditioned the public to travel during wars. I remember during the first Gulf War, the whole place was very quiet. In the second one, it seemed like nobody noticed it. They just kept traveling.
Petranik: George?
Szigeti: I appreciate you having us. It is important that we brainstorm together and work strongly with our policymakers. I think it is really important that there are no new taxes and we maintain the status quo, because things are going well right now. But it's just like everything, it's going to go the other way. We know it. It's just a matter of time. I know, David, you would like to keep things going well if we can, but the reality is that a lot of times the market is out of our control. So just keeping strong ties with our policymakers, working with them as great partners and working with some of the local issues like homelessness, graffiti, crime, keeping an eye on them, because they can diminish some of the visitor experience. As much as you want to pump money into it and do all the marketing and everything we do, if the visitor experience at the street level is not good also, then that is what they take away.
Egged: I would like to reinforce a couple of things. David's point about the relationship with the host culture is actually one of the reasons the WIA was created in 1968. It is in our original purpose statement and we need to continue to work to build that relationship to a fine community and community in general. It used to be the residents in Honolulu took great pride in saying, "I don't go to Waikiki anymore, that's just for tourists." We've done a lot to turn that around but a lot more needs to be done and that relationship has improved tremendously over the last 10 years. Waikiki is now a place the community can be proud of, but we still have to work on that relationship. It is like a marriage: You have to work on it every day and so we appreciate the partnership with HTA.
The second thing is that we have a rare confluence where all the basic policymakers on Oahu are on the same page in terms of the importance of tourism. We have a mayor who is very supportive of tourism, the Legislature is very supportive, the City Council is very supportive. The governor is sort of supportive (laughter), but the state has been a good partner to us in a number of ways, for example beach-erosion issues and things like that. So it is critical to build on our success rather than sit back and say we did a great job and our job is finished. It is never finished.
Carey: There is one thing I would like to point out about culture. Our employees started a Hawaiian values education program in the mid-'90s and we spent a lot of time on Hawaiian culture and the host culture, and it is very interesting that we got an amazing pushback from our employees, who said, "Yes, we live in Hawaii and, yes, Hawaiian culture is very important, but our culture is very important, too. I'm Filipino, I'm Chinese, I'm Caucasian, I'm a Polynesian mix. We evolved our thinking to say it is the culture of Hawaii, not just the Hawaiian culture wrapped in the Hawaiian cultural values.  We try to celebrate those different cultures because they are what make up our workforce.
Egged: Which should help us market in Asia.
Carey: Exactly. One of the attraction points of this is there is a little touch of home for lots of those countries.
Gill: One of the problems I have seen is that, when I started work here in '76, there were a lot more Native Hawaiian employees. There are a lot less now. How many do we have left in housekeeping? Two? And they are senior. If you want the host culture to be evident to guests, we have to hire people who will talk to guests. We have a provision in our project that we haven't figured how to use in terms of encouraging Native Hawaiian hiring, without trying to cut anyone else out. We're selling a Hawaii experience, we should have Hawaiians meeting guests and not just as cab drivers.
For example, in Vegas, our union runs an academy. Among other things it does, it takes at-risk high school kids, in essence people referred by the school system, and puts them through leadership training, which amounts to responsibility training – such as how to wake up on time – and, from there, the skills that actually get them jobs in the industry. This is a multiemployer partnership with the union there and I'm hoping we can establish a similar thing. We need the industry to be perceived by the Hawaiian people as something good. Not just good in general, but good for me, and I think we can do that.
(This transcript was edited for clarity and conciseness.)