Wall In The Family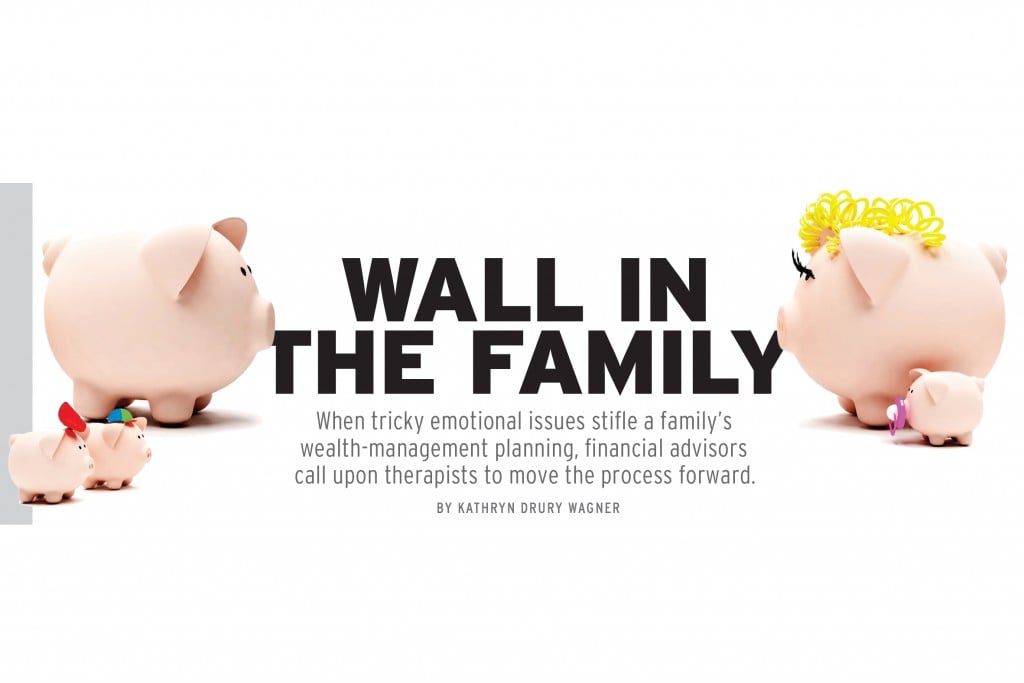 When tricky emotional issues stifle a family's wealth-management planning, financial advisors call upon therapists to move the process forward.
It could be the basis of a twisted reality show: Throw a family into a conference room, have them grapple with taboo subjects like death and money, and watch as the sibling dynamics explode. Yikes.
"It's because of what money represents," says Len Fukushima, a senior financial advisor with Merrill Lynch in Honolulu. "People don't want money for what it is; it's for how it makes them feel. Money can equal love."
Fukushima typically works with families who have a net worth between $2 million and $10 million, and about 70 percent of them have a family business. -Wealth‑management planning, he says, "can get heated very quickly. I can hear it in their voices and watch their body language."
Financial advisors experience this phenomenon all the time, and that's why there is a trend to integrate behavioral science into estate planning. The typical wealth-management team consists of a financial advisor, an attorney, a CPA, possibly a banker – a group that can handle the fiscal, legal and tax ramifications of wealth transfer. But they don't necessarily have the tools to deal with the emotional issues that arise, so the planning process can sputter out. "That is not a good result," says Fukushima, "because these discussions are often taking place near the end of life."
That's when he'll call upon the services of Lani Leary, Ph.D. Leary is a Honolulu‑based psychotherapist in private practice and the author of the book "No One Has to Die Alone: Preparing for a Meaningful Death."
"I encourage and initiate difficult conversations. Oftentimes, there are tears," Leary says. However, "having everyone in the same room, hearing the same thing at the same time, using the same language, avoids miscommunication or confusion." Merrill Lynch does not pay her; families pay her directly at $150 to $200
per hour.
An ohana doesn't have to be wealthy or own a business to find estate planning challenging. "The amount of assets doesn't seem to matter," says Doug Smith, an attorney with Damon Key Leong Kupchak Hastert who specializes in estate, tax and business planning. "If there's no money, there are fewer opportunities for conflict, but families can fight over any small thing.
Many family dynamics affect the estate planning, and the plan itself can then affect the family's relationships."
He gives an example: "In Hawaii, a lot of the wealth is tied up in our homes, so it's very common to have a dispute where one child may be caretaking a parent in the home and then feel entitled to inherit the home, while the other children disagree." Communication, he says, is key, so there are no surprises lurking in a will or trust.
"It's oftentimes easier for people to talk to a stranger … they are more comfortable with someone who doesn't have an ax to grind."
– Leslie Dashew
Family Therapist and Organizational Consultant
You might think it's difficult to get clients to open up about money and emotions, but, "It's oftentimes easier for people to talk to a stranger … they are more comfortable with someone who doesn't have an ax to grind," says Leslie Dashew, a family therapist and organizational consultant working in Scottsdale, Arizona and the author of four books on families and wealth. According to Dashew, the field of -family-business consulting was born in the 1980s and has been picking up steam ever since. In Hawaii, she says, "There haven't been enough resources. There aren't as many people in the behavioral sciences and there are a huge number of family businesses. Understanding the Asian culture and Hawaiian culture is also important." She suggests families find a therapist they click with. "Even if they are very competent, every advisor is not going to work well with every family."
According to EndLink, a resource for caretakers presented by Northwestern University, 90 percent of Americans will die from a long-term illness; only 10 percent die unexpectedly. So most of us have the opportunity for long-range discussions on wealth management, family-business succession and end-of-life decisions, but these discussions make us uncomfortable and we put them off.
"It's important that families sit down face to face and have the conversation," says Leary. "At the end of our sessions, we say, 'Look what we have accomplished. How do you feel about that?' And a lot of the adult children say they feel closer to their family."