Where Has All The Flour Gone?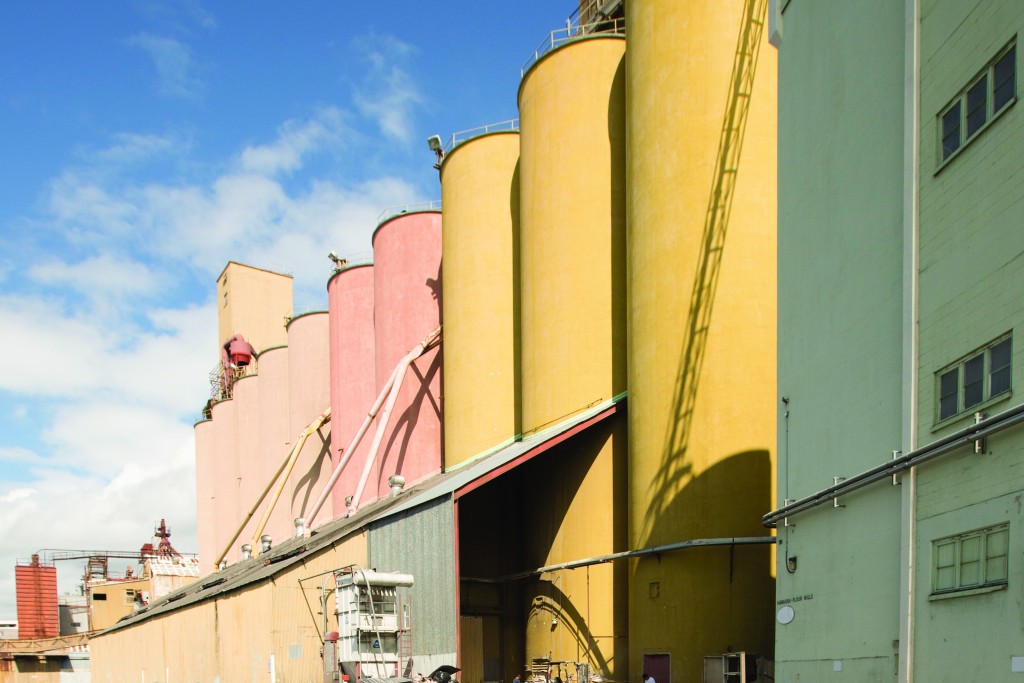 Ever  wonder where the flour to make your morning toast or lunchtime sandwich came from? Until a few weeks ago, it most likely came from Oahu's only wheat-flour mill, the Hawaiian Flour Mill on North Nimitz Highway. But, due to a disagreement with the state over new lease terms, the mill's parent company, Grain Craft of Chatanooga, Tennessee, says it stopped flour production in mid-November and is winding down its Hawaii operations through the end of December.
"Our Hawaii closure is strictly due to the new lease terms," explains Alan Koenig, chief supply-chain officer for Grain Craft, a company that was formed from the merger of three mainland companies in May 2014: Pendleton Flour Mills, the former owner of Hawaiian Flour Mill, Milner Milling Co. and Cereal Food Processors Inc.
"The state had wanted us to offload wheat from a pier much farther away from our plant, and to tear down the grain silos if we left. We felt we just didn't want to take the responsibility for the silos," Koenig says.
State officials say they don't have a tenant to take over the mill, but have received inquiries from mainland and local companies, and that the lease conditions are still under development.
"The only option for buyers right now is to bring the flour in by containers from the mainland," Koenig says. "However, we want to continue our business relationship with the bakeries here, and some have already started to stock up on supplies in advance, and some will receive shipments directly from us on the mainland after we stop producing locally."
Koenig provided no estimate on how shipping might affect the price of flour coming from the mainland. The company will offer services to help the mill's approximately 10 employees find new jobs.
Another factor in the mill's closing is its age: It was built in the 1950s. Chris Yankowski, president of Edsung Foodservice Co., a wholesale distributor of bakery products to retailers such as Foodland, Zippy's and military commissaries, says the mill is "antiquated" and that modern flour mills use computer technology and updated production methods, so it was probably best that the mill was closing.
"The flour industry in the last 10 years has gone the way of consolidation, primarily because a lot of the mills are older, like the Hawaiian Flour Mill," Yankowski says. "It's harder to make a profit on a mill that is still using manual technology."
As for flour prices, he says, prices now are low and, since the mill gave buyers about eight months' notice about its closing, prices paid by buyers are probably locked in for the next quarter or two. Buyers probably have also stored bigger reserves in anticipation of the closing.
"We actually have already been buying flour from a second source as a backup," explains Yankowski, "while still mainly buying from the mill. When the mill closes, we'll still buy directly from Grain Craft, as well as our second source, so we don't expect much impact.
"What we might be more at risk for is a delay at sea in shipping, or a dock strike, or not having as much storage capacity as we'd like. We just have to plan a bit more now, so we carry enough flour to tide us over for those sorts of incidents."
Maikiki Bake Shop on Young Street, one of Edsung's customers, was unaware of the mill's closure when contacted by Hawaii Business, but then made inquiries and now will store more flour, just in case, manager Charlie Bright says. "We used to have two to three days of flour on hand," Bright says. "Now we'll start to carry two to three weeks, and store it in the icebox."
Bright doesn't want to store the 50-pound flour bags too long. "We tend to get beetles hatching inside the flour if we store it for a few weeks, but, if we refrigerate it, there's no problem."
Yankowski warns of possible logistical issues for customers who are used to buying flour in bulk. "Bulk customers may not have the luxury of, say, delaying a shipment due to a lack of space locally. When the mill was in operation, you could just call up and say, 'Please don't deliver today.' But once a container is put on a ship, there's no turning back."
Love's Bakery owner, president and CEO, Mike Walters, says Love's lined up a new supplier that began deliveries in early November: JM Swank, a division of ConAgra Foods.
"We have made arrangements for ample flour to be on-island in the event of a shipping disruption," says Walters. "The incremental expense associated with shipping flour directly from the mainland represents an estimated 30-percent increase. A small portion of this increase will be passed on to the consumer through a statewide wholesale price increase."
Brent Kunimoto, president of Diamond Bakery, says his company will continue to work with Grain Craft and other suppliers "to continue supplying the bakery with the same quality flour we have been using over the years." He said Diamond was adding "logistical equipment to ensure efficient transport of flour at our bakery."
Kunimoto says that "not having a local mill is likely to increase the risk of flour supply problems," and that he will know more about the impact on costs once the new system is in place.
Barry O'Connell, president and CEO of wholesaler HFM Foodservice, says the mill's closure is poignant in more ways than one. "We actually were part of the mill originally. That's what the 'HFM' in HFM Foodservice stands for," explains O'Connell.
"We'll miss the mill, but are proud of its history in Hawaii."
"It's horrible to see the mill go, and it's a part of Hawaii changing that none of us like," he says.