With King Tides, Experts Predict Rising Sea Levels to Continue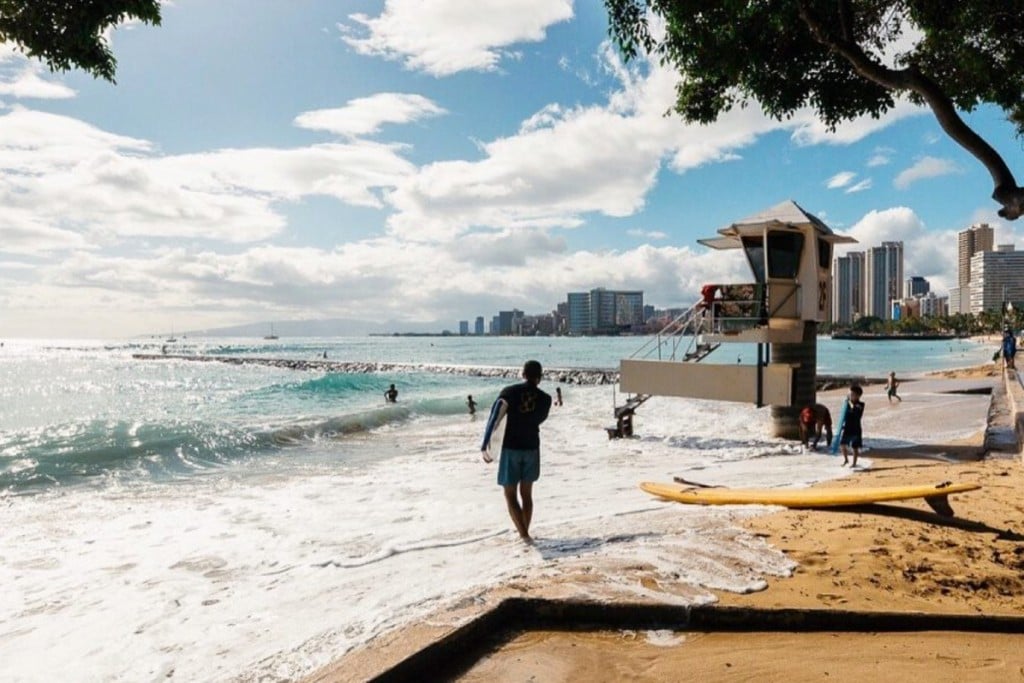 King tides may come and go, but several experts say that rising sea levels in Hawaii are here to stay. And, according to Sam Lemmo of the state Department of Land and Natural Resources, these king tides offer a glimpse into Hawaii's future.
"We're an island state," Lemmo says. "The bottom line is that sea level rise is going to be the thing that really creates a major problem for us."
At a symposium on king tides and sea level rise hosted by the Hawaii Lodging & Tourism Association, association VP Dean Nakasone gave voice to the thoughts of many local residents. "If you're anything like me, when you first heard 'king tides' you go, 'What the heck is that?' Well, it's been around for a long time."
Dolan Eversole, the Waikiki Beach management coordinator through the UH Sea Grant College Program, explains that the term "king tide" has been commonly used in Australia, New Zealand and much of the Pacific for at least 20 years.
"A king tide is actually your normal, seasonal high tide," he says. "Our highest tides in Hawaii usually occur in June and July."
Seasonal high tides are typically around 2.5 feet, but this year has been enhanced by several anomalies. Warm water from El Niño has warmed the Eastern Pacific and is now sloshing back to the west, combining with warm water gyres spinning off the equatorial region to each add several inches to the tide. To top it off, a south swell coincided with the peak of the high tide.
"When you stack them on top of each other, you start to see record-breaking water levels," Eversole says. "They're anomalies, they're not permanent, but they all happened to coincide at the same time."
The stacking effect has led to unprecedented tides. "Our NOAA tide gauge in Honolulu Harbor set the highest-ever recorded non-storm water level in April of this year," Eversole says. "We broke that record in May, and we broke it again in June. We could potentially break it for the fourth consecutive time in four months (on Friday)."Bert Takahashi, chief engineer at the Sheraton Waikiki Resort, has been battling the rising tides with sandbags to keep out water and sand. "We went and dug a trench in front and put up a four-foot wall just to get us through that three hours, which is critical," he says.
"By the time the swell came in and the tide changed, all of those efforts were gone."
Eversole acknowledges "those are total Band-Aids – those are not solutions, by any means. They're just buying some time, getting us through the summer." The anomalies associated with this year's king tides will subside, but long-term predictions from these experts are not optimistic.
"The elevated water levels are not permanent. They will go back down, but they're eventually going to come back, either permanently or episodically," he says.
According to Lemmo, the scientific community predicts 3.2 feet of sea level rise by the end of the century. That poses a serious threat to hotels, commercial and residential structures along the shoreline, as well as state transportation and infrastructure.
In places like Waikiki, coastal development prevents what Eversole calls the landward migration of beaches. "The beaches naturally want to move landward with the increased sea level, but we're not allowing them to do that, so they're narrowing," he says. "The beach just narrows to nothing."
That's bad news for Waikiki Beach, an economic, social, iconic, and natural asset for Oahu. "Waikiki is the engine that drives our economy, and the beach is a big part of that," Nakasone says.
Despite these grim predictions, land developers and owners have not yet changed their strategies since most scientific predictions are so far in the future. In response, NOAA has started to make predictions and models with more immediate implications.
"The scientific community is talking 100-year scenarios, but the reality, the practical application of this data is about what's going to happen in the next 10, 20, 30 years," Eversole says.
Replying to a question from the audience, Lemmo agreed that Hawaii does not have any long-term engineering plans to keep water out and is largely "screwed." Eversole concurred.
"The heat that's already embedded in the ocean is going to give us, by some estimates, at least 500 years of sea level rise, even if we were all to disappear tomorrow. I wish I had better news."