The Five Elements of Wellbeing
The UHA Health Insurance platform gives you instant access to free webinars, podcasts and other health and wellness resources.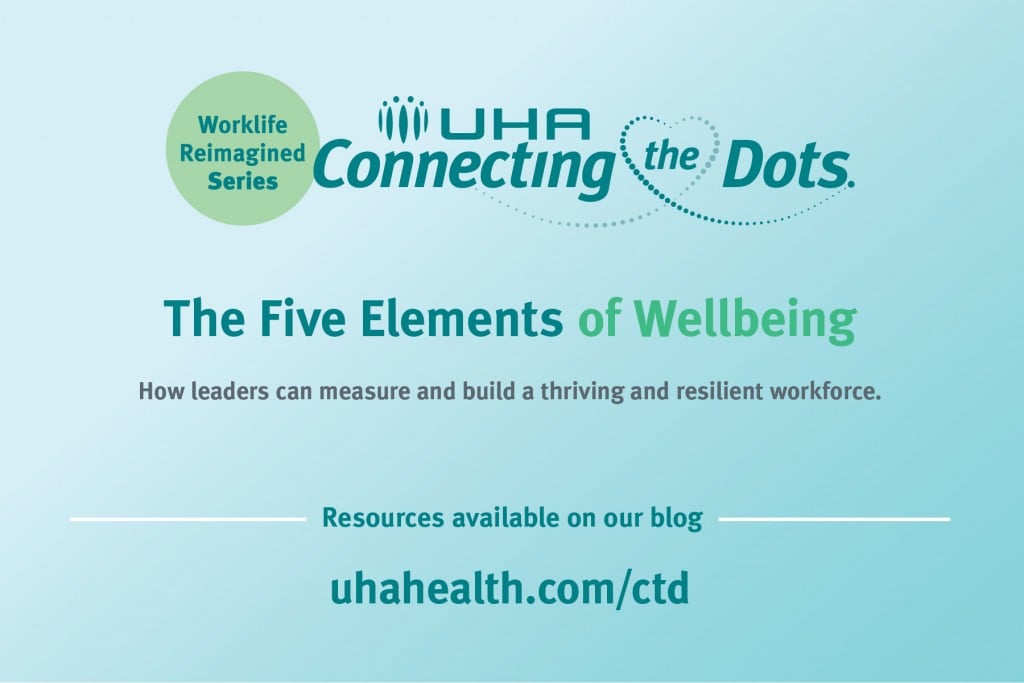 Speakers:
Ryan Wolf, Wellbeing Lead at Gallup
Corey Campbell, CEO and Founder at Akamai Training
Key Takeaways:
Career Wellbeing: What we spend our time doing each day shapes our identity and impacts our overall wellbeing.
Social Wellbeing: Our personal wellbeing is influenced by others through the support and love we get from relationships.
Financial Wellbeing: More than the amount of money in our bank accounts, wellbeing is derived by living within our means and managing our money to eliminate stress from our lives.
Physical Wellbeing: More than just diet and exercise, this is about building up our energy and health so we can experience life the way we want to.
Community Wellbeing: At a basic level, wellbeing is about feeling safe. At a higher level, it's about having a sense of pride for your community and actively contributing to that special place you live in.
---
Happy Employees = Happy Customers
Speakers:
Tiffani Bova, Chief Growth Evangelist at Salesforce
Beth Whitehead, EVP & Chief Administrative Officer at American Savings Bank
Micah A. Kāne, CEO & President at Hawai'i Community Foundation
Key Takeaways:
The fastest way to get customers to love your brand is to first get your employees to love their job.
Typical challenges include a shared lack of vision between employee experience leaders and customer experience leaders, and failing to consistently enhance the experience even in times of revenue growth.
Action items include having a clear vision; incentivizing teams to enhance both the customer experience and employee experience; investing in technologies to measure these experiences.
These actions will cultivate trust, which is the core of every relationship and the foundation of the customer experience. Happy customers are 86% more likely to share experiences and 88% more likely to spend money.
---
How to Motivate Lasting Change
Key Takeaways:
The key to motivating lasting change begins with discovering your "why" – the real reason you want to make a shift in your life, whether it's exercising more or eating healthier.
Examples of "wrong whys" are often tied to numerical values – like the number on a scale.
The "right why" is internal. Exercising to have fun and connect with others, rather than exercising to get healthier, is much more likely to result in lasting change.
When you initiate a behavior to achieve an immediate, positive reward like having fun, it transforms that behavior into a gift. Instead of a "should," it becomes a "want."
People need to give themselves the permission to prioritize self-care and to recognize that taking care of oneself actually improves all areas of life.
---
Your Pathway to Workplace Well-Being
Our "Connecting the Dots" platform can help you bring wellness to your workplace. Visit uhahealth.com/ctd to view our free webinars, podcasts and online resources. Whether you're a local employer, UHA member, healthcare provider or community member, we'll connect you to the information you need.
Learn from motivation scientist, Dr. Michelle Segar, how you can make lasting change in your life. Discover from Tiffani Bova, Chief Growth Evangelist at Salesforce, how happy employees lead to happier customers and higher sales. And hear from Ryan Wolf, Wellbeing Lead at Gallup, how you can improve your five elements of wellbeing.
For these webinars and more, visit uhahealth.com/ctd.