World's Largest Hula Supplier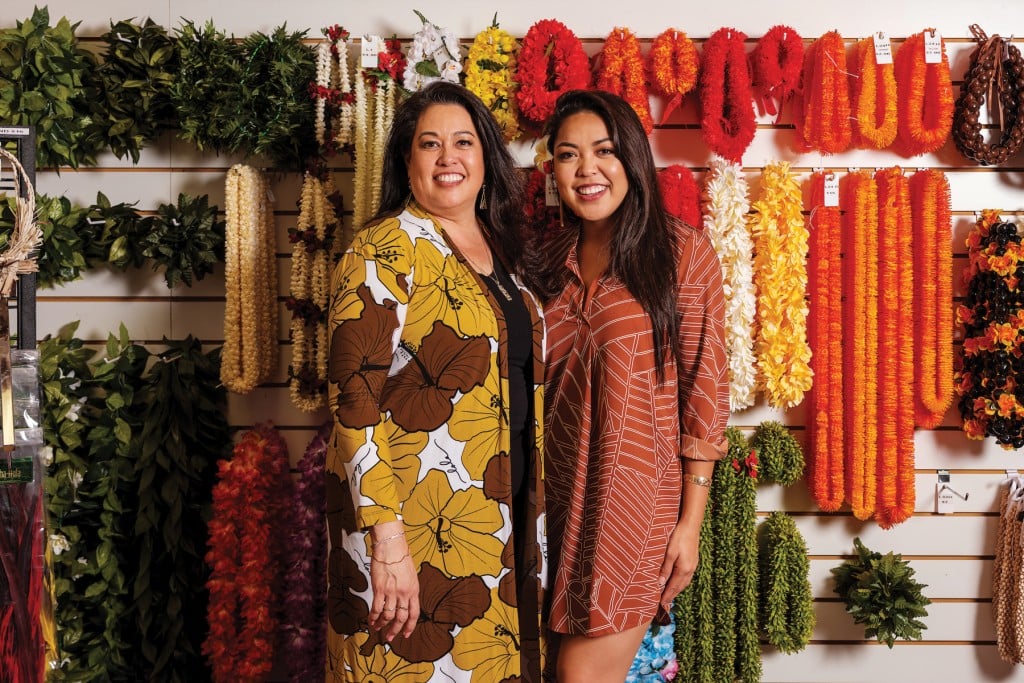 Aloha Hula Supply in Salt Lake hand makes many of the items
it sells
For more than 10 years, Leina'ala Pavao Jardin has been buying hula implements and artificial lei for her hālau's foreign performances from Aloha Hula Supply.
"I find their merchandise to be of the finest quality and value," says the kumu hula of Hālau Ka Lei Mokihana O Leina'ala in Kalāheo, Kaua'i.
"Hospitality and personalized service by owner Sue Eldredge and her staff definitely has me returning for their unique aloha spirit."
The store began on Downtown's Fort Street in the 1940s but the business was especially well known for its location at South King and Isenberg streets after the company moved there in the 1950s. It was run by the Kop family: father B.K. and then sons Steven and Michael.
"Around 1998, the two brothers split up," says Eldredge, who was a regular customer as the teacher and owner of a Polynesian dance studio in 'Ewa Beach. "Steven opened his own Aloha Hula Supply in Kalihi on Laumaka Street, near the jail. Michael renamed the South King Street store Hula Supply Center."
Helped Company Modernize
Eldredge – who received her MBA from Hawai'i Pacific University in 1995 – became Steven's operations manager in 2008, helping him to computerize and modernize his systems. "I also brought in new costuming – since I'm a dancer – more hip bands, head, arm and leg decorations."
When Steven retired in 2012, Eldredge bought the business, with his help and her family's help. Three years later, the store moved to its current 5,428-square-foot warehouse on Lawehana Street in Salt Lake.
"This used to be a Safelite Autoglass repair center," she says. "It cost us $80,000 to renovate and rebuild the location; we were closed for two months during the move."
To run the business, Eldredge says, she depends a lot on her husband, Duane, a seventh grade math teacher at Āliamanu Middle School. "He's my mastermind in the background. If I need help figuring out how to solve a problem or construct something, he's there to tell me what to do."
Her 25-year-old daughter, Kelina, who was Miss Aloha Hula 2017, was recently made the office manager. There are 17 full- and part-time workers, most of them from the local Laotian community, says Eldredge. "They work really well with each other, so whenever I need to hire someone I go to them first."
But because most of her workers have been with the company for decades, Eldredge says, she's beginning to encounter "generational issues."
"Now you have a new generation that doesn't want to work with their hands. My lead 'ulī'ulī maker and my lead sewer are husband and wife, and they both retired last year. So we're going through a transitional phase."
She says there was an attempt to steal trade secrets, so now all employees are asked to sign a confidentiality agreement. Eldredge says the company's most popular items are handmade in the warehouse, so she can tell if the design is hers or a copy.
"I know most of the hālau and if we've sold to them. Then, depending on the implement, I can tell from the color and type of the fabric, and the quality of workmanship, if it's made by my staff.
"We're the largest hula supplier in the world. We'll give you the best quality and the best service."
Ships Items Worldwide
Aloha Hula averages about $2 million in sales annually – with 70% of goods shipped out, and the rest sold locally.
"I'd say about 35% of the shipped items go to Japan, and 65% to the Mainland and to other countries, such as France, Australia, New Zealand, Italy and even places like Lebanon, New Caledonia and Korea." Besides its website, customers can find the company on Facebook, Instagram, the Merrie Monarch Festival webcam and by word of mouth.
Some of Eldredge's well-known clients are Tihati Productions, Paradise Cove Luau and Legends in Concert Waikiki. "I've also seen our implements in displays at the Honolulu airport, at Ala Moana Center and in hotels."
Of course, Eldredge's biggest showcase is the Merrie Monarch Festival. "I feel honored and humbled that kumu would trust and believe in our products to put them on a competitive stage."
Although it's too early to think about retirement, Eldredge says, her plan is that Kelina will take over the business after her.
"Or I could sell, but I'd want to make sure that person would protect our kuleana."
Popular Items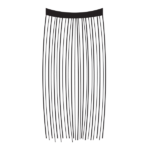 Tahitian skirts
"These are our biggest sellers. The skirts are made in the villages of the Federated States of Micronesia. They come to us in a natural color, and we hand-dye them into 20 different colors. Hawaiians call them hau skirts."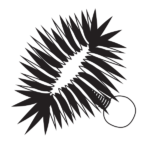 'Ulī'ulī (feather gourd rattle)
"We can't make these fast enough. The gourds are grown in Mexico, and the feathers come from New York or California, but everything's cleaned and sewn here in our own warehouse. Ali'i poe seeds are normally used for the inside, but they're not available in large quantities, so we had plastic seeds manufactured in the same weight and size in China."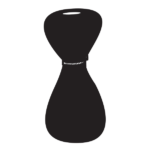 Ipu (drum gourd)
"The gourds are grown in Southern California because there's not enough land space in Hawai'i. We bring them in 40-foot containers once a year. Then we cut and clean and paint and do all the work on them here."
Aloha Hula Supply
4369 Lawehana St., #A-2
847-7600
alohahulasupply.com