Worth Considering: Building with Shipping Containers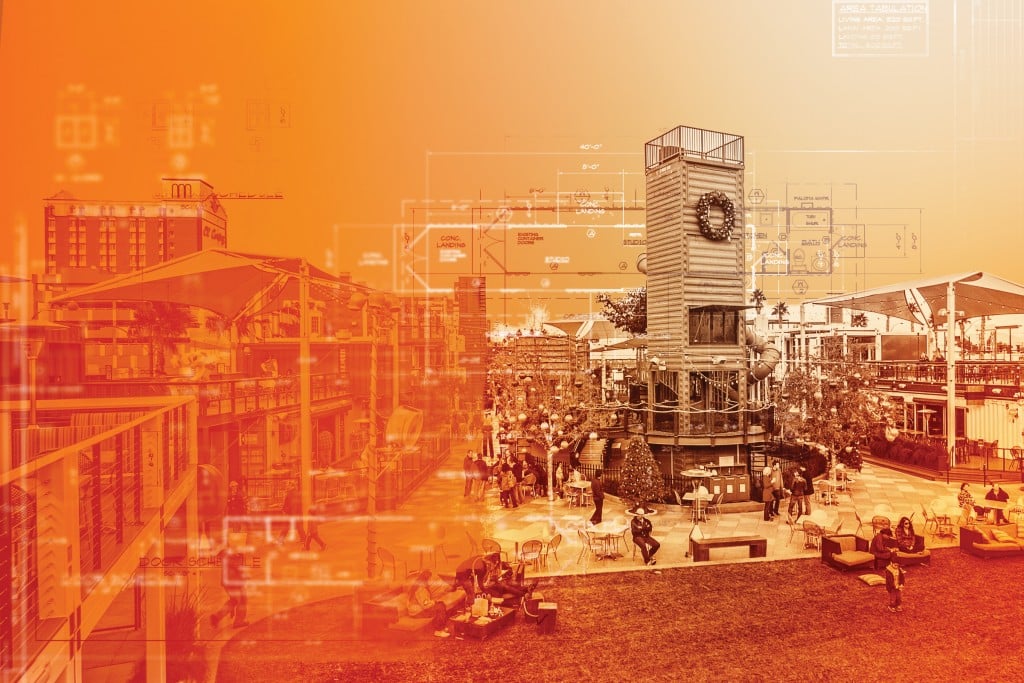 Last November, the Hale Mauliola Housing Navigation Service Center opened on Sand Island. It made national news for creating homeless shelters from retrofitted shipping containers. Some people were appalled, others applauded the frugality and portability of the design.
In Nevada, 45 shipping containers are employed for more amusing purposes at Las Vegas' Downtown Container Park, a shopping and entertainment complex. In Brighton, England, shipping containers stack high as dwellings for the formerly homeless and, in Oakland, California, rents got so high, a community called Containertopia sprang up. It's containermania!
It's not yet clear if repurposed containers are a fad, or a new but lasting concept in affordable and modular architecture.
Driving around the Islands, you see containers everywhere, so you'd be forgiven for assuming there must be a surplus waiting to be recycled. Yet, despite the fact that Hawaii imports 80 percent of its goods, old shipping containers aren't lazing about, begging to be turned into some hipster's kombucha stand.
Containers are made in Asia, wave to the Islands on their way to the West Coast and remain in a shipping company's fleet for eight years – the time it takes for them to fully depreciate. China doesn't want them back, so they wind up in Seattle, Long Beach or Saudi Arabia. If they return to the Islands for use in building, it's because they have a broker or new owner awaiting them, says John Rogers, owner of Affordable Portable Housing Hawaii, which deals in new and used containers, as well as with the drafting, permitting and building of units from recycled containers.
Why Build with Containers?
"They're like Sherman tanks," says Rogers. "They can't dent easily, or they wouldn't be shippable. They make them out of a really hard steel."
$3,500
Cost of a used but undamaged 40-foot shipping container
These aren't just boxes: They must be able to withstand up to 45,000 pounds of cargo per container, stacked up to four containers high, while rocking on the ocean.
They are also more affordable than building most structures from scratch. Containers are 20 or 40 feet long; a used 40-footer costs about $3,500, says Rogers, though, if it were damaged, it could be as low as $800. Many customers ask for modifications, such as roll-up doors, vents for air flow and repainting, depending on what they want to repurpose the container for, such as a storage shed or office.
On Oahu, where building codes are stricter, they are not usually used for housing, but they often are on the Neighbor Islands, says Rogers.
The biggest challenges? Rust, which can be banished using a silicone elastomeric coating, and heat. One does not wish to bake in a box like Auntie's banana bread, so you can also use coatings for sun resistance, which can make it 25 degrees cooler inside a container than out.
It's often hot in Las Vegas, too – the average July high temperature is 106 – but the folks behind Downtown Container Park were willing to work with containers anyway.
"We wanted to be different," says director of retail operations, Doug McPhail. "It could have been out of stucco and brick and you wouldn't have called me. We used over 40 containers in the park but we also used them for walking bridges, walls, we have a five-story AV tower. There are ways you can use them besides fusing them together. It started as an idea of containers where businesses can pop in and pop out, and then the architects really got going."
DCP has been successful not only as an architectural playground and a neighborhood revitalization, but as a crucible for startup businesses. The complex is part of Zappos CEO Tony Hsieh's revitalizing Downtown Project and carries the vision of supporting entrepreneurship. Says McPhail, "For businesses who have been online and want to try brick and mortar, or, in this case, container, the cost of entry is low, we have reasonable lease terms, it's not expensive, you can get in more easily than into a mall. We want people to be able to move on and not destroy their lives if it doesn't work out."
Hans Hippert, the owner of JoJo's Jerky, has been a tenant since DCP opened in December 2013. He's in a mere 12-by-24-foot space but calls it "a huge stepping stone." He says, "The container was the external and we had to build it out. It's 'Here's your oyster, now make your pearl.' Downtown Container Park has become a must-see for Vegas. It's hip, fresh, where the smart guys are, the restaurant critics. Imagine Dragons come here for a drink."
What Else Can Be Imagined?
Converted shipping containers from Container Storage Hawaii were used for the shelter on Sand Island Access Road. They had to be made from new, never-used containers, to avoid possible contamination from chemicals or danger from metal fatigue. What about Oahu's housing building code? "These were done under emergency proclamation and have no electricity in them," says Russell Wozniak, a professional engineer with a doctorate in architecture, who works at Group 70, the firm that helped design the project.
Wozniak says the size, 8 by 20 feet, and material of the structures make them ideal for a temporary purpose. "They are sturdy and strong and aren't subject to torque. When it comes time to move it, you can move it with a simple forklift and a medium-size truck. You could stack them, change the arrangement."
Was it boring to design with what is essentially a shoebox? No. "The architect appreciates a structurally honest building," says Wozniak. "These were left on site as simple, affordable structures. It's defining a new type of housing, in a way. There's a gap of need in housing. This is a sliver within the needs. We talk about minimalism and tiny homes, and modular."
But, he cautions, "The container guys would say you can do anything with a container, but there's a lot of time that goes into modifying that container. There are umpteen ways to use a container. For the right purpose, they're a great thing. But choosing the right application is key."