Yes, We're Open: Tanaka Ramen & Izakaya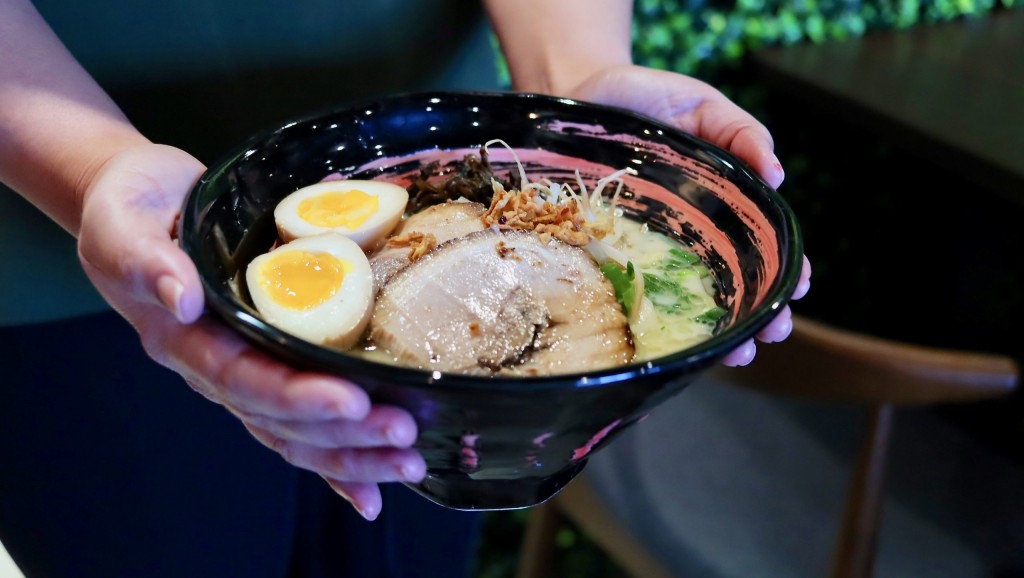 One in a series of profiles of new small businesses in Hawai'i that have launched since the pandemic shutdown.
Since graduating from UH Mānoa in 2014, Tina Wang says, she has dreamed of bringing her favorite ramen to Hawaiʻi's rich noodle scene. The dream first took a detour to the Mainland and then COVID-19 altered it's realization, but Tanaka Ramen & Izakaya is making the best of it.
"Growing up, I learned about business from my dad, who was a businessman in China," says Wang. "When I lived in Hawai'i, I experienced amazing Japanese ramen and enjoyed it so much that I decided to open a ramen restaurant."
She started the Tanaka Ramen chain in 2017, opening locations in Texas, Chicago and Atlanta, and this year in Kapolei. Wang says the restaurant is named for the chef who inspired her and brings gourmet ramen bar-style dishes from Japan, such as the signature Tanaka Classic, Rich Garlic Ramen and regional specialties like the Soft Shell Crab Bun, which is exclusive to Hawaiʻi.
The first of three Tanaka Ramen locations in the Islands was scheduled to open at the Kapolei Marketplace in March, but the government's stay-at-home orders delayed the opening until June.
Tanaka Ramen made the now-typical dine-in safety adjustments including using only half the indoor capacity and putting greater focus on takeout and delivery. The bigger challenge was getting customers to take a chance on a new restaurant.
So Wang spread the word by hosting what she called a virtual event for media people and social media influencers, who got takeout meals and then learned about the restaurant and its foods with her over Zoom. Tanaka Ramen also promoted itself by donating ramen to volunteers at the Kroc Center, doing giveaways on Instagram and generally interacting with foodies and influencers across their social media.
Wang says Tanaka Ramen still plans to open it's Ala Moana and Pearlridge Center locations later this year.
Despite the challenges, Wang isn't discouraged. "Hawai'i has always felt like home to me and I am excited to be able to return and to give back to this community, which has given me so much. We are all just trying to stay positive and now that the restrictions are slowly lifting, we want to provide residents with their favorite comfort foods during this difficult time – like a hot bowl of ramen."
If you know of a local business that's opened during the pandemic or since, email us at feedback@hawaiibusiness.com.