You Can Stay at the Volcano Again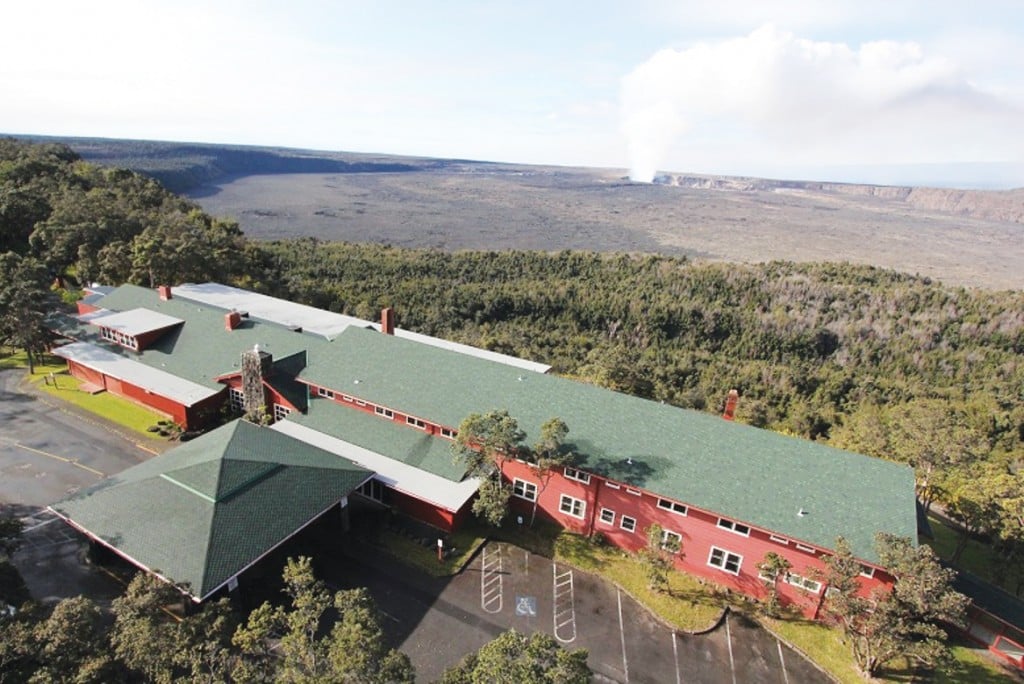 Renovated Volcano House reopens three years after closing.
After standing empty for three years, the Volcano House Hotel is gradually reopening on the rim of the still-active Kilauea Caldera at Hawaii Volcanoes National Park.
The National Park Service closed the lava-stone and ohia-wood structure on Jan. 1, 2010, as its past glory faded below national-park standards. In August 2012, the newly formed Hawaii Volcanoes Lodge Co. picked up the lease and guaranteed to bring it up to 21st-century specifications.
When it was first built in 1846, visitors to the site of spectacular lava viewing could check into the original thatch-roofed, one-room, Hawaiian-style inn. When young reporter Mark Twain arrived on June 3, 1866, he found "a neat, roomy, well-furnished and well-kept hotel at the volcano."
Expansions and improvements brought the famous hotel on Crater Rim Drive to a total of 115 rooms. Sadly, it burned down in 1940, ignominiously destroyed not by red-hot magma, but by a grease fire in the kitchen.
The existing hotel, which opened in 1941, was overdue for refurbishment. The new lessee is a joint venture between Santa Fe, N.M.-based Ortega Family Enterprises, which operates national park concessions, restaurants, retail outlets and hotels, primarily in the Southwest, and Aqua Hotels and Resorts, a Honolulu company representing 24 properties on six Hawaiian Islands.
Project manager Ercel Dunsmore says a $3 million renovation began in January and should be completed by June. The interior of the old building was stripped bare, including the cavernous, white-tiled kitchen, and is being completely updated. Where possible, original features will be retained and restored, including the polished concrete floors and iconic lava-stone fireplaces. The dining room, with panoramic crater-view windows, will seat 250.
Planning a Visit?
A phased opening began March 22 with the first eight rooms, gradually to be followed by the dining room and the remaining 33 units. Visit www.HawaiiVolcanoHouse.com for availability and reservations.
The Namakanipaio Campground, south of the park entrance, reopened in 2012 with 10 refurbished "camper cabins," which rent for $55 a night. National Park admission fees apply.