You Have to Split Yourself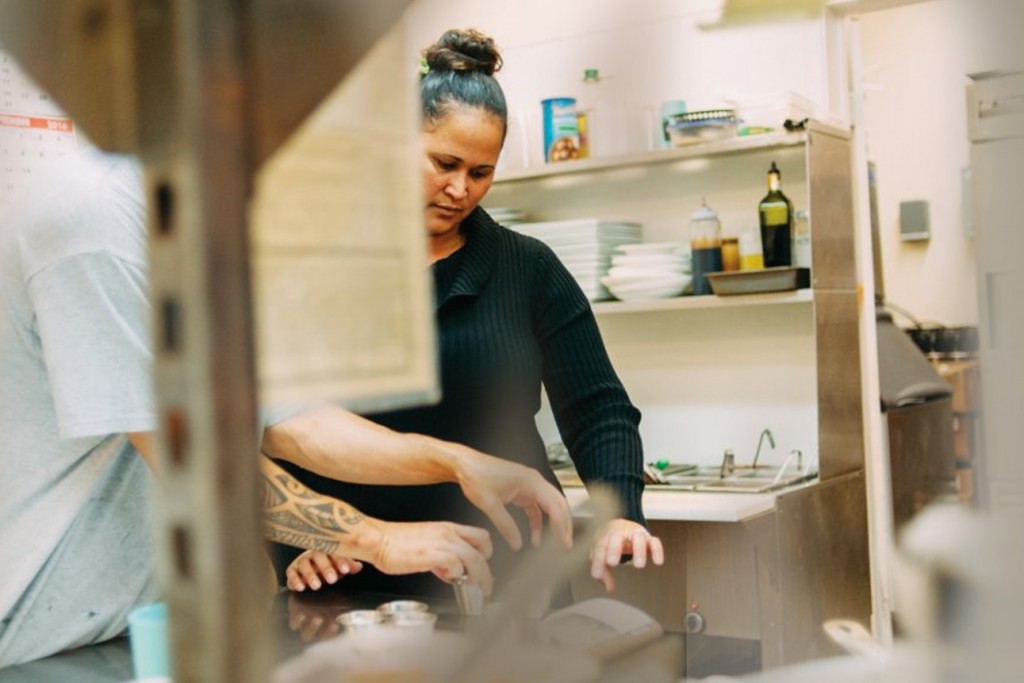 ➨ When you're the CEO, just about everything lands on your desk. That's true in small and big businesses. CEOs are hand-holders, problem solvers, cheerleaders, admonishers, risk-takers and workaholics. They deal with financial complexity, human drama and enough email to sink a ship. They've learned how to protect their private time, and to know when something is an emergency and when it's not. Luckily, the three CEOs we followed for a day also say they're doing what they love.
---
JUDY BISHOP

President and CEO of Bishop & Co.
➨ Judy Bishop has been in the staffing business since she was 24, with experience on the Mainland, and in Australia, New Zealand and Singapore. She came to Hawaii in 1985 with a national staffing agency, but opened her own company in 2005. At any one time, it has as many as 200 employees on contract.
"We don't sell a product, we sell services. You're always dealing with people and they never cease to amaze me. I'm often challenged but never bored. Every day is as unique as people are."
There are lots of meetings with clients and staff, but even more email – she makes at least 200 responses a day. "It takes a huge part of my day. As soon as I get out of bed I'm answering emails, probably 50 right after I wake up."

♦ 6 am Get up, walk the dog, begin reading emails.
♦ 7 am Drive to work or appointment.
♦ 8 am Breakfast meeting with clients or interview with executive candidates.
♦ 9 am "I'm always looking at my company's financial reports for any deviation from the norm, and also to see if a client's business has gone up or down, and to make sure we're in touch and up to date." Also follow up on my nonprofit board responsibilities, such as reviewing financials as treasurer for the Women's Fund.
♦ 10 am Proposal/bid pricing/preparation meeting with staff. This is the toughest part of the day: deciding pricing and bids and whether to bid or not, or take on a new client or a new project by looking at both the risk and reward.
♦ 11 am Research potential speakers for Hawaii Society of Business Professionals' "Farm to Table" program ("I'm program co-chair.")
♦ LUNCH Generally a time for meetings, staff/team lunches, board meetings or committee meetings. For meetings outside the office, it's usually just a quick drive or short walk.
♦ 1 pm "I'm back for employee coaching/counseling/training."
♦ 2 pm Department team meeting (internal staff) – go over challenges, process improvement, etc. "When I learn that a client has hired my candidate, it makes my day! It means I make both the employer and the candidate happy."
♦ 3 pm Marketing/advertising: develop copy, consider sponsorship agreements; prepare presentation for Chamber Small Business workshop.
♦ 4 pm Reviewing/approving invoices, budget discussion, planning. "Each day means making literally hundreds of individual business decisions."
♦ 5 pm Gym workout.
♦ 6 pm Walk the dog. "It's my time to unwind, clear my thoughts, enjoy the beach and put my attention somewhere besides the job."
♦ 7 pm Pilates or yoga, and then dinner, often with friends, and often later. "I don't cook. Instead my go-to dinner is a custom-prepared meal. But I love to try new restaurants."
---
HOWARD GARVAL
President and CEO, Child & Family Service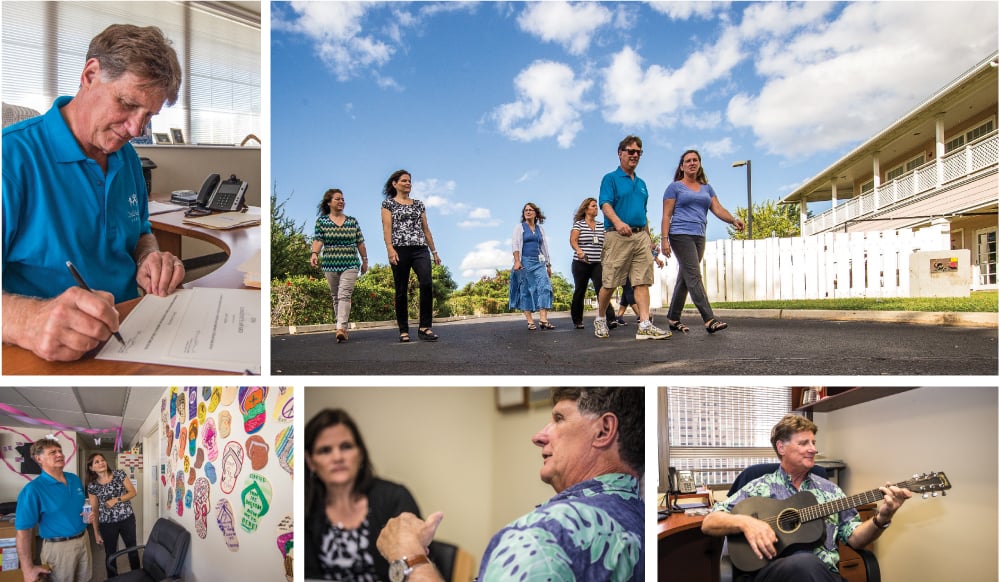 ➨ CFS is one of the state's foremost nonprofit social service agencies, delivering services directly to 11,000 to 15,000 people a year – including some of Hawaii's most vulnerable. Howard Garval has spent a lifetime as a social worker and it runs in the family: His wife is a social worker and his two grown daughters are going into that field, too.
Garval sees a key new direction for CFS around family-centered full service. "We assess the family for what their needs are. Many people we serve can benefit from more than one of our programs. So we ask the staff to think about the family first and then programs."
The beauty of the family centers run by CFS is that people can walk in and ask for services, with no eligibility requirements. "They may just come in for food and we may never see them again."

♦ 5 am I'm sleeping at this hour except for days I either have a downtown breakfast meeting or need to get to the airport for a Neighbor Island visit.
♦ 6 am If I don't have an 8 a.m. meeting at the Ewa headquarters, I will power walk where I live in Ko Olina. It's my primary exercise and, ideally, I do it at least three times a week. If I have an 8 a.m. meeting at Ewa, I'll have breakfast and read the newspaper before I go in.
♦ 8 am Our official work day runs from 8-to-5. Many days I start in the Leeward area and then head into town for meetings, lunch, events, etc., no earlier than 9 a.m., so I avoid the rush-hour traffic. Some days I'm in the Leeward area all day. When I'm there I'll power walk with staff members for 20 minutes to half an hour, which also gives us a chance to share newsy items that don't need meeting times. I'm usually joined by Maureen Bates, Joey Keahiolalo, Ellie Montalbo, Kristen Hartley, Karen Tan and Jen Vosberg. This morning we stopped to see a wall display of "Slippahs," which are designs created by some of our families as an expression of emotional journaling
♦ 9 am Leave Ewa headquarters to drive to Bishop Street offices for meetings. Greet WorkLife Team and CFS Development Team.
♦ 10 am Confidential meeting to offer CFS' expertise for improvements in the state's child and adolescent mental health system.
♦ 11:30 am President's Blog Formulation Meeting with Lisa Halvorson and Karen Tan. We look at everything from the original concept of Family Centers, to strategy for community transformation, to how we can partner around homelessness, especially how we can help families before they become homeless.
♦ 12:15 pm Lunch brought in for volunteer Guild meeting and shared with Blog meeting.
♦ 12:45 pm Pop in to greet CFS Guild founders Lynn Watanabe and Sharon Weiner, strategizing about raising Stronger Families Fund support. I review the plan.
♦ 1:30-2:30 pm Audit review led by CFS CFO Vivian Yasunaga, and including chief development officer Anne Marie Rizzo.
♦ 3-4:30 pm CFS missed out on being a "Best Places to Work" as ranked by Hawaii Business; using the results of our BPTW survey, I've been hosting Listen Story sessions throughout the entire organization (nearly 500 employees) to get insights in how to improve as a workplace.
♦ 5 pm Official day ends. When I have no evening meeting or event, I like to get out of the office in Ewa by 5:30, but sometimes I will need to stay as late as 6:30. If I'm downtown, I sometimes work until 6:30 to avoid the worst of the rush hour before heading home.
♦ 6 pm Except for evening events and meetings, I'm often home by 6. If I stay downtown to work to avoid the rush hour, I'm generally home between 7 and 8. When I have meetings or events after work, I'm home as late as 10.
---
DAWN KANEALII-KLEINFELDER
Owner and CEO of Liko Lehua Cafe Kaumana and Liko Lehua Cafe Pauahi
➨ In the five years since Dawn and her husband, Matthew, took over the company from her auntie, they have built a thriving food empire in Hilo that includes a small takeout restaurant, a larger café, a gourmet Hawaiian fruit butter business and a catering company.
It started with the two of them making fruit butter from 5 p.m. until midnight after their day jobs. "We did that for a year until my husband looked at me one night and said, 'We either have to stop or something needs to change.' "
That's when Dawn Kanealii-Kleinfelder went full-time with the company.
Here's how she describes a typical day.

♦ 6 am Get my two younger kids, Adam, 11, and Maya, 9, ready, fed and everyone into the carpool for morning dropoffs. (Our oldest, Alexis, is at a military academy on the Mainland on a volleyball scholarship.) I usually don't eat breakfast but take anything I can find that fits in a Tupperware, like lettuce or garlic bread.
♦ 7 am In Hilo town, dropping the kids at their schools, and then my husband at his job with a solar company.
♦ 8-10 am Errands, picking up missing ingredients for the café, or paperwork about the creation of a new special for diners. Once I'm back at Liko Lehua Café Pauahi, the accountant plunks down the payroll on my desk, and for the next half hour I sign paychecks for our 40 to 50 employees.
♦ 10 am-1:45 pm Doors open at the café at 10 a.m. as I'm getting the bar ready for lunch service and helping set up the kitchen. Then, I'm yelling out tickets, calling out orders, and making sure the food is coming out correctly as the lunchtime progresses.
♦ 2-4:30 pm In 10 minutes, I can drive from the Pauahi site to our first, small takeout spot – Liko Lehua Cafe Kaumana – that papa manages. It's here that the gourmet butter has been under production since 9 a.m. Now it's ready to pour into jars and I do that – for the next two-and-a-half hours. It's a 60-gallon kettle that makes enough for 660 jars in one batch and I hand pour, hand seal and hand label up to 60 cases of jars. Butter production happens three times a week to fill orders.
♦ 4:30 pm Papa has picked up the kids from school and they're back at Pauahi doing homework in the "living room" family space that doubles as the employees' break-room. By the time I get there they're having a snack and doing homework supervised by one of the college students who works at the café. I get them ready for soccer practice, then drop them off at the field below the café, and return to the kitchen to prepare for dinner service.
♦ 6 pm The kids have finished soccer and shower in the office shower. We expect the children to be part of the restaurant operation. "This is hands-in, everybody helps. If you want spending money, you better get your booty out there and bus some tables!" And the children do, without complaining.
♦ 8 pm The family gathers and eats together and the kids sleep on futons while the parents finish at the cafe.
♦ 10 pm The family heads home. We walk the children, half asleep, to their beds for the night.
♦ 11 pm – Midnight Breakfast dishes, laundry and other household chores before bed.
---