SmallBiz Editor's Choice Awards 2015
Profiles of five great local companies that you should know about.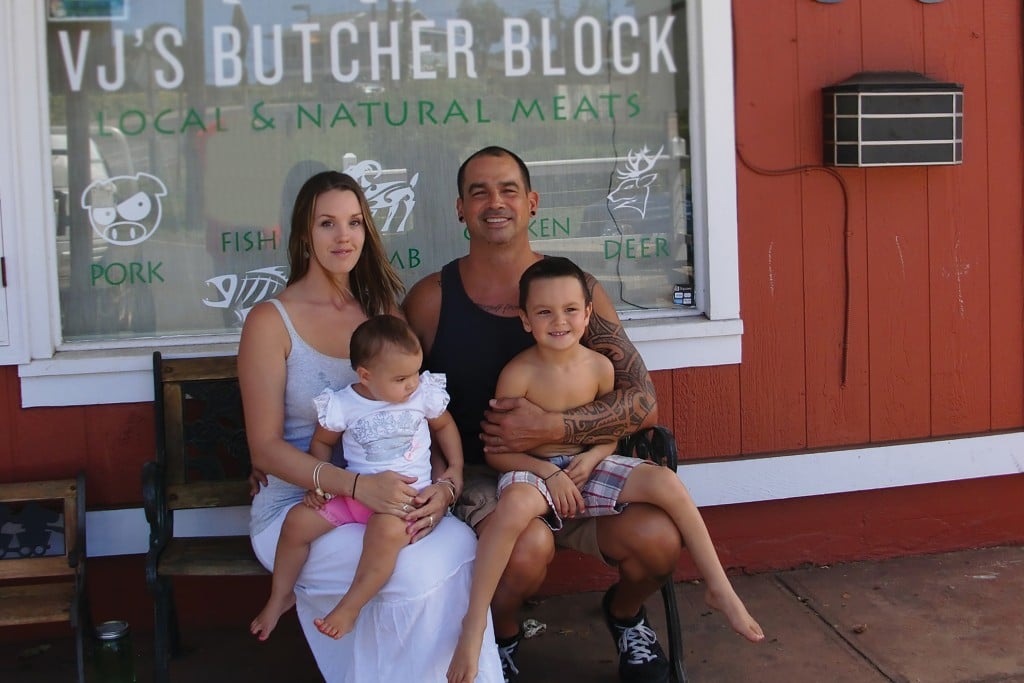 Green Sand Architecture
Sustainability
Best green Business
Owners: Rhonda & Matt Goyke
Designing homes to shape a more sustainable world is one of the leading trends in architecture. Witness Pa Ka Makani (loosely translated as "Touched by the Wind"), a sustainable home farm of about 19 acres on Hawaii Island.
Off the utility grid and fully self-sufficient, the farm collects and treats its own potable water, practices permaculture for agriculture and gardening, takes care of wastewater on-site, and uses a PV and back-up battery system for electricity. The home is surrounded by shaded lanais with floor-to-ceiling doors that provide indoor/outdoor living space looking onto North Kohala's rolling landscape.
"Nature is our biggest influence and motivation," says Rhonda Goyke, president and CEO of Green Sand Architecture + Sustainability, which designed and oversaw the project. "From color to texture to light quality to air quality to sound. Nature has it all."
In 2006, Goyke's lifelong interest in health, science and nature, spliced with a strong aptitude for business, led her to combine her environmental consulting business with that of her architect husband, Matt. Together, they formed Green Sand.
She credits their success with a deep understanding of building science and the importance of site planning. "Sustainable design is highly technical problem solving," she said. "It involves system integration, balancing energy production, water catchment, wind control and design."
Despite the benefits, Goyke says, building green in Hawaii has challenges.
"There is a perception that green is expensive and hard to achieve," she said. "And (in the industry) there is a certain retaining of the status quo; a strong desire and culture of doing things the same way. We need a shift, where doing things better and striving for more is the new normal."
Goyke advises clients to look beyond first costs: "What price do owners pay for maintenance over the years for poorly constructed homes? How much is their health impacted by poor indoor air quality from materials that contain toxic elements?"
The Goykes say they aim always to bring certain aspects to the design: natural ventilation and maximum natural daylight; views of nature; local materials where possible, such as Mauna Kea field stone, cut lava, sand and gravel, and, at Pa Ka Makani, ohia poles from fallen, not cut, trees.
On a walk to South Point's Papakolea Beach, also known as Green Sand Beach, the Goykes were drawn by the resilience of the olivine crystals in the lava cliffs, exposed by years of ocean weathering. Their goal is to design and create projects that adapt equally well to life on Earth over the long haul.
The Systemcenter Inc.
Long-Term Success
President: Stephan Edwards
In 1976, Joyce and Bill Edwards modified a room in their Hawaii Kai home to launch a family business named Systemcenter. Joyce's mother, Isabelle Souza Browning, whose father ran a plantation store on Kauai, did the bookkeeping.
Youngest child Stephan Edwards was 6 when the business began and, today, heads the family business. In the interim, Systemcenter has grown into a multimillion-dollar, nationally recognized company that designs and installs compact storage systems and commercial furniture for businesses, nonprofits and governments in Hawaii and the Pacific.
Systemcenter's 21 employees now include two of Stephan's siblings: Sandra Edwards, the company's education, library and museum market manager, and Bryan Edwards, operations manager.
None of the siblings originally wanted to be involved with the company. For instance, Stephan got interested in parasailing and captained a boat for a local parasailing company, until its owner asked Stephan and his manager to introduce the sport in Guam. But a serious injury brought him back to Oahu. When his parents picked him up at the airport, they said they had been contacted by a company called Spacesaver Corp. that wanted Systemcenter to sell its storage systems in Hawaii. His family's business needed him and, this time, he welcomed the opportunity.
The first Spacesaver installation was for The Queen's Medical Center. On Christmas Eve, a 240-foot container "showed up at the door." There was no room to store it, so 18-year-old Stephan and a hastily assembled crew worked over Christmas to get the medical filing system installed at Queen's.
"Spacesaver took our business from Mom, Dad, Grandma and me and a packer or two … to a whole new level," Stephan explains.
Today, Bill and Joyce Edwards still live in the same home in Hawaii Kai. About 10 years ago, they decided that Stephan should head the company, though Bill remains CEO and Joyce is secretary-treasurer.
"Mom likes to review and look at financials, which I love," Stephan says.
Jon Yee, IT manager for ProService Hawaii, says his company was looking for furnishings for its growing staff.
"What they – Systemcenter – provided was so much more than that," he says. "They were able to articulate a vision that fit the needs of our organizational culture."
That's also what Stephan Edwards hopes for the company.
"We strive to be the No. 1 referral," he says, explaining that much of their work comes from architects or builders who know Systemcenter will do a good job assisting their clients.
Bella Rosa Corp.
Best Woman-Owned Business
Owner: Isabel Lambert
There weren't as many roses in Hawaii when Isabel Lambert arrived in 1995.
"We were the ones that changed the perception of roses," she says. "My influence with roses [has] brought in a lot of different types of products to the Islands."
She says Hawaii's soil is too new for roses to flourish, which is not the case in Ecuador, where her flowers come from. "People here love flowers, and they love roses, because they don't grow that many of them," she says.
Her company started off with the name Spring Floral, with her as the sole owner. Now it's called Bella Rosa Corp. and imports all kinds of flowers from Holland, New Zealand, Thailand, Indonesia, Colombia, Costa Rica and Ecuador.
She owns 51 percent of the company and her partner, Victor Valiente, who owns the rest, helped her make the transition from Spring Floral to Bella Rosa in 2003. They now have two warehouses in Kalihi.
Lambert supplies her flowers to wedding coordinators, hotels and flower shops in Hawaii as well as to clients in the Marshall Islands, American Samoa and Guam.
She says she typically supplies 3 million flowers a year, most of them roses.
Martin Tadlas of HomeStreet Bank says Lambert serves a community. Lambert is originally from Cuba and participated in the now-dissolved Hawaii Hispanic Chamber of Commerce.
Despite coming from a foreign country, Tadlas says, Lambert has been successful in building Bella Rosa into one of the Island's premiere floral wholesalers. "She runs a really good company and is profitable year after year," he says.
Lambert hopes that, in the future, she can export more flowers from Hawaii. "I like dealing with people. I like dealing with flowers, because it is something that is [spoken] through your soul and makes people happy," she says.
"I think men have no idea what flowers do to ladies," she says. "They need to get in touch with that feminine side, some of them, and get women more flowers. It does wonders."
And now, she says, women are starting to buy flowers for their men. "There's nothing wrong with flowers for the people you love no matter what sex you are."
DevLeague

Innovative Company
Founders: Russel Cheng and Jason Sewell
Russel Cheng and Jason Sewell saw that Hawaii's startup community needed more technical talent. "If you are in the tech scene here, you know that so many people have great ideas. But, the reality is, there aren't enough developers to actually make those ideas happen," says Sewell.
To address that gap, they founded DevLeague in late 2013, providing bootcamp-style training in full-stack Javascript. Their 12-week, full-time program and 26-week, part-time program take people with little to no coding experience and make them ready for entry-level developer positions.
The proof of the need they are filling: They say 100 percent of their graduates have been hired. One former student went from having no programming experience to landing a job at Uber, one of the world's hottest startups. "We can't take credit for his smarts, but we were a critical part of his journey," says Cheng.
Cheng and Sewell credit their instructors Jon and Kelli Borgonia, Ray Farias, Tony Gaskell, Charles Nguyen and George Lee for going above and beyond their teaching duties to mentor and inspire the students, often late into the evening.
Because of the grueling, intense nature of their bootcamp, they emphasize that DevLeague is not for everyone. In their admission process, they look for strong self-starters and a "chip on my shoulder" mentality that, according to Cheng, will motivate people to not give up.
But Cheng and Sewell aren't just interested in developing today's workforce. Their latest endeavor, Junior DevLeague, kicked off its spring-break initiative for middle school students in mid-March. "There is not enough authentic coding in primary, middle and high schools, even in private schools. We want to give kids the opportunity to learn solid coding skills, expanding their opportunities to create great portfolios or get into top-notch technical programs," says Sewell.
While Cheng and Sewell emphasize that they are still at the startup stage themselves, having graduated only four cohorts as of May this year, their efforts have attracted substantial attention. In February, DevLeague was ranked No. 9 among the top 33 coding bootcamps around the world by Switch.org, a website that steers people toward the best tech training resources.
"All the attention is flattering but we're still heads down. We have a lot of work to do, as our mission is just getting started. I'm looking forward to talking about DevLeague in 15 to 20 years, after we have a whole generation of people firing on all cylinders," says Cheng.
VJ's Butcher Block

Best New Business
Founders: Justin and Jenny Javier
Justin and Jenny Javier are passionate about eating healthy, and the Haleiwa couple wants to share that passion with others.
"It was Jenny who got me to eat clean," confesses Justin, 45, a Moanalua High School graduate. "Once you start to eat clean and you go back to eating garbage, your body can't handle it, so you just have to keep eating healthy."
In 2011, the couple moved to Hawaii from Arizona to help with the Javier ancestral home near the Three Tables surf spot on the North Shore. "When we looked around for healthy food for ourselves in Haleiwa, we couldn't find much," explains Jenny, 31. "There's just one vegetarian restaurant here, but we're not vegetarian, so we needed a healthy alternative for meat."
Justin adds, "There was just one guy selling grass-fed Molokai ground beef at the Haleiwa Farmers' Market, and then suddenly that one guy disappears.
"We tried other people's meat, but we didn't like it, so it was Jenny who got the idea to look for the contact information from the last box of Molokai beef we had bought and that's how we got in touch with the Molokai Livestock Cooperative."
The parents of Vivencio, 5, and Victoria, 1, launched a lunchwagon named after both Vivencio and his great-grandfather – VJ's North Shore Dogs & Burgers – in April 2011 at the Taste of Waialua and then continued it at farmers markets and a regular spot in the lot next to a chocolate store in Haleiwa.
The pair were getting worn by the stress of multiple locations, when, in March 2013, the chocolate shop closed. They leased the brick-and-mortar location and named it VJ's Butcher Block.
Now VJ's Butcher Block supplies the all-natural meat used for the eats at the lunchwagon, as well as to retail and commercial customers. Both venues pride themselves on providing all-local, pasture-fed (for beef and pork), non-GMO and organic meat, chicken, eggs and fish.
"I want to help out the local farmers and ranchers," says Justin, "and now I can say all my meat is local because I just found a Molokai rancher with pasture-fed and non-GMO pigs. … I don't start with the price tag; I find the best product I can and go from there. But I'd like to provide clean meat to everyone and make it affordable."
Steve Cassarino, a.k.a. Chef Roc of the "Chef Roc TV Show" on KFVE TV, has been a customer of VJ's Butcher Block since it opened.
"I love the fact that VJ's has great customer service and great selections of the freshest meat or fish," raves Cassarino. "I have used VJ's as my supplier of local meats and fish for the Chef Roc TV Show recipes. They have the best smoked ahi and their newest product, smoked beef bacon, is off the hook!"
What about an urban location so townies don't have to drive so far?
"We did try out a branch in Waikiki for about five months last year, but we couldn't handle the workload. But, yes, eventually we'd like to move the business to town but also keep a store on the North Shore."