Our Favorite Things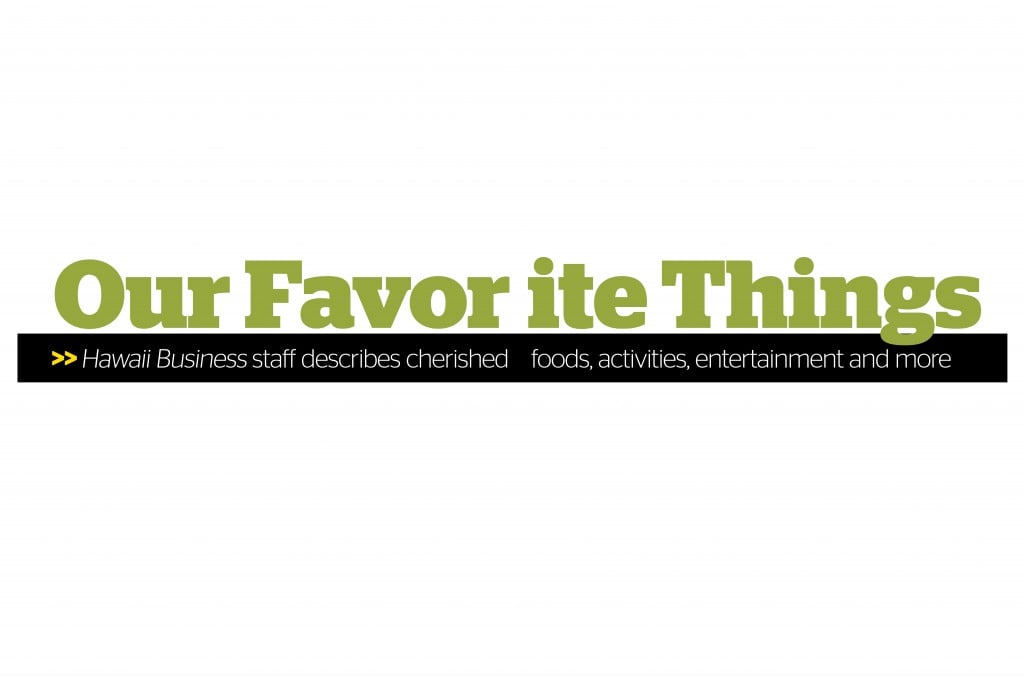 Stacy Yuen Hernandez
>> Writer
Chocolate cream pie from Sunnyside Bakery: Pie is one of my favorite things in life and this Wahiawa bakery creates my all-time favorite.
Zoku Quick Pop Maker: Got this cool contraption for Christmas. I'm fascinated by how it can make popsicles in 7 minutes.
Garmin GPS wristwatch: I use it for running. I started with the basic model, the Forerunner 110, but have upgraded to the Forerunner 405 (shown at right).
Jen Tadaki Catanzariti
>> Art Director
Baldwin's Sweet Shop: I wonder if the long lines at some shave ice stands make the icy treat seem tastier than it actually is. I've never been disappointed at Baldwin's in Waimalu, and never had to wait either.
Vietnam Café Pho Saigon: There's something calming about a bowl of noodles and my current favorite is the pho nam at Saigon. I always mean to order something different, but never do.
Honolulu Zoo: The best deal in town, the zoo's chimpanzee-level membership gets you unlimited annual admission for two adults and up to four children, and discounts to purchases inside, all for $55. Two words: spider monkeys.
Jason Ubay
>> Managing Editor
Kale: Sure, it's a bit bitter and tough, but it's also a superfood and can be substituted in any recipe that calls for a leafy green. And, like most other things, it tastes great fried.
Waimanalo Beach Park: The white-sand beach also known as Sherwood Forest is my favorite because there's plenty of parking and the waves never get big enough to kill me.
Hawaii State Public Library System: Keeping a lot of books and other media around the apartment is a dust-filled pain, so why not use the library? Membership is free and I always find something interesting (including this magazine).
David Tumilowicz
>> Publisher
Discus Fish: "King of the aquarium," the discus is an acquired taste. Regal, and usually slow moving, a discus is boring until you realize it is watching you.
 My Weber Grill: Ribs, steak, fish. Mmmm. Yes, I know, it's not a "Green Egg." Yet.
Netflix: No commercials and the chance to OD on all the TV series you've missed over the years.
David Sur
>> Advertising Executive
"Brian's Song": I'm talking about the original 1971 movie with James Caan and Billy Dee Williams. You can't beat a real-life story that symbolizes the beauty of playing sports, its life lessons and the deep bond built among teammates.
Family vacations: Whether it's an Oahu staycation, a Neighbor Island trip or taking a plane somewhere far away, I absolutely cherish these family times for the moments and memories. (Photos from Disneyland and Kennedy Space Center.)
Grilling: Pretty much any place and any food becomes "broke da mouth" when grilling and chilling with good friends, a good stogie and some ice, cold ones.
Beverly Creamer
>> Writer
Farmers markets: Any farmers market, but especially the Saturday morning market in Hilo or the shaded parking lot at Kapiolani Community College, presuming you can find a place to park your car.
Morning's first cup of coffee: It gives you time to wake up, and then remember those exquisite moments of sipping coffee in a Venice café, or imagine the next time you might be.
Joanna Lau Sullivan Chinese Courtyard: This courtyard with pond at the Honolulu Museum of Art is the perfect place to sketch, dream or lose yourself in thought.
Marcie Kagawa
>> Writer, Intern
Sleeping in on the weekend: After a long week of work and school, it's nice to take a little me time and catch a couple of extra hours in the hay.
Live Rock: There's no better way to enjoy rock music than hearing it performed live. Riffs, beats and melodies combine to make for a great night out.
Char siu tsukemen: This dish, with thick, piping-hot pork bone-broth, firm ramen dipping noodles and a few pieces of homemade char siu, is my version of food heaven.
Bobby Senaha
>> Advertising Director
Ramen: Oahu has great ramen restaurants and some of my favorites are Goma Tei in Ward Center, where the char siu tan tan is killer; Yotteko-Ya at McCully Shopping Center, which uses a unique base in its paitan ramen; and Panya, which is not well-known for its ramen, yet makes an amazing Laksa ramen.
Sports: Whether it's participating, attending or watching on TV, sporting events have always been a favorite part of my life. Like most hardcore fanatics, I can watch ESPN Sportscenter multiple times in one night.
Under the mango tree: My uncle's house is the place for family gatherings, where we eat great food, drink a few beers and talk story until the sun goes down. The best part is hearing relatives in their 70s and 80s reminisce about the old days in Hawaii.
Wil Farinas
>> Associate Art Director
Jason Tom's Human Beatbox Academy: Jason Tom leads the lively class at Chinatown's ARTSmith, which is a great, creative alternative for kids.
La Tour Cafe's macarons: Who could resist these bright colored french macarons. So airy and not overtly sweet. The flavors are also fun, like green tea and melona. Yum!
Hawaiian Chip Co.: Hawaiian Chip Co. creates the most delicious chips, freshly made to order with my favorite seasonings.
Jill Hamasaki
>> Advertising Executive
Four Seasons Resorts Lanai: There are so many things I love about these places, from the verdant, upcountry serenity of The Lodge at Koele to the breath-taking ocean views at Manele Bay.
Family: I have a very close-knit family, and I love spending time with them no matter where we get together. Whether at someone's house, a restaurant, a beach or a park, it is always a great time filled with loud talking, laughter and good food.
French Fries: My ultimate weakness, in any shape or form, as long as they are hot and crispy. One of my top picks is the parmesan truffle fries from HOME Bar & Grill on Kalakaua Avenue. They are the perfect blend of crispy, crinkle-cut fries, parmesan cheese, truffle oil and deep-fried pepperoni.
Steve Petranik
>> Editor
"Duck Soup": The Marx Brothers' funniest movie is still a classic of slapstick and fast-paced wordplay 79 years after its premiere. The mirror scene, imitated by everyone from Lucille Ball to Bugs Bunny, has never been topped. As I write this, it can be streamed free on Netflix.
Kaiwa Ridge: Enjoy glorious vistas along the hike to the Lanikai pillboxes. It has gotten more crowded in recent years, but most people turn around at the second pillbox, so you can enjoy some solitude if you continue to a third, smaller pillbox and then along several connecting routes.
Ticket to Ride: A cleverly conceived board game in which you build train routes across North America and – if you are dastardly – try to block your opponents' way. I love it even though my daughter usually wins.
Dennis Hollier
>> Writer
Joseph Mitchell: It's been more than 50 years since the old man's stories graced the New Yorker magazine, but his nostalgic profiles of old barkeeps, fishmongers and mythomaniac drunks are still the finest portrait I know of the great city.
Old sailboats: There's nothing quite like the miracle of sail: 10 to 12 tons of fiberglass, steel or wood tacking upwind in a light breeze. Throw in the lights of Waikiki winking on a summer night, or the Koolau looming over Kaneohe Bay at daybreak, and the sense of marvel is complete.
Jargon: Any fascinating subculture evolves a language of its own. Whether it's highfalutin, like science or law, or mundane, like plumbing or sports, this private lexicon is both an indispensible tool of description (what's a sailboat without port and starboard?) and a secret handshake.
Mike Hanson
>> Writer, Intern
First Thursday Poetry Slam: Feel the electric atmosphere of Hawaii's premier poetry slam at the Fresh Café Warehouse. Every Thursday, Hawaii's best slam poets recite unique perceptions that are sure to send shivers up your spine.
Hawaii Kai Executive Golf Course: The mellow, par three course winds between Koko Crater and Makapuu cliffs. For those who dread pulling out the driver, practice your putting and chipping while keeping an eye out for humpbacks spouting water on the horizon.
Carnitas breakfast burrito at BC Burrito: This restaurant on Waialae Avenue serves an intoxicating blend of carnitas, scrambled eggs, bacon or chorizo, melted cheese, seasoned potatoes and fresh salsa, all wrapped in a 12-inch tortilla. Sour cream and guacamole are optional.