3D Innovator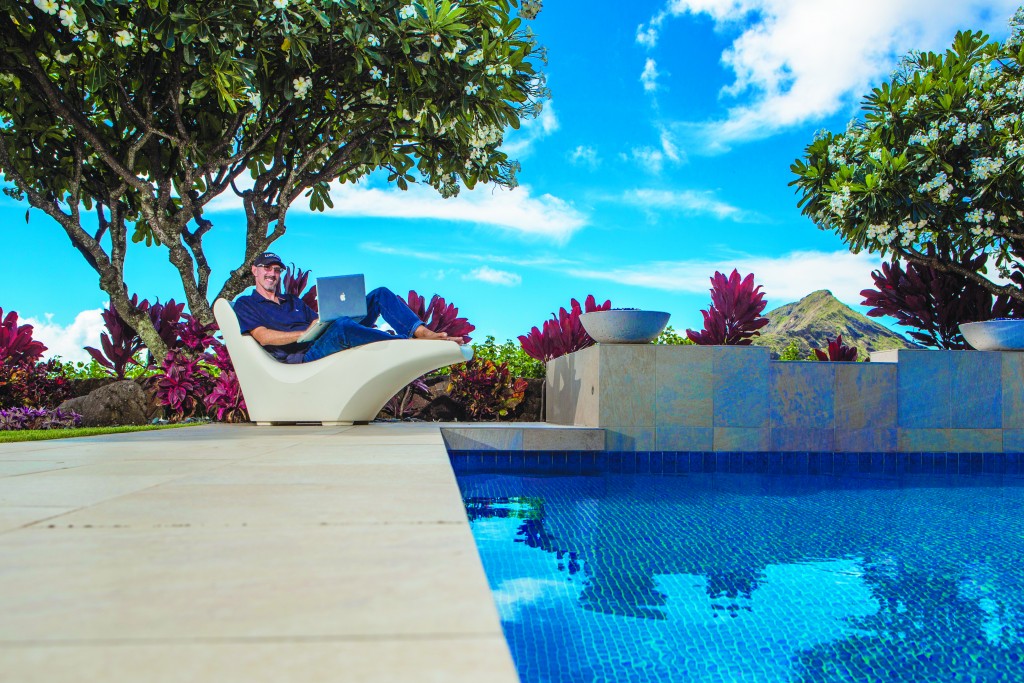 Hawaii Kai's Remington Scott is a global pioneer in making video-game and movie creations come to life
Remington Scott understands the unpredictably of life.
Growing up in New York in the pre-Internet era, Scott thought he was going to be an artistic painter. Living in Hawaii wasn't even a consideration.
Today, the 45-year-old has been working in computer-graphic imagery and emerging media for more than 25 years. He has helped pioneer 3D performance-capture technology for the digitization of human characters in video games and major movies. He has worked on such special-effects blockbusters as The Lord of the Rings: The Two Towers, which earned an Academy Award for achievement in visual effects, Superman Returns, the second and third installments of the Spider-Man movies, and Beowulf. Scott just wrapped up an 18-month-long production for Call of Duty: Advanced Warfare, the latest release of the popular video-game franchise.
You might guess he lives in or near Hollywood, but, instead, he lives in Hawaii Kai with his wife and two children.
"Don't make plans. It never works out the way you expect," Scott says, laughing. "I'm very structured, but life throws these twists at you and you have to take them and go with it."
It all started in the 1980s, when Scott co-created what's considered the first digitized home video game, a full decade before the technology became mainstream. That got the attention of Acclaim Entertainment, a video-game developer and publisher, which hired Scott to work on its computer game series, Mortal Kombat. He was able to create realistic, two-dimensional characters based on human forms ¬–something that's commonplace in games now, but was revolutionary then.
When he started to work in 3D, he looked at what was happening in medicine. At the time, optical motion capture was used to construct 3D models of patients to better analyze their movements, such as tracking the migration of hip replacements or assessing shoulder alignment in post-stroke patients. Scott realized this technology could be applied to the entire body, allowing the creation of 3D movement that would enhance video games.
"We knew back then that if a figure could move around correctly, it would have the illusion of life," he says. "And we could sell that."
It didn't take long for movies to adopt this new technology, using it to create realistic digital images of everything from dinosaurs to space creatures. But just creating the image wasn't enough.
"Making a dinosaur is relatively easy," he says. "But making it human is really difficult."
Scott credits Hironobu Sakaguchi's Final Fantasy: The Spirits Within for advancing this technology into movies. The 2001 animated sci-fi film, created in Hawaii by Square Pictures, was the first photorealistic computer-animated feature film. The characters displayed human emotions and motions unlike those in any animated film before, and Scott directed the performance capture for this movie.
Although it received mixed reviews and underwhelmed at the box office, Final Fantasy: The Spirits Within earned critical praise for the realism of its computer-generated characters and inspired other movies, such as James Cameron's Avatar, and video games, such as the Mass Effect series.
"(Scott) has always been a true visionary when it comes to creating believable digital characters," says Michael Mumbauer, director of Sony's visual arts services group, who has known Scott for 19 years. "An artist at heart, he has always been true to his craft and committed to his art. He is an inspirational leader who has spent the last two decades pushing the boundaries of technology and has contributed to the most believable digital characters ever created."
It was his work on Final Fantasy that brought Scott to Hawaii, where he fell in love with both his wife, Karin Last, and the Islands.
"It had never crossed my mind before to fly across the continent and then the Pacific Ocean to spend time in an island chain in the middle of nowhere," he says. "But I just fell in love with Hawaii … I have a big connection with the Island life here and the people. This is home."
Today, Scott mostly works on video games from home. In addition to Call of Duty: Advanced Warfare, he finished production on The Order: 1886, a single-player action-adventure game for Playstation 4 that will be released next year.
He feels Hawaii is perfectly positioned to be a hub for this kind of work.
"Hawaii is in the center of the Pacific, between Asia and Hollywood. It's in the middle of the technology and entertainment worlds. It's really the perfect place for a volcano of talent and technology to erupt."