A Computer For Every Student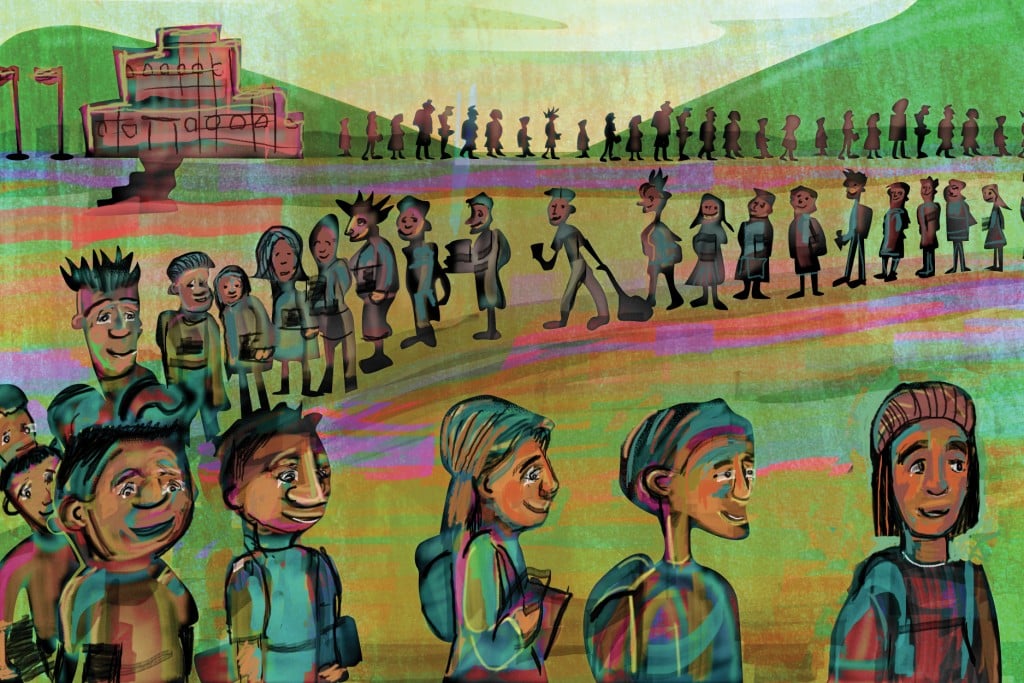 ILLUSTRATIONS BY ANDREW J. CATANZARITI
Peek into Lorelei Saito's seventh-grade social studies class at Punahou's Case Middle School and you'll see students sitting in front of personal laptops, completing multimedia projects to share with students in a classroom halfway around the world.
Walk over to Punahou's high school and you'll see students in Douglas Kiang's iPhone app-development class typing up programming on personal laptops for their final app projects.
Head over to Mid Pacific Institute and you'll see students of all ages checking their campus email or downloading educational apps on their new school-distributed iPads.
In a few years, step onto a public-school campus and you just might see the same things.
Gov. Neil Abercrombie's Makana Connection initiative seeks to provide public schools with technology for students, in partnership with community organizations, businesses and local schools with existing one-to-one programs.
The first phase of the initiative seeks to put laptops or tablets in the hands of every public-school student from grades three and up. It's a bold plan that will cost millions of dollars to start and maintain, take years to implement, and require hours of training for both students and teachers. But the time and money are worth it, say supporters.
"Together with the BOE and DOE, the Governor believes that our high school graduates need to be prepared to succeed in college and careers as citizens and stewards of our island state as well as an increasingly global and complex world," says Tammi Chun, policy analyst for the governor. "Makana Connection is an initiative (that) gives students tools being used in colleges and the workplace, and access to a world of learning opportunities."
The governor requested $1 million in the current fiscal year's state budget for a pilot project, but it was not included. Instead, the governor's office has partnered with nonprofits and the state Department of Education to plan and fund a pilot project at three public schools this school year.
For the project, approximately 1,500 laptops will be given to students at Keaau Elementary and Keaau Middle School on Hawaii Island, thanks to funding from the Hawaiian Electric Industries Charitable Foundation and other donors, and faculty will receive training and other support.
Kalani High School in East Honolulu, which has had a one-to-one program since 2009, will continue to use the laptops already at the school, but will receive support for additional teacher training.
The differing demographics of the two districts – the Keeau schools serve many low-income families while Kalani serves few – will provide insight on how one-to-one programs function in different environments, says Chun. "A statewide plan needs to consider a variety of family circumstances and community assets, and the involvement from both Keaau and Kalani schools is important to understand how a program will work in different school communities," she says.
Whether the state expands the program to other public schools hinges on the success of the pilot program and whether the state can find funding.
"There are competing priorities around funds right now, even funds for education," says Chris van Bergeijk, VP and COO of the Hawaii Community Foundation, which has provided the governor's initiative with insight and lessons learned from its Schools of the Future technology project. "The goal now is to get a lot of answers and on-the-ground experience with the program first. But no question, scaling it across several hundred schools has a pretty big price tag attached," van Bergeijk says.
One-to-One in Hawaii
Computers and other technology have been used in education for many years, but a one-student-to-one-mobile-device ratio is considered by advocates to be ideal for learning, largely because students can personalize the devices and use them in and out of school.
One-to-one programs have been in U.S. schools since the 1980s, when Apple started its decade-long Apple Classrooms of Tomorrow research and development program to study the computer's effects on learning.
With the turn of the century, educators realized students would need to develop and apply "21st-century skills," such as creativity and innovation, information literacy, and social and cross-cultural interaction, to be successful after graduation. This spurred individual schools, districts and even entire states to initiate one-to-one programs.
In Hawaii, many private schools, and some charter and public schools, have implemented one-to-one programs, citing the perceived benefits of the programs and that technology is already a big part of many students' lives. Advocates say it makes sense to leverage that knowledge and interest.
"We realize that, once kids get used to the idea of having the technology with them all the time, it does change the way they learn and we definitely have to change the way we teach," says Carey Inouye, dean of instruction at Iolani School.
"Technology is their world," adds Amy Kimura, assistant principal at the high school of Kamehameha Schools' Kapalama Campus. "That's where they live and that's what they understand. If you want to engage them, you have to change how you engage them because it's different now."
Why One-to-One?
There are many reasons support for one-to-one programs is strong.
Advocates say one of the most significant benefits is student engagement, which has been demonstrated to markedly improve with one-to-one programs because teachers can teach in a context students understand and relate to.
A University of Southern Maine study done two years after the start of Maine's initiative in 2002, which is the most expansive one-to-one program in the country, found that eight out of 10 teachers believed their students were more actively involved in their learning because of the laptops.
Saito, now in her sixth year as a social studies teacher at Punahou, also believes her students are more engaged because of the dynamic learning environment created by Punahou's one-to-one laptop program, which started in 2002 and now includes every student from fourth through 12th grades.
"As a social-studies teacher, using the laptops to open up doors to other parts of the world is so valuable, much more engaging than just saying, 'Look at the picture in the textbook' or 'Take a look at this map,' " she says. "Doing things like communicating with students their own age in the region they're studying about makes it real."
One-to-one programs are also touted for their support of project-based learning, which emphasizes a student-centered classroom instead of the traditional teacher-centered classroom. Students take a more active role in their education by applying what they learn through collaborative projects rather than sitting through lectures and taking tests to show what they've learned, or merely memorized.
Technology is a whole new medium for project creation and allows students to collaborate easily even when they're not physically in the same place.
"Having the one-to-one program, students can choose how they want to show their learning," says Saito. "… Having students think critically, saying, 'Well, how are you going to take these concepts and then turn them into something? How are you going to apply that?' is more challenging for them. That's why projects are more of an authentic learning experience and form of assessment."
Many supporters also say one-to-one programs are important because they help to bridge the digital divide that exists between the haves and have-nots. Students who already have access to technology at home have a distinct advantage over students who do not, especially in acquiring important 21st century skills. So, the theory goes, providing all students with laptops puts them on the same playing field.
"What about the kids who are sleeping in Makaha Beach Park, who don't have electricity, don't have access to computers, don't even have access to shoes?" asks Brendan Brennan, a math teacher at the University of Hawaii-Manoa's Laboratory School and one of the teachers heading the charter school's one-to-one pilot project this year. "We need to look at how to help them enjoy the same kind of learning that the kid at Mid Pac or Punahou will enjoy."
Because the technology is portable, students can use their laptops or tablets all around campus, as well as outside of school, eliminating time and space as barriers to learning.
"The fact that students aren't tied to their desks to do certain tasks, they can do (school work) at home, they can do it in the classroom, is a big deal." says Bob McIntosh, technology director at Mid Pacific Institute. "And the majority of our teachers, especially in the high school, share classrooms, so there's that idea of not having a home base."
One-to-one programs are designed to prepare students for college and most careers, where technological knowledge is essential.
"Given the requirements and expectations of the 21st century and what you need for college and a career, you need to be technologically ready," says St. Louis principal Pat Hamamoto. "Students need to hands-on use it."
Does It Work?
Despite the touted benefits of one-to-one programs, the evidence is not conclusive.
Some studies have shown that student engagement does improve, but there are indications that improvements are not sustained past the first few years as the novelty of the program wears off. Another University of Southern Maine study, done five years after the start of the Maine initiative, found only six out of 10 teachers felt their students were more engaged because of the laptops, 20 percentage points lower than the results of the initial study.
"If you talk to the folks in Maine, they'll tell you that, sure, student engagement increases, student attendance will increase and grades will increase," says David Wu, assistant superintendent and CIO at Hawaii's Department of Education, who has been planning for a possible one-to-one program in Hawaii public schools. "But like all introduction of technology, there's this peak when the people are excited about it, so they come to school more often, they're more engaged, but then they get used to it and activity goes back to normal."
Some critics don't believe one-to-one programs help to bridge the gap between the privileged and disadvantaged. Though the programs may benefit the disadvantaged and provide them with skills they otherwise may not develop, one-to-one programs benefit the privileged just as much, if not more, effectively maintaining or even widening the gap between them.
Although one-to-one programs have been around for years, their actual academic benefits are still being questioned.
When one-to-one programs were first implemented in public schools, many educators hoped they would raise standardized test scores, but studies of programs throughout the country have shown mixed results when it comes to improved performance in core academic subjects and standardized test scores. Some programs have shown statistically significant academic improvement, while others have found no improvement or even worse performance.
Supporters argue that assessing one-to-one programs by looking at test scores will not provide an accurate reflection of their effectiveness because things like 21st-century skills cannot be measured through traditional testing.
One success is well-documented: Writing-test scores frequently show improvement. Many say this is because computers support the writing process by making it easier for students to draft, edit and refine their writing, resulting in more and better writing.
Cost Is a Big Factor
Money is a major concern in one-to-one programs. The hardware for each teacher and student, as well as maintenance, upgrades to infrastructure and insurance, add up, making one-to-one programs a huge investment.
Though one-to-one programs save some costs, often by reducing the use of paper and traditional textbooks, many local private-school officials say their programs cost a lot more than traditional educational tools and materials.
"We're not looking at technology to save us money," says Inouye of Iolani's program. "It hasn't up to now. In fact, it costs a lot more. Just updating the computers and upgrading software is very expensive."
Wu adds that if the state's one-to-one initiative in public schools proceeds, it won't be cheap.
"We did a theoretical budget and the run rate on this, if we did it at the volume that we should, we're hoping to hit a cost of about $200 to $250 per student per year, just for the devices," he says. "Professional development may cost between one and two times that." That means, with about 128,000 public school students in grades three through 12, the cost for the devices alone could be $32 million a year.
Some educators and parents have also expressed concern that access to too much technology will distract many students and make them too dependent on it, inhibiting the development of necessary social and cognitive skills.
If students believe technology can do everything for them, there is concern that, when it is unavailable, students will be unable to adapt and accomplish tasks.
But Wendi Kamiya, CIO at Punahou, says one-to-one programs are not about emphasizing technology, but how it can facilitate effective learning.
"Technology is not the point," she says. "It's not how much time you spend on the computer. If you're using the computer, the goal is developing critical-thinking skills; if you're having students search on a computer, it's not just about searching, but how they use the information they get out of it."
Van Bergeijk adds, "At first thought, it was all about the technology, but we found early on that it's not. The technology just supports learning."
Saito says these concerns are partly why she tries to keep laptop use to a minimum during class.
"In-class use (of laptops) is a very small percentage of class time. When the students are here in class sitting down with their peers, I'd rather they interact with each other. … Never does this tool take the place of face-to-face collaboration."
Make or Break
Though many one-to-one programs have been deemed successful and continue to thrive, there are many others that have shown little to no benefit and are being abandoned.
A district-wide one-to-one program in New York City was scrapped after seven years because there was little evidence the program was improving student achievement. Also, teachers found the laptops were a distraction in class, students often used their school-issued laptops inappropriately, and schools faced many technical and infrastructural problems.
"As a whole, one-to-one programs are not proven to improve education or learning yet," says UH Lab's Brennan, which is why the Lab School is running a pilot program this school year.
Depending on the results of the pilot program, which will study the educational benefits of Apple Macbook Pro laptops and Google Chromebooks, the school will determine whether to expand or cancel the program.
When programs fail, the key problem is often that schools and individual teachers fail to integrate the technology into the curriculum, says van Bergeijk. If integration is ineffective, one-to-one programs only provide students with a heavy toy to lug to and from school.
"The device is the easiest part of putting a one-to-one program in place," says Wu. "The real challenge is how do you transform the pedagogy to match the use of technology in the classroom?"
"It's a matter of getting our teachers up to speed and having them understand how to infuse all this into the curriculum," adds Kimura. "It shouldn't be just a fluffy add-on type of thing or it won't be effective."
Parental involvement and support is also crucial to a successful one-to-one program. If parents don't actively support it, in-home use of the devices may be minimal or more for entertainment than education.
That's why schools with one-to-one programs often hold seminars and workshops to help parents understand the program's relevance, plus provide tips on how to monitor and support laptop or tablet use at home.
"We want to really focus on appropriateness and creating community," says Brennan. "A lot of programs fail because there's no created community buy-in. The parents don't want to pay for it unless they see value for it; the teachers don't want to use it unless they know how to use it appropriately; and the students aren't going to care about it if they don't have a reason to use it for their learning."
What's Next?
Considering the benefits and concerns associated with one-to-one programs, the big question is whether or not they will help Hawaii public schools.
While many support a statewide one-to-one program, they agree that students without one aren't necessarily at a disadvantage to those who do because it's not all about the technology.
"I think the more important thing is how (the technology) is being used to cultivate 21st-century skills," van Bergeijk says. "… Classrooms that don't have a laptop for every child can still achieve that. If you've got a great teacher who really knows how to cultivate those 21st-century skills, they can do it with minimal technology."
Saito, who has taught in both public and private schools, adds, "I think it's really up to the teacher and how he or she is going to make learning real for (the students). Being fortunate to have the one-to-one at Punahou, we're very lucky, but if they took it away from me and I had to teach without it, I could do it. It would just take some getting used to again."
Laptops or Tablets?
In one-to-one programs, choosing a device is a huge initial decision. With the new advanced tablets, laptops may no longer be the obvious choice.
This school year, Mid Pacific Institute started a one-to-one iPad program for all students in grades 3-12, with K-2 students having access to iPads at certain times during the school day.
Bob McIntosh, technology director at Mid Pac, says the iOS 5 operating software expanded the capabilities of Apple's iPad, making it more relevant for education. That's one of the main reasons the school chose it. The popularity of earlier iPads on campus, plus the lower cost versus laptops, made the decision easier.
"We asked, 'Do kids need a laptop to do what we really truly want them to do with the device, knowing that we're always going to have the high-powered (computer) labs?' " says McIntosh. "I think that's when we realized they don't and made the decision that, well, the cost (for tablets) is less, too, so we can do this, grades 3-12, in one year."
Although tablets are gaining popularity, many one-on-one programs still use laptops. The decision often depends on what teachers want the devices to do.
"We considered the iPad," says Amy Kimura, assistant principal at the high school of Kamehameha Schools' Kapalama Campus, "but our teachers have been learning and preparing to integrate things into their curriculum with a more robust laptop capability and if we switched it now to an iPad, they would have to rethink all of that. It does a lot, but it doesn't do everything the laptop can do."
Here's a look at some educational benefits of laptops versus tablets:
Laptops (not netbooks)
Portable, so students can take them to and from school, though heavier than tablets
Full-size keyboard that is optimized for word processing
Large, easy-to-view screen (13 or more inches for laptops vs. 9.7 inches for iPad 3s)
High-capacity processors that can multitask and perform complex tasks quickly and easily
Built-in CD/DVD drive, so students can use software from a disk
Batteries that usually run up to five hours nonstop
Tablets
More portable and compact, and lighter than laptops (iPad 3 is 1.44 pounds whereas a 13-inch MacBook Pro is 4.5 pounds), so even young students can carry them easily
Touch screen provides a more natural, hands-on experience
Cheaper than most laptops
Optimized for ebooks and etextbooks
Battery life of about seven to 10 hours, so students can use them throughout the school day without a charge
Flipping the Classroom
No more sleep-inducing lectures and pages of review exercises for homework. Instead, imagine students watching short video lectures for homework and going into class ready for hands-on activities and projects that reinforce concepts already learned.
Welcome to the "flipped" classroom. What makes it possible is one-to-one programs that ensure all students have access to a computer outside of class, along with Internet access, whether at home, school or a cafe.
This classroom model has grown in popularity over the past half-decade. Students watch short video lectures or narrated slideshows outside of class at their own pace, freeing classroom time for practical applications and review. Students are more accountable for their own learning and the teacher-student relationship is transformed from lecturer-listener to collaborators.
Flipped classrooms are happening in many local private schools and some public schools, although challenges arise with students who do not have their own computers, or lack easy Internet access outside of school.
"Some of our teachers are flipping the classrooms now," says Amy Kimura, assistant principal at the high school of Kamehameha Schools' Kapalama Campus. "They put out information ahead of time so when students go to class, they're not going to spend time in a lecture, but they'll do projects and other activities."
Lorelei Saito, social studies teacher at Punahou's Case Middle School, says flipping the classroom helps her pinpoint what students understand and what they struggle with.
"(Students) view the lecture at home and then I have them do an online check for understanding," she says. "… If I see that they've got it, I can move right on to the hands-on activity."
Flipped classrooms change what students and parents perceive as homework and class time, which can take some getting used to. But this kind of self-paced learning, in which students can pause, rewind or fast-forward through lectures, has benefited those who can't keep up during in-class lectures and motivated smart students who found the lecture pace too slow.
Saito adds that flipping the classroom gives her more time to interact with students, supporting them individually and as a class. "Before, my attitude was, 'Oh, I only have an hour with them.' Now, it's 'Wow, I have an hour with them!' "
Making Textbooks Interactive
Word processors are replacing paper and pen. Will high-tech textbooks be next?
Although etextbooks are increasingly common in college, their creation and adoption in primary and secondary schools has been limited. But at Punahou School, teachers are digitizing the textbooks they have written by using iBooks Author, a free app that allows users to create multitouch textbooks for the iPad. The software makes creating etextbooks simple, says Douglas Kiang, a Punahou computer science teacher working on his own etextbook.
"It's never been as easy as it is now" to use video and sound to create multimedia textbooks, he says.
More etextbooks mean students are lugging around fewer heavy, traditional textbooks, plus the texts are more interactive and, hopefully, more engaging for students.
Unfortunately, there are few studies on the effectiveness of etextbooks in primary and secondary education. Textbook publisher Houghton Mifflin Harcourt did a study that compared the use of an algebra etextbook and a regular algebra textbook in a California middle school last year.
The study found that students using the etextbook were more engaged, more motivated and performed better on tests at the end of the school year, compared with students using the traditional textbook. Critics were unconvinced, saying one study done by the company that made the etextbook proves nothing.
Creating etextbooks requires teachers to change how they view the text and how it supports students' learning.
"We don't want to just take advantage of the greater accessibility by just digitizing books and making them available as a PDF or something," Kiang says. "We actually want to rethink what is the purpose of the textbooks, how do they enhance learning, and how can they be personalized and localized to the direction a class is taking with a particular group of students?"
This personalization is big part of etextbooks' appeal. "I think that most teachers constantly try to improve their courses," says Kiang, "and we have seen very few technologies that have caused this amount of excitement. The fact that you can interact that physically with the material makes it feel more intimate. That's what students need."