A Millennial Investigates: Why Would Anyone Take a Taxi Instead of Uber or Lyft?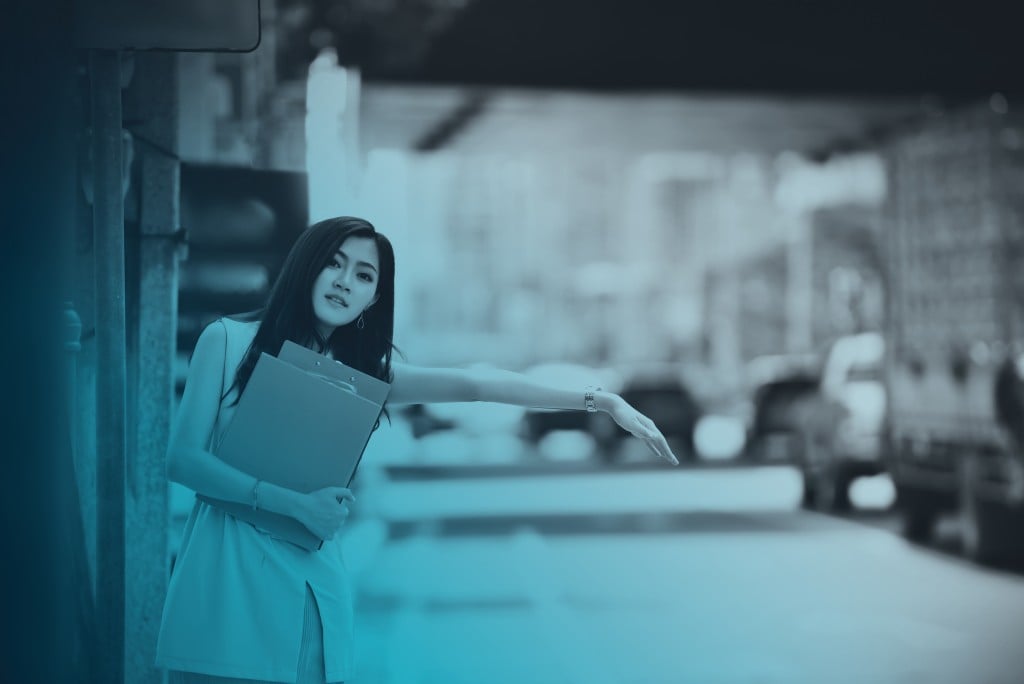 My friends and I wanted a quick bite after hiking Diamond Head but didn't feel like walking a mile to the restaurant. So we caught a taxi that was waiting at the crater's parking lot.
The ride was short but hot and unpleasant. The driver was hostile and the seven-seat van looked old, smelled moldy, and was dirty and strewn with tissues and plastic bags. I wanted to pull out my phone and use an app to vent by giving him a lousy rating that everyone could see, but the only way to complain was to take down his taxi license number and call the cab company to complain verbally.
When I ride with Uber and Lyft, the drivers are almost always civil, the vehicles are rarely messy and I can rate my experience in their apps right after my trip is done. I asked my editor: Why would anyone take a taxi? Check out both sides, he said, so I did.
First, I talked with drivers. On one Uber ride, I met a 30-year-old who wants to be called Hussein. He has been driving six to nine hours a day for a year.
"I try to work during the early morning to get the best surges," Hussein says, referring to the increased prices that Uber and Lyft charge during periods of high demand. Drivers love surges and riders hate them. Uber and Lyft say surges are needed to draw in more drivers during those peak hours. Surges also drive down demand, as some riders wait until the surge ends, or use other ways to get to their destinations. Traditional taxis don't have surges: prices are the same all day, every day, usually regulated by county governments.
Hussein says he averages $100 each time he drives for Uber. If you do the math, that means he earns about $14 an hour after Uber takes its cut, but then he must cover his gas and wear and tear on his vehicle. His net is not much more than the current minimum wage in Hawaii of $9.25 an hour.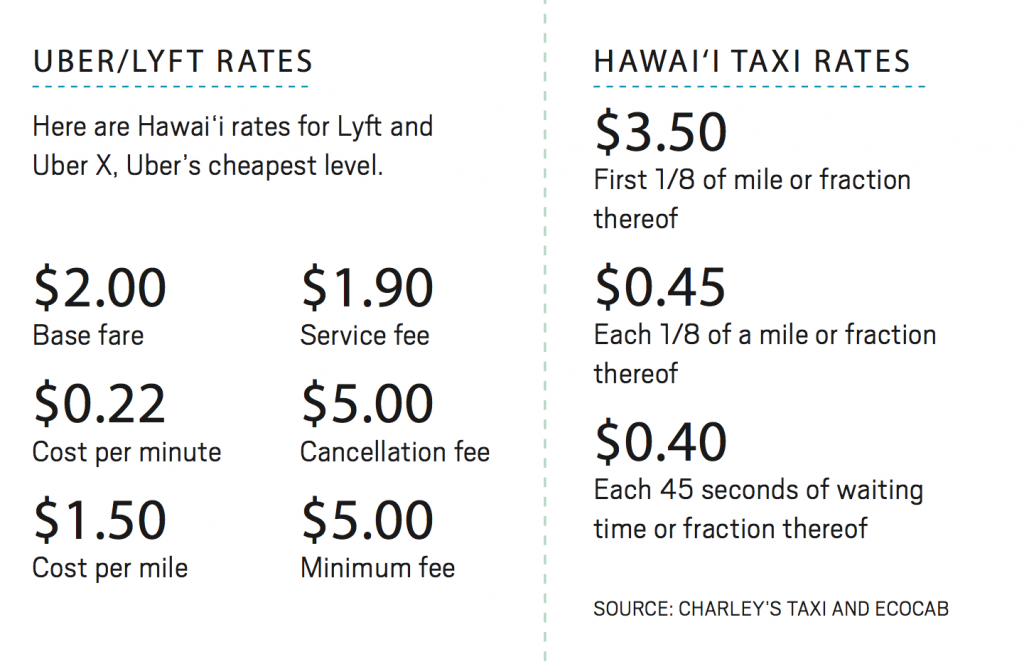 William, a 39-year-old who has been an Uber and Lyft driver since February 2015, thinks fares are too low. He drives from about 6 a.m. to 12:30 p.m. and then works as a server at a restaurant at night.
He says that when he drives, his goal for the day is $150, but he says he rarely meets his daily target because of the low fares riders usually pay.
"It's not fair, it's not feasible. But what's good about this job is you get to choose your own hours," William says.
He says some Uber and Lyft drivers hang out around busy areas like Downtown and Waikiki and wait for surges to start and then start accepting rides by turning on their app. Hussein and William know riders hate surges, but they need them to earn a decent income. "It's the only way to make a living and we feel bad about it," William says.
He tells his customers that he takes advantage of surges to promote change and have Uber raise its rates.
Despite his complaints, William does have one positive takeaway from being a driver: "It's so awesome to meet people out there and deal with the diversity of people in the community."
Traditional taxi companies are frustrated by Uber and Lyft, which don't have to follow the same rules they do. For instance, Uber and Lyft drivers can choose which rides to accept and which to ignore. That driver we used at Diamond Head had no choice but to accept whoever stepped into his cab, even though we only wanted to go a mile. (He was probably hoping for a more lucrative fare and maybe that's why he was hostile.)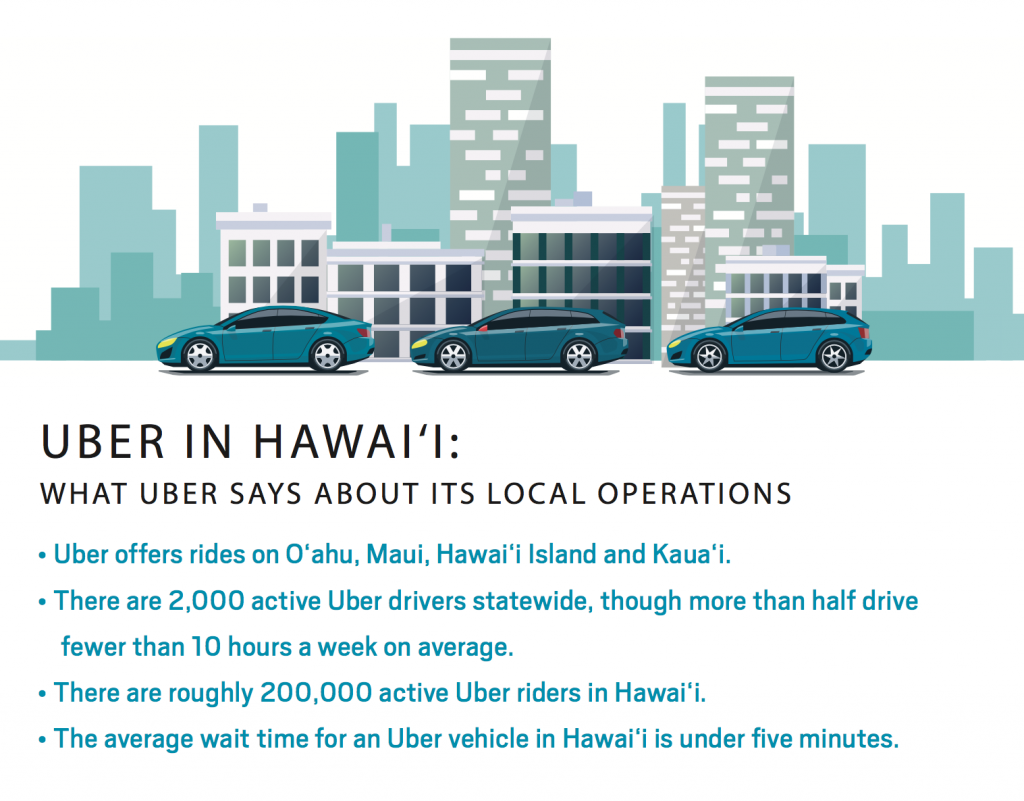 Lauren is from Bordeaux, France, and has been driving for Charley's Taxi since she moved to O'ahu six years ago. She used to have an indoor office job but now spends about eight to 10 hours on the road six days a week driving a taxi. She loves the freedom of the job and says it's the best place to work.
"It's freezing cold in the cubicles, you stare at the computer screen and miss the sunshine, the summer, the whole year. … Taxi driving, I do what I want, when I want, outside all day and never the same thing," says Lauren, who is a single mom financially supporting her three children in college.
David Jung had been a lawyer for 27 years and wanted to try something different when he turned 50. In September 2012, he launched EcoCab Hawaii with 12 hybrid vehicles. The first year went well, but his profits dropped dramatically in 2014 when Uber and Lyft first made a big impact on O'ahu. Nonetheless, his fleet has grown to 37 vehicles.
Members of the Honolulu City Council passed Bill 36 in August 2016, saying they intended to level the playing field between ride-sharing companies and traditional taxi companies. For instance, the law requires Uber and Lyft drivers to pass similar tests to those taken by taxi drivers, though Jung says the result is that standards have been lowered and it is easier for anyone to become a driver now.
Jung says Bill 36 did not level the playing field on pricing. Uber and Lyft are still cheaper than taxis on base fares, and taxi prices remain fixed by county regulation, while Uber and Lyft are free to change pricing based on surges. Jung has testified to Honolulu City Council about this inequity.
"A surge is alien to the taxi industry," Jung says. "We as a society have lost sight of why taxis were regulated in the first place. It's not for the benefit of the general community but for the vulnerable community."
"The cabs aren't gonna be around for very long if we're forced to compete on this variable pricing," he says.
Despite fixed prices, Jung says, fewer than 10 percent of his customers now pay full price for their rides. He says the "safe harbor" for his company is medical transportation, such as referrals from Handivan, because Uber and Lyft can't meet insurance requirements for those rides. The county's Handivan service can't transport all those in need, so many rides are assigned to Eco Cab and TheCab. TheCab has about 500- to 600 medical rides every day, says TheCab president Howard Higa. The catch for both companies is those rides include a 20 percent discount over regular fares.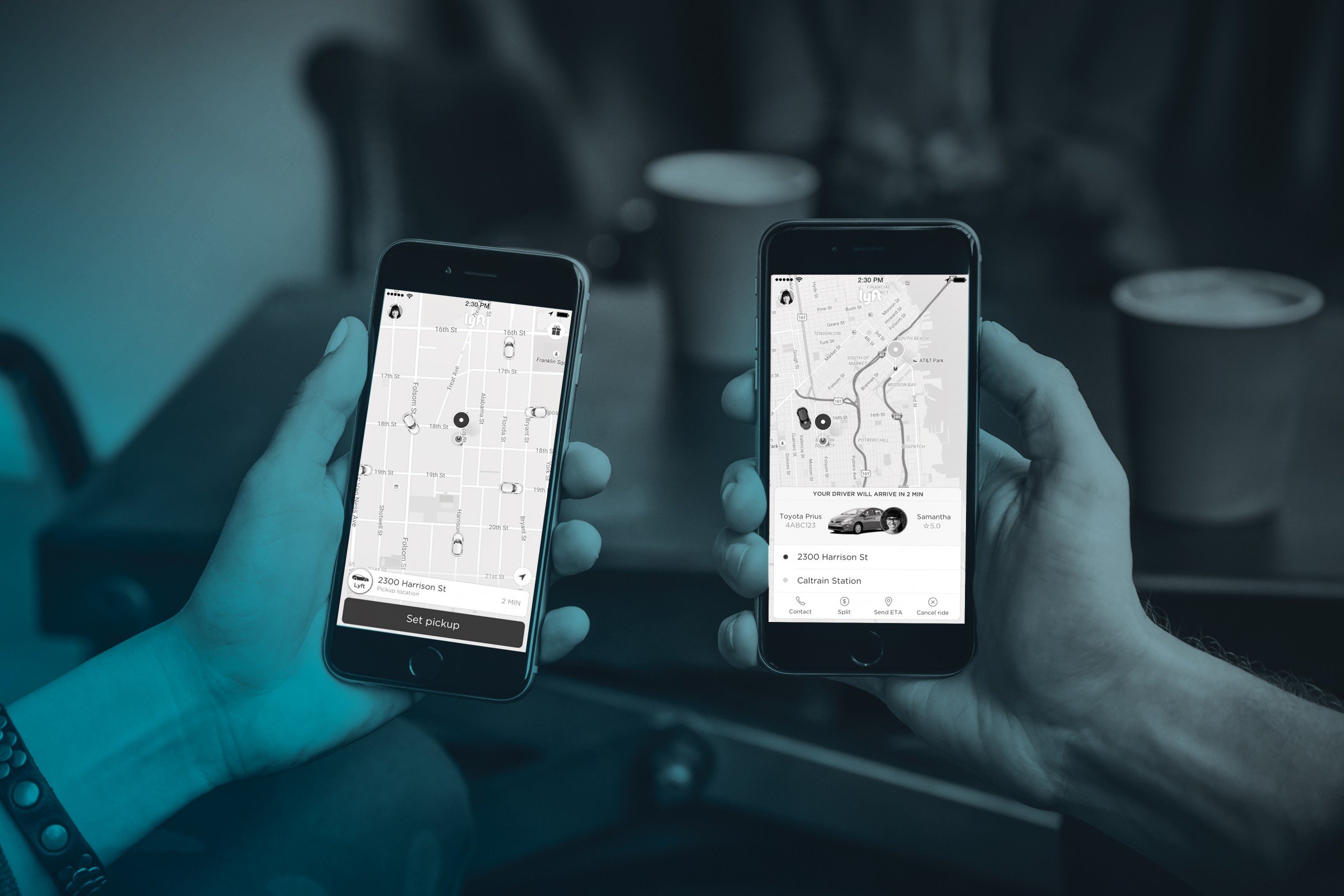 Jung thinks Uber and Lyft's success comes from two simple things: they are cheap and easy.
"I've given up. I don't go to City Council meetings anymore, I don't go to any of the public hearings, I don't participate, because we're not going to win. It's impossible," Jung says.
TheCab has also been hurt by Uber and Lyft, says Higa, who started running the company 20 years ago. Like Jung, he has testified at City Council meetings and talked with lawmakers.
"I understand supply and demand, but there's also social responsibility to the community," Higa says. By social responsibility, he means ride-sharing companies must consider what the community can afford and not be extreme with their pricing. During surges, the fare can be double the regular rate or even more.
Higa compared the current battle between ride sharing companies and traditional taxi companies to a wildfire. "It will become so great, they can't stop it," he says.
Uber says it has been listening to its drivers and in July began "180 Days of Change" – an initiative to improve drivers' experiences based on feedback received, says Nathan Hambley, communications manager for Uber in the Pacific Northwest region, which includes Hawaii. A new feature is tipping for drivers in the U.S. and Canada. Another change is more ratings protection for drivers. If a rider gives a bad rating because of price or issues with the app, Uber will remove that review from the driver's overall rating to reflect a more accurate rating based on someone's driving and service instead of things out of their control.
Here's another plus: Lyft rewards its best customers. Because of my five-star rating on Lyft for one year, I recently received 50 percent off my next eight rides over three months. I paid about $4 or $5 in those discounted rides.
After researching this story, I have a lot more understanding and sympathy for taxi companies. But I haven't taken a taxi since the Diamond Head ride, because of my bottom line: I'm a full-time college student, with only a part-time job, so if it's cheap and easy, I'm in.
---
Uber's Requirements
For cars:
Model year 2002 or newer

4-door car or minivan

Good condition with no cosmetic damage

No commercial branding
For drivers:
At least 21 years of age

At least one year of driving experience in the U.S. (three years if you are under 23)

Have a valid U.S. driver's license
Insurance
Uber and Lyft provide insurance for their drivers while the app is on and drivers are:
Waiting for a rider request

On the way to pick up a rider or

While a rider is in the car.