A New Era for Chaminade University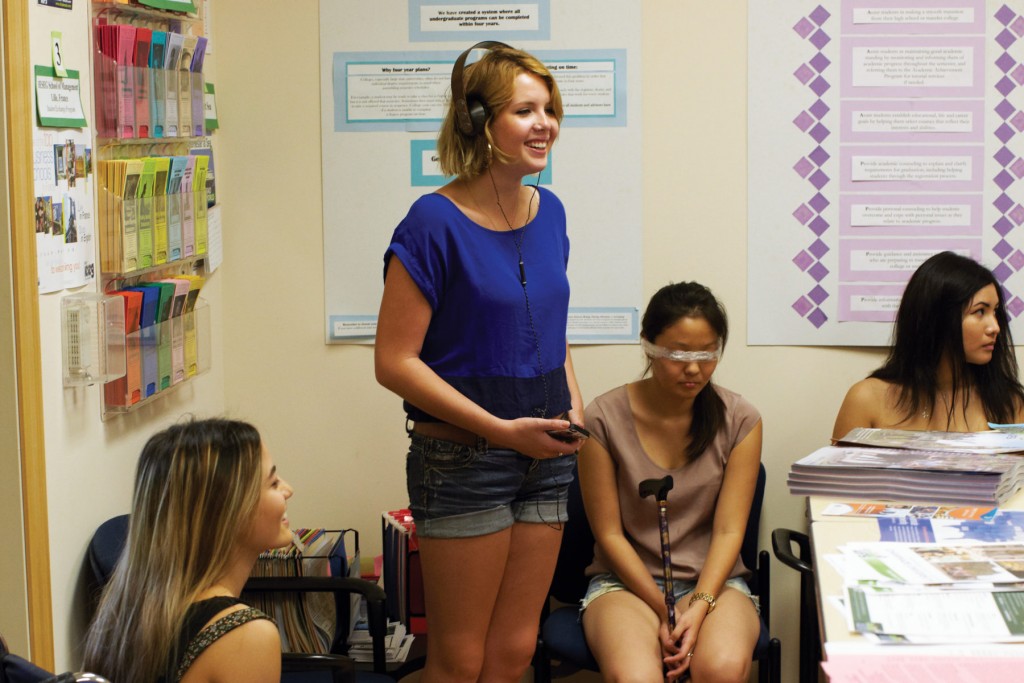 PHOTOGRAPHY BY MARK ARBEIT
---
One of the things that sets Chaminade University apart is its emphasis on community service. If you want to see how that plays out, tag along with Joan Riggs' students in the environmental and interior design program.
The students work hard studying aesthetics and good design, but they also spend time being "disabled" so they can better understand the challenges that some people face. "They do one day on campus, one day in public spaces off campus, and then they have to be disabled at home, as well," says Riggs, coordinator of the state's only accredited four-year interior design program. "The students actually experience using a wheelchair, being visually and hearing impaired, and continual discomfort in these scenarios. Then, they do a creative, multisensory presentation to the class expressing how the project has impacted them."
The students also meet with staff and inmates at the Women's Community Correctional Center in Kailua, where they hope to transform an area where children visit with their mothers. They are also considering ways to reconfigure classrooms and other public areas to inspire the women to focus on their studies and personal goals, so they can prosper once released. On top of that, the students are helping with design work on two halfway homes for the inmates.
Chaminade, a private Catholic college perched high above Kaimuki with distractingly spectacular views of Diamond Head and the ocean, was founded on liberal Marianist educational principles. It welcomes students of all faiths and backgrounds, and requires both educational achievement and tangible evidence of community service.
While remaining true to those core principles, Chaminade says it has made many changes this year, including offering a new guarantee that recognizes the challenges faced by many students to pay for college and finish in four years. Here's how the guarantee works: The school ensures four-year plans are available for every major offered in the day undergraduate program. Students who declare their major by the beginning of their sophomore year agree to remain committed to their program. In turn, Chaminade promises that classes will be available when needed. If not, Chaminade says, it will help students complete courses via independent study or by substituting different courses. And, if that's not possible, Chaminade will cover the cost of the required coursework to achieve the degree.
Caminade's new provost, Helen Whippy, says the guarantee is welcome assurance for students and families with tight budgets. At Chaminade, that includes just about everyone: More than 95 percent of the students receive financial aid or scholarships, Whippy says.
The principles of integrating faith, knowledge and service are applied in Chaminade's Division of Natural Sciences and Mathematics. Dean Helen Turner says she and her staff encourage students to focus on health and other problems to help generate global solutions.
Turner, a biology professor who is also affiliated with UH's John A. Burns School of Medicine, says Chaminade's science curricula inspire students to examine their communities to look for ways to help.
One effort is aimed at improving the health and welfare of Hawaiians and other Pacific Islanders. Turner says funding comes from a variety of sources, including a five-year, $4.2 million grant from the National Institute on Minority Health and Health Disparities. Turner says students' re-search is focused on problems that affect their families and communities, such as liver cancer and other cancers, diabetes, immunity challenges, obesity, environmental toxicology, pre-term birth and women's health, and the impact of ocean biology on human health. Many students spend summers working on research programs around the globe, which sometimes cements their desire to pursue scientific careers, or not. That's OK with Turner, who says it's important for students to realize while they are still in school whether they are cut out for a life in research or medicine. However, in most cases, Turner says, Chaminade students are choosing to stay in science.
"I'm really delighted to see Chaminade students proceeding to graduate school and medical school in unprecedented numbers. We want to be a pipeline producing the next generation of scientists and health practitioners from the Pacific for the Pacific," Turner says.
"When I see students passionate about the really big questions such as global health issues, climate change, science and education policy, then I count that as a win because I know they will have fulfilling professional lives."
Turner says she is excited about working with the new provost, who she says took the University of Guam from being a good university to being a great university.
"Dr. Whippy is smart, has tremendous energy and faces problems bravely," Turner says. "This will be a new era for Chaminade. We really need her. She is the shot in the arm, the really good kick in the pants and the right person to show how Chaminade does great things for Hawaii and our communities. We could be a national role model for science education and research. And Hawaii, of all places, should know about it."
Whippy is new at Chaminade this year, but not exactly a freshman. After more than 40 years of higher education experience in the Pacific, she was recruited by Mike Fassiotto, Chaminade's former associate provost and director of graduate studies, who died suddenly in July, a few weeks before Whippy started. Whippy is a mathematician, cancer researcher and an academic administrator who has held positions at the University of the South Pacific in Fiji, the University of Guam and the Papua New Guinea University of Technology.
Whippy, who had actually retired, says coming out of retirement to help Chaminade and its students seemed the natural thing to do. She wants to make it possible for students from all walks of life to attend and graduate.
"Chaminade is poised to do big things. We'll focus on making strategic choices to draw students of character willing to persevere toward graduation and career readiness," she says. This includes students who are at risk or financially challenged and may be the first in their families to attend college.
She lists many factors that will help shape those students, but finishes with what might be a mission statement for Chaminade:
"Volunteerism for a purpose, wrapped in academics, will shape our graduates into solid community members who will know what to do when they face the challenges ahead."
By the Numbers
1955 Year it was established by priests of the Society of Mary Marianists.
1,258 Students enrolled in the 2013-14 daytime undergraduate program.
Total part-time and full-time enrollment is 2,899.
63 Percentage of all students who are from Hawaii. Another 26 percent are from the mainland, with 8 percent from Pacific Islands and 3 percent from other countries.
18 Average class size. There are 90 full-time faculty.
67 Percentage of students who are female.