Adding New Skills to Open More Doors
Part 8 of a series of stories about resilience during the pandemic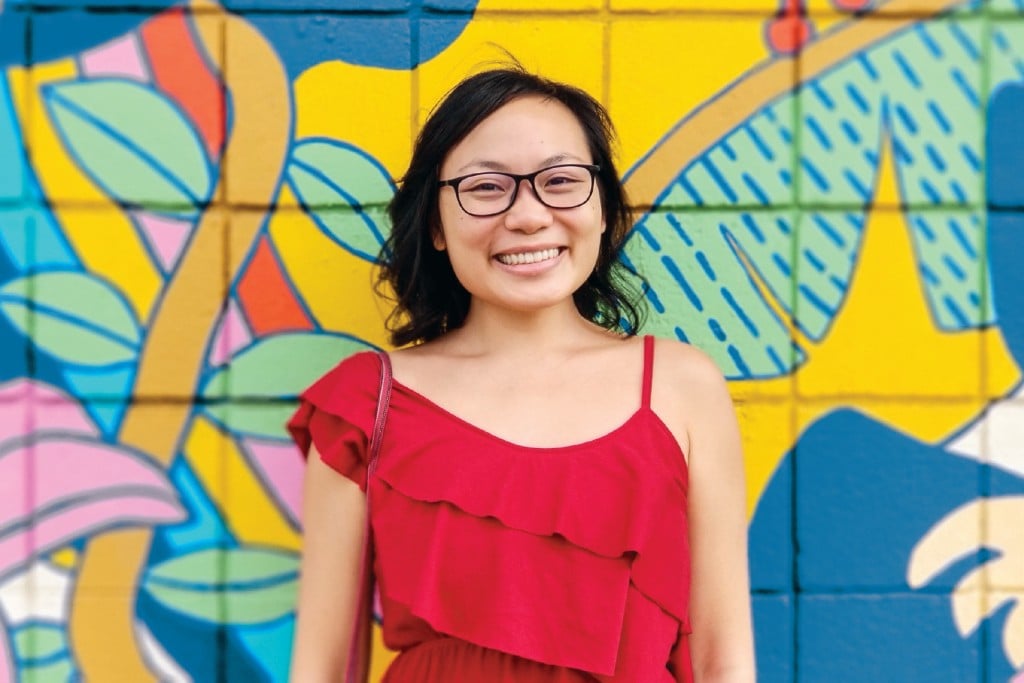 The pandemic has crippled thousands of small businesses in Hawai'i and forced tens of thousands of people to find new jobs. Amid these personal tragedies are stories of grit, perseverance and transformation. Here is one of those stories. 
---
Robbieana Leung liked being a gig worker, despite the uncertainty of finding each new job.
It gave her the freedom to spend two years in the Peace Corps, and then as a volunteer English teacher on the nonprofit Peace Boat, a Japanese ship that promotes peace, human rights and sustainability worldwide.
She came home to Hawai'i in February 2020 to teach English to foreign students at the Intercultural Communications College in Honolulu. When the pandemic arrived, international students stopped coming and the college closed, she says.
"Usually big universities have programs for international students that I help out with, but all of those were on hold too because of the pandemic," Leung says.
She only had a little savings, so she moved home with her folks.
"Being a gig worker, you're used to these lulls. You're used to the transition period between finding these jobs. I just applied and applied to different jobs. I just didn't know it would be so long.
"It's been good on one hand. Applying and applying and getting a lot of rejection has been good for character-building. If it has taught us anything it's to be grateful for what we have, and to count our blessings in the bigger scheme of things."
One bright spot was temporary work with Child & Family Service on a project that lasted from July to September. Through UH's O'ahu Back to Work Program, "I took a Japanese-for-busy-people class," she says. "It was the only one they had left."
She learned polite Japanese and common phrases, but more important, the connection with Kapi'olani Community College led her to an eight-week course about technology in education that didn't cost her anything.
"It's about affordable, accessible technology and how teachers are being creative to use it in their classrooms."
The course was a gold mine of ideas when she began teaching global English online through UH's Outreach College.
"I hadn't taught a class online and this one was over Zoom, so all my students had to rely on apps and technology. And my course was directly helpful. For instance, there's an app, Kahoot!, where you can make your own quiz with ph-tos and videos. So my students all around Japan were playing this Hawai'i trivia game I had created for the class. And after they played the quiz it provided a detailed report to tell you how the students were doing. It allows you to improve as a teacher."
But once that job is over, Leung will have to look for another.
"A lot of the jobs here require a degree in education even though I have my master's and a Cambridge University English language teaching to adults certificate," she says.
She's determined to find full-time employment. "I really want to transition into something that's a career move," she says. "Ultimately I might have to leave Hawai'i."
Leung avoids worry by repeating a parable her uncle told her: "There are two guys chopping down trees and one works hard constantly and chops down many trees. But the other guy takes breaks, and at the end has actually cut down more trees. The first guy said, 'How did you do that?' And the second one said, 'During those break times I was sharpening my ax, so I was able to cut more.'
"That story really encourages me," says Leung. "Even though it's frustrating, I'm trying to focus on preparing myself for whatever comes next."