You Can't Beat Robots So Work With Them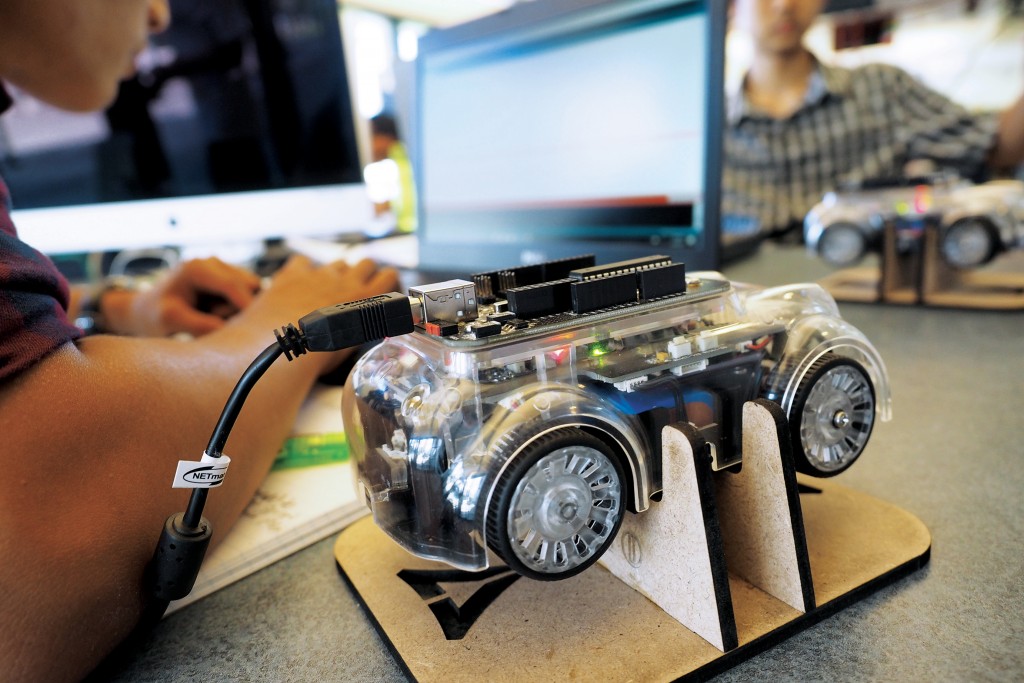 Americans Fear the Future
A majority of American adults say it's realistic that one day robots and computers might be able to do many of the jobs currently done by humans – and they're generally more worried than enthusiastic about this future:
76% Expect that economic inequality will become much worse
75% 

Anticipate that the economy will not create many new, better-paying jobs for humans

85% Favor limiting machines to doing dangerous/unhealthy jobs
58% Say there should be limits on the number of jobs businesses can replace with machines
Source: Pew Research Center, 2017
---
More Opportunities
We know that robotics and artificial intelligence have advanced to the point where you're going to have displacement," says Ken Hiraki, president of the Public Schools of Hawaii Foundation.
"Driverless cars – you don't need taxicabs anymore. Less accidents so you don't need people who repair the cars. Service sector economy. Cashiers in Waikīkī. Banking. You can see that it's going to be coming pretty soon. A lot of them will be displaced – any job that's routine."
A future where robots and artificial intelligence can do human jobs troubles many American adults, who are two times as likely to express worry than enthusiasm about such a future, according to a 2017 Pew Research Center report.
To prepare for this future, some school complex areas, like Campbell-Kapolei and Pearl City-Waipahu, have committed to introduce coding to all students. "We feel it's really important and we know that that's really going to be a required skill that our kids need to be competitive and be able to adapt in the changing industry," says Elizabeth Higashi, assistant principal at Waipahu High School.
The state Department of Education is creating a statewide plan to expose every public school student to computer science education, beginning with children entering kindergarten in 2022. That effort is being led by a group of educators, local businesses and organizations that is working on standards, courses and pathways, and identifying teacher training opportunities, says Hilary Apana-McKee, administrator of the DOE's Learning and Technology section. 
"I think what I see in Hawaii is a good understanding of how computer science impacts a variety of fields in a way where we can't afford to not integrate it into public education," says Kishimoto, the public schools superintendent.
"And there's a very purposeful conversation being had here not just on the education side but on the business and industry and even the nonprofit side around doing this well and really ensuring students have viable jobs and careers here in Hawaii so there isn't a brain drain out of this state to other states who are really exploding in this area, where they're using computer science concepts or technology."
Miyashiro, the executive director of HawaiiKidsCAN, says to encourage more students to take computer science, Hawaii's Board of Education should allow students to use computer science classes to satisfy graduation requirements for math or science. Currently, local students can only use these classes for elective credits or to earn an Academic Honors or STEM Honors designation on their high school diplomas. Thirty-four states and Washington, D.C., allow students to satisfy core graduation requirements through computer science, he says. "I think that's a recognition that as the economy is changing, the idea of what is foundational can change as well."
However, challenges remain with incorporating computer science classes into the schools. The school day is limited, and it can be difficult to carve out time to teach computer science and all the other required subjects, says Dote, the mobile and digital commerce director at Bank of Hawaii. And Hawaii needs more teachers who can teach the subject.
Luckily, there are several initiatives to tackle this second problem. Public school teachers who participate in Oceanit's Altino workshops can receive professional development credits, which can improve their pay. Oceanit's goal is to teach 1,000 teachers, who can then instruct others. DevLeague, the coding school, will also train educators at their own schools or online. And Asselstine, who is also a facilitator for Code.org, an organization that expands access to computer science education, has trained about 700 Hawaii teachers to teach computer science.
"If we can train two teachers at each complex, we are now massively increasing the capacity for us to teach computer science," Asselstine says. "Because one of the biggest complaints would be that 'Well, we've never been trained to teach computer science,' or 'They didn't cover that in teachers college.' But now we're overcoming that."
For schools to successfully prepare their students for the future, he says, computer science needs to be supported by school administrators.
"One of the biggest stumbling blocks is 'Our grades are low, we have this, we have that,' " Asselstine says. "Even though Momilani is not one of those schools where the grades are low, I think I'd still be doing this whether our grades were low or not. Because I think it's that important. I think it opens up so many opportunities for kids that they would not get. You can't deny that they're engaged because they come in here and I have to kick them out.
"And so in this world that you're talking about, the robotic, AI world, if we're not providing it for them, then we're already putting Hawaii behind the ball."