You Can't Beat Robots So Work With Them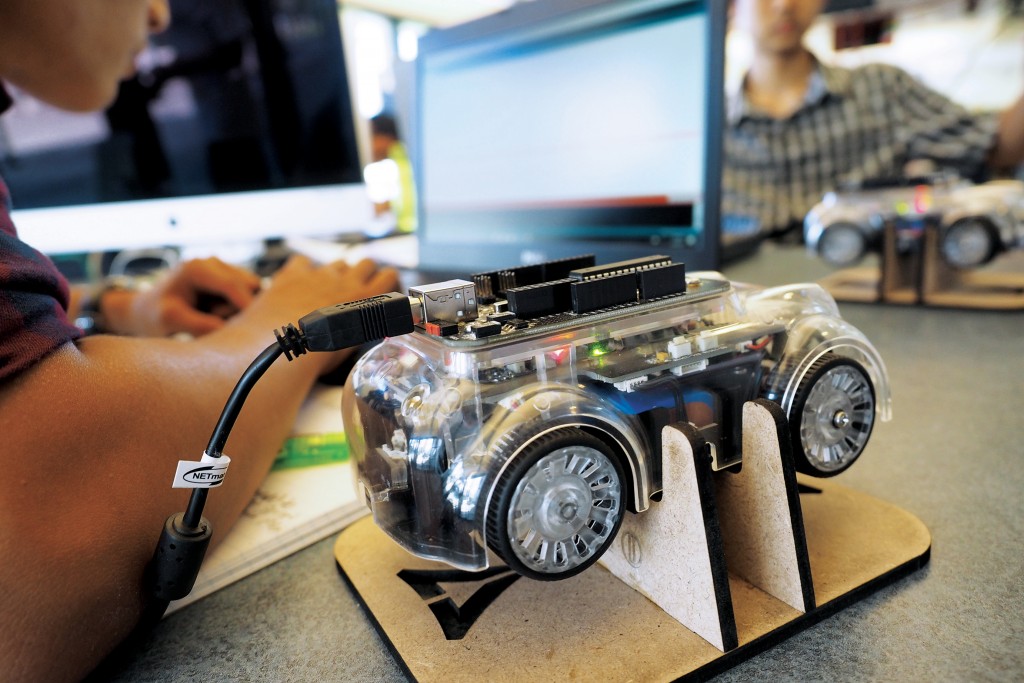 Creators of Technology
As technology advances, there's a fear that robots, automation and artificial intelligence will replace jobs. Already, we have cars that don't need drivers and cafes where robots make and serve coffee.
Locally, automation and smart computing have already made inroads at Architects Hawaii Ltd., Bank of Hawaii and Diagnostic Laboratory Services.
Architects Hawaii says automation improved its speed and efficiency. Instead of sending three architects to take millions of measurements to create a 3-D model of a project – a task that could take several days – the firm now sends one administrative assistant who takes those measurements within hours using a point cloud laser scanner, says Aaron Shimizu, building information modeling manager and job captain at Architects Hawaii. That gave the administrative assistant, whose tasks typically include processing word documents and scheduling meetings, the opportunity to learn a new skill.
Automated equipment has been common in laboratories for 15 years, says Mark Wasielewski, senior VP for technical operations at Diagnostic Laboratory Services. That's because the industry has seen a shrinking pool of licensed lab professionals and an increasing volume of tests from the state's growing and aging population.
At the company's headquarters in Aiea, machines, not people, load and unload tests for analysis, providing more time for employees to study the results. Employees' roles became more creative with more emphasis on deeper thinking, he says. And now they have to understand how the complex machinery works. One of the robots, "Kenny," walks, carries samples and talks, including asking people to get out of the way.
It's a similar situation at Bank of Hawaii, where 40 percent of its deposits are now done through its mobile app or an ATM versus in-person at a branch, says David Oyadomari, senior executive VP for digital channels. The mobile app and ATM incorporate smart computing to automatically read deposits and send them to the appropriate accounts. That gives branch employees more time to establish relationships with customers, so the bank now seeks different skills from those employees.
"We're looking for the retail experience, someone who can welcome someone into the store and can really engage them," says Sharlene Ginoza-Lee, senior VP of branch delivery. "That's impacting some of our recruitment efforts and also our development."
What will make humans valuable in a technology-driven economy are creativity and problem-solving skills that likely cannot be replaced by AI and robotics, says Brian Dote, now senior VP and director of mobile and digital commerce at Bank of Hawaii and previously the chief innovation officer at Mid-Pacific Institute. As adults, today's students will need to be lifelong learners who can also effectively collaborate, communicate and think critically.
Advocates agree that computer science – and especially coding – teaches students these skills because it forces students to figure out things for themselves.
"Coding is that aspect of problem solving, writing algorithms, understanding that to solve a task you need to have a series of steps and they have to run in a specific order," Asselstine says. "So the importance of that for this new economy is every kid needs to learn how to do some coding. They need to understand how their world works. And they cannot just be consumers of this new technology, but creators. And to be a creator, you have to know how to code."
Ian Kitajima, director of corporate development at Oceanit, agrees, adding that teaching every teacher is key to ensuring every student in Hawaii is exposed to coding. In 2017, Oceanit partnered with Kamehameha Schools to hold its first series of workshops to teach educators how to code using Altino, a platform that uses small toylike cars to teach hands-on coding.
He says Oceanit, an engineering and innovation company, is leading this effort because it sees a need: "People ask us, 'Are you guys in the education business?' And I thought about it for a while, and I go 'I guess we are.' Because everything that happens with education will potentially end up here. … Unless more companies in Hawaii start thinking that way, they're going to be in big trouble."
The Altino cars effectively teach coding, says Mid-Pacific Institute teacher Weyland Bailey, because they provide instant feedback to students and connect what they do in the classroom to real life, where autonomous cars and machines are a reality.
He says the biggest thing they learn, aside from the coding, is a logical interpretation of problem solving: "So even if they don't go into computer programming or engineering, it's my hope that by going through the coding that they can picture in their mind, 'If I do this, here's the consequences. Or if I do this, here's the consequences.'"
The students who excel are the ones who get especially creative when solving problems, says Aisha Tanaka, a teacher at Ke Kula O Nawahiokalaniopuu Iki Lab Public Charter School on Hawaii Island. The school has taught coding with the Altino cars since last summer and found that computer science provides another way for students to discover their talents and boost their interest in school. Tanaka also says she's seen the class improve students' self-esteem.
"It'll be neat to see what the workforce is like in the future," says Rona Yagi Fukumoto, VP of programs and mission advancement at Lanakila Pacific, which is getting an app designed by Waipahu High School students. "It used to be if you're an English major you can do anything, right? Now maybe the switch is if you're able to code, you can do anything."