You Can't Beat Robots So Work With Them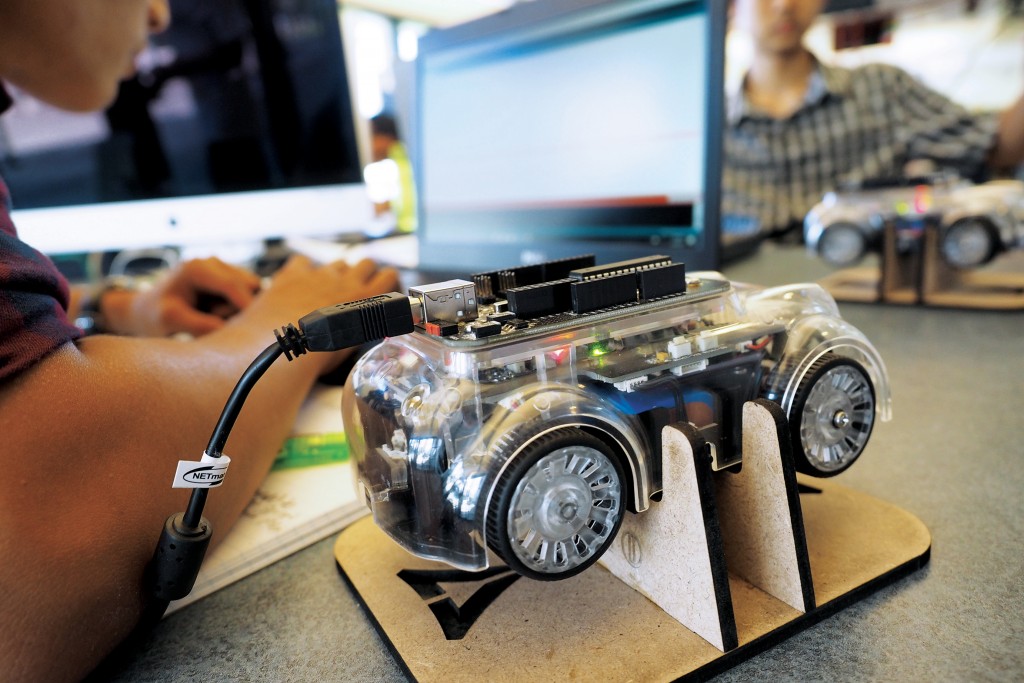 Robots and artificial intelligence are already taking over jobs from people, so many schools are teaching cybersecurity, programming and robotics to provide students with employable 21st century skills
On a cloudy day in Manoa, a pair of high school students at Mid-Pacific Institute attentively type lines of code into a laptop.
A few seconds later, they turn their heads to see if the small toylike car advances a few inches. It does.
By the end of the semester, they'll have learned how to code their cars to move autonomously through a miniature city.
Across the state, students are being prepared for a future in which artificial intelligence, robots and automation define what jobs and tasks are left for human workers. That preparation focuses on computer science, advocates say, which teaches students the skills they need to succeed as adults.
"When you look at computer science and those kind of experiences, I think that across the board that makes it easier for the students to tackle anything they're working on, whether it's a problem at school or a problem at home, or taking a test," says Greg Kent, technology coordinator at Kailua Elementary School. "It makes you better at thinking. It's learning how to think, learning how to solve problems. And so that's universally what you do in life."
Computer science already exists in several local public, charter and private schools through programs, classes and workshops that teach robotics, computer programming and cybersecurity. Advocates say this is a good start to preparing our keiki for the future, but they insist all students in Hawaii should be exposed to computer science.
To do so, Hawaii's Department of Education is developing a statewide plan for computer science standards. Along with that, it's creating courses and career pathways, and identifying professional development resources.
Providing Access
David Miyashiro, executive director of HawaiiKidsCAN, a nonprofit that aims to build an equitable education system, says many educators are interested in teaching computer science: "People are realizing the economy is changing dramatically and yet it's not clear if the education system is responsive enough of that change.
"As an organization focusing on equity, I think our challenge and our opportunity is how do we help the system recognize these skills in robotics or computer science. It's not something secondary, it's not for geeky kids or the gifted and talented. It's about helping our kids access this new economy."
Momilani Elementary School in Pearl City teaches computer science to all grades through designated classes and by incorporating it into traditional subjects, like having second-graders learn to code robots to tell stories for their language arts lesson, says Shane Asselstine, the school's technology integration specialist.
Nearly half of public middle and high schools offer some type of computer science class, says state DOE Superintendent Christina Kishimoto. Next school year, every high school student will be able to take Advanced Placement Computer Science Principles online.
Many schools participate in Hour of Code, a worldwide event that gets schools and students interested in computer science by completing online activities. The event takes place in December during Computer Science Education Week. Some schools, like Momilani Elementary, hold larger events that incorporate teachers, students, businesses and community members, bridging the gap between computer science in the classroom and its impacts in the community, Asselstine says.
At Kapolei High School, computer science has been offered for almost a decade. This year it's adding something new: a cybersecurity course that teaches students how to protect data and prevent hacks, says Principal Wesley Shinkawa. That class is also available at Campbell, Roosevelt and Waipahu high schools through a partnership with the Public Schools of Hawaii Foundation, the state Department of Labor and Industrial Relations, and the local coding school DevLeague, which is co-teaching the classes with teachers from each school.
"We felt that teaching kids coding, teaching them cybersecurity, maybe there's some opportunity there for employment in those areas," says Ken Hiraki, president of the foundation. "And we know that businesses are very concerned about cybersecurity."
The three partners also started a pilot program this year at Waipahu High School, where a class of 11 students is learning about digital technology, data analytics and design thinking and encouraged to apply those skills. Throughout the spring semester, smaller teams of students have been working with local businesses and nonprofits to design apps that could solve issues the organizations face, exposing students to what it's like to work as app developers, says Natalie Ramirez, director of technology and innovation at DevLeague.
Robotics exposes students to similar careers. Art Kimura, an organizer of the Hawaii State VEX Championships and often dubbed the state's "father of robotics," says 334 Hawaii teams participate in VEX, one of several robotics programs in the Islands.
At Waialua High & Intermediate School, robotics is offered as a class and an after-school program – the only places where the school's students can learn about careers in science and engineering.
"If I wanted to be a programmer one day, I would probably have to move schools because we don't offer it here. We're just too small," says teacher Glenn Lee, who helped start Waialua's robotics program in 1999. "So we help bridge that gap for all these other kinds of STEM careers and interests that kids may have."