Aloha Harvest Distributes Good Food to the Needy Before It Gets Tossed
The nonprofit distributes millions of pounds of excess food from restaurants, stores and farms to food pantries and homeless shelters.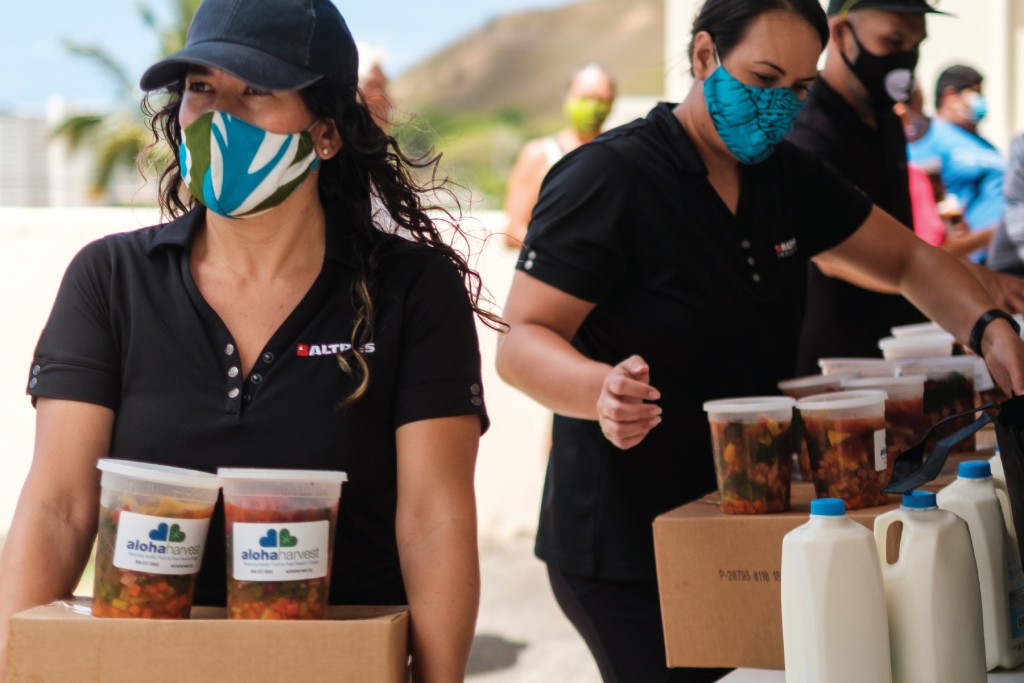 Aloha Harvest distributes good-quality excess food from restaurants, hotels, stores and farms to agencies that feed the hungry, like homeless shelters and food pantries.
"We don't grow food, we don't cook food, we don't feed people directly," says Executive Director "Phil" Augustus Acosta. "But we work with over 1,000 donors and nonprofit organizations that feed the hungry and we try to facilitate those connections in the community."
The nonprofit's mission is to reduce food waste and hunger. "In the long term, what we see is trying to create a more efficient, equitable, resilient and sustainable food system for Hawai'i, where all of our food resources are better utilized," Acosta says.
A UH Mānoa study found that, in 2020, almost 90,000 children in Hawai'i lived in households that lacked access to enough food for all household members to lead active, healthy lives. That study's dire number is a result of preexisting poverty combined with high unemployment due to the pandemic.
"The volume of food we've been processing in communities has been three to four times more than what it was pre-pandemic," Acosta says.
Aloha Harvest was founded in 1999 by the Hau'oli Mau Loa Foundation, a private grant-making foundation that helps the less fortunate and enhances stewardship.
Aloha Harvest recently started working with The Pantry, a Honolulu nonprofit that provides a "grocery-style store" for people in need who order online and then pick up the food at The Pantry's warehouse.
"They've been great in that they've helped us out with community food distributions and with storage," Acosta says. "With the increase in the volume of food in the last few years, they stepped up and allowed us to utilize part of their warehouse."
Says Jennine Sullivan, executive director of The Pantry: "We're incredibly grateful to have them support us. Donations we get from Aloha Harvest are high-quality items and really help families meet basic needs and help us provide for the community."
Aloha Harvest's drivers pick up excess food from food donors seven days a week – either as part of their regular schedules or as one-time pickups. The nonprofit accepts many forms of quality excess food, including fresh, frozen, prepared, raw and dry. Schedule a donation at alohaharvest.org/donate-food.
"There's still a lot that needs to be done," Acosta says. "There's still a lot of people that need to be fed, so we rely on folks in the community to help us expand our reach and capacity."
---
Aloha Harvest says its partnerships and impact in 2020 included:
360 food donors
273 recipient agencies
2.7 million pounds of food redistributed