Belong: Where Every Employee Matters
May 19, 2022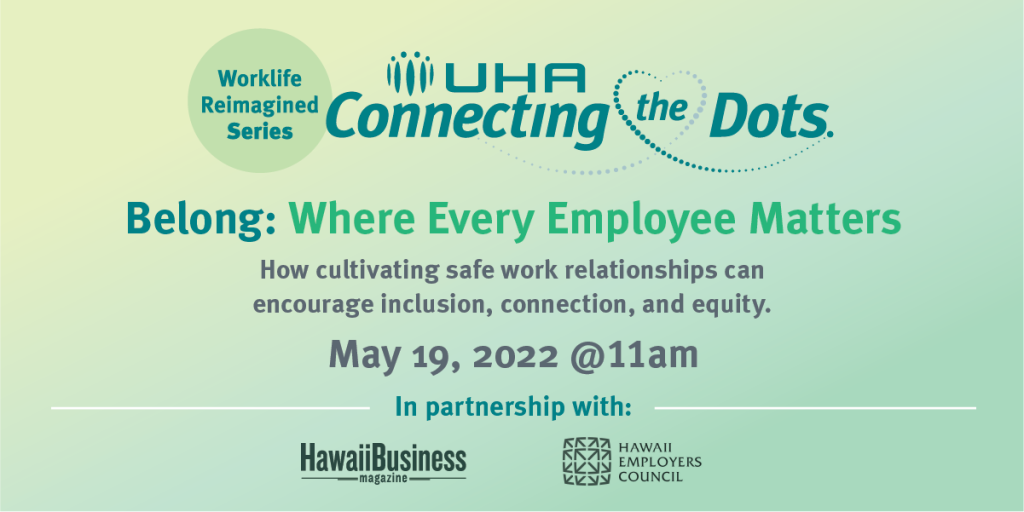 "Belong: Where Every Employee Matters," presented by UHA Health Insurance in partnership with Hawaii Business Magazine and Hawaii Employers Council, featured local mentor/mentee pairs who shared their experiences in cultivating safe relationships to encourage inclusion, connection, and diversity in the workplace.
Panelists:
Francis Choe,
Manager of External Affairs, Alexander & Baldwin
Ikaika Regidor,
Senior Programs Director, YMCA of Honolulu
John Komeiji,
General Counsel and Vice President, Kamehameha Schools
Reina Purvis,
Executive Director, YMCA
As our webinar guests discussed, belonging is a feeling. When we cultivate belonging, it frees employees to do their work rather than be concerned about differences in race, age, ability, gender and health. Such was the case with Reina Purvis, executive director and Ikaika Regidor, senior programs director, at the Nuuanu YMCA.
"[Reina] had a gentle guidance," Regidor says, explaining that she would check in with him about his personal life, giving him the option to share only what he was comfortable with.
Purvis believes that if supervisors don't connect with individuals on their teams, they are missing an opportunity to deepen engagement not just between manager and staff, but to the organization and the community in which it serves.
The second mentor/mentee pair, John Komeiji, general counsel and vice president for Kamehameha Schools, and Francis Choe, manager of external affairs at Alexander & Baldwin, formerly the external affairs director at Hawaii Employers Council, spoke about their time together at Hawaiian Telcom. Choe says that Komeiji's level of trust and support from day one helped him find a sense of belonging and connectedness, which eventually gave him the agency needed to create a young professionals' employee resource group within the company.
This group allowed engaged individuals with a shared sense of purpose to come together to socialize while trying to tackle professional development issues that they were facing. "[Komeiji] just gave the benefit of the doubt to the employees," Choe says. "We had his trust and support up front."
Komeiji believes that allowing employees to do things like create a group of empowered and purpose-driven individuals provides a platform for them to develop solutions to issues within their organization. "I really believe that employees, given the opportunity … will come up with the answers to your problems," he says. "Our job as leaders is to encourage them, provide some guidance, [and] clear away some of the hurdles that they may face."
Eager to learn more?