Best Places to Work 2015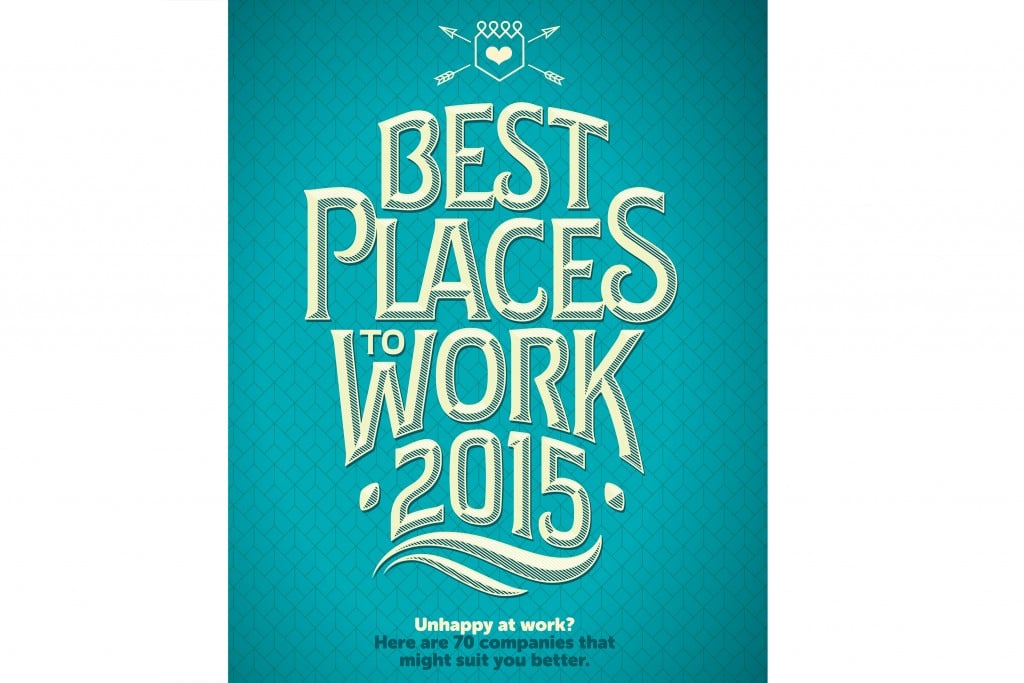 BPTW QUICK LINKS
LARGE COMPANIES  |  MEDIUM COMPANIES  |  SMALL COMPANIES

 SPECIAL AWARDS
---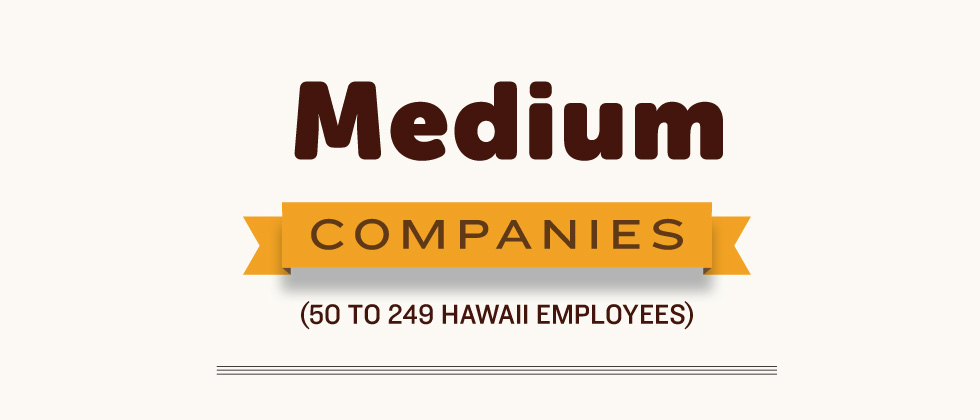 NO. 1
Bowers + Kubota Consulting, Inc.
Headquarters: Waipahu, HI
www.bowersandkubota.com
Employees: 133 HI / 134 worldwide
The architectural and engineering consulting firm awards bonuses twice a year to every full-time employee. These monetary bonuses range from 8 to 20 percent of an individual's salary. The company covers 100 percent of the premiums for full healthcare coverage – including vision, dental and prescription – for employees and their families.
NO. 2
Swinerton Builders
Headquarters: San Francisco, CA
www.swinerton.com
Employees: 87 HI / 1,054 worldwide
Swinerton believes in continued training and education. It covers tuition for all employees, providing their selected courses are aligned with their professional responsibilities. For instance, the general contractor pays the tuition when project coordinators go back to school for a degree in engineering.
NO. 3
Edward Jones
Headquarters: St. Louis, MO
www.edwardjones.com
Employees: 103 HI / 38,472 worldwide
Each year, promising employees are selected to earn an all-expense paid executive MBA degree. Financial advisors are paid to study for licenses as well. High-performing financial advisors are eligible to go on a company-sponsored diversification trip to an exotic destination.
---

American Carpet One
Headquarters: Honolulu, HI
www.americancarpetone.com
Employees: 114
Employees get bonuses every five years, beginning in their 10th year. Bonuses range from two to four weeks, which can be taken as cash, extra vacation days or a combination. Employees are eligible for annual bonuses of up to $300 a year for working safely. Employee birthdays are recognized with cakes or pastries.
Architects Hawaii Ltd
Headquarters: Honolulu, HI
www.ahldesign.com
Employees: 91
Architects Hawaii pays employees $2,000 for passing the Hawaii Architectural Registration Exam and $1,000 for obtaining certification from the National Council for Interior Design. Employees earn a bonus for 10 years of employment and an additional check every five years after that. Every Friday, the company offers coffee, doughnuts, yogurt and fruit.
Associa Hawaii
Headquarters: Dallas, TX
www.associahawaii.com
Employees: 139
The Associa Leisure & Lifestyles (55+) program offers employees savings on household goods and services. It also provides employees with a virtual concierge service to handle chores and errands, such as making appointments and travel arrangements. Associa is committed to promoting from within. Employees enjoy free parking in downtown Honolulu.
Atlas Insurance Agency, Inc
Headquarters: Honolulu, HI
www.atlasinsurance.com
Employees: 106
Atlas often provides part-time opportunities and a more flexible schedule to retired employees who want to keeping working. Classes also help the aging workforce improve its skills, including computer/technology modules. The company offers retirement awards, which provide financial incentives for older employees to remain with the company.
Expedia Local Expert
Headquarters: Bellevue, WA
www.localexpert.com
Employees: 189 HI/ 489 worldwide
Expedia, which provides concierge services and activity reservations in Hawaii, offers employees discounted travel. Performance is rewarded in various ways: for instance, the Concierge of the Year winner receives a paid trip to an annual trade show in Las Vegas and travel credit. Employees receive a yearly stipend for health club memberships.
Goose's Edge, Inc
Headquarters: Bellevue, WA
www.localexpert.com
Employees: 189 HI/ 489 worldwide
Expedia, which provides concierge services and activity reservations in Hawaii, offers employees discounted travel. Performance is rewarded in various ways: for instance, the Concierge of the Year winner receives a paid trip to an annual trade show in Las Vegas and travel credit. Employees receive a yearly stipend for health club memberships.
Goose's Edge, Inc
Headquarters: Waikoloa, HI
www.goosesedge.com
Employees: 61
The gasoline convenience store company pays 100 percent of healthcare and prescription premiums. For quality control, the company conducts secret shopping reviews at each store; the winner receives a bonus.
Hale Ola Kino
Headquarters: Des Moines, IA
www.haleolakino.com
Employees: 54
This business, which operates a skilled nursing community, offers goal-based bonuses that range from $1,500 to $7,000. Employees also receive retention bonuses from $50 to $500. On Keiki Day, employees can bring their children to spend time with residents.
Hawaii Diagnostic Radiology Services
Headquarters: Honolulu, HI
www.hawaiidrs.com
Employees: 85
The company prides itself on flexibility, offering employees four-day workweeks and alternate schedules for school and caring for family members. Employees get up to $2,400 a year to cover training, classes, books and educational conferences. The company rents a theater for an annual family movie day – popcorn and hot dogs included.
Hawaii National Bank
Headquarters: Honolulu, HI
www.hawaiinational.com
Employees: 193
Hawaii National Bank offers select individuals the opportunity to attend the Executive MBA program at UHManoa – which has an approximate value of $45,000. In addition, the bank sponsors wellness lunch and learn activities, including chair massages. It also observes National Ice Cream Day.
Hawaii News Now
Headquarters: Honolulu, HI
www.hawaiinewsnow.com
Employees: 143
Hawaii News Now provides a wide range of educational opportunities including sales certification programs, technical equipment training and leadership development. It also sponsors employees' participation in community and charitable events, such as the American Heart Association's Heart Walk.
Hawaiian Eye Center
Headquarters: Wahiawa, HI
www.HawaiianEye.com
Employees: 53
The eye services provider offers continuing education allowances for its employees. It also gives on-the-job training for certification in ophthalmology. Productivity bonuses are available for all employees.
Hickam Communities, LLC
Headquarters: Honolulu, HI
www.hickamcommunities.com
Employees: 82
Hickam sponsors employee appreciation luncheons and longevity recognition events. Employee team bonding activities include bowling and scavenger hunts. All full-time employees are eligible for incentive bonuses of up to 5 to 20 percent of earnings, depending on job title.
Honolulu HomeLoans
Headquarters: Honolulu, HI
www.honhl.com
Employees: 56
This mortgage banker provides monthly lunches to thank employees for their efforts. Loan officers are paid a commission based on how much loan volume they close. Pastries, bagels or other treats are available every Thursday, courtesy of the president. Employees receive 15 paid vacation days a year.
Island Insurance
Headquarters: Honolulu, HI
www.islandinsurance.com
Employees: 185
The insurance company offers a profit-sharing plan that includes a discretionary company contribution. Graduated vesting is based on years of service, with 100 percent vesting at seven years. On average, profit-sharing contributions are provided at 7 percent of eligible compensation. Other perks include half-staff days and dance classes to support physical well-being.
Maryknoll School
Headquarters: Honolulu, HI
www.maryknollschool.org
Employees: 182
Oahu's largest coeducational Catholic school covers 100 percent of employees' healthcare premiums. In its commitment to have a diverse workforce, Maryknoll conducts job searches worldwide and is actively growing its exchange partnerships with China.
Maui Family Support Services, Inc
Headquarters: Wailuku, HI
www.mfss.org
Employees: 60
This organization, which supports local families, also looks out for its ohana of staffers. It offers a relaxed atmosphere in which workers can bring their children to work, if needed. Employees are asked to nominate the top staffer and team of the year. Selected staff members are recognized at the annual meeting.
Navy Federal Credit Union
Headquarters: Vienna, VA
www.navyfederal.org
Employees: 63 HI / 11984 worldwide
All employees create Individual Development Plans to map their own career path and aren't confined to the financial services sector. The company offers more than 1,500 eLearning courses through its Learning Management System. Full-time employees receive up to $5,250 a year for graduate courses. Part-time employees receive up to $2,625 a year.
New York Life Insurance Company
Headquarters: New York, NY
www.honolulu.nyloffi ces.com
Employees: 108 HI / 9,000 worldwide
New York Life has half-day summer Fridays in July and August. The company's leadership is available for one-on-one meetings with anyone for feedback in private and also in small groups. The company offers a training allowance which is $70,000 over first three years as a new agent.
Nordic PCL Construction, Inc
Headquarters: Denver, CO
www.pcl.com
Employees: 112 HI / 4,551 worldwide
NPCL is an employee-owned company that allows workers to purchase shares and participate in the company's profits through dividend payments. There is no stated limit to employee sick leave. Full salary is paid for jury duty and bereavement leaves.
Pacxa
Headquarters: Honolulu, HI
www.pacxa.com
Employees: 90
The technology services provider partners with local universities and offers a paid internship to grow new talent. The merit adjustment program, which factors in the employee's performance and achievement of individual goals, is available to all staffers. Other benefits include paid downtown parking, a relaxation room and free tickets to UH sporting events.
ProService Hawaii
Headquarters: Honolulu, HI
www.proservice.com
Employees: 150
The HR solutions provider offers its employees financial incentives such as a holiday bonus and a $1,000 employee referral bonus. Every Friday is casual attire day. Employees can work alongside Fido on Take Your Dog to the Office Day.
Shriners Hospitals for Children – Honolulu
Headquarters: Tampa, FL
www.shrinershospitals.org
Employees: 130
Benefits include ample free parking, an on-site fitness center and a cafeteria. Registered nurses receive tuition reimbursement to attain their bachelor's degree. The company has its own hula halau, which performs at special events throughout the year.
Skyline Eco-Adventures
Headquarters: Pukalani, HI
www.zipline.com
Employees: 85
This owner and operator of zipline adventures throughout Hawaii provides all employees with an annual holiday bonus, based on time with the company. The company provides paid service days for staffers to volunteer at the nonprofits of their choice.
The Hawaii Group, Inc
Headquarters: Honolulu, HI
www.thehawaiigroup.com
Employees: 106
As part of a robust health plan, the company covers 100 percent of the premium for acupuncture and chiropractic therapy. The professional services firm provides snacks and drinks for all staff five days a week, catered lunch once a week, surprise massages by a professional therapist and retreats to places such as Dave & Busters.
---