Best Places to Work 2015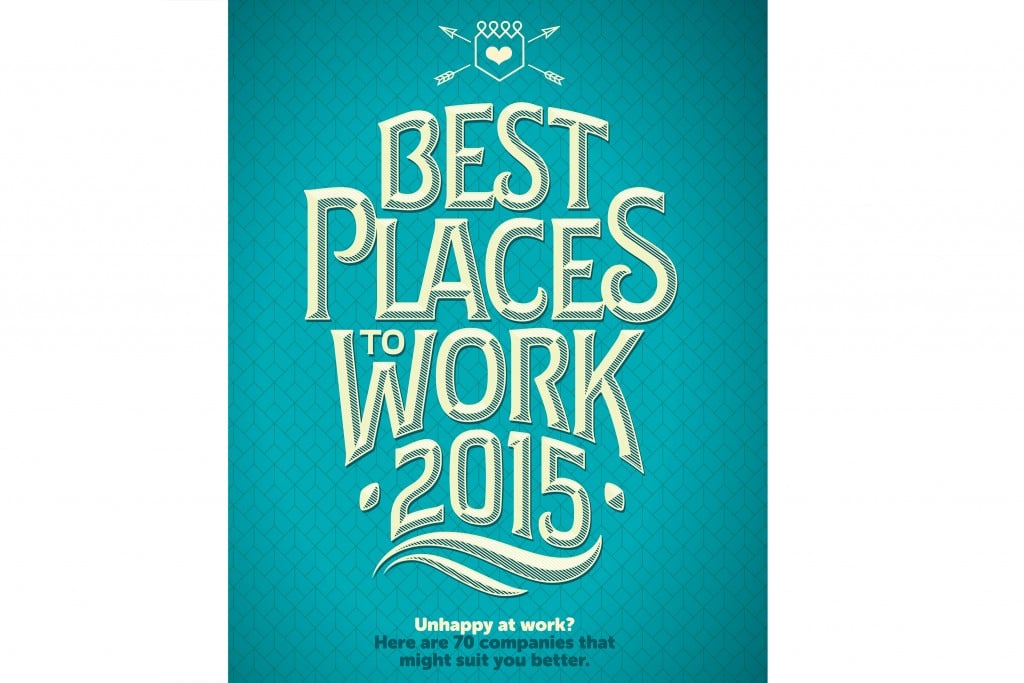 BPTW QUICK LINKS
LARGE COMPANIES  |  MEDIUM COMPANIES  |  SMALL COMPANIES

 SPECIAL AWARDS
---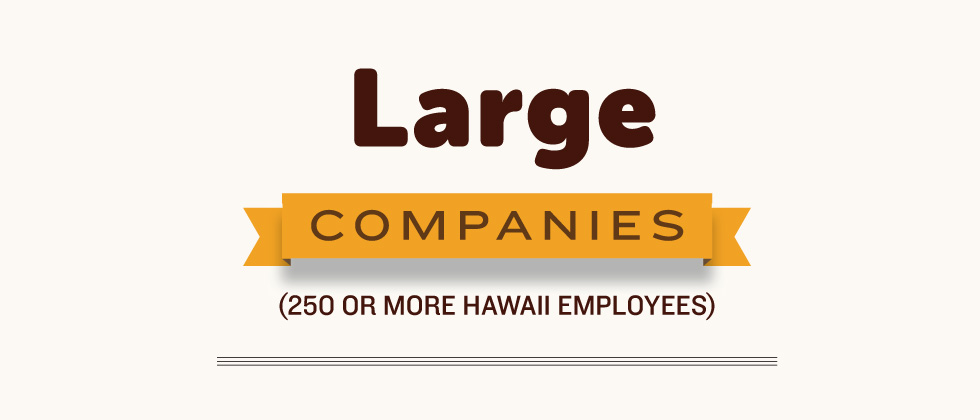 NO. 1
American Savings Bank
Headquarters: Honolulu, HI
www.asbhawaii.com
Employees: 1,185
Every Friday is payday at ASB, where employees get paychecks each week. The LifeBalance Program – a 24/7 Webbased platform featuring online challenges, contests and rewards – makes getting in shape fun for workers. Fulltime employees receive 18 to 28 days in paid time off. ASB offers chiropractic, acupuncture and massages to its staff.
NO. 2

Central Pacific Bank
Headquarters: Honolulu, HI
www.centralpacificbank.com
Employees: 895
Instead of Monday morning blues, CPB employees encounter Motivational Mondays, which feature fun activities, such as office Olympics games. CPB also sponsors quarterly team building activities, such as bowling, yoga and dance lessons. Employees get exposure to higher-ups through fireside chats with executives and ohana grindz with CEO John Dean.
NO. 3

Hawaii State Federal Credit Union
Headquarters: Honolulu, HI
www.hsfcu.com
Employees: 251
HSFCU encourages employees to get involved in their communities with activities such as bake sales and craft fairs that raise money for charity. Employees bond at after-hour events and cookouts. HSFCU sponsors annual wellness screenings for all workers and has a fitness center at its main branch.
---

Bank of Hawaii
Headquarters: Honolulu, HI
www.boh.com
Employees: 2,116 HI/ 2,238 worldwide
Employees connect at more than 100 organized activities annually. Among them are the summer slam lunch, in which popular food trucks serve free meals to employees, and caroling at the Christmas tree lighting ceremony. The company promotes health and wellbeing by providing three on-site fitness centers, online wellness resources and healthy choices at two cafeterias.
Child & Family Service
Headquarters: Ewa Beach, HI
www.childandfamilyservice.org/
Employees: 304
HICFS champions workplace diversity. The nonprofit taps into the SEE program, which helps disadvantaged people of various ethnic and cultural backgrounds find jobs. When appropriate, it also advertises job openings in local ethnic newspapers. All new hires are required to take diversity training.
City Mill Company, Ltd
Headquarters: Honolulu, HI
www.citymill.com
Employees: 421
Every employee, from cashiers to managers, pass through City Mill University, at which they learn about customer service, products, management and leadership. The company sponsors two annual appreciation celebrations where team members are recognized for their years of service and performance.
First Hawaiian Bank
Headquarters: Honolulu, HI
www.fhb.com
Employees: 2,098 HI/ 2,226 worldwide
The bank offers full-service lunchrooms and cafeterias, where daily meals are served for a nominal charge, thanks to a corporate subsidy. First Hawaiian sponsors athletic leagues in tennis and basketball, as well as golf tournaments.
First Insurance Company of Hawaii, Ltd
Headquarters: Honolulu, HI
www.ficoh.com
Employees: 310
First Insurance offers annual biometric exams as well as health-risk assessments to employees. It also sponsors the Bumboocha Loser, a "Biggest Loser"-type contest in which participating employees have collectively lost more than 250 pounds. Fresh fruits and vegetables are delivered bi-weekly.
Island Palm Communities LLC
Headquarters: Schofield Barracks, HI
www.islandpalmcommunities.com
Employees: 308
Island Palm – a partnership between developer Lend Lease and the U.S. Army – offers a quarterly incentive program that recognizes employees who uphold safety as a core value. The company, a proponent of work-life balance, sponsors Ohana Day, which features food and entertainment for workers and their families.
Kiewit Infrastructure West Co
Headquarters: Omaha, NE
www.kiewit.com
Employees: 255 HI/9,800 worldwide
The construction and engineering services company sponsors a host of fun activities throughout the year, including summer BBQs, Big Al's bowling event and casino night. Other perks include productivity and time management workshops, and discounts on products such as Ford vehicles and vacation packages.
Na Hoku
Headquarters: Honolulu, HI
www.NaHoku.com
Employees: 298 HI / 528 worldwide
At monthly general sales meetings, sales performance is rewarded and anniversaries are recognized. In 2014, the company earned the Hawaii Jewelers Association Environmental & Green Award for not selling coral jewelry for 10 years.
Panda Restaurant Group Inc.
Headquarters: Rosemead, CA
www.PandaExpress.com
Employees: 521
Employees receive free or discounted tickets to local family entertainment and sporting events. Fitbits are given at a discounted price to promote walking. Immediate family members are invited to corporate events.
Parents And Children Together
Headquarters: Honolulu, HI
www.pacthawaii.org
Employees: 400
All supervisors at this nonprofit receive intensive training called Putting the Pieces Together, which covers administrative, educational and supportive management. PACT offers a 200 percent match to employee 401(k) contributions up to 4 percent of compensation.
Servco Pacific Inc
Headquarters: Honolulu, HI
www.servco.com
Employees: 1,010 HI/ 1,557 worldwide
Recognizing that its workforce is composed primarily of Baby Boomers, Servco puts a high priority on sharing financial planning and retirement resources. Its wellness initiative, ShapeUp, is an online program that monitors and challenges workers to stay healthy through friendly competition and accountability.
Turtle Bay Resort, LLC
Headquarters: Kahuku, HI
www.turtlebayresort.com
Employees: 418 HI / 419 worldwide
Turtle Bay incentivizes employees to stay active by offering on-site morning stretch classes and sponsoring fun events such as annual tournaments in golf, volleyball and paddling. The hotel is a big proponent of sustainability. Employees participate in quarterly beach cleanups and the planting of native Hawaiian plants on the property.
---