Best Places to Work 2015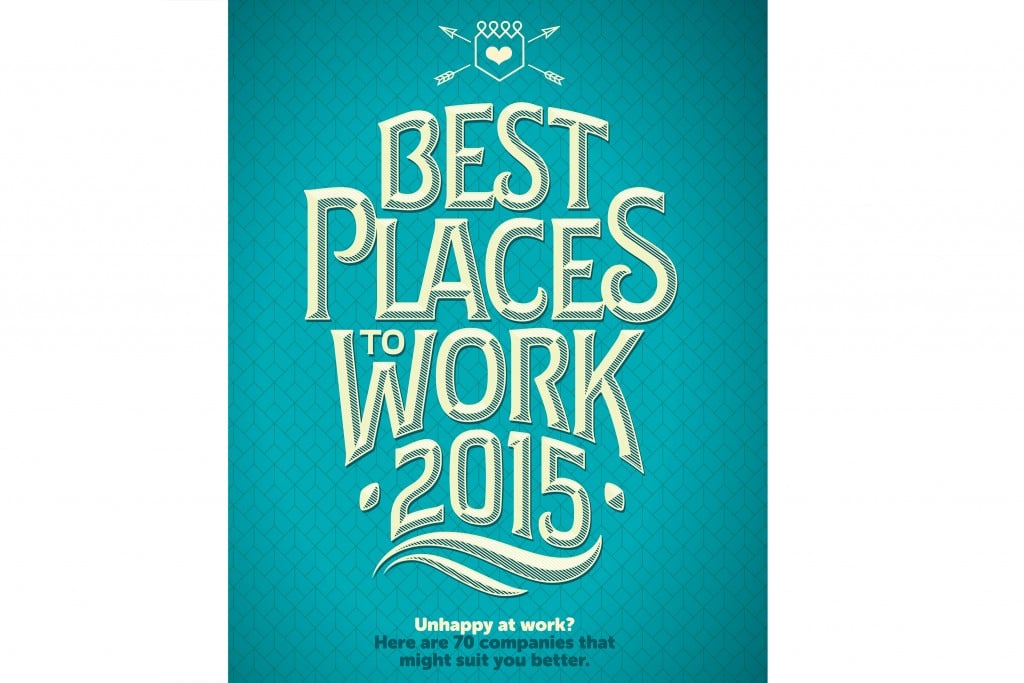 BPTW QUICK LINKS
LARGE COMPANIES  |  MEDIUM COMPANIES  |  SMALL COMPANIES

 SPECIAL AWARDS
---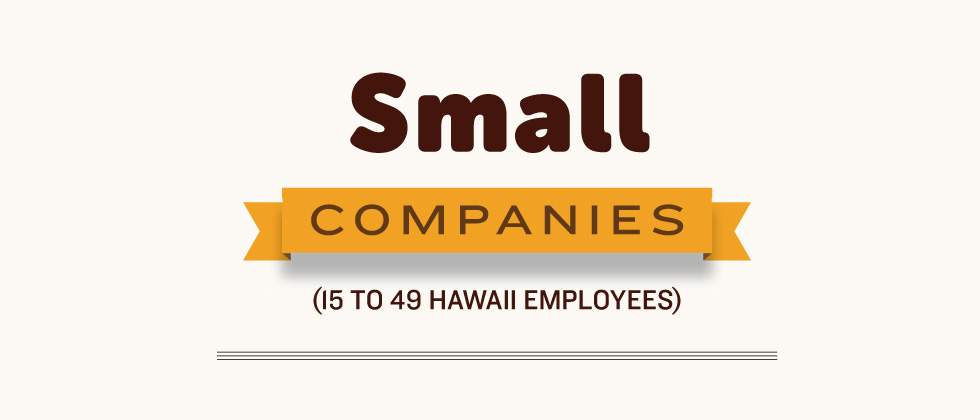 NO. 1
Hawaii Information Consortium, LLC
Headquarters: Olathe, KS
portal.ehawaii.gov
Employees: 31
HIC ensures all employees are healthy and their voices are heard. The company offers standup desks and fitness balls to everyone who requests one. Programs promote promising employees to leadership positions. Internal communication is encouraged through meetings and instant messaging that all employees – including the CEO – can contribute to and read.
NO. 2
Hawaii Mortgage Experts
Headquarters: Honolulu, HI
www.hawaiimortgageexperts.com
Employees: 28
Loan officers and processing staff are given bonuses if they meet goals each month. The company also encourages employee mobility by reimbursing employees for continuing their education and certification courses. But it's not all work and no play: The company hosts after-work happy hours and provides free movie tickets to employees.
NO. 3
Gourmet Events Hawaii
Headquarters: Honolulu, HI
www.gourmeteventshawaii.com
Employees: 27
Employees are eligible for classroom style training as well as individual coaching, and can chart their professional path using the Myers Briggs Type Indicator. Employees are provided with merit-based incentives based on performance criteria and hours worked. The company has balls and hula-hoops available for fun breaks.
---

Brown and Caldwell
Headquarters: Walnut Creek, CA
www.brownandcaldwell.com
Employees: 31 HI / 1,482 worldwide
The environmental engineering and consulting firm offers an Individual Development Planning program, which encourages employees to map out areas and actions needed for professional growth. Free lunches for meetings, free bus passes and subsidies for bike commuting are offered to employees.
CW Associates, CPAs
Headquarters: Honolulu, HI
www.cwassociatescpas.com
Employees: 34
CW Associates has a succession plan to keep talented employees, and there is no mandatory retirement age. Employees at the accounting firm are given flexible work schedules, and they can pau hana with co-workers over food and drinks at least once a month (and in their jeans, too, if it's casual Friday).
EnviroServices & Training Center, LLC
Headquarters: Honolulu, HI
www.gotoetc.com
Employees: 40
The company makes it easy for workers to stay in shape despite all the gatherings it hosts for employees – including popcorn Fridays and ice cream parties. There are fitbit team challenges and monthly salad lunches.
Hawaii Public Radio
Headquarters: Honolulu, HI
www.hawaiipublicradio.org
Employees: 42
Hawaii Public Radio focuses on providing employees with one of the most important incentives possible: To find meaning in one's work. Employees' schedules are flexible and they are given discounted or free tickets to special concerts and cultural events. HPR also sponsors memberships to professional groups for networking and learning purposes.
Honolulu Board of Realtors
Headquarters: Honolulu, HI
www.hicentral.com
Employees: 34
The Honolulu Board of Realtors provides employees with mentoring and job shadowing programs to encourage growth. The company sponsors an annual staff retreat and quarterly lunches.
Imua Family Services
Headquarters: Wailuku, HI
www.imuafamilyservices.org
Employees: 39
Employees are encouraged to customize their workstations to enhance comfort and productivity. The company offers Continued Education Units for employees to bolster professional expertise and knowledge. Employees at the not-for-profit are able to accumulate paid time off each month to use when they need to.
Integrated Security Technologies, Inc
Headquarters: Waipahu, HI
www.istechs.net
Employees: 18
The security systems provider requires employees to create a professional development plan each year and lends support in career advancement through leadership workshops and other training opportunities. The company offers profit sharing and a 401(k) plan with an annual automatic 3 percent contribution.
Integration Technologies, Inc
Headquarters: Honolulu, HI
www.intech-hawaii.com
Employees: 20
When the IT company's profits increase, a profit-sharing pool distributes the spoils among staff, based on performance review score, longevity and position. Network administrators can earn monthly bonuses of $500-1,000 for meeting goals. The employee with the most "kudos" earned from positive customer feedback each month gets a $75 Amazon gift card.
Life Foundation
Headquarters: Honolulu, HI
www.lifefoundation.org
Employees: 29
The employees reflect the Life Foundation's appreciation of Hawaii's diversity – staff represent more than 14 cultures and ethnicities and are fluent in 11 languages. Retreats and full-day beach days offer employees the opportunity to grow professionally and have fun away from the office.
Okahara and Associates, Inc
Headquarters: Hilo, HI
www.okahara.com
Employees: 26
The engineering consulting firm makes sure employees who work hard are rewarded – everybody is eligible for year-end and mid-year cash bonuses. It reimburses all expenses when an employee passes tests for professional engineer status. Free lunches, after work BBQs and golf are some of the fun activities for employees.
Pacific Administrators, Inc
Headquarters: Honolulu, HI
www.pacadmin.com
Employees: 47
Workers are recognized with annual bonuses and awards that include paid half-day and full-day time off. Management training programs are provided to eligible candidates for promotion. Employees are rewarded for perfect attendance with gift cards. The company provides a quiet room with leather rocker chairs for relaxation.
Pacific Biodiesel
Headquarters: Kahului, HI
www.biodiesel.com
Employees: 37
The renewable energy company knows how to keep employees pumped. In addition to giving tuition reimbursement and assistance, it offers discounts on movie and concert tickets. The company offers an array of training opportunities and emphasizes promoting from within by posting available jobs internally first before going to the general public.
PacRim Marketing Group, Inc
Headquarters: Honolulu, HI
www.pacrimmarketing.com
Employees: 20
Employees at this marketing company work with managers to create career plans. Bonuses are offered to employees who meet both designated and unquantifiable goals. A "Director of Fun" – an employee who does something fun for the rest of the staff – is chosen each week.
PKF Pacific Hawaii LLP
Headquarters: Honolulu, HI
www.pkfpacifichawaii.com
Employees: 27 HI/ 28 worldwide
Each employee is assigned a coach to provide career advice. Year-end and spot bonuses are offered to strong performers. PKF offers unlimited vacation days. A wellness room is provided for employees to listen to music and sit in a massage chair. A playroom is available for children to hang out while visiting their parents at the office.
PRTech, LLC
Headquarters: Honolulu, HI
www.prtech.com
Employees: 19
The online marketing company offers mentoring and job shadowing for employees to learn new skills. Employees' promotions, new hires and achievements are shared through multiple media (online and print). An open office setting promotes a relaxed working environment conducive to teamwork.
Servpac, Inc
Headquarters: Honolulu, HI
www.servpac.com
Employees: 17
Employees of the telecommunications company receive bonuses up to two times a year, and experienced employees get retention bonuses. In addition to a "Company Day," employees are given paid time off for team building activities such as golf.
Simply Organized, LLC
Headquarters: Honolulu, HI
simplyorganized.net
Employees: 31
Flexible work schedules allow employees to balance family, school and life. Team members rotate between stores to learn different skills and stimulate in-house promotions. Senior managers answer their own phones and an open door policy is encouraged. Employees receive training from professional organizers at the retailer's Happiness University.
Sleep Center Hawaii
Headquarters: Pearl City HI
www.sleepcenterhawaii.com
Employees: 26
Sleep Center Hawaii tries to make sure its employees rest easy at the end of the day. The company will match up to 3 percent of an employee's paycheck into a simple IRA. If 180 sleep studies are conducted within a three-month period all employees get a $100 bonus. The company provides flexible schedules and bonuses.
The Berry Company
Headquarters: Kettering, OH
www.theberrycompany.com
Employees: 38 HI/ 1,444 worldwide
The marketing company invests in employees' futures by offering tuition reimbursement for higher education. A career development program helps employees reach goals. Sales contests offer representatives the prospect of awards in addition to their commissions. The company covers employee parking, and all employees' birthdays are celebrated with cake and ice cream.
The Wedding Ring Shop
Headquarters: Honolulu, HI
www.weddingringshop.com
Employees: 22
The Wedding Ring Shops provides performance incentives based on individual employees and company goals. Tuition reimbursements for any training related to jewelry are standard. The company buys lunch for staffers regularly and sponsors movie nights with pizza and ice cream sundaes.
Toshiba Business Solutions (USA)
Headquarters: Irvine, CA
www.business.toshiba.com
Employees: 49 HI / 2,300 worldwide
Employees have access to Toshiba University, where they can sign up for online training courses. Workers can unwind every week with a company sponsored massage and have fun with activities like the annual bus ride to the Honolulu City Lights.
Wakelight Technologies, Inc
Headquarters: Honolulu, HI
www.wakelight.com
Employees: 24
The company has developed the Wakelight Technology Center on its premises so technical staff can develop specialized skills and attain certifications. Quarterly lunches and formal recognition for strong performers are staples at the IT firm.
Wealth Strategy Partners, LLC
Headquarters: Honolulu, HI
www.thewsp.com
Employees: 46
Every employee has a quarterly meeting with the CEO and team manager to discuss ideas, successes or concerns. Employees are responsible for self-directed hours. Agents who hit minimum performance goals win a trip to either Las Vegas or San Diego for the annual agency meeting. Employees enjoy monthly lunches and quarterly outings.
ZR Systems Group LLC
Headquarters: Honolulu, HI
www.zrsystems.com
Employees: 17
The technology solutions company organizes weekly social events and hosts annual company competitions such as bowling. A company-wide chat program allows everyone to communicate with each other. The company reimburses employees for certification tests and provides annual bonuses based on company performance.
---