How Three Small Companies Use Unusual Benefits to Build Loyal Teams
These Best Places to Work in Hawai'i prioritize well-being, and they offer employee programs that prove it.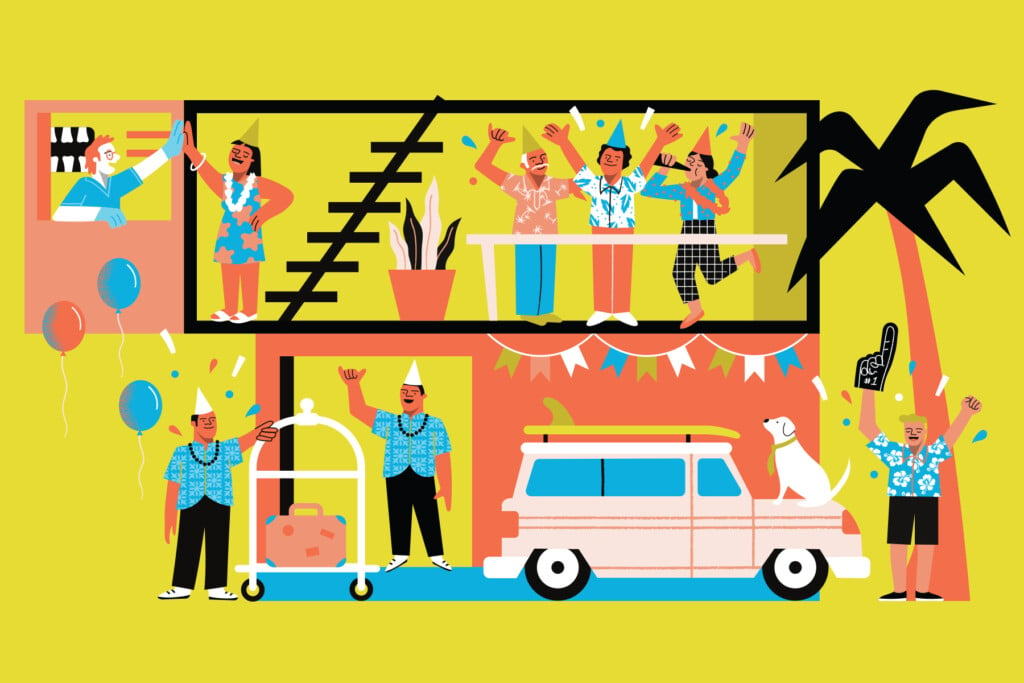 Small companies in Hawai'i face lots of challenges, many related to staffing. They have to compete to land great employees, fend off companies trying to poach them away and navigate an ecosystem where news travels fast when staffers are unhappy.
Because of their small size, there's little room for mistakes. The entire team needs to be competent and committed, and people can't be eyeing the exits – a serious concern in Hawai'i, where a record 222,000 people quit their jobs in 2021.
Here are three of 2023's Best Places to Work that have figured out how to keep their employees engaged and loyal.
The Hawaii Group: 5-Week Paid Sabbaticals
Matt Delaney, president and CEO of The Hawaii Group, which offers accounting services and health care staffing, says "the smaller you are, the harder it is."
Despite that, he's had success keeping employees in place with a "family first" philosophy and an ambitious benefits package that includes free daily lunches and weekly yoga sessions.
Since starting the HiAccounting and HiHeathCare divisions about 6 ½ years ago – following the 2016 sale of HiHR – Delaney says nine Hawai'i employees among a staff of 28 have hit at least five years of service. That qualifies them for a rare benefit in Hawai'i: a paid sabbatical.
"We encourage the staff to take the entire five weeks at once and do something they have always wanted to do but were unable because of the regular work schedule," says Delaney. One employee recently traveled extensively on the mainland. Two added the five weeks to their 12 weeks of maternity leave.
Nationally, 5% of companies offer paid sabbaticals and 11% offer unpaid leaves, according to 2019 data from the Society for Human Resource Management – and those numbers have been rising, according to data collected by the payroll processing company Gusto.
Sabbaticals are seen as an antidote to the burnout and disengagement that spiked during the pandemic. But in Hawai'i, they're rarely offered – even among the Best Places to Work. Only seven of the 76 companies on the 2023 list said they provide this benefit.
"A paid sabbatical is usually something you're finding with the Googles of the world … where someone leaving for five weeks isn't even noticed," says Delaney.
He says having to juggle duties during a staff member's sabbatical is well worth it, and he considers sabbaticals to be a key component of the company's employee retention efforts.
After all, says Delaney, offering five weeks off to explore and rejuvenate is far easier and cheaper than having to train new employees to master the complexities of vacant positions.
Integrated Security Technologies: Go-Karts, Ax-Throwing and Cat Cafés
IST provides electronic security systems for commercial and government facilities. Its success, says Christine Lanning, president for nearly 25 years, depends on having a cohesive team that collaborates well and is invested in the work.
To achieve that, the team of 32 dives into fun – from company-wide quarterly outings such as scavenger hunts and beach barbecues to small-group meet-ups for ax-throwing or golf.
"Anything not related to work is always popular," says Lanning.
Lanning also values informal one-on-one time with staffers, which can be anything from lunch at a nice restaurant to touring a submarine.
"I just went to a cat café with one employee," she says. "I find the smaller events much more meaningful. … We sat there for an hour or so talking about issues in the company and where they saw themselves in the company."
Team-building activities start every Monday morning at a check-in meeting, which might include communication exercises or Lego-building competitions. People are paired across departments, so that operations and sales, for instance, get to know each other better.
"I believe the activities have a huge impact on morale," says Lanning. "The magic is in the cohesion of the team, and that cohesion isn't built overnight and can't be faked. 
"You have got to spend time together, getting to know each other, so when an issue pops up at work, you are more likely to trust the person and address it."
Ceramic Tile Plus and Exclusively Yours: Paying for Fitness
"Our most valuable resource is our people," says Jim Doran III, president of the countertop, flooring and cabinetry company on Maui, which his father started in 1977.
Doran says most of his 32 employees have been with the company for 10 to 28 years. "We're extended 'ohana, so if we invite you to be part of the family, you're stuck with us," he says with a laugh.
The company was known as "a cookies and doughnuts place," says Doran. But when his father died in 2017, he decided to focus on health and wellness, replacing sugary snacks with options like fresh fruit and rolling out an innovative program called IncentFit.
Using an app, activities are tracked and cash rewards are automatically sent to employees' bank accounts: $1 for reaching 8,000 steps in a day, $2.50 for going to the gym, $25 for a flu shot, $50 for an annual physical and $75 for a Covid vaccine.
Doran says he's planning to add swimming incentives and to raise the monthly award limit for physical activities from $40 to $50 or $60. He'll also be introducing incentives to attend financial fitness seminars. About 85% of employees participate in the IncentFit program.
"One of the main goals is keeping people healthy," says Doran. "We have a 40,000-square-foot building segmented in clusters, so if one person gets the flu, everyone in the department gets it." At one point in the pandemic, he says, the entire fabrication unit was out with Covid for 10 days.
Doran has rolled out incentives in other areas as well. He recently offered members of the fabrication team an extra dollar of hourly pay for three months in exchange for perfect attendance in the previous three months. Sales bonuses are doubled when the team meets its monthly goals, and everyone gets an extra day of pay on their birthdays.