Beyond Our Kakaʻako:
Urban Core Living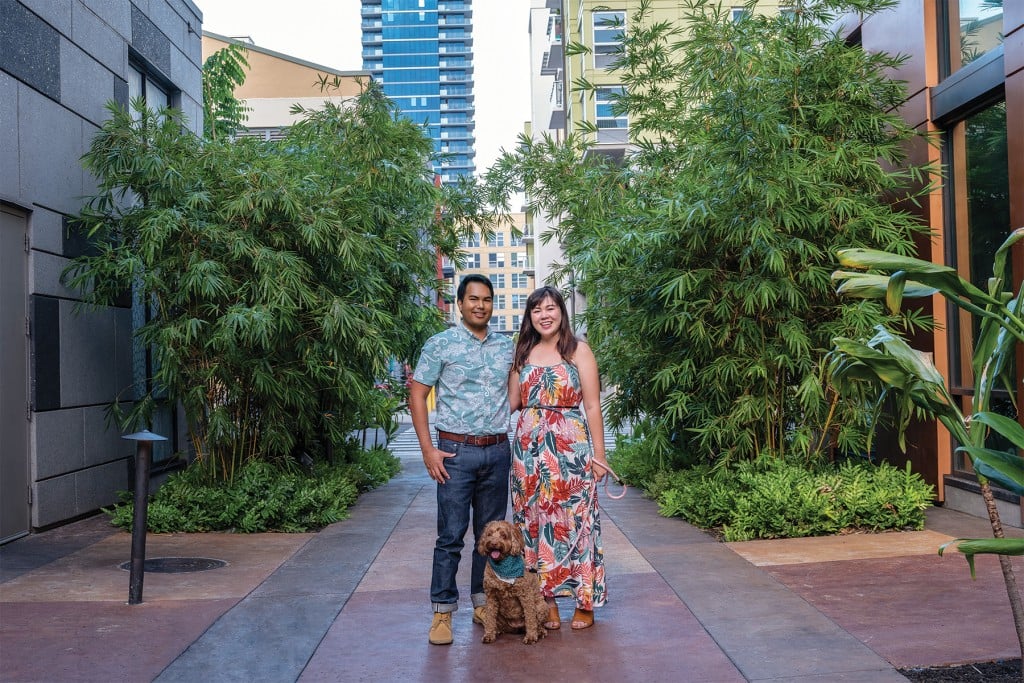 CONTENTS
Letter from Kamehameha Schools
Q&A with Stanford Carr and Walter Thoemmes
Learning from the Past Developing the future
Our Kaka'ako: Living the Urban Life
---
Aloha,
Every morning I wake up at 4:30 a.m., so I can make the commute from Nānākuli into town for school. When I step up into the bus, I always choose a window spot, so I can look out at the neighborhoods while we go by.
When I grow up, I want to be like my dad who is a scientist. He talks to me about balancing tradition and innovation. He spurs my curiosity while keeping me grounded. He always says as long as we take care of the land, ocean, and sky, they will, in turn, take care of us.
I want to remain connected to this place that I call home and stay in Hawai'i. I do not want to move to Las Vegas, Portland, or Seattle like many of my aunties, uncles, and cousins. But, I don't want to have to wake up so early, every day, for the rest of my life.
I want to live in a community where I don't need a car. A place where I can walk to work or ride my bike, where the store and restaurants are nearby. I see this "ideal" life on TV and want to live that dream in Hawai'i. I want my friends and their families to stay here in Hawai'i, so that we can grow up together, ride our bikes together, go to the same schools and live in the same neighborhoods where our families will be happy and healthy.
Mahalo,
Elementary School Student, Kamehameha Schools
(Possibly a future Chief Executive Officer)
---
At Kamehameha Schools, we strive to provide the very best for all our keiki. We want our people to have a future where jobs, housing and opportunity don't require hours on the highway commuting back and forth, a future where opportunities are rich in Hawai'i and our keiki don't have to move to the continent to make a decent living.
That's our vision. And that's why Our Kaka'ako came to be. We believe we can create vibrant local communities across the islands so that our future generations can spend less time on the road and more time with family. We believe that when we collaborate, when we look at a community and create a vision from its existing fabric, we can create a future that honors our past and our people.
Within these pages is a glimpse of what we've done and what's possible.
━━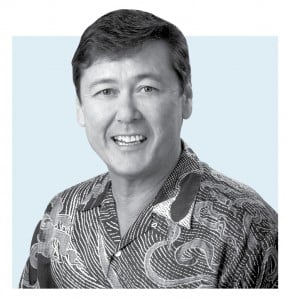 Q&A WITH STANFORD CARR
His Vision, Focus and Autograph on Hawaii's Communities
Q: WHEN YOU MASTERPLAN AN ENTIRE PARCEL LIKE KEAUHOU AND THE NEXT KS BLOCK, WHAT ARE YOU THINKING ABOUT?
A: When you have all four corners of the block, you have a responsibility to do it right. Create an urban park where there can be concerts and food events. Activate the neighborhood, create something that brings people out and together, places to gather and explore.
I'm thinking about the community vibe. Is it posh or casual, introverted or extroverted, local or global? I'm thinking about how to encourage wandering, with shorter blocks and streets that call to people—similar to what you find in cities across Europe. In Keauhou, my very first rendering had a market as a community anchor where people connect. (Down to Earth now resides in that market space.)
We're building community with renters, homeowners and amenities, and everything is right here. We'd not seen that before. Now people are catching on to creating neighborhoods. People can see it. They can walk it and see it and get excited about what's possible.
Q: YOU'RE KNOWN FOR BUILDING AFFORDABLE HOUSING THAT INCLUDES AMENITIES, FIXTURES AND FINISHES THAT CAN BE FOUND IN MORE EXPENSIVE PROJECTS. WHY?
A: I'm driven to create places where people are proud to live, where they can have a pride of community and neighborhood. I want people to come home and say, "Wow! I live here!" My mom was an interior designer, and I learned from an early age to appreciate the art, style and design of a home. I also want people to have homes that help them succeed. Maybe they start out in an affordable rental, which enables them to save to be a first-time buyer, and on and on.
Q: YOU'VE JUST PURCHASED SIX PUBLIC HOUSING PROJECTS FROM THE STATE, WITH PLANS TO REVITALIZE THEM. WHY?
A: We bought this portfolio of rental properties because they are in dire need of deferred maintenance, and if we don't do it, who will? I want to make sure we preserve the housing and invest in it, keep it local. These six buildings represent 1,221 rentals, and we're looking to infuse them with the same attention we give our affordable projects—that "wow factor" that makes residents proud to live there.
We also recognized that some of these residents could be on the path to homeownership if they had the financial literacy skills they need. So that's part of our plan—to offer workshops within the buildings so that they can get the tools they need to improve their lives. In the senior living building we acquired, we're including technology and fitness sessions so they can stay active
and connected.
Q: HALEKAUWILA PLACE WAS YOUR FIRST AFFORDABLE PROJECT, RIGHT?
A: Yes, and it's one of the projects I'm most proud of. We started that one in the midst of the global economic fiasco, kept people working and employed through it all, and opened ahead of schedule and under budget. It was the first new tower in the area in years, and with that one, we showed how a community can be created.
Q: NO TWO PROJECTS OF YOURS ARE ALIKE. WHY NOT?
A: When I first got into the business, I couldn't afford to compete with the big guys, so I had to do something different. That's when I realized I wanted each project to have its own identity. I don't want people to drive into an area and say, "Oh, this looks like Carrville." As developers, we autograph our work. People are going to be looking at it for generations. We've got to get it right.

Q&A WITH WALTER THOEMMES
Putting Kamehameha Schools' Commercial Real Estate to Work for Hawaiʻi's Future
Q: WHY IS KAMEHAMEHA SCHOOLS IN THE DEVELOPMENT BUSINESS?
A: Our mission is to educate and care for Princess Pauahi's people—and that reaches beyond our campus. We have to not only educate, but make sure our communities support and nourish our people. With our land holdings, our value is in creating a vision for supportive, healthy communities. We can leverage the city and county for support, better infrastructure, transportation solutions. By letting go of some control, we can find partners that create the communities our people want and need.
Q: TRANSPORTATION IS A BIG PART OF THE EQUATION. HOW ARE YOU ADDRESSING THAT?
A: Transportation equity is a big deal to us—finding solutions so our people living on the West Side aren't left with the longest commute. How people think about getting around, particularly in urban areas, is changing. When we create these urban communities for working people, Biki bikes, car-sharing, ride-sharing, and even walking to work become attractive alternatives. That saves people money and it reduces the cars on the roads.
"When we create community, we connect people to our lands, our neighborhoods and our history."

—Walter Thoemmes, Managing Director of Commercial Real Estate, Kamehameha Schools
Q: YOU TALK ABOUT COMMUNITIES, NOT HOUSING. WHY?
A: When we create community, we connect people to our lands, our neighbors and our history. We get people out and talking with each other, supporting each other. When communities reflect our culture, it connects people with our rich story-telling and artistry history. We're looking at our future generations, and we know that if they have a community where they can live and connect with their history, and can find work that inspires them, they'll stay in Hawai'i and raise their families.
Q: OUR KAKA'AKO IS PROVING TO BE A TREMENDOUS SUCCESS. WHAT'S BEEN YOUR BIGGEST SURPRISE?
A: The dogs! Every day, folks get up and go outside, walk their dog, grab a cup of coffee, read the paper and visit with their neighbors. It's a vibrant, real community where not only neighbors know each other, but so do the dogs!
Q: WHATʻS NEXT?
A:Kapālama presents an opportunity to create a mixed-use urban industrial district. The land area is four times what we have in Kaka'ako. Our vision could provide up to 5,000 residences—rentals and affordable homes—8 acres of parks, and multistory industrial spaces that equal the industrial footprint in that area now. The vision isn't to re-create Kaka'ako, but to create a community befitting the area, with mid-rise housing, a varied skyline and a streetscape of shops and businesses that meet the needs of those living and working there.
LEARNING FROM THE PAST DEVELOPING FOR THE FUTURE
It doesn't take long to realize that Stanford Carr and Walter Thoemmes are a different breed of Hawai'i developer.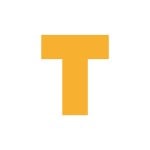 heir comments are peppered with words like "transportation equity" and "brain drain" and "rentals" when talking story about Kaka'ako and what comes next across O'ahu. They get excited talking about history and a vision for the future, bringing quality housing that local workers and families can afford to the urban core and creating neighborhoods that are vibrant and inclusive.
Ten years ago, amid the warehouses and bad road conditions of Kaka'ako, their excitement might have sounded like futuristic fiction. But today, with SALT, Keauhou Lane, Keauhou Place and Our Kaka'ako thriving—and more yet to come—their excitement about the modern, vibrant Honolulu our next generations will enjoy is not only contagious, it's palpable.
"We look around and see the rapidness of change to the environment we know and love and treasure, and at Kamehameha Schools, we know our higher purpose is more than simply supporting our school," says Thoemmes, managing director of commercial real estate for Kamehameha Schools. "We know we must support our communities."
Supporting communities—that's an idea that makes local developer Stanford Carr's eyes dance. His hands talk, his ideas fly and drawings and renderings and ideas from points around the globe get spread across the table. "We aren't building buildings," he says. "We're building community." He grew up a self-described "country hick from Kula," where farmers helped each other. "With our skill sets, we have a responsibility to build for the local people and take care of one another," he says. "It's no different than it was generations ago, right here in Kaka'ako, where the local people all knew each other and looked out for each other."
Thoemmes points to Princess Pauahi's personal experience, the depletion of her people over her lifetime from over 124,000 Native Hawaiians to some 44,000. "She knew education was the answer, and that the lands could help sustain that," he says. Now, as Kamehameha's long-term land leases come due, he and his team are thinking creatively about how to leverage those lands to create sustainable, vibrant communities right here in Hawai'i.
"With our skill sets, we have a responsibility to build for the local people and take care of one another."

—

Stanford Carr, Pre

sident, Stanford Carr Development
"We've been educating the young leaders of Las Vegas, Seattle and Portland," Thoemmes says when talking about brain drain. "We have the responsibility to create for these next generations so they stay home and care for themselves, their lands, their family and their community."
This idea has required some pretty radical rethinking within the Kamehameha Schools real estate management sector. "In the past, our development was pretty passive," Thoemmes says, explaining how the model relied on land lease income from the array of shopping centers and small businesses that peppered their lands. Looking ahead to the maturation of those leases, KS got
to work on a more progressive, proactive approach.
Thoemmes admits it's not been easy. Partnership wasn't a word that came easily to KS, but they knew they weren't developers. They had to find partners. They had to bring the players together to fulfill that vision. They turned first to Stanford Carr.
With six large-block parcels in Kaka'ako to reimagine, Thoemmes homed in first on the block surrounded by South, Halekauwila, Keawe and Pohukaina streets. His and Carr's teams started asking the questions to create the master plan: How could they best integrate the rail station and create the first true TOD (transit-oriented development) community on O'ahu? How could they amenitize and energize the community—both for residents and those drawn there by the shops and restaurants? How could they accommodate rentals, affordable and market-priced homes in one community?
They did the work and checked the boxes, imagining a community of niches and gathering places, central courtyards and a local market, towers and townhouses and rentals—and all of it with a casual, urban, artisan vibe. They invited West Coast developer Gerding Edlen (known for Portland's Pearl District) to get in on the action. Keauhou Lane, spearheaded by Gerding Edlen, and Keauhou Place, under Carr's leadership, came to life.
One down and more to come, Thoemmes and Carr are now looking to the next large block—the area surrounded by Auahi, Pohukaina, Coral and Cooke streets. They're still imagining, building on what they learned from Keauhou and focusing on the creation of common spaces that draw people out of their homes and into the community. "In urban communities, it's the streetscape and pocket parks and amenities that draw people out of their homes and into the common spaces," Thoemmes says.
"And that energizes a community," Carr says, "creating a space that's built around local residents but that's cool and energized enough to draw those from around the island." They look to break ground on this second block within the next few years.
WHAT'S NEXT?
With Kaka'ako, Thoemmes and his team have stretched their imaginations, learning what works and how communities with different needs require different approaches. Now, they are also looking to large parcels in Kapālama, Mō'ili'ili, Waipahu and beyond. "That so many of our working people live the farthest from their jobs and commute the longest just isn't right," Thoemmes says. "Having access to health care, having transportation equity—we think about those things a lot."
He has no intention of re-creating Kaka'ako in these other areas. He knows that won't work. Instead, he's looking to create urban living communities that fit the area—a warehouse district in Kapālama, for example, that also includes housing for working families so people can have access to the services they need. He's looking at rail and how it will impact these communities, how he and his team can create TODs that fit the neighborhoods surrounding the stations, in both services and amenities.
"We want to offer people a choice," Thoemmes says. "It's not for everybody, but we believe that when we create resident-serving communities, people will see it. They'll get it. And maybe we can improve their quality of life." For Thoemmes, that's the mission set forth by Princess Pauahi. For Carr, it's the future he's envisioned for Hawai'i since he started his business decades ago. Together, and with other partners along the way, they're bringing it to fruition—communities designed for local people, celebrating the history and culture and communion that's defined these Islands for generations.
OUR KAKAʻAKO:
LIVING THE URBAN LIFE
Monica Toguchi Ryan, owner of Highway Inn and resident of The Collection in Kaka'ako, stops and chats with neighbors as we walk across the SALT grounds.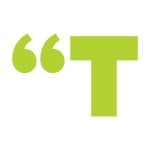 hat's probably the greatest surprise," she says moments later, as we resume our stroll. "It's like the old days where everybody in the community knows each other."
Highway Inn was one of the first tenants to the just-emerging SALT area. Toguchi Ryan had been looking for a Honolulu location for her family's 70-plus-year-old dining institution, and Kamehameha Schools came knocking. It wasn't an easy sell. SALT was, at that time, mostly an idea, with a street-front strip shopping center being retrofitted first. Toguchi Ryan watched Starbucks settle in and the crowds come. She toured the corner space, which was vacant, next door to the brand-new sales center for The Collection, the residential tower that would be built next door.
"It was challenging," she says, "figuring out how to merge our old, iconic brand with the new, cool, hip SALT area. Local food restaurants are often holes in the wall, and we couldn't do that here." She started to see it, however—the original concrete floors, the ability to incorporate the plantation green exterior with the corrugated metal accents, the natural fit of its mid-20th-century diner furniture, and the area's industrial feel.
She called her banker at First Hawaiian to secure funding, which she laughs, came to be only because of a plate of corn beef hash and some serious conversation. She took a deep breath and signed the lease.
"I could see that the Kamehameha team was creating community, supporting local businesses," she says.
She eventually wandered into The Collection's sales gallery, and the next thing she knew, she was calling her boyfriend (now husband) and her banker. "The timing was scary, and it was a lot, going back for money for a new home on top of the restaurant," she says laughing. "But it was the right thing to do."
Today, she and her husband enjoy life in The Collection, across the street from the restaurant. Toguchi Ryan gets up most mornings, hops on a Biki bike and rides to Ala Moana Beach Park for a stroll before coming home for coffee and going to work. "I look out at my views and think it really can't be any better than this," she says. "Success means quality of life, balance and peace, and we have that. What could be better?"
OTHER RESIDENTS
The residential buildings around SALT buzz with families and children, singles, empty nesters and those who've downsized from the suburbs to urban living. While their lives differ, they know they've found a good thing: a walking community that's roughly the same square footage as Ala Moana Center, a buzzing community that's the No. 1 drop-off and pickup point for ride-share companies, and most importantly, a community of friends and neighbors who look out for each other.
Priscilla Luong, a news anchor turned private sector consultant, lives in the SALT Kaka'ako area and can't imagine living anywhere else. "It's so convenient, my commute is quick and painless and everything I need is within walking distance—from coffee shops to restaurants to an urgent care facility." She's lived there more than three years and has watched it grow and blossom in that short time. "There's a special energy in this neighborhood. I think I'll be here for a while."
Sommerset Wong grew up in Kāne'ohe and lived there through college and law school. Her parents instilled in her the value of homeownership, so when Keauhou Place came on the market, she jumped at the chance. Now she's a townie, walking to work (where she handles public policy matters impacting the 'āina), and sometimes coming home for lunch or when she's forgotten something. "I like walking everywhere—to Ward Village, to Ala Moana, and everything that's right outside my front door," she says. "One time, when I was cooking and realized I didn't have the ginger I needed, I just ran downstairs to Down to Earth and kept right on cooking!"
She likens it to back in the day, when people wandered down the road and ran into friends, and when neighbors went out of town and left their keys with the folks next door, just in case something came up. An introvert by nature, Wong also laughs that sometimes it cuts both ways. "I remember going running for the first time in a long time and ran into a colleague who wanted to talk. I couldn't even breathe, much less have a conversation!"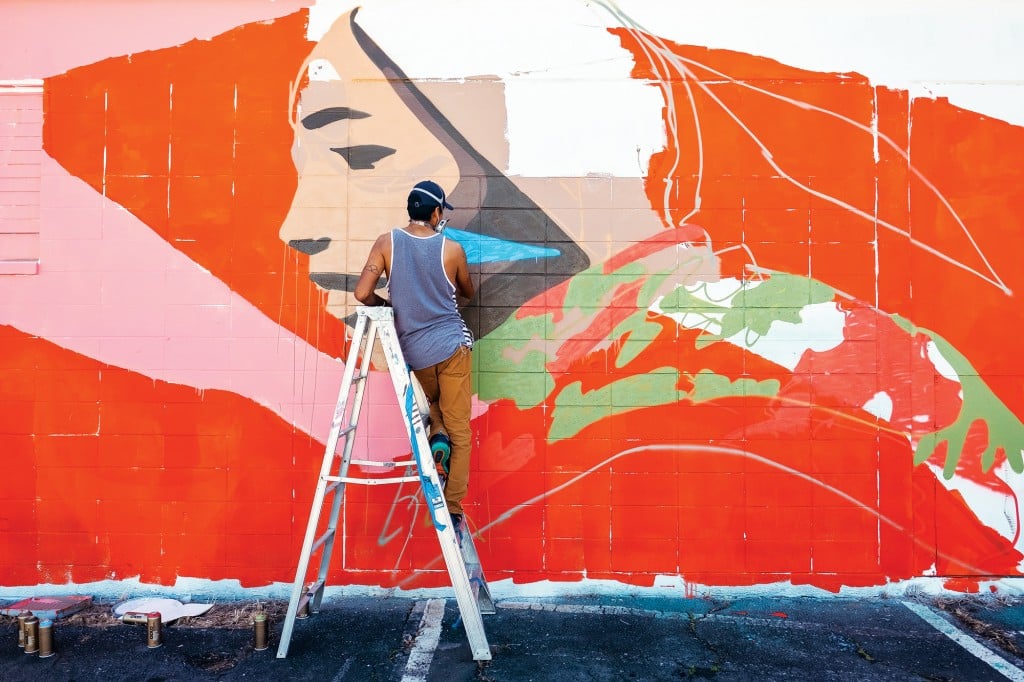 OUR KAKAʻAKO: IT'S HERE, IT'S HAPPENING AND THERE'S MORE STILL TO COME
Salt boasts six thriving coffee shops, over a dozen eateries ranging from fine dining to quick bites, and shopping venues that feature local artisans' designs, must-have gifts and the stuff we love for a life well-lived.
But there's more: events and festivals and gatherings every weekend, innovative artists like the Pow Wow team huddled in their Lana Lane space creating community art that tells the stories of our lives, and even the Tesla Service Center nestled behind the UFC Gym.
Here's just a sampling. Make sure to follow SALT at Our Kaka'ako on Facebook and Instagram so you won't be holed up at home when all this fun is in full swing!
SALT EVENTS
Yoga is a SALT staple, with both Yoga in the Barn and Yoga and Brunch scheduled regularly.
The Pa'akai Monthly Market

brings local artisans and music together in SALT's Barn every third weekend of the month. Make sure to catch the holiday market in early December for all your holiday shopping
and cheer.

SALT merchants bring the community together for holiday celebrations.

In 2019, Fat Tuesday was celebrated at the Boiling Crab, St. Patrick's Day saw a bar crawl through the neighborhood, and on July Fourth, the red, white and blue was on display at a summer barbecue, thanks to Butcher & Bird, in support of the Marine Reconnaissance Foundation.

A Film Camera and Vinyl Record Swap,

hosted by SALT merchant Treehouse along with Hungry Ear and Pioneer Saloon, brought collectors and the curious together, swapping stories, history and iconic throwbacks to another era.
THE NEIGHBORHOOD
With Down to Earth already thriving and the arrival of H Mart at 528 Keawe later this year, residents can find all the groceries they need right in the neighborhood. H Mart is dedicating almost 23,000 square feet to its food emporium, including the upstairs Market Eatery.
Technology has long been seen as the next economic driver in Hawai'i. With the opening of Entrepreneurs SandBox on the makai side of Ala Moana Boulevard, innovators and tech creators now have a state-of-the-art shared space to come together, collaborate and innovate. With 13,500 square feet devoted to coworking, collaboration, meetings and offices, this project is the result of a joint venture between the HCDA and the HTDC and developer Stanford Carr—bringing together business interests from Central Pacific Bank to Hawaiian Airlines to Island Insurance with the area's best innovators, creators and technology visionaries.
Biki bikes are ubiquitous in Our Kaka'ako, with residents, locals and visitors alike leaving the car in park and exploring the area by bike. For many residents, Biki is the preferred method to get to and from work.
Street Art defines the Our Kaka'ako area. Every February, Pow Wow artists descend on Kaka'ako, bringing new life and expression to the businesses, murals and warehouses that define the area. At SALT, the murals and artwork throughout the 85,000 square foot open-air mixed-use market tell the stories of Hawai'i's history, culture and people.
. . . AND BEYOND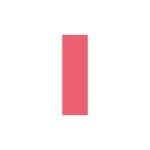 t doesn't take much conversation to understand that Kamehameha Schools is looking ahead, imagining a Hawai'i where Native Hawaiian children and their friends and neighbors thrive in communities that meet their economic, social, educational and personal needs. The real estate team has studied urban communities around the country—and even the world—collecting strategies for smart land use, community development and the creation of neighborhoods that support the diverse needs of their residents. Now, the team is planning what's next.
"We know we can do better," says Kamehameha's Walter Thoemmes. "It's wrong that so many people endure endless commutes. We want to create communities where people work near where they live and have access to services and good health care."
Now, Thoemmes and his team are looking at their land parcels in Kapālama, Mō'ili'ili, Ka'ōnohi (the Pearl Ridge area) and Waiawa, thinking about how to create communities in those areas that better serve the people who live there. "Our Kaka'ako was the first step," he says. "We had to learn master planning. We had to learn how to manage the lands while finding partners who know how to develop and build. We had to learn to let go of full control and collaborate."
Now they are looking at how to make it even better—how to leverage the resources of the city and county and the state to improve infrastructure, to create integrated rail stations that energize communities, to move with greater deliberation and intent. "The old way—sprawl far away from the jobs and things like health care—can't be our only option," Thoemmes says. "Our people deserve choices, and TOD (transit-oriented development) communities offer the chance to create vibrant mixed-use communities across the island, creating housing and lifestyle options that reduce people's commutes and create a better quality of living."
Thoemmes is quick to point out that they have no intent of lifting Our Kaka'ako and plopping it down in Kapālama or Waiawa or anywhere else. "Each area has its own personality, its own vibe," he says. "We're looking to tap into that and create communities that reflect those homegrown values."
Taking care of her people—educating them, creating communities that support them, nurturing opportunities that allow them to prosper—that was Princess Pauahi's will. As Thoemmes and his team look to the future, that mission remains their guiding compass.