Black Girls Surf
Several groups organize camps to introduce more young women of color to surfing. The long-term goal: more diversity in women's pro surfing.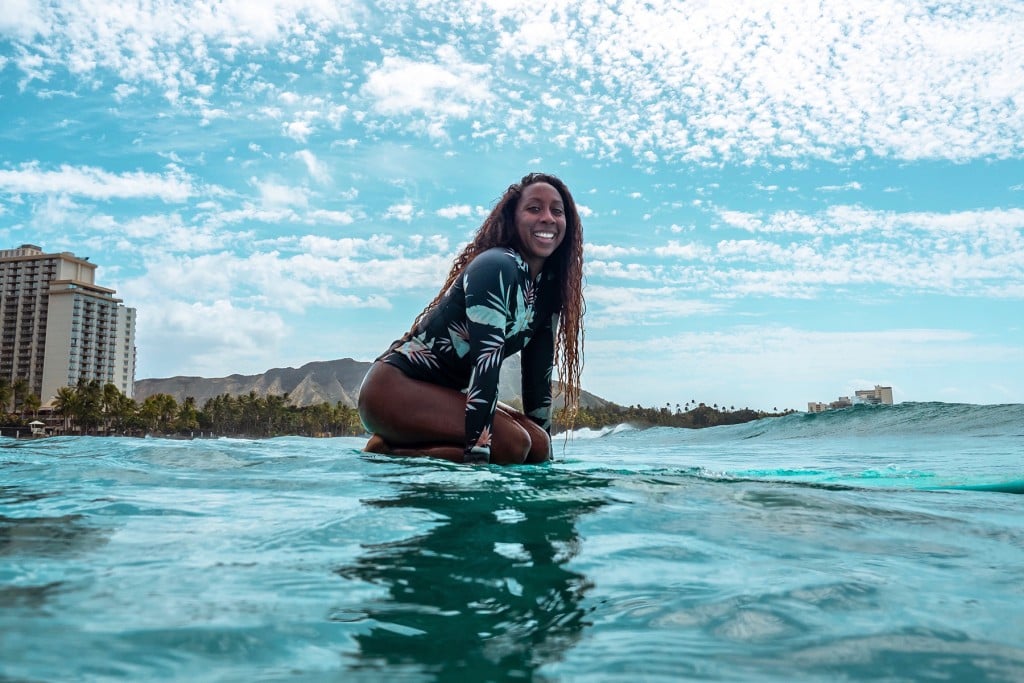 Some beachgoers stare when girls from SurfearNegra head out to catch waves.
Shakera Bailey, the director of programming for the nonprofit that funds girls of color to attend surf camps, says that in Florida, "We've gotten people at the beach make comments, like, 'Oh my goodness, I've never seen this many Black people at the beach!' or, 'Oh my goodness, surfing?'
"We've had people fill up their chairs and stay the whole two hours watching our girls surf, because they were just amazed. I'm not talking about a lot, I'm talking about maybe 12 girls. It's amazing to some people."
The sight of Black girls isn't common in surf competitions, popular surf media or even casual lineups. For example, among the top 20 female surfers in the World Surf League's 2019 rankings, there's only a few women without blond hair, and few women of color.
Rhonda Harper, who learned to surf while a teenager on O'ahu, founded the international cohort of surf camps called Black Girls Surf. If you look at the list of participants for typical surf contests, she says, "the one key person missing for any Black girl that's watching is a Black girl."
"If you can't see it, you can't be it."
Birthplaces of Surfing
Harper agrees with some scholars who believe that forms of surfing existed among native coastal communities around the world long before they were first recorded by Western explorers in the 18th century.
"I feel like it is arrogant of people to think that at any coastal community, whether it be in the Polynesian islands, or Africa, or if it's in Peru or Brazil, it is arrogant for us to think nobody was surfing until the white man came and started writing it down," she says.
One of Harper's most established Black Girls Surf camps is in Senegal, home of Khadija "Khadjou" Sambe – the country's first woman professional surfer – who Harper has been coaching since 2016. The day I spoke with Harper she had just gotten back to the U.S. Mainland after unexpectedly spending nine months in Senegal due to the coronavirus pandemic.
She cites the coastal country as an example of somewhere surfing has been enjoyed, largely unnoticed by mainstream media, for a long, long time. She describes how people stay in the water longer than anywhere else she's ever been — from her bedroom window she would hear kids surfing on any vehicle they could find, including cooler lids and propane tanks, until as late as 1 a.m.
"Kids, 5 years old, teaching kids, 1 year old, how to surf. You cannot be so arrogant to say that this did not get handed down from generation to generation to generation," she says.
'Access and Role Models'
What obstacles prevent Black girls from entering the surf world? Harper boils it down to a lack of two things: "access and role models."
The four Black women involved with surfing who I spoke with all cited the same two challenges. Bailey says that because there are not already large numbers of Black surfers, surfing is "not something that really pops in our mind to go and try and do."
This cyclical lack of Black role models circles back to a historical lack of access to water. Bailey references the long, often violent, history of segregated pools in the U.S.: "The access wasn't there, and if your parents can't swim, and aren't in the water, they're not really comfortable taking you out there in the water."
Whitney-Anela Soares, a trainer for Black Girls Surf who lives on Hawai'i Island, says socioeconomic inequality can play a part in access to surfing as well. "I think for the demographic that I represent, the demographic that Rhonda (Harper) represents, we haven't been put in a position to have that type of lifestyle where surfing can be the No. 1 thing on the list that I do today, and then the rest of my life is taken care of." Soares laments that she usually only gets to surf once a week because she works to provide for her family.
This disparity can translate into pro surfing. "Growing up, I saw one type of professional surfer, and it's not to take away from that demographic — the blond-haired, blue-eyed surfer girl, quintessential California girl — that's absolutely fine," Soares recalls. "But there's more to female surfing, especially on that level, than just that one mold." Soares has noticed more men of color competing professionally, but, "For us (women), it really has just been one type."
Dominique "Nique" Miller is a half-Black, half-Mexican professional paddlesurfer from Hawai'i. She is currently ranked 10th in the Association of Paddlesurf Professionals' 2019 World Tour Rankings. Although she doesn't feel much discrimination in her local lineup, she definitely felt it when trying to get sponsored as a pro.
She says, "I found that it's harder to get sponsored by big name brands being the way that I look. It's harder to get sponsored if you don't have that Barbie doll look."
And, she adds, competing on the international pro surf circuit is expensive without a sponsorship. "It's so hard to pay for your hotel, you have to pay for your airfare, you have to pay for your food, your transportation, you have to do all this stuff, and try to pay out of pocket."
This past year, Miller finally got sponsored by Billabong. "They never had a Black girl or half-Mexican, so they've never had someone like me fully sponsored on their team. I was super stoked," she says.
Miller praises Billabong for working to diversify its branding, but feels the surf industry has a long way to go in terms of inclusivity. She has met many surfers of color "that rip," but "there's no sponsorship for them, no exposure, no brands reaching out to them."
She often finds herself thinking, "Wow, they should be on tour, but there's no one helping them out."
Changing the Status Quo
The scarcity of Black woman professional surfers is what drove Harper to start Black Girls Surf camps. In 2014, Harper and some fellow Black woman surfers decided they wanted to hold a competition that showcased pan-African surfers. They named the contest Africa Surfs International and planned to hold it in Sierra Leone. The next step? Finding competitors.
"We searched the globe, and we found guys. There were plenty of guys," Harper says. But, "We could not find a girl in all of the associations to represent their countries."
Harper resorted to looking outside of surf associations, at surf camps in West Africa, where she found future professional surfer Khadjou Sambe. The Africa Surfs International contest had to be canceled because of the 2014 Ebola outbreak, but by then Harper had already gotten the idea for surf camps that train Black girls to become professional surfers.
Black Girls Surf's many locations now include Los Angeles, San Francisco, North Carolina, Jamaica, Nigeria, Liberia, Ghana, Sierra Leone, Senegal and Ivory Coast.
Soares remotely trains girls at the Senegal location from her home on Hawai'i Island. Over WhatsApp video calls she coaches them through exercises that will strengthen their surfing stamina, like pushups and burpees. "They have a major shot at really changing the game on the professional level, as far as the WSL, and I would not throw that out there unless I strongly believe it," she says.
SurfearNegra, the nonprofit that funds girls of color to attend surf camps, was created with similar goals in mind. The founder, Gigi Lucas, started surfing after attending a friend's destination wedding. The more she surfed, the more she realized how few women of color were on the water. Lucas decided she wanted to help other women of color learn to surf. Unlike Black Girls Surf, SurfearNegra does not host its own camps, but pays for girls of color to attend local surf camps.
SurfearNegra sends about 100 girls to camps across the country each summer. It also has a coed "Surf the Turf" program that allows kids who aren't strong swimmers to "get some of the basics of surfing down (on land) while they work on their swimming proficiency, so that they can move into the water as the next step," explains Bailey.
Both Black Girls Surf and SurfearNegra have expanded quickly and have been generally well received. However, Harper says she still gets pushback on her name choice. People want to know why Black Girls Surf can't be called "White Girls Surf," or "Girls Surf."
"I want to give everyone the final answer on why Black Girls Surf can't be anything but Black Girls Surf – because it cannot." Harper emphasizes. "It isn't going to change to make you feel comfortable. This is it. It's Black Girls Surf. And you have to get comfortable with the part that makes you uncomfortable."
Surfing in Hawai'i
Although diversity in surfing is an issue everywhere, many of the women I spoke to learned to surf in Hawai'i, and didn't notice a lot of explicit racism or sexism in the lineup until they left.
Harper lived on O'ahu for chunks of her teenage years, and that's when she really learned to surf. During that time, she didn't think much about being Black in the water. "I really didn't feel any other type of way except for excited," she says.
"You're in Hawai'i, you just go to Queen's, and you just ignore everybody. That's it. But coming back to the (Mainland) U.S. after being in Hawai'i, now that's a different story. That's when you get to see the racism and ugliness."
She says that while training with Sambe in Santa Cruz, California, they had to take extra safety precautions because other surfers made them feel unsafe.
Miller has also had mostly good experiences surfing on O'ahu. "Especially in Waikīkī, everyone knows me and knows that I compete, so they're even more understanding and they're even more supportive."
However, things look a little different when she competes elsewhere. "Even though you're competing against different people from around the world, it's still not as diverse as the lineup out here in Hawai'i."
Soares, who grew up learning to surf on Hawai'i Island, agrees it's "very 'ohana-oriented here." She says she had a rude awakening when she first surfed in Malibu.
"We're just mixed kids that grew up surfing. I don't think we get to understand the level of racism, or any form of prejudice, or injustices, until we leave Hawai'i, and we go to the continental U.S., and then we experience it. And then we're like, 'OK, that's what everybody is talking about.' "
However, she has noticed the energy at surf breaks on Hawai'i Island changing over the years to become more territorial and localist. More than anything, she sees representation of women of color in general as the biggest issue at Hawai'i surf spots.
"Whether it be Hawaiian sisters, or Asian sisters, or Black sisters, there's just not enough representation on the larger scale of all of us women of color."
Black Girls Surf does not currently have a Hawai'i chapter, and SurfearNegra was not able to send girls to camp in Hawai'i this year because of the pandemic. But there are some surf programs in Hawai'i that specifically aim to foster inclusion in the surf community.
The Ohana Surf Project, founded by Sean Anderson, gives surf lessons out of Waikīkī. Anderson was inspired to start the program after a surfer friend passed away, and he noticed the man's family stopped surfing. "It really kind of bothered me that they weren't surfing, because I have a daughter and I would be devastated if I found out my daughter stopped surfing if something happened to me."
He created the Ohana Surf Project to help people feel comfortable on a surfboard. Anderson says the company works especially hard to empower people with disabilities and people who are especially hesitant in the water.
Maui Surfer Girls was founded in 2001 by Dustin Tester as a way to help women feel comfortable surfing. It started as an overnight camp for teenage girls but has expanded into a year-round surf school.
"When I was learning, there weren't any girls in the lineup," Tester remembers. "So that was another motivating factor – to start a girls surf school just to help other women and girls come out and feel safe to try surfing, because it is kind of an intimidating sport to get involved with."
Are Things Changing?
"People have been asking me, do I see a change?" Harper says, referring to the surf industry after the resurgence of the Black Lives Matter movement this past summer. "I said, this is all new for them, but let's give it about six months. In six months we'll see. Don't ask me now."
Miller also worries that change in the surf industry won't last long. "I was talking to my mom about this a couple days ago, and I thought it was really going to be a huge shift, when I saw all those worldwide protests, and I saw parallels (in the surf industry)," she says. "But honestly, I feel like it's kind of died down."
Still, she says, there's more room in the industry to speak out than there used to be. "Four or five years ago, no way am I going to speak out on issues like this, because I'm going to get blacklisted. No one's going to want to sponsor me, no one's going to want to even talk to me.
"Now, I definitely have been opening up more, and definitely telling my stories. And not feeling so scared."
Even if major change in the industry is slow, Black Girls Surf continues to make ripples. Harper says a camp is slated to open in Hawai'i, probably within the next year. Soares is excited to help get it up and running.
"It's very comforting, and it's so weird, in your heart, just having someone who understands your battles, having somebody that understands what you go through as a woman, as a black woman," Soares says, speaking excitedly about the future Hawai'i camp. "To give that back to the next generation so that they can have an opportunity to make something for themselves? Yeah, that's the good stuff."
---
Want to Learn?
Information on surf camps or lessons can be found by clicking on the links to each organization's website: