Boom in the Hawaii Gun Business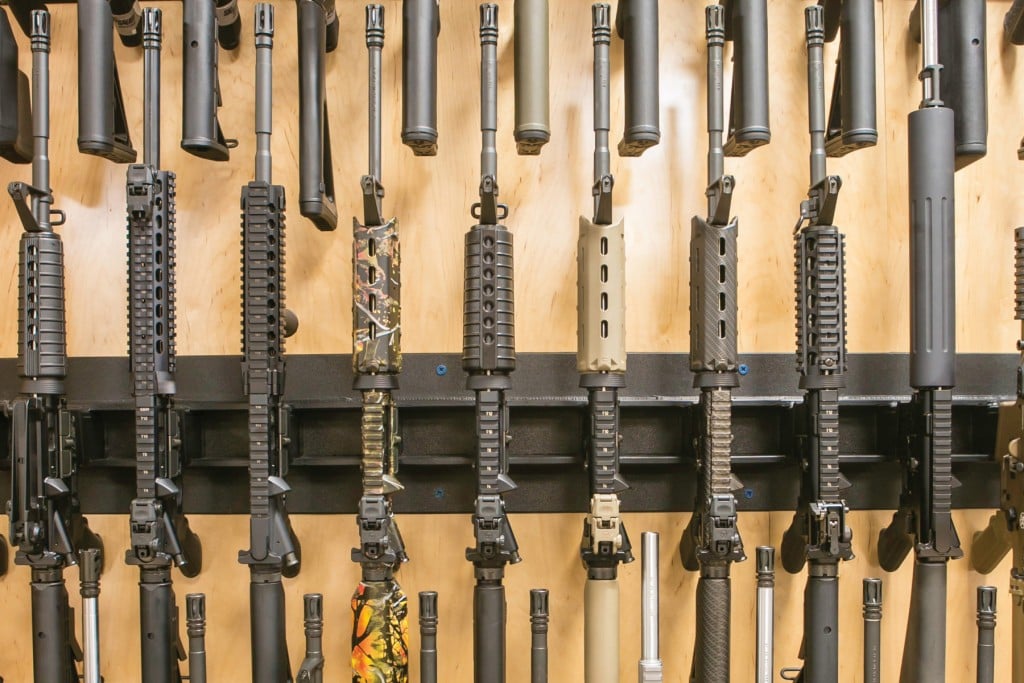 Imagine a retail business in which one key measure of sales growth was up 42.2 percent last year, with similar growth this year. You'd be on Easy Street, right? Except this same business is plagued by a perennial problem: Customers can buy plenty of the product, but it's difficult to get enough of the one thing that makes the product work. Plus, there are few easily accessible places to use it safely.
On top of that, while your customers love your product, there are plenty of people who hate you and would like nothing better than to see your business six feet under.
No, I'm not talking about cigarettes, I'm talking about the retail firearms business in Hawaii – a classic love 'em or hate 'em industry that tends to ride a roller coaster of sales largely determined by changing public attitudes and laws.
There are probably more privately owned firearms than residents in Hawaii, and the number of firearms is steadily increasing, according to Paul Perrone, chief of research and statistics at the state Department of the Attorney General.
Why the Increase?
A permit is required to buy any gun in Hawaii and, during 2012, a record-breaking 21,864 personal firearm permit applications were processed throughout the state, according to the Department of the Attorney General. This rise marked a 42.2 percent increase from the previous record high of 15,375 permit applications processed in 2011. This year has seen similar growth. Meanwhile, average prices for both firearms and ammunition have also gone up.
Talk to people in the gun business and you'll hear a lot of colorful words to describe recent sales: the gun apocalypse, frenzy, madness, uproar and the onomatopoeia word boom.
Harvey Gerwig, president of the Hawaii Rifle Association, says that, whenever governments push gun laws, sales rise substantially. "What drives those instant spikes in gun sales is the government mumbling about taking away our rights in any form," Gerwig says. "Firearm-shop owners have sold a tremendous amount of guns in the past year, but their costs have been tremendously increased."
One Oahu gun-shop owner refers to the steady rise in gun registrations as "Obama One" and "Obama Two." Joe Graham, owner of Windward Gun Shop, says, "At the beginning of the year, there was a tremendous boom, I call it Obama Two. Obama Two really exceeded Obama One."
Fueled by the perception that Obama might push for more gun control laws, Hawaii residents flocked to county police departments to apply for permits and then to gun stores to buy firearms before such laws could be passed. "I always ask new customers why they are buying guns and a lot of them said, 'I want a gun before they are gone,' " Graham says.Those spikes in sales correlated with President Obama's two national election victories in 2008 and 2012. Obama gained the attention of both sides in the national gun debate when he voiced his thoughts on handgun ownership at a Democratic primary election debate in 2008. "As a general principle, I believe that the Constitution confers an individual right to bear arms. But just because you have an individual right does not mean that the state or local government can't constrain theexercise of that right," he said.
Sparking the firearms boom aren't the competitive shooters, seasoned hunters and gun collectors you would expect, but a lot of newcomers. "This whole thing is caused by the new gun users, not the enthusiasts. To say that I would have run out of the [.22-caliber] ammo is unbelievable," says Graham, referring to a type of ammunition that is cheap and commonly used by novices.
OGC Tactical, a gun and ammunition shop in Kalihi, was flooded with customers on Nov. 7, 2012, the day after Obama was reelected, say the store's staff. The massacre at Sandy Hook Elementary School on Dec. 14, and the subsequent call by Obama and others for a crackdown on gun sales, also worried potential gun buyers and spurred sales.
OGC owner Carter Berlin says that his sales during February and March were at an all time high. "Gun sales increased due to a combination of Obama's second election and the possibility of Congress banning assault rifles," he says. During the rush, staff members say that one of the store's display racks, typically filled with 33 rifle models, was consistently sold out. Some mornings, there would be one or two rifles on display, but they were quickly snatched up by customers wanting any gun left in stock.
Despite the sales frenzy, gun shops didn't make more money, according to Berlin. "It's the same margin, they just don't have as much inventory to sell," he says.
The increased demand for firearms led some stores to increase prices to take advantage of the high demand. "Our customers are mostly our friends, so we couldn't raise our prices," says Graham. "But I saw an AR-25 rifle that we had in our store; (it was selling) online for 66 percent more than what we were selling it for."
Gerwig says there were "some unconscionable sales going on" when the rush occurred. "It's expensive to do any business here in Hawaii, and you can't blame the owners who want to take advantage of increased demand," he says, but he added that not all store owners went that route.
Daniel Oshima, owner of Kaneohe Gun Shop, says he didn't raise his prices during the frenzy, but he knows some firearm-shop owners did. "There is every reason for supply and demand to increase charges, but there is no firearm ban in effect to cause me to increase my prices," he says. Oshima also says that firearm distributors consistently sell their product around the same price, despite any heightened demand. "We all pay the same for our products but some owners are marking up prices 20 to 30 percent," he says.
Today, looking at walls covered in neatly displayed rifles, ammunition, handguns and gun supplies at OGC Tactical, it is clear that the firearm boom has subsided. "From March to April when Congress withdrew the (proposed restrictions), there was a significant drop in sales," says Berlin.
Barren Barrels
More so than firearms, shop owners across the nation are struggling to stock enough ammunition to fill their customers' needs. The National Rifle Association and at least some gun manufacturers say the current shortage is a matter of suppliers unable to keep up with the growing civilian demand, even though ammunition factories are running at full capacity. Despite rumors to the contrary, government purchases of ammunition and proposed purchases amount to only about 3 percent of the total domestic ammunition production, says the National Rifle Association's Institute for Legislative Action.
"There is way too much demand for manufacturers to meet with supply," says the NRA-ILA on its website. "There is not enough tooling, infrastructure or raw materials at the ready anywhere in the entire world to keep up with current consumer demand. And that's why we are seeing shortages."
However, many people in the local gun community and in conservative media nationally are blaming the shortage on a large order of ammunition from the Department of Homeland Security. Oshima says that the large order "maxed out the production capabilities of all the big ammunition manufacturers. … Everything is always completely sold out in the popular calibers."
He adds, "It is obvious that Obama's administration wants to curb the sale of guns in America and a blatant attempt at this is to stifle the ability to sell ammunition."
When Oshima receives an order of ammunition, he says, his store rations it. First in line are customers purchasing firearms; if there is ammunition left, it is sold to firearms instructors and, finally, to customers who need refills.
There are currently no firearms distributors in Hawaii, so dealers say they are purchasing ammunition from anyone on the mainland or even in foreign countries who has it, driving costs up substantially. "The .22-caliber bullet is typically inexpensive, but right now it's nearly impossible to get your hands on this ammo," Gerwig says. "I used to buy 5,000 rounds of .22s for $200, but now I have to beg for them at $300."
Two years ago, customers could purchase a .22-caliber bullet for a penny to 2.5 cents per bullet, but today each one costs around 6 cents to 8 cents, "if you can find it, which you can't," Gerwig says.
Clinton Bodley, a gun hobbyist and collector, says he recently stopped shooting popular caliber ammunition because of the high cost. "Essentially customers are buying a consumable product with no expiration date, so as long as they own firearms that accept a given caliber, that caliber is useful for them almost indefinitely," he says. "If I didn't have a stockpile of a certain caliber, it isn't worth it to keep shooting."
As the purchasing frenzy begins to subside and more ammunition slowly make its way to Hawaii, costs should decline, according to Gerwig. "Those who bought permits in 2012 are not shooting as much as they would like to because of the high price of ammo," he says.
Competitive Shooting
Firearm shop owners agree that a majority of their customers purchase for competitive shooting sports. For competitors like 16-year-old Sara Tashima, a senior at Sacred Hearts Academy, high prices inhibit her training and sometime discourages her from buying equipment best suited for her needs. "I began to practice using less ammunition and try my best not to waste any," Tashima says. Sport shooting costs quickly add up when competitors pay for equipment, ammunition and competition fees.
As a left-handed shooter, a majority of Tashima's shooting equipment needs to be custom made. "I need a .22 competition rifle for left-handed competitors, and these rifles have prices ranging from $1,000 to $3,000," she says. On left-handed rifles, bolts are switched to make reloading easier. "This is not a cheap sport and it requires so much equipment to shoot well," she says. Despite practicing with less ammunition, Tashima says, her scores weren't seriously lower during recent competitions.
She currently holds five national shooting records. At the National Rifle Association's Junior Air Gun Championship in July, she placed fifth overall and second in the standing-position competition. She won the Excellence in Competition badge at the National Air Rifle Junior Olympics by accruing 30 match points in her career as an air-rifle competitor. "I shot a match with the least amount of practice in my lifetime and I felt I wasn't ready, but I ended up shooting my highest score in smallbore (.22-caliber rifle shooting)," she says.
Few Training Sites
Along with a shortage in ammunition, Tashima and other gun owners have to cope with a shortage of shooting ranges throughout the Islands. The shooting team at Sacred Hearts Academy doesn't have its own facility and the girls must go to another school to practice. "Despite the 20 points on the range, it's still quite overcrowded and some shooters don't have a point to practice on," Tashima says. "I would love to see more shooting facilities in the future."
Gerwig agrees. "There are not nearly enough ranges in Hawaii and we need a lot more. We need ranges where people can go out and train safely." The only shooting ranges in Hawaii open to the public are the Koko Head Shooting Complex on Oahu, the Ukemehame Shooting Range on Maui and the Hilo Trap and Skeet Range.
One project in the works is the 640-acre Hawaii Public Shooting Range in Puuanahulu, North Kona, on Hawaii Island. "There is no facility close to it in Hawaii. It will be a world-class shooting facility and the best shooting range in the Islands," says Gerwig. "The Big Island is big, and because shooting ranges are so few and far between, people are going out into the woods and shooting. When new shooters are being forced into the woods to shoot, it's dangerous. We need ranges where people can go out and train safely; they need to know what the outcome will be when they pull the trigger."
The site will include public ranges for rifle, pistol, archery, bow hunting, sporting clays, trap, skeet and air gun. The project is a collaboration between the state Department of Land and Natural Resources and On Target Inc., a nonprofit supporting range development. On Target's president, Richard Hoeflinger, says the project meets the needs of all of Hawaii's shooting communities.
"We think it's going to be a huge financial asset to the state when shooting tournaments can be hosted here," he says. There is no scheduled completion date yet, Hoeflinger says, but he adds, "I have spent 11 years working on this shooting range, and I wouldn't have spent all this time on it if I didn't think it was going to happen."
Glennon Gingo, On Target's VP, says the completion date is dependent on public and private funding and the project's environmental assessment. "There are a lot more people involved in shooting in Hawaii than most people realize and we have a very good base of support from the community," he says.
Orlando Oxiles, program manager at DLNR, says the Legislature granted $3 million this year toward the project and the pre-construction phase is scheduled to be completed by 2016.
Pre-construction funds have also been dedicated to another proposed shooting range, this one in Hanahanapuni, Kauai, says Oxiles.
New technologies
Former police officer Mark Redeker's inventory has been flying off shelves at his store, Maui Ammo and Gun Supply, since its opening a year and a half ago. Noticing the high customer volume, unaffordability of ammunition and lack of shooting ranges on Maui, Redeker is currently extending his shop to include an indoor shooting range and an infrared firearms training system.
"We were always going to build an indoor shooting range, but we changed our business plan based on the current situation with ammunition and focused on the electronic force simulator," says Redeker. "If we can provide an avenue where customers can shoot 1,000 to 2,000 rounds for $20 instead of buying ammunition, that makes sense."
The force simulator is a theater-style program that projects life-size images on a screen so that users can practice shooting on moving, real-life scenarios – much like a full-size video game. The system uses real firearms that are remade into infrared light shooters with a pressurized system built into the guns magazine compartment. This pressurized system simulates gun recoil that occurs whenever a real firearm is shot.
Gerwig says that these systems can be very effective training tools, but they won't give users the noise and recoil of a real gun. "You can build tremendous skill sets and muscle memory with fantastic accuracy on that training system, but I wouldn't license someone to buy a firearm without live firearm training on a range," he says.
Redeker agrees. "Is it going to replace a real gun? Of course not, but it's a training aid to graduate users to a real gun," he says. "We don't see it as a replacement, but a supplement to the real experience. It's a great tool to ease them into a real gun and they can practice and perfect their abilities with it before putting a real gun in their hands."
Hawaii's Gun Laws
Hawaii's gun laws are considered some of the strictest in the nation. State law requires handgun users to take a firearm certification and safety course, acquire a permit for gun ownership at a police station (where a background check, photograph and fingerprint sample are compiled), and two weeks or more later, go back to the police station after buying a firearm to have it registered.
---
Gun Safety
People who buy and collect guns are often the strongest advocates for gun safety. Chris Baker, president of theHawaii Defense Foundation, offers these five precautions for owners who keep guns in their homes:
1. Keep guns unloaded until ready for use.
"First and foremost, firearms for self-defense should be ready for immediate use, meaning there is minimal interference or steps that need to be taken prior to being able to employ the tool. However, when a firearm is not designated for self-defense, it is important to keep it unloaded and safely secured."
2. Store guns safely.
"Many firearms are inappropriately accessed by children or criminals. Consider storing your firearm in specially designed electronic safes that can keep people out, but can still be opened quickly with the proper combination or keypad entry if a self-defense situation arises. Avoid gimmicky biometric storage devices and dial-combination devices."
3. Train and train again.
"Shooting is a perishable skill and, like any other workout, it requires frequent practice to be effective and safe. If you aren't going to train with your gun, you aren't going to be effective, and you may be more of a liability than a benefit. Continue to train, practice and educate yourself."
4. More than just guns.
"Individuals should consider their available options in making their home an unappealing target for criminals. Some options are the use of lights, locks, fences, security cameras, alarm systems and even your favorite dog. Although nothing can be guaranteed, using these features may make your home and family unattractive to criminals and prevent something bad from ever happening."
5. A sensible mindset.
"Many times people wait until something bad has happened to take some sort of action or preventative step. I highly encourage people to think ahead. This doesn't just mean about guns, but might include first-aid and CPR training, storing water, conducting fire and security drills, teaching kids how to respond to strangers and so forth. Practice provides us an opportunity to better prepare ourselves to respond in a critical situation."
---
Learn More
To find out more about the Hawaii Public Shooting Range, plan to attend theHawaii Friends of NRA dinner and auction at the Kona Beach Hotel on Nov. 2. Call (808) 960-9348 for more information.
There will be another Friends of NRA dinner and auction on Nov. 10 at the Officer's Club at Marine Corps Base Hawaii in Kaneohe. Call (808) 225-7873.
Gun Show
The Honolulu Gun Show is Oct. 6-7 at the Neal Blaisdell Center. Attendees can trade, sell or purchase modern firearms, antique guns, custom knives, military collectibles, historical items, hunting gear, taxidermy and more. To learn more, use this online shortcut, tinyurl.com/gunshowHI.