Business is Personal – Maintaining Human Connections in a Digital World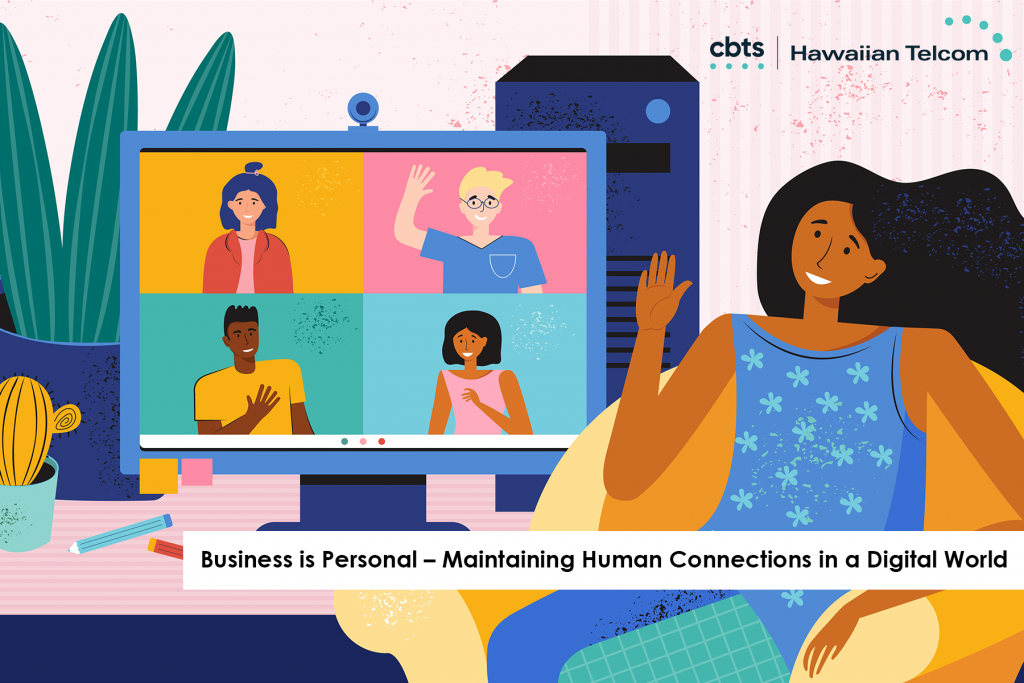 More than a year after the pandemic sent most of us working from home, the wear and tear on individuals is real and starting to show. The biggest contributor to lack of efficiency when working from home is the erosion of relationships. Even as we slowly go back to normal it's becoming clear that most businesses won't be going back to the office completely any time soon.
When we are all in the office, it is easy to interact accidentally. You can grab lunch with a buddy, you can make jokes in the elevator, laugh at conversations in passing, etc. When we work remotely, this stuff doesn't really happen. Keeping relationships healthy is a never-ending task but it is essential for a healthy and functional organization.
In a world where virtually everything changed overnight, one thing remains the same: Human connections still drive business. Join CBTS | Hawaiian Telcom's Jordan Silva, Sullivan Family of Companies' Bryan Cooper and Bay Clinic's C. Kimo Alameda, PhD as they explore the effects that technology has had on local businesses as they have quickly adapted to a new way of working. Find out the ways to evolve business practices and use technology to strengthen personal relationships with customers and employees.
Event Details:
Business is Personal – Maintaining Human Connections in a Digital World
Thursday, August 5th, 2021
Time: 11 AM – 12 PM
Topics of discussion
The impact of agility in a tech driven environment – how to shape and engage your distributed teams to thrive and achieve work/life balance.
Learn new ways to collaborate with your customers and your employees
The relationship factor – how getting along with your team / manager can shape happiness, productivity and satisfaction
Tips & Tricks that will simplify your work process so you can focus on your customer
Tips on balancing productivity and burnout in the remote world
Building relationships using technology
Panelists
Jordan Silva
Senior Manager, Service Delivery
CBTS | Hawaiian Telcom
Jordan Silva is a Sr. Manager at CBTS Hawaiian Telcom and has over a decade of managed services delivery experience in Hawaii. His primary focus is to develop and refine service delivery processes and procedures to allow for an exceptional customer experience.
Bryan Cooper
VP of Information Technology
Sullivan Family of Companies
Experienced IT executive with over 20 years of experience in the retail industry. Cooper is passionate about people, technology, and bridging the gap between business and IT.
C. Kimo Alameda, PhD
Chief Executive Officer
Bay Clinic
Dr. Alameda is a graduate of St. Joseph High School and earned his doctorate in psychological, educational, and cultural studies from the University of Nebraska-Lincoln. He has over 15 years of executive experience in state and county government and has consulted with FQHCs and hospitals statewide to improve their cultural competency and patient experience. With his ties to the community, Dr. Alameda brings strong strategic partnerships with other medical and social service providers to enhance Bay's coordinated system of health in East Hawaii. Dr. Alameda is also a licensed psychologist, teaches at Hawaii Community College, coaches' basketball at Hilo High School, and has his own youth athletic program. He and his wife Star are the proud parents of seven children.
Business is Personal – Maintaining Human Connections in a Digital World
Thursday, August 5, 2021
11:00 AM – 12:00 PM
This event is presented by CBTS | Hawaiian Telcom in partnership with Hawaii Business Magazine.