Buy, Sell, Or Hold?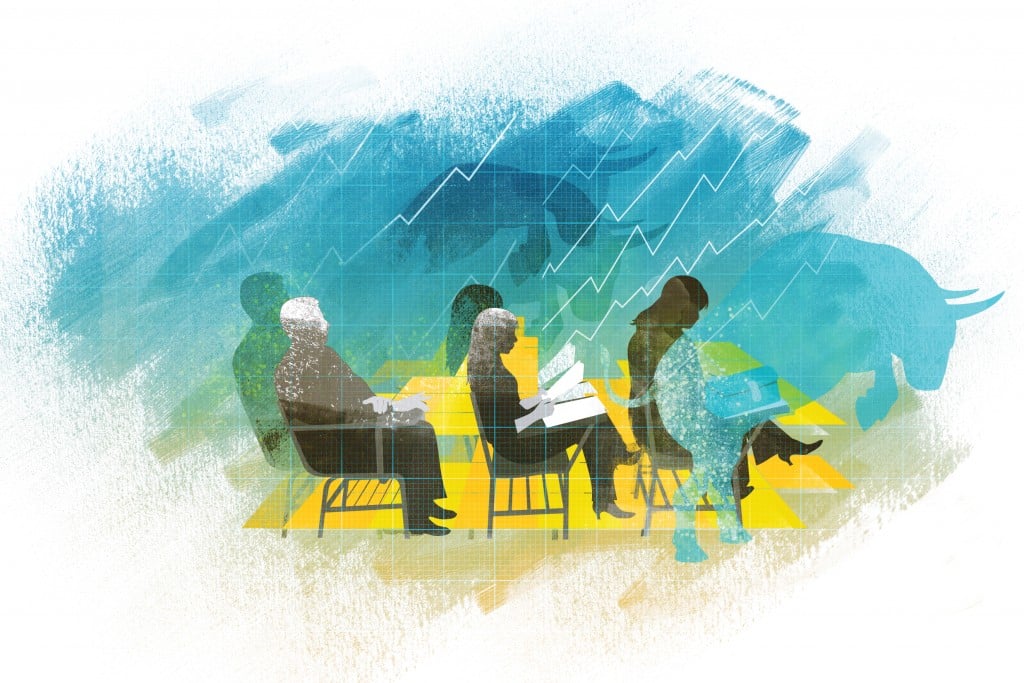 Meredith Mawhar says she settled on her new career because she was excited by the Research Challenge, a prestigious competition for college students sponsored by the Chartered Financial Analyst Institute.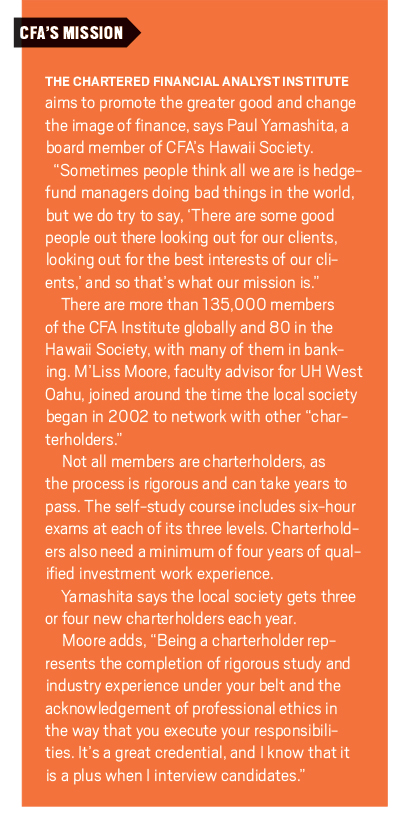 Mawhar is a student at UH Manoa's Shidler College of Business who already has a degree in zoology. "I actually chose to become a finance major because I heard about this challenge," she says. "… I love financial analysis and research. When I was back in zoology, I did a lot of research and I love that process, trying to figure out what's going on, what factors are at play."
The team from UH Manoa has won the Hawaii final the past four times it has competed and this year Mawhar leads a team of five that includes two graduate students. "A lot of us want to go into some form of financial analysis or equity research for careers," she says, "so I think this is a great way to test drive the duties we'd like to do after graduation."
Each year, more than 4,000 students from 70-plus countries participate in the Research Challenge, according to the CFA Institute. The task: Research and analyze a publically traded company, prepare a written report with a recommendation to buy, sell or hold, and defend that analysis before a panel of industry professionals. In Hawaii, that defense takes place March 4 at the Bank of Hawaii headquarters with an award ceremony following at The Plaza Club. Each team is helped by one faculty advisor and one industry mentor.
The three Hawaii teams will participate in one of about 90 competitions around the country; the Hawaii winners move to the Americas regional competition, with the winners of the regionals competing in the global finals.
Kelly Fong, industry mentor for UH Manoa's team, says the competition is not a matter of who is right or wrong. "It means, what is your recommendation, how thorough is your research, how well do you know the company, things like that. So my task or my goal is to help UH Manoa accomplish that," he says.
This year, Matson Inc. is Hawaii's subject company. Jerome Holland, director of investor relations and strategic development, presented to the students an overview of Matson's core businesses, investment highlights and financial information. "What I hope they can take away from the experience are new skills and an approach to researching and understanding industries and companies that they will be able to apply on other school projects and, further down the road, in their careers," he says.
This year's teams are from UH-Manoa, UH-West Oahu and Chaminade. According to Paul Yamashita and Kuan Yuan, co-chairs of the CFA Hawaii Society competition, it's a challenge to get at least three schools to participate each year. Chaminade faculty advisor Richard Kido says the school may withdraw its team because many of its students are already involved in other competitions.
" This is a great way to test drive the duties we'd like to do after graduation."

— Meredith Mawhar, Finance major, UH Manoa's Shidler College of Business
The students for each of this year's teams were chosen by the faculty advisors, based on grades and performance in classes, resumes and interviews, says UH Manoa advisor Ben Bystrom.
UH-West Oahu's team is composed mainly of accounting students again this year. Advisor Franklin Kudo says this puts them at a disadvantage, though the competition helps broaden their skill sets. "It's a plus and it's a minus," he says. "The plus side is the accountants really understand the financial statements. I think much better than a finance person does. But how the financial markets and capital markets value a company in stock pricing, etc., accountants are not familiar with that."
Chris Ramil, CFA Hawaii's secretary, says the challenge taught him more than some of his classes when he was part of UH Manoa's team in 2014. He also says being able to network and showcase his skills helped him land his current job as an investment associate at Kamehameha Schools.