Natural Environment: Saving an Essential Part of Hawaiʻi
Here are five stories on how we can prepare for the present and the future, and what individuals, businesses, nonprofits and governments are doing to protect our natural environment.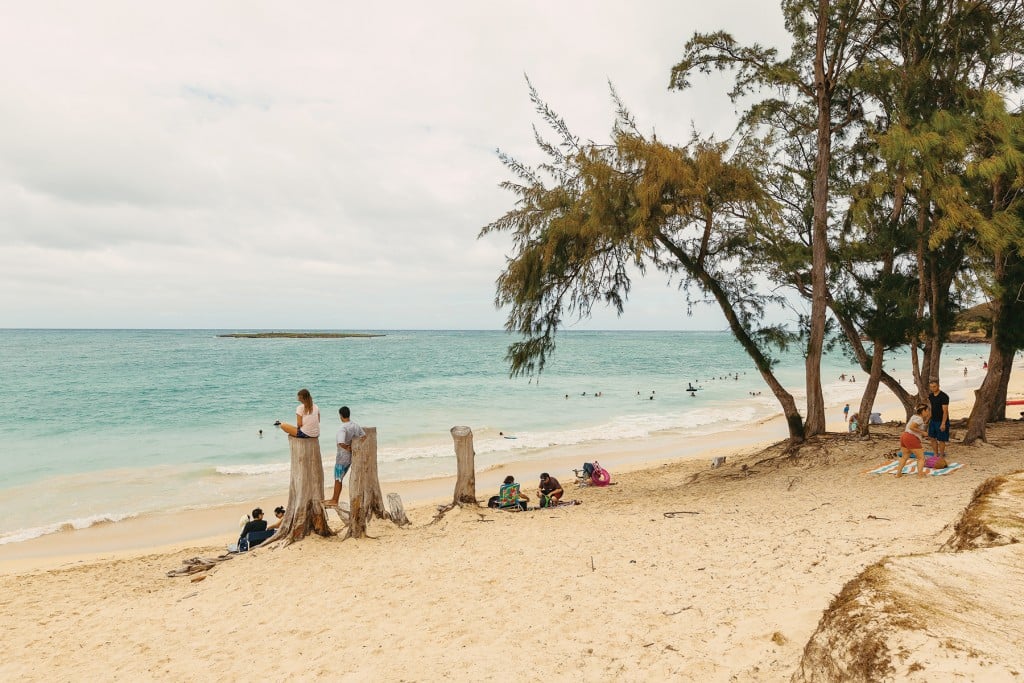 Part 4: How to Make Your Company Green
Business leaders say the key is building a culture of sustainability from top to bottom
By Ilima Loomis
Tim Lara had been working as a guide for a kayak tour company on Maui when he was laid off in the 2008 recession. To make ends meet, he borrowed equipment and started doing tours on his own. But there was one thing he wanted to do differently.
"Right from the get-go, we never used single-use plastic water bottles," he says. "We used stainless steel."
For Lara, who served as chair of the Surfrider Foundation's Maui chapter at the time, handing tourists drink-and-dump plastic bottles had always been a pet peeve. Now, as his company grew into Hawaiian Paddlesports and he began hiring employees, he realized he had to write down his rule on water bottles, along with other eco-aware practices. The company's sustainability policy was born.
Today, in addition to bottles, the company's policies include providing guests with reef-safe sunscreen, doing a beach cleanup before tours, conducting monthly service projects, and a "no touch" policy when it comes to wildlife.
"Some companies try to 'green up' because they want to appeal to the client or whatever," Lara says. "For us, it was just part of who we were. Getting B-Corp certification was just a validation of what we were already doing."
It's never been a better time to embrace environmental sustainability in business because of technological improvements, tax incentives and a growing interest among consumers to support brands they perceive as responsible and ethical. And yet some businesses are still ahead of the pack. We spoke with some of Hawaii's green business leaders about how the rest of us can catch up.
Start at the Top
"Everybody within leadership has to buy into it," says Charles Chaloeicheep, a Honolulu-based senior mechanical engineer at the engineering firm WSP.
Troy Miyasato, president of sustainable architecture firm Ferraro Choi, agrees. "The easiest thing is when it starts with the business owner themselves," he says.
Founding principals Joe Ferraro and Gerald Choi made energy conservation and environmental responsibility a central focus to how they designed buildings for their clients, Miyasato says. That philosophy attracted like-minded employees who pushed the firm to bring its philosophy of sustainability into its own business practices. "It's part of our culture," says Miyasato. "We are a mission-driven firm."
When a new business is launched with sustainability as a core part of its mission, those green practices can easily grow. "It invades how you hire people, what type of people you hire, and they see the culture you're establishing," he says.
Says Neil Hannahs, former director of the land assets division for Kamehameha Schools, and the founder and CEO of Hookele Strategies: "We have these aspirations, and at the end of the day we want to create a culture that aligns with that vision and those goals. Routines are what change our everyday behavior so that it becomes second nature."
At Kamehameha Schools, leaders developed a strategic plan that included balancing the environment, community, culture and education with economics. The organization then created a rubric of questions to evaluate decisions based on those values. "Tools like that created the routines," he says.
Green policies like energy-efficiency or improved lighting and air quality can reduce costs and improve performance, Miyasato notes. "That's actually a sustainable business practice, whether it translates to fewer sick days or greater productivity because employees are happy where they work," he says.
But, "it's not a bottom-line decision," says Karen Busekrus, office manager at Ferraro Choi. "It's a personal and business philosophy, a commitment to be a good steward. It may not always be the most cost-effective way to go, but we believe it's the responsible way to do business."
Build a Green Culture
Think about how to make sustainability a part of your corporate culture, Miyasato says.
"As part of their orientation on the first day, we show people the trash can and say, 'Welcome aboard, don't put any trash in there,' " Busekrus says. "Everyone knows to walk it to our recycle bin."
"We talk about it a lot," Miyasato says. That includes bringing up things like recycling and energy use in staff meetings, taking time at company retreats to ask employees to brainstorm ideas for how to be more sustainable, and organizing officewide events. At Ferraro Choi, staff participate in a monthly community outreach program, like cleaning a beach, serving meals to the homeless or cleaning graffiti. "It's a constant communication and infusion throughout the office," Miyasato says.
The company also provides bike racks so employees can cycle to work, and chose to locate its offices near the beach and a park, so employees could exercise outdoors on their lunch breaks. "We emphasize a healthy, balanced lifestyle," Miyasato says.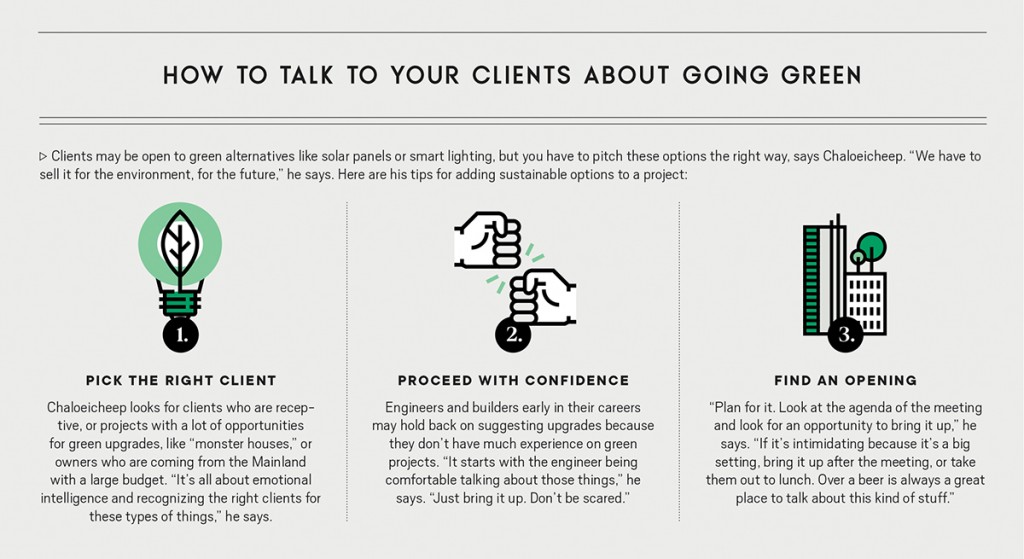 It's important to engage employees and ask for their ideas about how the company can be greener, Lara says. "They know it intimately, because they're the ones who are working there every day, and they know what's already happening," he says. "They may have things they're thinking about, but didn't want to say anything because they didn't want to ruffle feathers."
If you're trying to implement green policies from within, building strong personal relationships is critical, says Christian Palmer, anthropology instructor and Sustainability Committee Chair at Windward Community College, which received a state Green Business Program award for sustainability in 2018. "If you come in and try to change things without developing those relationships, it can be challenging, especially in Hawaii," he says. "People need to know where you're coming from, what your motivation is, and who you are before you try to get them to do things differently."
Finally, part of building a green culture means looking at the makeup of your team, Chaloeicheep says, noting that WSP has an internal goal of hiring more female and Native Hawaiian engineers. For Chaloeicheep, diversity and sustainability go hand in hand. "If we haven't got there yet with the classic makeup of an engineering firm, then it's time to shake things up," he says. "Our approach needs different input from different kinds of people."
Make it Easy
"You have to make it easy for your employees," Lara says. "Look for the path of least resistance."
After carefully placing three recycling bins outside the front door of his company's office, Lara was still finding bottles and papers in the trash can when he came to work. "It drove me crazy," he says. The fix turned out to be easy. "We moved the trash can outside too, so there's no trash can in the office," he says. "People make the right choice if it's just as easy as making the wrong choice."
Monitoring and measuring is another way to start employees thinking green, says Daniel Swift, culinary workforce program coordinator at Windward Community College, who previously taught at Kapiolani Community College. There, he started a program where students weighed the amount of trash they were generating in the kitchen. They were shocked to learn that they averaged 1 pound of plastic waste per student per day, for a total of 24 pounds for the class.
They made changes including requiring students to bring their own reusable tasting spoons and purchasing stainless steel bowls to replace the disposable deli cups students were using to stage their ingredients. "It cost a little more on the front end and it cost a little to wash them, but it eliminated 75 percent of the plastic garbage we were producing," Swift says.
Educate
Every business interaction is an opportunity to educate others and spread sustainability beyond your own office, Miyasato says.
"The closest one is your landlord," he says. By asking for energy-efficient systems in your own space, or expressing a preference for greener products to your cleaning crew, you can spark a change that could eventually include the entire building, he says.
When vendors bring snacks for presentations at Ferraro Choi, they're asked not to bring Styrofoam or plastic containers, and when the office orders food for company events, restaurants are asked to provide trays that can be washed and returned.
"They all understand what our office philosophy is, and then it drives change in the way they do their business," Miyasato says. "But if you're silent and just going with the status quo, that's very much a missed opportunity."
For Chaloeicheep, client education is part of the story. "Even when a client doesn't ask for solar panels or a net-zero building in the project brief, if you go into a meeting and talk about those things, you'd be amazed at how many want to integrate that into their project," he says.
In tourism, it's easy to apply education to guests, Lara says. Before every tour, Hawaiian Paddlesports guides give a talk on the Hawaiian language, introducing guests to the concept of kuleana and reviewing reef-safe practices. Guides undergo marine naturalist training so they can talk to guests about the species they see and the natural environment.
Lara sees education as an opportunity to spread green practices and Hawaiian concepts around environmental stewardship through the rest of the world.
"Anybody can take someone to the ocean and show them a dolphin or a turtle," Lara says. "We're not in business to do that. We really want it to be educational and cultural."
Swift sees the cafeteria at Windward Community College not just as a place to cook, but a teaching opportunity. The college offers field trips for local schools and community groups in which he shows how the kitchen recycles waste, composts scraps, and saves energy and water.
"One thing businesses can do is plant the seed in the minds of employees as well as customers that little things make a difference," he says.
Check your Mindset
When it comes down to it, most businesses know things they could be doing to be greener. So why don't they?
"There's a lot of momentum behind keeping things the way they are," Palmer says. "Even things that seem like no-brainers where everybody's on board, it can take awhile to get traction and move the needle."
"Maybe I'm naive," Chaloeicheep says. "It seems to me that everybody understands solar power and LED lighting. All the low-hanging fruit, it's on the ground already. It's cheaper than leaving it the way it is, and people still won't do it because of inertia."
That's why the biggest secret to greening a business isn't technology, it's mindset, he says. "Close the front doors when the air conditioning is on, turn the lights off when you leave the room – it's pretty basic stuff," he says.
Already think you're green? Going through a credentialing process, like B-Corp certification, can open your mind to ways you could be doing things better.
While Lara had been focused on making his tours sustainable, the certification process caused him to take another look at his office practices. He added blackout blinds to windows to keep heat out, and put air conditioning on an automatic timer.
"It really exposed blind spots and things I didn't think about," he says.
Making a big change can be scary, Hannahs says, but it's the right thing to do. "That's sometimes hard. It feels safer to do things the way we've always done it, but that's not going to work," he says. "But we've got to trust ourselves and recognize that the greater risk is not to do anything."
Bring it Home
Making a business greener can have a ripple effect that reaches far beyond what you do at work. "You take it home," says Miyasato.
After spending so much time monitoring energy use at the office, he decided to install photovoltaic panels on his home, and switched to an electric car. And after walking his trash past the garbage can at work to the recycling bin day after day, seeing how much garbage his family was throwing away started to bug him. He and his family started recycling more and looking for ways to reduce their consumables.
"I started noticing that my green bin and my blue bin were going out to the street more frequently," he says. "And my gray waste bin—sometimes I could go more than a week without bringing it out, but I see some families on my street that are as big as mine, and they can't even close their gray bin."
The takeaway, he says, is that even small changes can have a big impact.
"Even a small business touches many, and if your practice influences and changes the mindset of people you do business with, whether it's part of your supply chain, your client, or your employee taking it home, no business is too small to effect change," he says. "It all matters."
Start Here to Make the Greatest Impact
Purchasing
"Office waste – what we consume and throw away – is a golden opportunity for a firm that doesn't already have a green policy to jump into," says Karen Busekrus of Ferraro Choi.
Ferraro Choi adopted a sustainable purchasing policy for things like office and kitchen supplies. "Getting rid of plastic in the kitchen, that's a commitment that has huge downstream benefits," she says.
In the early days of the policy, the company sometimes paid almost double for products like post-consumable recycled paper, but that's changed. Now the prices are almost alike.
"That to me seems like a pretty straightforward decision – just choose the recycled content vs. the nonrecycled content," Busekrus says.
Waste
Green purchasing naturally leads to a conversation about waste, Busekrus says.
By teaching employees to do on-screen editing, switching to double-sided printing, and saving documents electronically rather than printing them out, the firm significantly reduced its paper use.
"It took us less than a year to get 23 people on board with these policies, and it made a huge impact on our bottom line," she says, "not just in dead file storage, but also in our purchasing of the consumable."
The Windward Community College cafeteria has reduced waste by converting to a zero-Styrofoam kitchen, switching from plastic to paper straws, and using compostable cardboard clamshells. Students and workers look to the natural environment for inspiration. "Instead of lining our containers with doilies we use clean ti leaves from our garden," Palmer says.
Says Troy Miyasato of Ferraro Choi: "We recycle as much as we can. If you walk around our office there's very little in our trash bins, and that's because the staff knows that paper goes in the recycling containers."
Energy
Ferraro Choi uses a computer system to track its energy use in an "energy dashboard" that allows managers to identify areas using more power, Busekrus says.
Computers and other peripherals are turned off when not in use, and the firm reduces energy use with technology like motion sensors and light-level sensors to automatically turn off or dim lighting when rooms are not in use or are receiving natural light. "Where possible, we always use Energy Star equipment, whether it's the dishwasher or the refrigerator, or any type of office equipment," Miyasato says.
Air conditioning is one of the biggest users of energy, so the firm monitors its use with systems that track temperature and carbon dioxide levels to regulate when air needs to be circulated.
Air conditioning typically uses between 30 and 50 percent of a building's energy, so it makes sense to look to AC for savings, says Charles Chaloeicheep of WSP. "When people are uncomfortable, it probably means your air conditioning system is using too much energy," he says.
Businesses can look for ways to reduce air conditioning and take advantage of trade winds – getting back to the way buildings in Hawaii used to be designed, he says. "It would be great if more hotels and restaurants started to realize that people don't want to always be in an air-conditioned box," Chaloeicheep says. "I think there's a movement toward more outdoor space, and Hawaii is the perfect place for that."
Where energy use can't be automated, improvement may come down to education. "There's a lot of low-hanging fruit," Christian Palmer of Windward CC says. "A lot of energy use is behavioral. If you can put signs on things or ask people to turn off computers or lights, it's a little bit of education and the price of stickers, and you can get people to change."