Natural Environment: Saving an Essential Part of Hawaiʻi
Here are five stories on how we can prepare for the present and the future, and what individuals, businesses, nonprofits and governments are doing to protect our natural environment.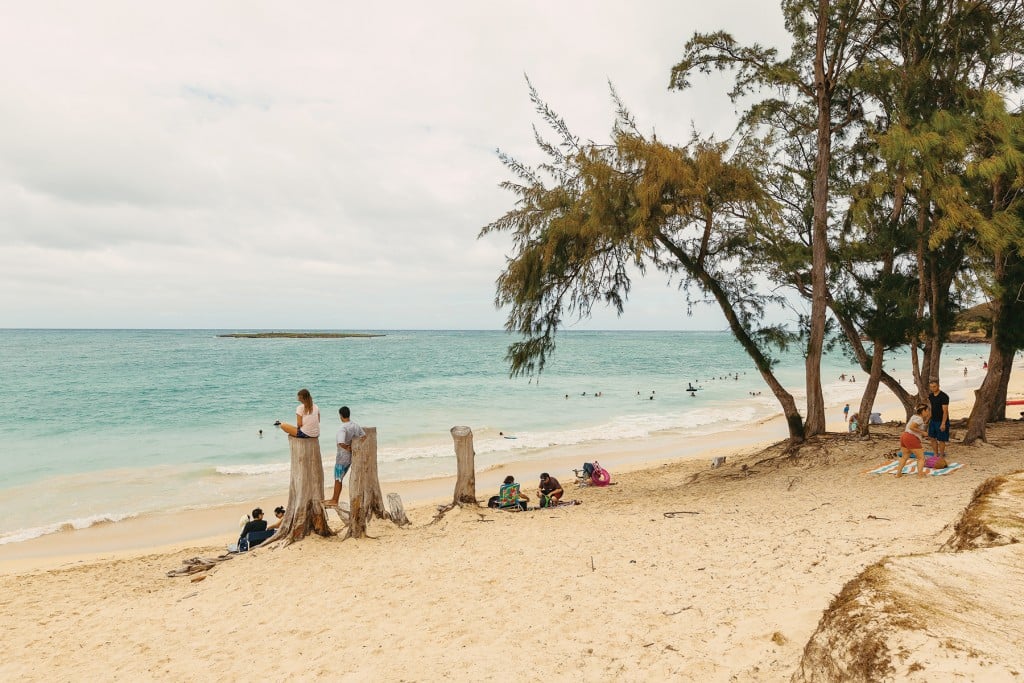 Part 5:
Zero Waste
Maui's Moku Roots is part of a business and nonprofit movement that pushes the limits on waste reduction. Its takeaway: It's more possible than you think.
By Natalie Schack
Things are different at Moku Roots. Walk into the Lahaina-based eatery and you'll spot the signs immediately.
The tables are decked with charmingly mismatched dishes, rescues from china sets discovered at Goodwill or the Salvation Army. The same goes for the hodgepodge of secondhand glassware, coffee mugs and silverware. Diners pick up to-go food packed in taro leaves or repurposed metal tins.
Those details are why this little eatery makes a difference. When owners Alexa Caskey and Erica Gale serendipitously met on a mutual friend's boat, the stars aligned: Both were planning the same new business — a vegan restaurant with a menu that goes beyond your typical vegan fare of sans-meat salads and wraps. The food would be locally sourced — from common fruits to intriguing exotic roots — grown on Maui, including from Caskey's own farm a few miles up the road.
The duo also shared a non-negotiable part of the vision: a business that ran as close to zero waste as possible.
"The landfills are filling up out here. It was getting frustrating to me to pick up food somewhere and then, at the end of that meal, seeing that something was going to the landfill because of it," Caskey says. "We just knew that there was a better way to do it and wanted to not only offer that to people, but set an example to show that it's possible for other restaurants and other businesses to follow."
They opened Moku Roots in spring 2018, and less than a year later are looking to expand. Certainly, the food is drawing attention, thanks to creative plant-based concoctions that include a raw pad thai made with cold zucchini "zoodles" and candied mac nuts; a take on gnocchi that uses local breadfruit and yuca instead of potato; and a taro burger so popular the owners have gotten requests to wholesale the patties to other Maui restaurants, Caskey and Gale say.
And, while they were initially worried their zero waste policies would irritate customers, "It has been so much more positive than either of us anticipated," she says. "We knew some people were going to be unbelievably stoked (but) we thought more people were going to be inconvenienced at the thought of it. Most people, more than I thought, are really stoked about it."
A zero waste model needs the commitment of the restaurant, customers and vendors. Caskey and Gale provide farmers and other vendors with reusable containers in which to deliver food such as locally made tortillas. Food waste gets composted and returned to the soil on Caskey's farm.
For customers, Caskey and Gale opted for secondhand dishware, which meant no new packaging. Instead of straws, they use papaya stems, which Caskey calls "the most elegant solution to the straw situation that is available in the tropics." Their stems are hollow, plentiful, and able to be washed and sanitized up to public health standards.
To-go orders are wrapped in taro leaves or ti leaves; tins are available for a $10 deposit, and to-go drink containers for $3. Keep the containers, or return them for your money back. And, of course, customers are encouraged to bring their own containers.
For regular Shannon McLernan, who was drawn to Moku Roots on the day it opened for its locally produced vegan food, the restaurant's policies inspired her to think about zero waste on a larger scale.
"We're so used to having the restaurant take care of the to-go container. But now, since I have gotten their tins and I use their tins all the time, I actually have been taking that practice to other restaurants when I get to-go food," McLernan says.
She says she also makes a concerted effort to buy food without packaging, such as loose fruits and vegetables at farmers markets, and skips plastic produce bags at grocery stores. "As a customer, I'm trying to be more conscientious of my power and how my consumption is affecting the environment."
Caskey says, "Zero waste is definitely a movement that has a ton of momentum right now." There are numerous examples: On Oahu, the Honolulu Biennial 2019 community art event in March was equipped with nondisposable drink glasses, waste stations and water refill stations helmed by Zero Waste Oahu.
Ashley O'Colmain is the green events program director at Maui Huliau Foundation, a nonprofit whose mission is "to promote environmental literacy and leadership among Maui's youth through community-based educational experiences." One way it fulfills that mission is to help events become zero waste or as close to that as possible.
"People kept asking us, 'Can you do that for our event?' So we did. And it's super effective!" says O'Colmain, who notes an 82 percent average waste-diversion rate for events. For that, she thanks volunteers who staff waste stations and let guests know whether they should be using the recycling, compost, food-waste or food-ware compartments. "People get really confused when there's more than trash and recycling."
She also works with the vendors for each event, armed with a massive spreadsheet of where to purchase certifiably compostable products, and how prices compare. Now that Maui County has banned Styrofoam, she says, the price difference between many available compostable and noncompostable products is slim. After the events, O'Colmain shreds the paper products and uses them and the food waste to create compost for her quarter-acre flower farm.
"Our total diversion to date is 14,707 pounds – over 7 tons," says O'Colmain. "Especially with the food waste, it's really great to keep that out of the landfill because food waste in the landfill produces methane … and that's a very strong greenhouse gas contributing to climate change and global warming. Landfills are one of the biggest producers of methane, and it's so frustrating because it's such a resource that we're throwing away."
In the beginning, there was some resistance to Maui Huliau Foundation's environmental mission, and wariness: O'Colmain's vendors worried about added costs and labor, or in Moku Roots' case, health code violations from delivering food in reusable containers. (Caskey says she has been working closely with the state Health Department and it is not a problem.) A key part of O'Colmain's role is educating everyone involved on why waste reduction is so important, showing what single-use plastics (instead of reusables) are doing to our beaches and oceans, and inspiring people to make zero waste a priority.
"It's hard to change behavior if you don't have an understanding of why," says O'Colmain. "I think people know that it's the right thing to do."
Caskey pushes back against the conventional thinking on restaurant waste. "I've heard people argue: 'We can't wash everything, we can't serve things on plates because we do too much business.' " She says if it means paying a dishwasher for more hours, "You just need to make that decision and do it. It's the cost of the planet."