Cheapest plate downtown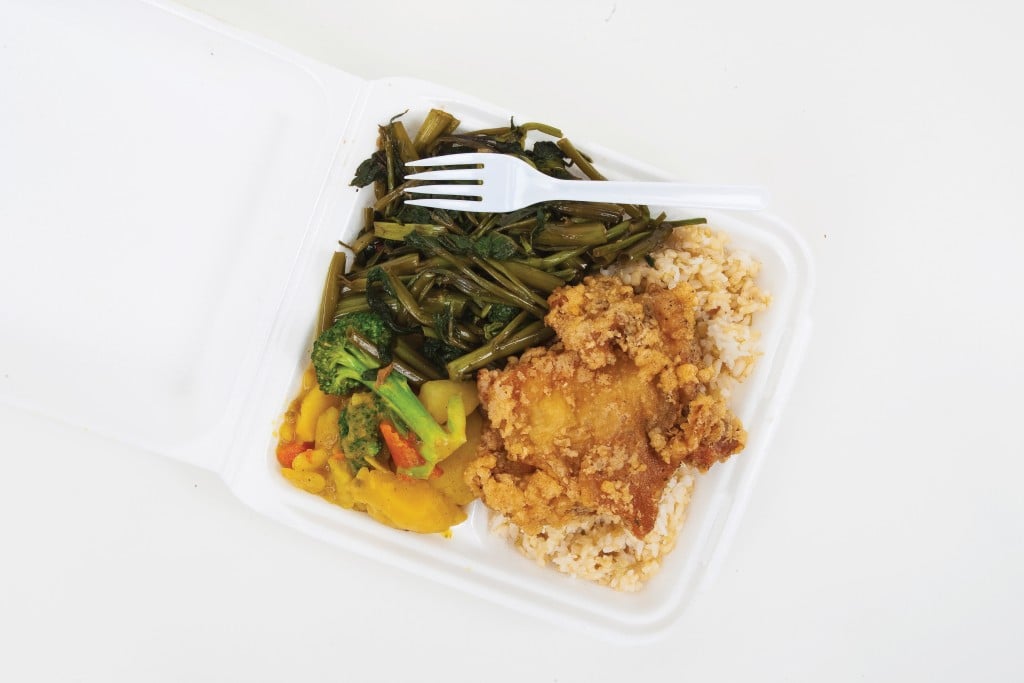 I've always wondered how a place can charge much less for plate lunches than its competitors.
Yum Yum Thai, a downtown hole-in-the-wall, either has an incredibly low overhead or is doing something I don't want to know about.
Prices start at $2.50 for a no-starch, one-item plate, and tops off at $5 for a one starch, three-item plate. Ordering here is reminiscent of Seinfeld's "Soup Nazi" — if you don't know the protocol, pay attention and don't hold up the line. Enter through the right-side door, tell them you want either brown or white rice or noodles, point at your selections and step to your left.
The tiny eatery's menu is a hamajang of fried foods, curry and other Asian dishes. The mound of panko-coated fried chicken is somehow inviting. On the vegetarian side, there's papaya salad, steamed broccoli and carrots, ong choi, and bean sprouts and tofu. For in-betweens, there's green beans and pork, eggplant and pork and other swine-infused, vegetable dishes.
There is a dining area, although "repurposed storage area" would be more accurate. It's cooled by a fan blowing over a pan of water.
I could splurge and spend a few more bucks elsewhere, but until this recession blows over, I'll be eating at the cheapest place in town.
Yum Yum Thai
1106 Bishop St. 524-3790