Check a Business on the Go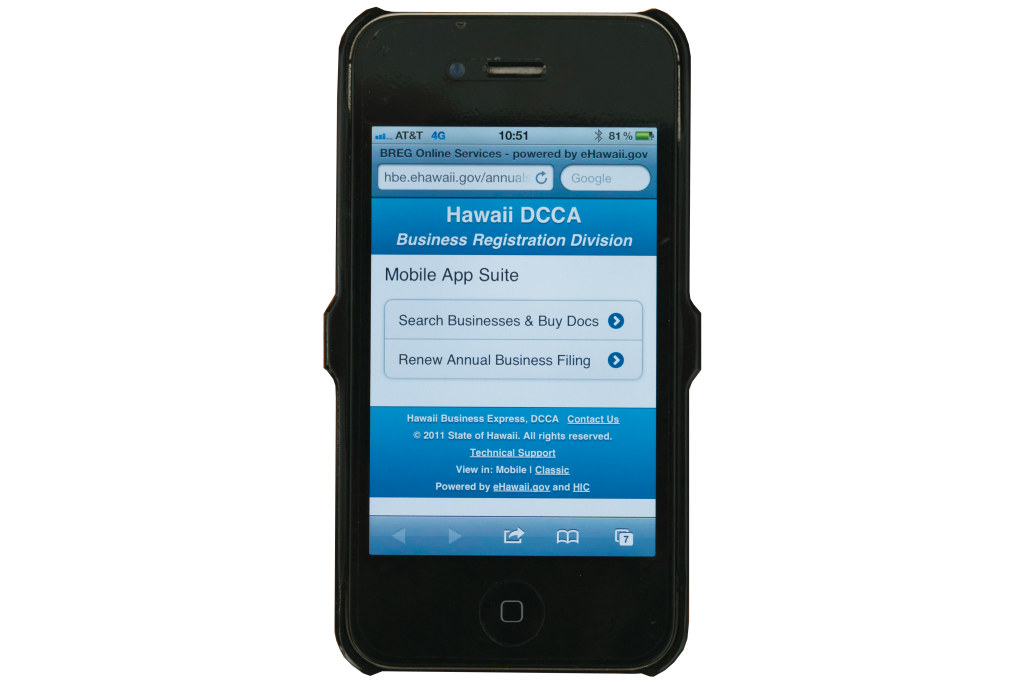 Need to check on a business while you're on the road? The state Department of Commerce and Consumer Affairs lets you use your mobile phone to conduct business name searches or even complete your annual business filing.
The online business-name search is one of DCCA's most popular services, says DCCA Commissioner of Securities Tung Chan, "and we've had that online service for a number of years, but we designed a mobile app" that launched in September 2011. Just go to business.ehawaii.gov on your phone's Web browser.
Many people, including Chan, call it an "app," though it is technically a website optimized for the small screens of mobile phones (apps are downloaded to your phone and there are no downloads here). Semantics aside, Hawaii Business took the mobile website for test drives on a Samsung phone and an iPhone, both about two years old. Using our mobile browsers, we found the website easy to use, with useful, though basic, information on businesses big and small. Further information could be purchased.
For instance, a financial institution that needs a certificate of good standing to approve a loan can get it using a smartphone. "You can search a business name, find out if the business is in good standing and purchase your documents," says Chan. "For example, if you see an article of incorporation and you want to buy it, you can buy it through the mobile app. It will automatically be e-mailed to you, and you can look at it in PDF format."
In June, the DCCA says, 5 percent of all online searches for business names were done on mobile devices.
DCCA launched its second mobile website in April, which allows users to renew their annual business filings. "It's also one of our most popular services," says Chan. "It allows you to renew your annual filing with just a couple of clicks on a mobile device such as an iPhone."
More mobile Web services are in the pipeline, Chan says. DCCA created the mobile site with the Hawaii Information Consortium, the same company that created and manages the website
eHawaii.gov.
The DCCA mobile website has already won two awards for innovation. The International Association of Commercial Administrators gave it the 2012 Merit Award for Outstanding Innovation, and the Web Marketing Association honored it as the Best Government Mobile Website.