"It's Always Different": 5 Child Care Providers Share Their Challenges and Joys
They spend long days teaching, cooking, cleaning and comforting keiki. And please don't call it "babysitting."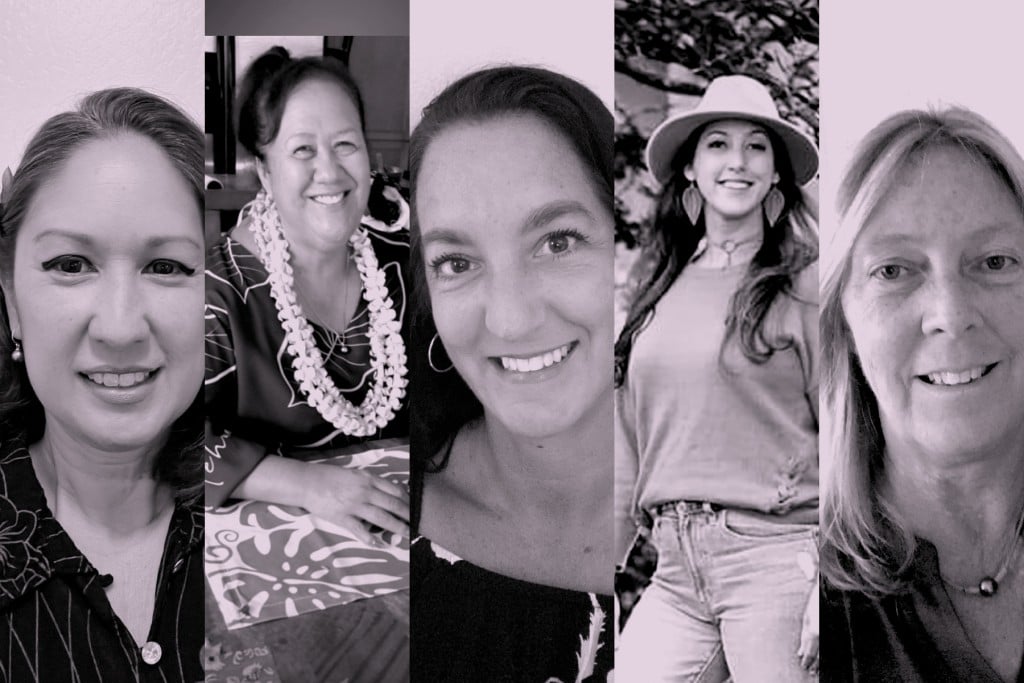 These profiles of providers were inspired by the "Child Care, Unfiltered" project that nonprofit news organization LAist published in 2021. Like LAist, we interviewed child care providers and gave them disposable cameras so they could document their days.
We worked with the Hawai'i Children's Action Network and the People Attentive to Children (PATCH) organization to identify providers willing to share their stories. All five providers profiled are either licensed or registered by the state Department of Human Services, meaning they meet department regulations to ensure children's health, safety and well-being. To learn more about our reporting process, click here.
Lifeline for Working Parents
Rosalind Leina'ala Chin,
Family Child Care Home Provider
Location: Waikapū, Maui
Years in Operation: 19
Rosalind Leina'ala Chin previously worked as a child care facilitator in her rural hometown of Ke'anae, but she didn't seriously think about starting her own child care business until she had keiki of her own.
By then, she was working in community services, and she increasingly felt like her job's demands came before her three children, who were in elementary and high school. "If they were sick, I wanted to be the one to take care of my children or be there when they needed me," she says.
Today, she operates her child care business out of her Waikapū home. When we spoke in August, she was caring for a 5-month-old, an 18-month-old, two 2-year-olds, a 3-year-old, and a 5-year-old who would soon be heading to preschool. Many of her clients continue with her as they have more children.
The keiki are typically with her from 7 a.m. to 4:30 p.m. Her husband, Larry, occasionally helps now that he's retired. She says she doesn't know how she managed without him during the first 17 years of her business.
"He'll come down, there's two of us so he can comfort the infant while I get breakfasts ready and get the other kids fed," she says. "We kind of tag off, and having that extra body, eyes, hands, is just a big, tremendous help and support. I'm grateful."
In addition to teaching and playing with the keiki, a large part of her job is keeping parents up to date via text messages, pictures and videos. One mother even wanted updates on how much formula her baby had, when the baby slept and how often the baby pooped. Chin is happy to provide these updates because it strengthens her relationship with the parents, and she knows it puts them at ease while they're at work.
About 80% of her families use some type of child care subsidy to pay her monthly tuition. Chin says parents have told her that they wouldn't be able to afford the care if they had to pay on their own. While infant care is often more expensive than care for older kids, her rate stays the same no matter a child's age. According to the People Attentive to Children group, a local child care referral and resource organization also known as PATCH, the average monthly rate on Maui for an infant up to 6 months old was about $754, as of June 2022.
She felt she had to raise her rate to $850 to keep up with her own mortgage, bills, insurance and taxes. "I'll be 70 in five years," she says. "Everybody is talking about, 'Are you going to retire?' I say retire? What is that? Because 19 years in the business, I don't have a nice retirement that I can quit whenever." Retirement, she says, is something she still has to figure out.
Chin is now a grandmother of a toddler and a preschooler, and she hopes people realize how important providers are because parents wouldn't be able to work without them. She knows some providers who quit because of the lack of benefits tied to the job and insecurity about the future. And some days, the pressure of being a lifeline for others gets to her.
Chin says she tries to practice self-care as much as she can and designates the end of her workdays as her quiet time: "Fill my well so when that time arrives, then I can go in there and help or deal with them without getting upset," she says. "And remember that I'm important, they look to me for help, they look to me to teach them, to get them through their emotions, to get them through their day."
Not Just Babysitters
Rachelle Ducosin,
Country Keiki Daycare
Location: Kamuela, Hawaiʻi Island
Years in Operation: 6
While growing up on the east side of Hawai'i Island, Rachelle Ducosin spent many of her days pretending to be a teacher. When she got older, she received her associate degree in early education from Hawai'i Community College while working at an A+ after-school program. Now she runs a family child care home and is working toward her bachelor's at UH Mānoa.
She cares for two 14-month-olds, a 2-year-old, a 3-year-old and two 4-year-olds at her Kamuela home, where the kids have access to the living room, covered garage and a spacious yard with climbing structures, playhouses and other toys.
Two kids left Ducosin's business, Country Keiki Daycare, during the pandemic because their parents lost their jobs, but she was able to quickly fill the spots from her waitlist. She says there's only a handful of family child care providers in her town, and they're constantly talking to each other to see if any have openings. Finding infant care is especially difficult. The state Department of Human Services only permits family child care providers to care for two infants between 6 weeks and 18 months at a time.
Her curriculum is typically centered on a new theme each month. July was summer safety, so she talked with the kids about looking for a lifeguard at the beach and had them make turtles and crabs out of recycled materials. When we spoke in August, the theme was back to school, so she taught the keiki about making new friends and recognizing their emotions.
But the kids don't always get along. Hitting, biting, pushing and taking toys away are some of the challenging behaviors that Ducosin deals with. And then there's separation anxiety, which can sometimes take just moments to soothe; other times, it can take up to 30 minutes. And if one kid cries, sometimes the rest will start crying.
"It's like an onion," she says. "You have to peel the layers of why they act the way they act. They could be hungry, tired, they just need some hugs or some attention, just not having that understanding of taking turns, sharing."
Ducosin spends about an hour before and after her 7 a.m. to 5 p.m. workday getting meals ready and cleaning. She also does her own schoolwork in the evenings until about 10 p.m. and on the weekends.
Country Keiki Daycare operates year-round. Ducosin only closes for major holidays and important appointments because she knows how difficult it can be for parents to find other care. And she tries not to get sick; when she does, she has to pay to get a substitute or temporarily close. But she tries to take vacations and enjoys traveling to the mainland to visit family.
She says many people think child care providers are the same as babysitters: "Sometimes they take us for granted … they don't think we do anything but play. But play is part of learning for them – that's how they can develop their skills and themselves."
Custodian and Cook While Also Watching the Kids
Heather Becker,
Family Child Care Home Provider
Location: ʻEwa Beach, Oʻahu
Years in Operation: 15
Mom-of-three Heather Becker cares for a 6-month-old baby, three 2-year-olds and a 3-year-old. When we spoke, she was getting ready to receive a second 6-month-old baby, a sibling of the 3-year-old and another child she watched in the past.
"I'm just really lucky," she says. "I've had really good families."
Becker will even watch the children after hours so parents can go on date nights, and the children and their families know her youngest daughter, 17-year-old Layla, who sometimes helps when she's not in school.
Becker grew up in Oregon, where she competed in rodeos and horse shows. She began babysitting at rodeos when she was 9 and ran a church day care in high school. She previously had a career as a dental assistant and became a child care provider for U.S. military families when she lived in Germany. She started her Hawai'i child care business 15 years ago and says she loves that the job allows her to stay home with Layla, especially after Becker's divorce.
A typical workday lasts 12 hours, beginning at 6 a.m. when kids start arriving. But she's also spending other time cleaning, running errands, and preparing breakfast, lunch, dinner and two snacks. She also takes professional development classes on the weekends. There aren't many opportunities for breaks, so she tries to rest when she can.
"It's a hard job. You have to like it because you're a custodian, you're a cook, you're also watching the kids," she says. "You have to do everything."
The meals are included in her $900 monthly tuition and partially reimbursed through the USDA's Child Care Food Program. She makes Costco trips every week and shops at nearby grocery stores and farmers markets. Some weeks, her kids go through 6 gallons of milk. While she's able to save money by growing fruits and vegetables in her backyard garden, her food bill still comes to about $1,200 to $1,500 a month. "You do what you have to do to give them the nutrition they need as they're growing," she says.
Despite her long days, Becker says she feels recharged whenever she's with the children and loves watching them discover new things, like learning to share with others. If a baby is getting close to walking, she'll tell the parents to keep a close eye so that they don't miss it. "You want them to get to witness it first," she says.Becker's business is accredited by the National Association for Family Child Care. She says one challenge is that there aren't enough child care slots for keiki under 3, so she feels guilty when she turns families away. While she's only allowed to watch six children, she says she sometimes wishes she could help more.
Nonetheless, she says she's grateful for the children and families she's been able to help. The group sometimes holds birthday parties and get-togethers. And she says some parents will call her after hours to ask for parenting advice, even when they live with their own moms or dads.
"They are kind of like a family to me, and they feel the same about me," she says.
Seeing Kids Grow Makes the Job Worthwhile
Marci Whitman,
Director & Teacher, Kauaʻi Montessori Project
Location: Līhuʻe, Kauaʻi
Years in Operation: 4
Marci Whitman found the Montessori education method a perfect fit when she was trying to find schools for her own kids.
"I loved that when they were interested in something, you could set up the environment to allow them to explore and learn it, rather than me teaching it to them," she says. She later opened her own Montessori school in Northern California for kids ages 6 weeks through 5 years. She ran it for 13 years and then moved with her husband to Kaua'i when he retired.
Whitman worked in child care on the island and says it took her 12 years to convince her husband to open another school. The final straw was when they couldn't find a preschool for their grandchildren. The Whitmans opened the Kaua'i Montessori Project in 2018 at the Hokulei Village Shopping Center, and in October 2019 moved to its current location at Aloha Church.
Whitman says it's been a blessing to partner with the church. She had tried twice before to open a school, but her efforts fell through when she couldn't find an affordable location that met all the state and county child care center guidelines.
Kaua'i Montessori Project has "probably one of the highest" fees on the Garden Isle, Whitman says, and "to raise it anymore, there's no way. Parents just couldn't afford it."
The school currently charges $1,200 a month and has 48 students, six teachers and four teacher's aides. Whitman, who has 30 years of experience in child care, says she had to turn away 50 children for this school year alone, and her waitlist is three years long.
Whitman says her favorite part of her work is seeing students' faces when they figure out something on their own, like the time she saw a child dropping a ball on the floor and then on other surfaces, and suddenly realizing that it bounces differently depending on the surface.
"It's so hard as a teacher to not want to teach and give them the answers, but when you stand back and you watch them struggle a little bit and then all of a sudden they get it, and that look on their face, they're so much more proud of themselves when they do it on their own," rather than being told how to do it or having it done for them, she says.
Her job as a teacher and school director can be physically and mentally exhausting, with workdays that are often 12 hours long. And that doesn't include evenings and weekends spent giving tours to prospective parents, cleaning, tending to the playground or doing laundry. She says she read an article that said teachers make 1,500 decisions a day.
"It's not just going to work and playing with the kids," she says. "You've got a kid and maybe dealing with kids who are suffering from trauma and so you're seeing behaviors that are challenging, and then all of a sudden you have one throwing up. Just constantly, it's never the same, which is fun in a way. It's always different and it's hard to plan an entire day and have it go like you planned."
She thinks of retiring, she says, "And then I turn around and look at opening another school, which I'm considering, because there's such a need out there."
Child Care Workers are Human, Too
Paula Yanagi,
Preschool Director, Ka Hale o Na Keiki
Location: Honokaʻa, Hawaiʻi Island
Years in Operation: 19
Paula Yanagi seemed to always be surrounded by children while growing up on the Hāmākua Coast. She's the third-youngest of nine daughters and was an auntie from a young age, so it's no surprise she wanted to pursue a career in early education.
Yanagi is Ka Hale O Na Keiki's executive director and serves as a substitute teacher when needed. She's been with the school for 18 years, beginning when she was pursuing her associate degree in early education. She's now participating in Chaminade University's early childhood master's program.
Ka Hale O Na Keiki is accredited by the National Early Childhood Program Accreditation agency and currently serves 24 students. It uses a Montessori-based curriculum, so 2-year-olds through 5-year-olds are together in one classroom for most of the day. This allows the younger kids to learn from the older ones, and the older keiki get to be mentors. Ka Hale O Na Keiki is the only licensed child care center in Honoka'a and has high demand for slots for 2-year-olds.
The school employs three teacher's aides and two teachers. One teacher's aide left during the pandemic due to health concerns, but most often, Yanagi says, staff members leave after they have their own babies because there's no nearby infant care.
She doesn't see many people entering the early education field and thinks it needs more recognition and support. People on her staff require specialized education and must attend regular training sessions to maintain the school's accreditation. Those in their first year of employment, regardless of their positions, need 30 hours of training a year; from the second year on, the requirement is 24 hours.
Additional schooling is needed if child care workers want to move up, such as going from a teacher's aide to being a qualified teacher. One of the center's teachers is about to start work on her bachelor's degree, and a teacher's aide is enrolled in a child development associate degree program.
"I do feel like that a positive that came out of Covid was some light has been shined on the field, that now there's a lot more talk, a lot more movement, like 'OK, they are important, we really need to strive to support all these providers, and they are really needed' and things like that."
Yanagi recently became a new mom and while she sometimes thinks about staying home with her baby, she says she wants to be there for her staff, students and community. She was still on maternity leave when we spoke in August, but she still goes into the office for some work and brings her baby with her.
"One of the things that keeps me going is knowing that there isn't a lot of people entering the field, and I feel like if I leave … is there going to be someone to take over? What's going to happen to the school or the field? Is there still going to be people advocating for students and for the families because the families also need us."