20 for the Next 20: Christian Chambers, Lung Rose Voss Wagnild
The law firm's partner has a passion for helping people with serious mental health challenges get long-term treatment.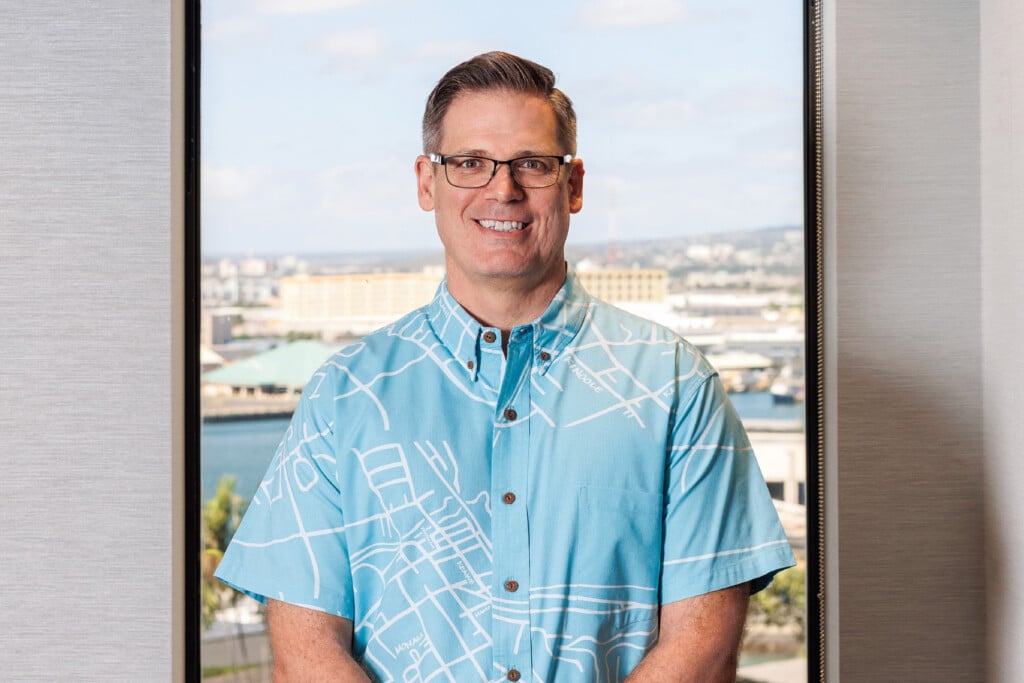 Christian Chambers

Partner, Lung Rose Voss Wagnild
Patient, even-keeled and – most of all – independent. These are some of the qualities that Harvey Lung, a partner at Lung Rose Voss Wagnild, uses to describe Christian Chambers, who was named in January to a two-person management committee that runs the law firm.
"Christian has always exhibited an independent spirit and judgment," says Lung. "He's not swayed by trends or emotions, but takes his time to analyze issues and reach decisions on his own."
That independent streak was clear when Chambers was an undergraduate at Purdue University. Facing another brutal Indiana winter, he and some friends decided to radically shift course.
"We thought, what are we doing here?" says Chambers. The future looked drab: jobs in Chicago or Indianapolis, working to make enough money to take a trip somewhere warm. Better to cut out the middle part, he says.
He moved to Hawai'i in 1999, supporting himself as a bartender and eventually entering UH Mānoa, where he earned a bachelor's degree in economics, law degree and executive MBA.
In 2009, Chambers started with Lung Rose Voss Wagnild, where he developed skills as a litigator in some of his field's thorniest areas, real estate development and health care. The issues at stake differ, but he says the goal is always the same: to resolve disputes and solve problems.
His work with The Queen's Health System led him to an area that he's especially passionate about: securing long-term treatment for people with severe mental health challenges.
For example, a person might be catatonic and incapable of consenting to medical treatment, Chambers explains. He will guide the case through the courts, arguing for appropriate treatment based on doctors' recommendations.
Another common scenario is someone with a history of stopping medication when they feel more stable, then falling back into severe psychiatric illness. To handle those cases, Chambers helped push for the state's 2019 Assisted Community Treatment law.
"ACT codified into law the standards that judges are looking at when they decide whether to order treatment of someone who's refusing it or can't consent to it or doesn't understand what's happening," says Chambers. The Institute for Human Services now uses ACT to get medication to homeless people.
Chambers serves on the board of HUGS, which aids young people with disabilities and their families, and he takes on leadership roles at his firm, including spearheading its technology efforts and managing younger attorneys.