Purchases of Hawai'i Commercial Real Estate Rebounded in 2021
Resort/golf course sales and vacant land sales each totaled almost a billion dollars, according to a year-end report from Colliers Hawaii. About half of the purchase volume was made by Hawai'i-based investors.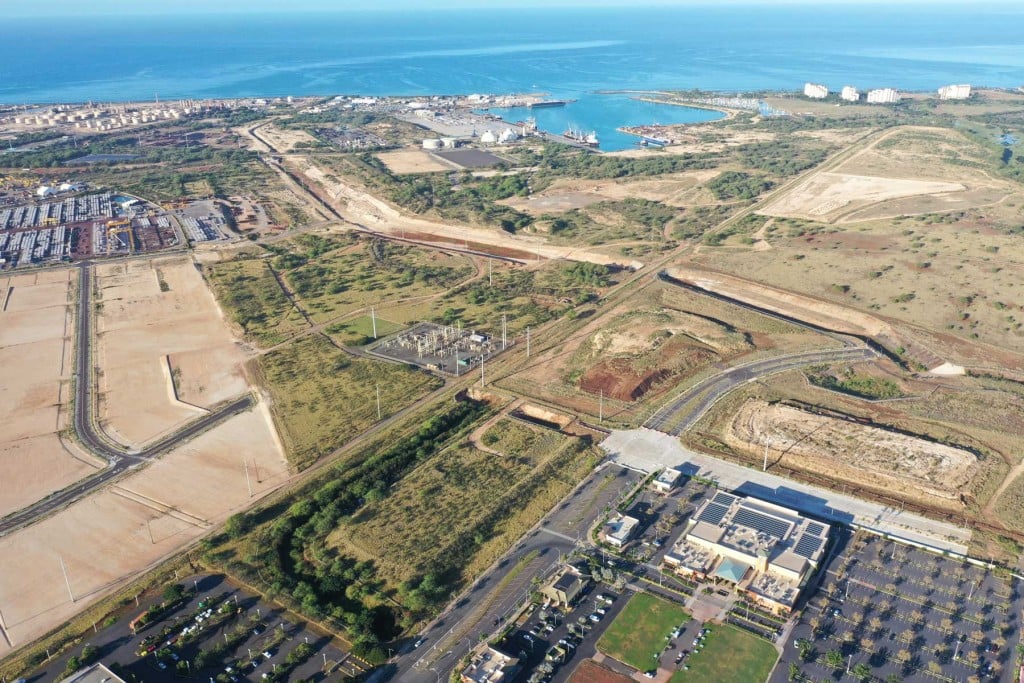 Investment purchases in Hawai'i's commercial real estate market during 2021 exceeded pre-pandemic levels with $3.15 billion in sales volume, according to Colliers Hawaii's year-end investment report.
2021 saw a 17.36% increase in sales activity compared with 2019 and a 164% increase from 2020, which was a slow year due to the onset of the Covid-19 pandemic, travel restrictions and mandatory quarantines.
In 2021, 353 transactions were made – the most in 16 years. Nearly 68% of the purchases were made by Hawai'i-based investors.
With local tourism slowly recovering and Covid-19 cases subsiding, Colliers is optimistic about commercial real estate investment in 2022.
"Colliers anticipates a surge in investment activity during the first half of 2022, as the combination of current low-interest rate environment and rising inflation motivates fixed-income investors to seek real estate to diversify their portfolios," the report's authors wrote.
Investment Cycles
Hawai'i's commercial real estate market enjoyed booming sales from 2015 to 2018, says Mike Hamasu, director of research and consulting at Colliers Hawaii. In 2018 the market set a record of $5.2 billion in sales.
Spikes like that, he says, are typically led by sales of prime resorts, large pieces of vacant land or major shopping centers. In 2018, 12 megadeals were priced over $100 million, totaling $3.9 billion. Those deals included $1.1 billion for the Grand Wailea Resort, $288 million for the Andaz Maui Resort and $215 million for the Modern Honolulu.
Sales slowed in 2019 to $2.6 billion. Hamasu says that can be attributed to fewer megadeals and the fact that investors typically hold their properties for two to five years before flipping or reselling them.
"You had a huge spike and when you sell a lot of mega-transactions, the number of available properties, and this is across all of Hawai'i, tends to decrease significantly because you had all this flurry of activity and you ultimately had a shortage of available investment properties in 2019 that likely led to the downturn or the slowdown," he says.
The pandemic depressed 2020 sales in Hawai'i even further. That year, a little over 200 transactions made for $1.19 billion in sales.
Who's Investing in Hawaiʻi?
For the second consecutive year, Hawai'i-based investors made up the most active buyer group, accounting for half of the 2021 sales volume. They invested a total $1.56 billion.
U.S. investors from outside Hawai'i invested $1.55 billion, while international investors only spent $43.3 million. The low activity from foreigners was largely driven by the pandemic's travel restrictions and quarantines.
But purchases by mainland and foreign investors had already been decreasing in the years before the pandemic. Hamasu says that's because there's a shortage of prime investment properties in the Islands.
"When one comes up, typically there's a lot of interest, but in 2019, 2020, you didn't see a whole lot of new megadeal, institutional investment type properties come on the market" and that's probably one major reason that foreign buyers were largely absent, he says.
Domestic buyers tended to come from California, New York and Texas and foreign investors from Japan, Australia, Singapore, Germany and China.
Hamasu says foreign investment activity in Hawai'i depends on the originating country's ability to generate capital. For example, Japanese investors were encouraged to invest in foreign property when interest rates were low during Japan's bubble in the late 1980s to early 1990s.
He adds that there's an overlap between the places investors are from and Hawai'i's largest visitor markets.
"There is a trend where once tourism picks up and we're seeing people fly into Hawai'i, those people that become familiar with Hawai'i will start to think, 'Well maybe we should have a business here or invest in real estate,' " Hamasu says. "And that's typically how it flows."
Vacant Land Sales Popular
Sixty-eight vacant land parcels were sold for $924 million in 2021, accounting for 29% of the year's sales volume.
Industrial-zoned land was the most sought-after vacant land, bringing in nearly $318 million. Hamasu says that stems from the accelerating shift to e-commerce brought on by the pandemic. Investors are also purchasing industrial-zoned land to help mitigate supply chain shortages, says Brandon Bera, VP at Colliers Hawaii.
Some notable 2021 transactions included Costco Wholesale Corp.'s $130 million purchase of the entire Ho'opili Business Park from Jupiter Holdings and Jupiter Holdings' $63.5 million purchase of 123 acres of vacant industrial land in Royal Kunia from HRT Realty, a division of the Harry and Jeanette Weinberg Foundation. Jupiter Holdings is a private investment firm based in Newport Beach, California.
Amazon also spent nearly $79 million for land in Kapolei's Harborside industrial park, where the online retail company plans to build a distribution center. Amazon already owns 14.5 acres on Sand Island.
"You have this domino effect where you have e-commerce going, you have the requirement for distribution facilities for Costco and Amazon and some others that are fueling the demand for raw land because, one, we don't have huge distribution facilities here in Hawai'i so they have to go out and buy land and build it themselves," Hamasu says.
"The trend is likely to continue because if Amazon's presence is here, in all likelihood some of the other large retailers, and this is speculation, like Walmart and Target and some of the other ones are going to consider, 'Maybe that's something we need to do as well.' "
He adds that the state's land use regulations and entitlement process can be cumbersome for developers, but if they're patient, they can make money off their investments. For example, the Ho'opili and Koa Ridge developments spent 10 to 20 years working to get entitlements and approvals.
"That's probably why you don't see a lot of development, in particular like apartment buildings or retail shopping centers, or we haven't seen an office building built here in a long time as well," Hamasu says.
Multifamily and Office Sales
Investors spent nearly $345 million on multifamily properties last year.
Most of those investors were local, continuing a decadeslong trend. Hamasu says small multifamily apartment buildings tend to be the introduction into commercial real estate for many local investors.
Bera adds that these types of buildings typically have lower initial sales prices, generally in the $2 million to $5 million range. "It's a very stable and predictable, for the most part, investment in Hawai'i where there's obviously a shortage of affordable, even reasonably affordable product out there," he says.
In 2019, Honolulu's mayor approved Bill 7, which created a five-year program in which developers and landowners can receive exemptions and fee waivers from standard building regulations to build affordable rentals on small, underused lots already zoned for multifamily dwellings. Bera says the impact from this legislation on the state's multifamily investment market has yet to be seen.
There were 28 transactions for office properties in 2021, totaling nearly $343 million. Most of that money was spent in BlackSand Capital's acquisition of the Waikiki Galleria Tower for $270 million.
Bera says office building purchases have generally been rare in Hawai'i. They don't change hands often and over the last five years most transactions have been for small two-story office buildings. The occasional transaction for a larger building tends to occur when the new owner wants to occupy it or convert it into another use, such as a hotel or residences.
There's still a lot of uncertainty in the market about the impact of hybrid and remote work, Hamasu adds. "Typically, if I'm a buyer I want to make sure that I'm guaranteed a certain amount of income from the property," he says.
"Over the next three to five years, if some tenants are not going to expand or even going to reduce their (office) floor plate, I've got some serious questions as to whether or not I want to invest in the office market at this point."
2022 Outlook
The largest transaction in 2021 was BlackSand Capital's $430 million acquisition of the Royal Lahaina Resort. That was one of 13 resort/golf properties that contributed to $877.2 million in sales, a huge rebound from 2020's $13 million in resort/golf sales.
Tourism's recovery is slowly underway. Hawai'i hotels reported a year-end 2021 average daily room rate of $329, 16.1% higher than 2019 levels. The revenue per available room was $189, and hotels reported a 57.6% occupancy rate. Both measures were higher than in 2020 but lower than in 2019.
The state Department of Business, Economic Development & Tourism has forecast that visitor arrivals to Hawai'i will meet the pre-pandemic 2019 level of nearly 10 million in 2024.
Interest rates are poised to increase, but Colliers is optimistic about the overall investment market's future in 2022. The company forecasts that investment activity in Hawai'i will remain elevated during 2022, with total sales near $3.5 billion.
"I feel very optimistic about commercial real estate, but there are naturally headwinds that we're facing," Bera says. Those include the Russia-Ukraine war and the resulting energy and humanitarian crises.
"The flip side of that is that it's likely to make the stock market continue to be volatile and, in that situation, commercial real estate can be a little bit of a safe haven."
Bera adds that a reason for optimism is the apparent winding down of the pandemic, with a commensurate rise in Asian and other international tourists. "I think that will spur more activity for 2022 and beyond."
---
Hawai'i Investment Sales by Property Type
Resort/golf: $877.20 million
Industrial: $239.74 million
Land: $924.01 million
Multifamily Residential: $344.57 million
Office: $342.91 million
Retail: $422.30 million
Total: $3.15 billion