Community Gym + Energy Efficiency = A Perfect Match
After five years of building their business, George Ma and his business partner Rick Wacker opened Fitness Therapy Hawaii – the only gym in Hawaiʻi designed for clients with Parkinson's disease – in August of 2022.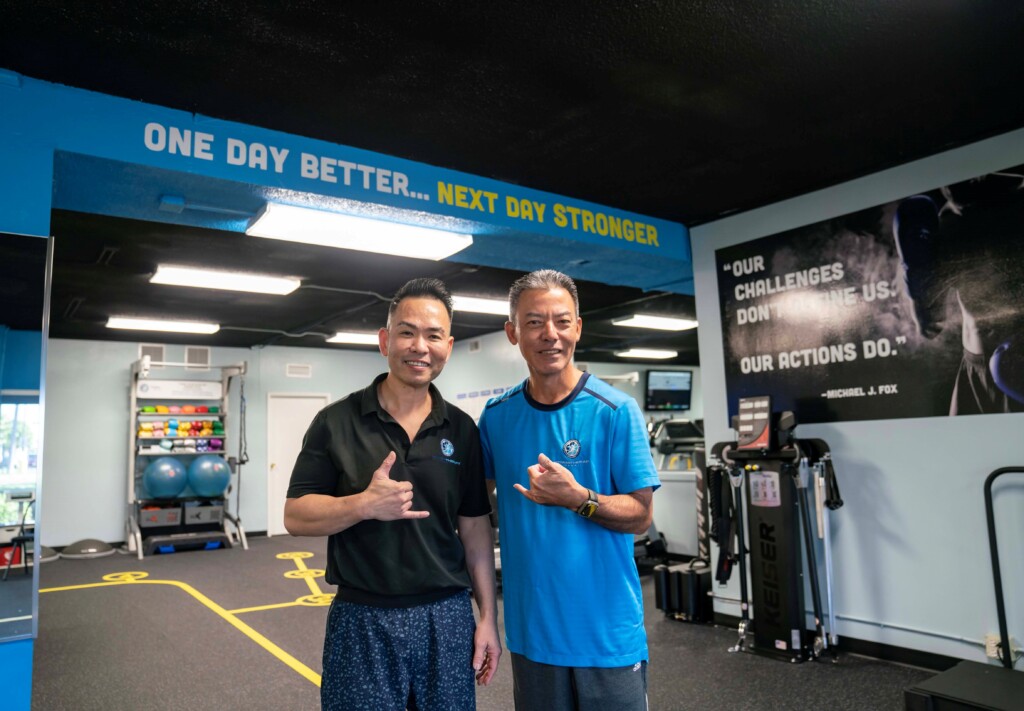 Opening this gym was personal for the partners as Ma lost his father to Parkinson's several years ago, while Wacker and Glen Higa, their head trainer, both have Parkinson's.
From the start, they set out to make sure the gym was uniquely able to support clients with the disease, placing special emphasis on helping participants maintain and sometimes even regain movement. However, this meant their space had to be designed differently than most gyms, which caused some stress in the months leading up to opening.
Large investments in specialized equipment, which had to be ordered and shipped from the mainland, squeezed them financially. Ma noted, "With the logistics and freight issues we had to deal with, we were behind schedule and over budget. The last item we had to address was the existing poor lighting." Because Parkinson's can cause vision issues, including trouble with depth perception and identifying specific colors, they knew they would need lighting solutions that supported their clients. They reached out to Hawaiʻi Energy to find lighting solutions that were efficient and customizable to their needs.
Their existing lighting was yellowing, dim, and used far more energy than necessary. Through working with Hawai'i Energy, they also found that their lighting alone accounted for roughly 50%* of their energy costs – a fairly common statistic amongst Hawai'i small businesses. Additionally, Fitness Therapy Hawaii wanted to do their part to preserve our island's precious resources, help address climate change, and protect the quality of air we breathe.
Through the Energy Advantage program, Fitness Therapy Hawaii was paired with local Clean Energy Ally contractor, Koo Electric. Hawaiʻi Energy's Clean Energy Allies have been trained by Hawaiʻi Energy and can easily navigate their incentive programs, so they can help customers complete their rebate applications and save money quickly. Allies are all licensed and insured independent contractors, and many have won Energy Insider awards for supporting their community. "They (Koo Electric) did an excellent job auditing and scheduling the project on a tight deadline," said Ma. "They were professional and worked around our schedule… They made sure everything was cleaned up at the end of each day during the installation."
Not only did the new lighting installation complete in time to open, but it's also customized to their specific needs and helps improve the safety and accessibility of the gym. The savings aren't shabby either; because of their retrofit, Fitness Therapy Hawaii is expected to annually save $1,000 on energy costs. Ma said, "While the lighting has improved our facilities, the energy savings we have seen so far are significant as well."
As far as the experience of working together? Ma recommends that other businesses and organizations considering energy savings projects reach out to Hawai'i Energy for excellent service. Ma said, "The entire team was professional and respectful of our Parkinson's members at the gym while on site, and we couldn't be happier with the results! Applying (for the program) was easy and straight forward. The timing of the program and the costs savings to us was a blessing. Working with Hawai'i Energy was really a great experience for us."
This case study is a great example of how energy efficient choices improve the experiences of all involved. If you're interested in hearing more inspiring stories, check them out on Hawai'i Energy's YouTube playlist! To learn more or sign up for the Energy Advantage program, contact Chase McDaniel at chase.p.mcdaniel@leidos.com or visit hawaiienergy.com/energyadvantage. If you're looking to work with a Clean Energy Ally contractor, please use their vendor directory.
*According to Hawai'i Energy, inefficient lighting can account for an average of 20-50% of a small business' energy costs.