Companies Partner With Schools to Grow Needed Workforce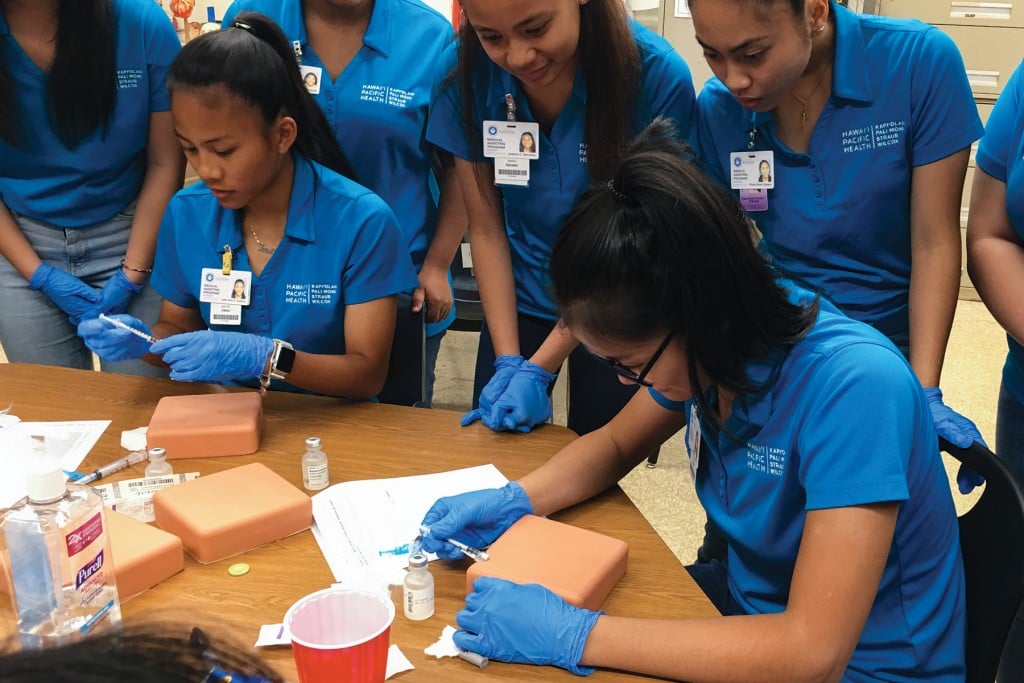 We are continuing to publish stories researched and written before the COVID-19 crisis, such as this one.
---
Schools and businesses are partnering in unprecedented ways to develop the state's future workforce.
This is Part II of a two part report. Learn how companies are driving the creation of workforce training programs in high schools and colleges to meet their needs for workers today and tomorrow. In Part I, we look at how Hawai'i's public high schools provide students with career training and work-based learning opportunities.
By the end of this summer, about 140 rising high school seniors and recent graduates will be ready for employment as medical assistants, nurse aides and surgical instrument processing technicians. (The medical assistant program ends in the summer.)
As Hawai'i's population ages, the Aloha State needs more entry level health care workers, so Hawai'i Pacific Health launched several high school training programs to build up the workforce.
The health care organization is not alone. As it becomes increasingly harder to fill certain positions, industries and companies are partnering with educators to develop their own workforce training programs.
"What is different about today is there's this real sense of collaboration but even more so it's ownership and accountability for the challenges that we're facing," says Catherine Ngo, president of Central Pacific Bank and chair of the Hawai'i Executive Collaborative's Higher Education Committee. "And it's competitors. So maybe we're competing against another bank or two today on a deal, (but) we're actually coming together to solve these problems, which are really important to the future of Hawai'i."
More Workers Needed
A 2019 report by the Healthcare Association of Hawaii's Healthcare Workforce Initiative cites 2,200 openings in 76 nonphysician, patient-facing occupations during the last quarter of 2018 and the first quarter of 2019.
On average, it was taking organizations six to 12 months to fill open positions in these occupations, and the greatest needs were for medical assistants, certified nursing assistants, nurse aides, registered specialty nurses, licensed practical nurses, patient service representatives and people trained to draw blood.
Carl Hinson says he has seen fewer youths interested in pursuing health care occupations over the 15 years he's been director of workforce development at Hawai'i Pacific Health. He believes this is because students don't know about the breadth of health care careers available.
That's "because there's been so much focus on 'Go to college' … (and) less focus on 'And do what?' " he says.
He adds: "I'm even guilty of telling my children, I wish I never said this, 'I don't care what you do.' Well, now I care what you do. I want you in health care."
To address the worker shortages, Hawai'i Pacific Health launched in 2018 a medical assistant training program for high school students. Medical assistants perform administrative and clinical tasks such as checking in patients for appointments, updating medical records and explaining physicians' instructions to patients. The three-semester program consists of 670 hours of classroom time and a 225-hour externship. Seventeen students from four high schools completed the program and passed their national certification; 14 are now employed with HPH as medical assistants.
Hinson says this program provides a direct path for a high school graduate to enter health care. "And whether or not they're going into college, they at least have their foot in the door, start working in the industry, make some spending money, so that maybe mom and dad don't have to foot the entire bill," he says.
It also gives students a starting point on the career ladder.

Christopher James Ona, a graduate of Waipahu High School, participated in the medical assistant program because it's a stepping stone into health care. He's now working as a medical assistant at Straub Medical Center and eventually wants to be a nurse.
Today, HPH has programs that prepare students at 12 O'ahu high schools for jobs as medical assistants, nurse aides and surgical instrument processing technicians.
HPH's mission is to create a healthier Hawai'i, Hinson wrote in an email, and that includes providing access to educational programs that lead to jobs offering living wages and potential for career advancement.
Hinson, who is also a co-chair of the Healthcare Association of Hawaii's Workforce Initiative, says phlebotomy (drawing blood), coding and billing, and emergency medical technician programs are just some examples of what high schools could be offering students – potentially in partnership with community colleges. The association's Workforce Initiative is intended to better match supply and demand, says Hilton Raethel, the association's president and CEO.
"Our goal here is to go into these high schools and say how many certified nurse aides do we need on Maui, how many do we need in Hilo, and then match the supply and demand for those areas so that there's a very high probability that when these students graduate from high school, there will be a job waiting for them," he says. "We don't want to go into an area and just turn out as many students as are interested. That doesn't do anyone any good."
Kapi'olani Community College, which helped to develop curriculum and provided instructors for the first cohort of HPH's high school medical assistant program, already offers pharmacy technician and community health worker programs at local high schools, says Sally Pestana, health education noncredit program director at KCC. Lisa Radak, dean of KCC's Health Academic Program, says KCC wants to expand its certificate offerings in high schools, based on industry needs.
Public-Private Partnership
A partnership between the banking industry and UH community colleges led to the creation of a four-week universal banker training program in 2017. Rich Wacker, president and CEO of American Savings Bank, says the idea was to create a program that would better prepare job candidates as technology changes the way banks serve customers.
The banking industry could have created the program on its own, he says, but thought it would be helpful to collaborate with the community colleges. (The program is not currently active.)
Lui Hokoana, chancellor of UH Maui College, says sometimes industries have such a great need for workers that they do their own training programs. "Which is OK," he says. "I'm not afraid of people doing training.
"We want to provide the best learning opportunities for our students, but I got to believe that we should have the upper hand in developing and providing training because that's what we focus on and that's what we do. What we need to be better at is getting information from employers to allow us to develop our curriculum to make sure we're training for their needs."
In fall 2019, UH Maui College launched its Ka Holu program with an accelerated technician certificate program in heating, ventilation and air conditioning because of the huge unmet demand for HVAC technicians.
The three-month industry-certified program incorporated input from HVAC contractors and local resorts and consists of online coursework, hands-on activities, work readiness training and an internship.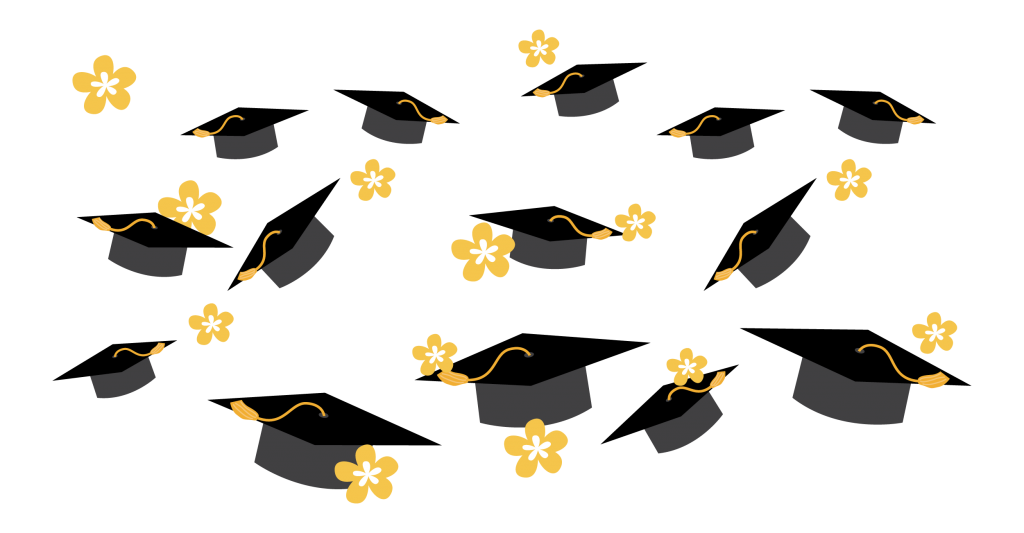 "Higher education institutions sometimes respond real slowly to what the community needs. We cannot do our own thing, but this one was really driven by the workforce. People in the industry were really telling us 'Hey, we need more HVAC technicians. Can you please help?' " Hokoana says. "This was a rapid response to that."
Samoa Leilua, engineering manager for The Westin Nanea Ocean Villas in Lahaina, says the Ka Holu program shows that UH Maui truly cares about the community. Two of the hotel's employees graduated from the program, increasing the number of engineers certified as HVAC technicians from one to three. And five engineers at the hotel have signed up for the next class, she says.
"We're just so grateful UH Maui has put out this program to help our community, to promote the local people and help them land great paying jobs, be able to support their families and stay living here, which is the greatest thing," she says.
The program was supported by the Hawai'i Executive Collaborative's Higher Education Committee, chairwoman Ngo wrote in an email. She said several organizations, including Kamehameha Schools, the United Association of Plumbers and Fitters, the Native Hawaiian Education Association and Central Pacific Bank, provided full scholarships for the program's inaugural cohort of 15 participants.
"The Ka Holu HVAC program is a shining example of the opportunity to change lives," she wrote. "It can elevate the career path of a high school graduate who might be making $21,000 annually at minimum wage, to earn a base salary of $50,000 with successful completion and graduation from the program."
Ngo added that more businesses and community partners have come forward to support this program. The second cohort began in January with 24 participants, and all were awarded full scholarships.
Lots of Collaboration
Karen Hanada, director of extended learning and workforce development at UH Maui, says there have always been partnerships between the campus and business community in her 32 years there, but not with this focus.
"I think that is what is new," she says, to have a closed communication loop where employers tell the college what they need, the college provides the training and employers provide internships or hire the graduates. "That's really a difference."
Hokoana says the Ka Holu HVAC program was partly targeted at the 45% of public high school graduates who do not go to college right away. He says it gives them an opportunity to connect with the college, get certified and progress into careers with living wages.
It's a similar idea for UH Maui's recently redesigned and accelerated certified nurse assistant program. Local employers need more nurse aides, Hokoana says, but because it is not a living wage job, the college plans to develop a pathway for students to then progress into careers as licensed practical nurses and eventually as nurses.
Ngo adds that industry leaders know their role has evolved.
"So while in the past perhaps we might have relied more on the educational institutions and state funding for those programs, we as industry leaders recognize that we have to play our part in driving change."
The actions by businesses are partly inspired by the CHANGE Initiative, which aims to unite business leaders to address six important issues: C for community and economy, H for health and wellness, A for arts and culture, N for natural environment, G for government and civics, and E for education.
Keala Peters, VP of education and workforce development and executive director of Hawai'i Sector Partnerships at the Chamber of Commerce Hawaii, agrees there is momentum uniting the community. "We have very visionary executives who are charting a course for how to address the talent pipeline and workforce development issue that we have here in Hawai'i. They feel strongly that we have to support our students to find meaningful careers and a fair living wage here in Hawai'i," she says.
"We do not want to lose our students to the Mainland."