Construction Industry Outlook 2020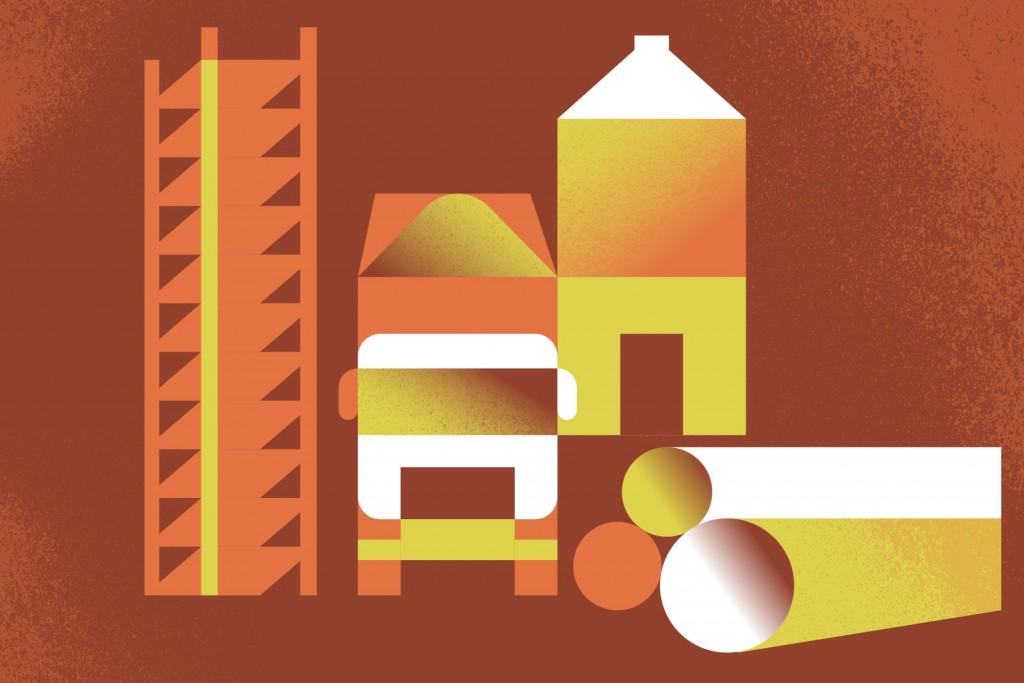 Experts reveal the top challenges of today's construction industry — and what's to come this year.
The New Year has wrapped a decade filled with highs and lows—decreasing government contracts, new affordable housing projects, technological advances, and the end of a three-year high-rise boom. A vast network of people that includes property builders and developers, contractors, engineers and suppliers, the construction industry affects the state's economy. This makes understanding the industry's annual trends, and where it's projected to go, imperative to watch.
Peaking during the high-rise boom of 2014–2016, the construction outlook looked grim in 2017, following a negative year of construction jobs, until it started picking up at the end of 2018 and gave 2019 a good start.
"As with all other trades, we are hopeful that construction will pick up in 2020," says Damien T.K. Kim, business manager/financial secretary, IBEW Local 1186. "The last half of 2019 saw a slowdown, as many of the existing high-rises were complete, and the newer ones were just breaking ground. Protests on projects did not help things as well, especially on the Island of Hawai'i."
Some construction companies, such as Swinerton, have noticed there's also been more collaborative partnerships.
"We've noticed a shift in Hawai'i towards more collaborative project delivery methods like public-private partnerships, ie. HART's City Center, Blaisdell, Aloha Stadium and various projects at the University of Hawai'i," says Aaron Yamasaki, division manager of Swinerton, a commercial construction company. "This shift has had an overall positive impact on the industry as these delivery methods are built upon collaboration, mutual trust, appropriate risk-sharing, and an understanding that success can only result from team success."
By The Numbers
The Department of Business, Economic Development and Tourism (DBEDT) found that the value of private, commercial and industrial building permits decreased in 2019, while the value of permits for additions and alterations increased.
"This indicates construction activities in 2020 will be more focused on additions and alterations," says state economist Dr. Eugene Tian, referring to renovation projects, such as those done at Ala Moana Shopping Center or the International Market Place.
Michael Formby, the executive director of Pacific Resource Partnership, believes there's still a lot of new construction. "I think there is new product," he says. "Koa Ridge and Ho'opili are new product, and many of the condominiums, some that are already under construction but definitely entering construction on Kapi'olani are new product. So I don't really see that I would say it's going to primarily be additions and alterations."
According to the October 2019 report by The Economic Research Organization at the University of Hawai'i (UHERO), in 2020 and over the next several years, Hawai'i construction activity will continue at a healthy pace. High-rise residential building projects on O'ahu and large-scale public sector projects, such as rail transit, will sustain construction employment at the current level for years to come.
"Despite a steep falloff in government contracts awarded this year, there is considerable forthcoming public sector construction," the UHERO report says. "The largest projects are on O'ahu, including rail transit, planned redevelopments of Aloha Stadium and the Neal S. Blaisdell Center, and the expansion and updating of facilities at the Daniel K. Inouye International Airport. The recovery from natural disasters has included important public works projects on the Neighbor Islands. It is unclear at this point whether and when construction of the Thirty Meter Telescope on Mauna Kea might begin."
George Pasha IV, president and CEO of Pasha Hawai'i, says he's been seeing the steady volume that mirrors the UHERO report. "There are also many replacement projects being done on Hawai'i's bridges due to their age, and these projects can create high demand on short notice for equipment and materials—all of which we are able to accommodate," Pasha says.
Overcoming Obstacles
The decade ended on a positive note, but not without challenges. The slow permitting process, rising material costs and labor shortages are some of the same issues that the industry has to continue to tackle in 2020.
"One of the top issues or challenges is the regulatory environment," says Formby of Pacific Resource Partnership. "I think our contractors and our developers have always expressed some frustration with the amount of regulation that sometimes makes the project delivery period longer than expected. From the time they start, and they pencil the project out, to the time they're able to actually build and deliver, there's been a lot of time that's passed and a lot of costs that have increased beyond their control and it makes the product more expensive and perhaps not as affordable for the consumer."
Last year, the City and County of Honolulu has made some moves in helping to speed up the process for some building permits, and plans and initiatives to address backlogged permit applications continue into 2020.
"There continues to be a great need for affordable housing in Hawai'i and the City and County of Honolulu has recognized this need," says Tyler Dillon, executive vice president of Layton Construction Hawai'i. "In May of this year, the Mayor signed a bill into law which changes codes for small parcels of land in apartment and business mixed-use-zoned areas, to allow walk-up rental buildings to be built for tenants who make 100% or below the city's area median income. In addition, the bill also offers financial incentives to property owners with lot sizes of 20,000 square feet or less that are zoned for apartment or mixed-use. We anticipate seeing an upward trend of much needed affordable housing construction on O'ahu."
Terrance S. Arashiro, president of Austin, Tsutsumi & Associates says, "The City is commended for taking these needed steps; however, acquiring building permits is not the only challenge to getting projects off the ground across the State. There are other review processes by other non-City or County agencies which are time consuming or backlogged. There needs to be a broader industry-wide 'clean-up' of these processes while still preserving its purpose."
Protests surrounding construction projects that have been greenlit after passing through the long permitting process have also risen questions and concerns about future projects.
"To a degree, the recent peaceful protests to a few sensitive projects is troubling," says Arashiro. "After receiving necessary government approvals and going through a public process, blocking a project becomes the final means of discourse. The project entitlement, environmental review and permitting processes are overly lengthy and yet among the complaints are that the public is not given enough opportunity to chime in or are not even aware of what is being proposed. This being the case, there will always be detractors, but the system needs some revamping to address these concerns, such as significantly shortening government review times and removing duplicative processes to keep the project active with public stakeholders and discussion of issues, current and pertinent."
Not a new issue, but one that has challenged everyone in the industry is the difficulty in securing labor. Younger generations are showing less desire in entering trades, and the industry is trying to increase that interest.
"When there is an uptick in construction projects across the state, it becomes difficult to secure labor resources," says Will Summerhays, executive vice president of Layton Construction Hawai'i. "We have a fantastic local labor workforce but like with most things in Hawai'i, it is limited. One solution to this problem is creating and maintaining excellent relationships with subcontractors to ensure we have quality teams on all our projects. Another solution to this challenge is making recruitment and retention of our best and brightest a top priority."
According to Yamasaki of Swinerton, impacts of skilled labor shortages include unqualified workers being hired, projects taking longer to both start and finish, projects coming in over budget, increased labor costs, and generational differences in values and skills causing project conflicts within the workforce.
"Swinerton is working to address skilled labor shortages by upping our own commitment to building administrative and craft leadership within our company. Our goal is to be able to retain our people no matter what economic and market changes impact the industry," Yamasaki says.
"We are fortunate to have the General Contractors Association of Hawai'i (GCA) who pushes to keep a presence in our local educational institutions through financial funding and other promotional programs," says Stephen Baginski, president and CEO of Kaikor Construction Company. "As an active member of the GCA, I know that we actively seek new ways to expand our presence and share the incredible opportunities that our industry can offer to Hawai'i's youth. I feel by pushing more construction management/engineering classes at the university level, as well as giving it more exposure through projects and presentations at the high school level, we could increase the awareness of the incredible benefits of staying in Hawai'i and joining our industry."
Outside of labor shortages and permitting delays, other issues include an uncertainty in pricing as a result of tariffs or potential tariffs. "If tariffs get implemented, it typically drives up the cost. We look at all options to deal with tariffs or potential tariffs by sourcing domestically and internationally (countries that are not affected by tariffs)," says Gerry Majkut, president of Hawaiian Dredging Construction Company. "The solution to tariffs is really a complex national problem that needs to balance protectionism and free trade."
Pacific Pump and Power's challenges have been trying to reduce costs as the industry gets cleaner—a change that affects everyone in the industry. "The introduction of Tier 4 industrial diesel engines means our new diesel pumps produce less emissions, but it has also increased the cost of buying, servicing, and repairing these engines," says Paul Leonard, general manager of Pacific Pump and Power. The company provides pump, generator, compressor, fusion equipment and dredge products and services in Hawai'i and Guam. "In 2020, we are expanding our Neighbor Island presence. We have added yards in Maui and Kaua'i and are adding a location on Hawai'i. Increasing the expertise and equipment available locally will reduce the cost and time to ship this equipment between Islands."
Moving Forward
The decade is starting off with a positive outlook for 2020, as condominium projects are underway, single-family home development continues in Central O'ahu and residential building proceeds on the Neighbor Islands. Plus, with the West Kapolei to Aloha Stadium rail route scheduled to open at the end of 2020, "transit-oriented development will start around the first nine stations," says Kim of IBEW Local 1186.
New hotel projects and renovation projects in Waikīkī, Maui and the Big Island are also underway, and the outlook looks favorable that construction will continue near current levels.
"We are confident in Hawai'i's economy, particularly with tourism on the rise which is reflected in the number of new hotels and resorts being constructed and the extensive remodeling of older facilities for visitors," says Pasha IV of Pasha Hawai'i. "The condominium spike will likely be offset by new property taxes for people buying for long term investment purposes or as rentals. New housing projects continue on the West Side at Ho'opili, Makakilo and Kapolei, which drives increasing private and public investments. All of this impacts cargo movement for Pasha Hawai'i."
Baginski of Kaikor Construction Company adds, "I feel that our industry has a positive outlook for 2020 and beyond because of the people I see in construction today. Yes, we will always face challenges. But with all challenges, come solutions. We, as an industry, are not a quiet group. We communicate quite clearly and effectively to those who affect our business. This open communication becomes a catalyst for evolution of the system and eventually, solutions to these challenges. My confidence in my fellow contractors is high and, as a group, we will push forward and continue to persevere no matter what the economy has in store for us."
Kaikor Construction


⁗⁗⁗⁗⁗⁗⁗⁗
Celebrating Kaikor Construction's 35th year in business, is one our proudest achievements. Established in 1985 with just five employees in one O'ahu office, we have grown to nearly 50 employees and have expanded to five of the seven Neighbor Islands, Wake Island and Johnston Atoll. Our work volume has increased from $2 million in 1990 to our best recorded volume of $21 million in 2016.
Our growth can be attributed to our people making Kaikor a company that goes above and beyond our client's expectations. We know that valuing our employees comes back to us in a work ethic and attitude that results in delivering quality workmanship and meeting project budgets and schedules at a cost savings to our client. Kaikor's philosophy of employee retention has resulted in a 14-year average length of employment which provides reliability and consistency in all of our projects.
Our experience, depth of skills and sound financial standing make us one of the leading companies in the industry today and as the recipient of two prestigious Build Hawaii Awards for Excellence in 2019 and several safety awards, we believe our reputation speaks for itself. Our vision is to stay on the cutting edge of technology and innovation to continually improve and support the work of our field and office support staff and to expand our Pacific presence in partnership with other Hawai'i companies. In addition to this, we will continue to live by our slogan, "cementing communities, bridging the islands."
Austin Tsutsumi & Associates


⁗⁗⁗⁗⁗⁗⁗⁗
Established in 1934, Austin, Tsutsumi & Associates, Inc. is an early pioneer of the engineering industry, and is recognized by Hawaii Business Magazine as a Best Places to Work and a Top 250 Company in the State. ATA's primary business is consulting in the areas of civil engineering, environmental engineering and land surveying, and has the largest local traffic engineering group in Hawai'i. "As a kama'āina company, we have deep roots in the Islands and have worked tremendously hard to be a thoughtful and trustworthy partner of the community," says Terrance Arashiro, president. "We deeply appreciate the trust that is placed in us by our clients and the public sector. Integrity in our practice has been a touchstone for us throughout the years." ATA looks forward to reaching its century mark and is likely to achieve this milestone with flying colors.
Hawaiian Dredging


⁗⁗⁗⁗⁗⁗⁗⁗
With our legacy dating back to 1902, Hawaiian Dredging Construction Company, Inc. has played an integral role in building the face of Hawai'i. Starting from its humble beginnings in dredging Pearl Harbor's main channel, and constructing the Ala Wai Canal to enable the development of one of the world's iconic tourist destinations, Waikīkī, Hawaiian Dredging is truly a part of Hawai'i's history.
Today, we are one of Hawai'i's largest general contractors with a presence on every major island, with over 900 employees. Hawaiian Dredging is also among the state's most diversified general contractors comprising of five major divisions: Building, Commercial, Heavy (Civil), Power & Industrial, and Waterfront & Foundation. With our diverse and collective experience, resources and expertise, Hawaiian Dredging has continued to lead the industry in a comprehensive array of construction services on projects ranging from hospitality, commercial, residential, institutional and healthcare, as well as major infrastructure and utilities work.
Pacific Resource Partnership (PRP)


⁗⁗⁗⁗⁗⁗⁗⁗
Heading into 2020, PRP is optimistic Hawai'i's construction industry will remain strong. Numerous projects are already underway or in the pipeline for a near-term start. Transit-oriented development (TOD), including the Aloha Stadium redevelopment and infrastructure improvement projects along Honolulu's rail line, remain a priority. In addition, the significant demand for affordable and workforce housing across the state will continue to drive public and private investments in this sector. Other construction priorities include the continued modernization of Hawai'i's airports and harbors, along with a resolve to address Hawai'i's public school infrastructure and award the final segment of Honolulu's rail project. All in all, 2020 and beyond looks to be a perfect opportunity to stabilize and strengthen Hawai'i's economy by prioritizing much-needed improvements to the built environment, and PRP looks forward to working with Hawai'i's public and private sectors on solutions that deliver meaningful results.
IBEW


⁗⁗⁗⁗⁗⁗⁗⁗
IBEW along with other construction trades, are hopeful that construction will pick up in 2020, as we saw a slower pace at the end of 2019. Many of the existing high-rises were complete, and newer ones were just breaking ground. As more high-rises come up in 2020, and Rail opens its first half of the 20-mile from West Kapolei to The Aloha Stadium at the end of this year, we are optimistic that work will pick up as we head into the year for Trans Oriented Development. The City and County of Honolulu also passed Bill 37's Community Workforce Agreement (CWA) which would give opportunities for projects over $2,000,000 to go to the union.
IBEW Local 1186 will continue its commitment to safety and skilled training for Journeypersons and through its apprenticeship program to fit the ever-changing needs of construction. As those in our industry prepare for retirement, we need to constantly evolve to make sure the younger generation have the necessary training, education, and hands-on experience to run our industry. IBEW Local 1186 also steadily continues our work in renewable energy with rooftop solar, PV farms, wind farms, and soon, DC power for lighting.
Pacific Power & Pump


⁗⁗⁗⁗⁗⁗⁗⁗
Pacific Pump and Power stocks a pump and power rental fleet offering a wide range of capabilities, including submersible electric pumps, submersible hydraulic pumps, pneumatic diaphragm pumps, dredge equipment, centrifugal pumps, air compressors, generators and light towers. We stock a fleet of McElroy fusion equipment and are a McElroy Certified Rental facility! Whether your project is big or small, Pacific Pump and Power has the equipment and the staff to assist you with your project needs.
We sell the full line of Godwin Pumps, Versamatic Pumps, Flygt Construction and Mine Submersible Pumps, Mcelroy Fusion Equipment, Lansas Pipe Plugs, Cherne Products and Atlas Copco Compressors and construction equipment.
Swinerton


⁗⁗⁗⁗⁗⁗⁗⁗
Celebrating 132 years of excellence — Swinerton provides commercial construction and construction management services throughout the United States and is a 100% employee-owned company. Recognized nationally since 1888, Swinerton is the preferred builder and trusted partner in every market it serves—proudly leading with integrity, passion and excellence. Swinerton has long been dedicated to positively impacting our industry, our communities and our employees
Swinerton has been building in Hawai'i for 34 years. We have built strong, lasting relationships with local partners through projects and community service events. We strive to achieve the highest level of execution in all areas – from safety, quality and innovation to attention to detail in every task. Our employee-owners are driven, accountable and enthusiastic in the pursuit of perfection. Pride is what's inside us, in our DNA, and the very fabric of who we are. Our pride is what sets us apart from the competition.
Layton Construction


⁗⁗⁗⁗⁗⁗⁗⁗
Layton Construction has been building in Hawai'i for 15 years. From residential buildings to educational institutions to hospitals and medical offices, our experience spans O'ahu, Kaua'i, Maui and Hawai'i Island. Our Layton Hawai'i team has the support of an award-winning national team with the resources to utilize cutting-edge technology and experience in virtually all industries. We recently merged with STO Building Group, the fourth-largest contractor in the nation, but will continue to operate under the Layton name with the same people you can rely on.
We are more than a builder; we are partners who work with our clients to find the best solutions. We believe in the power of predictability and strive to be a steady partner who delivers well-planned, safe, and high-quality developments.