Cook Like a Pro:
Tips to Make Restaurant-Quality Crispy Thai Calamari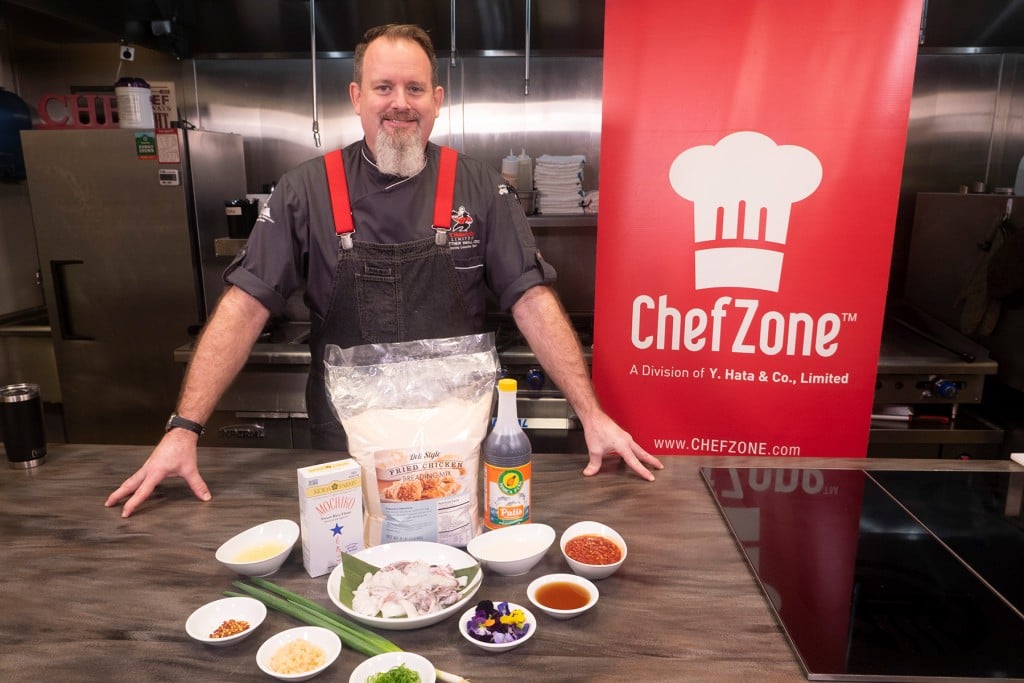 Y. Hata & Co., Ltd. Corporate Executive Chef, Matthew Small, steps into the ChefZone test kitchen to cook up some delicious Crispy Thai Calamari with a Chili Lime Dipping Sauce and reveals his secret ingredient that makes the delicious difference.
No one can resist perfectly fried calamari – crispy, crunchy, yet tender and moist on the inside – there's a reason why restaurants keep it on their menus. Recipes like fried calamari are classics for a good reason: they are close to perfect. But for Y. Hata Corporate Executive Chef Matthew Small it's a blank canvas for endless possibilities!
His recipe is ideal for the home cook who wants to impress as well as the accomplished chef looking for an exciting new idea for the tried-and-true. Instead of using the old standbys for his calamari coating, he uses ChefZone's Deli Style Fried Chicken Breading Mix – his secret to crispy, crunchy, golden goodness every time.
Chef Small worked with Upper Crust to develop the proprietary mix exclusively for ChefZone. "In a blind taste test, we compared the Fried Chicken Breading Mix to four other leading brands. Overwhelmingly, the Deli Style Fried Chicken Breading Mix was preferred based on the fact that it was crispier and less salty," said Chef Small.
Applications don't end with calamari and chicken. "This is a versatile product that can be used for more than just breading. I also use it to make roux for thickening soups and sauces. I have even mixed a small amount into a flatbread recipe for extra flavor," says Chef Small. "Overall, this is an awesome product!"
If you're new to the deep-frying process, Chef Small has a few tips and tricks to help give you the perfect flavorful and crunchy coating:
Choose the right oil
Oils with a high smoke point such as peanut or Canola are best for frying. Chef Small's preferred oil is Crisco Creamy Fry Oil available at ChefZone.
Keep an eye on the temperature
The perfect temperature range for deep frying is between 325 and 375 °F. Cooking at this temperature will ensure the food is cooked properly – the outside will be evenly browned, and the inside will remain tender and juicy.
Don't overcrowd
Putting too much food in the fryer at one time can bring down the temperature of the oil, which can cause your food to be greasy, soggy, and not properly cooked.
Ready to add this delish dish to your next menu? All products are available at ChefZone!
About ChefZone:
ChefZone, a division of Y. Hata & Co., Ltd., is a locally owned and operated cash-and-carry wholesale club for food-service operators, including independent restaurateurs, catering companies, food trucks, and even home cooks. The 45,000-square-foot facility at 2888 Ualena Street features more than 6,000 food-service products, equipment and supplies, and access to more than 35,000 items through special order. Visit www.chefzone.com or call 808.852.6700 for more information.
Proudly submitted by Y. Hata & Co., Ltd.