Critical Planning for Sea Level Rise in Waikīkī and Shoreline Resort Properties | G70 & Sea Engineering
It is essential for Waikīkī and shoreline resort properties to prepare critical adaptation plans.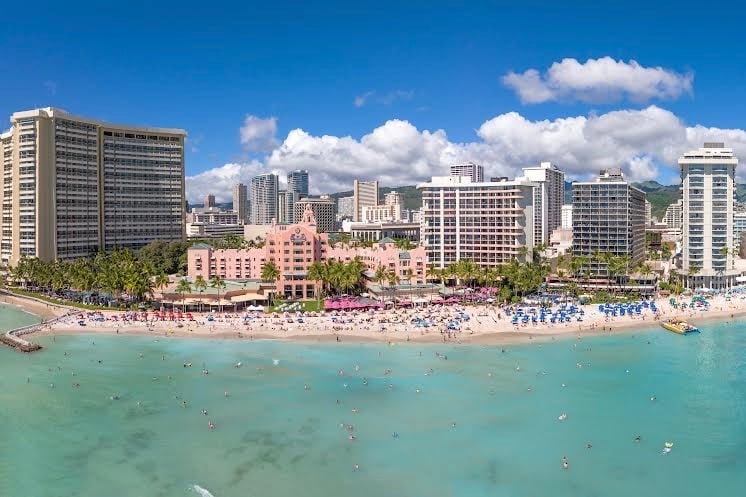 Numerous resort properties line the shores of the famous and iconic Waikīkī Beach, and has flourished for decades in harmony with the ebb and flow of the tides. However, rapid warming of the atmosphere and oceans, caused by unabated carbon emissions, is causing increasing rates of sea level rise (SLR) that threaten natural environments and developments along the coast. The projections of SLR over the next 20 years may have considerable effects to our shorelines, with estimates of an additional 1 ft rise in sea level by the year 2050 and 3 ft by 2080. The Honolulu Climate Change Commission is guiding long range planning for +5.7 ft SLR by 2100. Understanding how these hazards affect coastal properties is critical for long-term planning with respect to maintenance, renovations, improvements, and expansions.
Sea Level Rise Challenges
Extensive modification of the original Waikīkī Beach shoreline has occurred to create the oceanfront features that exist today. As sea levels rise now and into the future, coastal natural hazard exposure, such as passive flooding, wave inundation, coastal erosion, and storm surge, is predicted to increase for properties close to the shoreline.
Sea Level Rise Assessment & Analysis of Future Inundation
G70 in collaboration with Sea Engineering, Inc. (SEI), offer comprehensive SLR management planning services. This SLR Assessment defines future challenges faced by shoreline properties and offers recommendations and proactive planning design to ensure the continued success of commercial investments.
With high resolution planning and engineering techniques, future inundation of properties for selected SLR and wave scenarios are examined with possible mitigation options.
---
Together, G70 & SEI can help your organization to proactively assess current and future shoreline risk conditions, plan and design scaled response improvements, complete the complex environmental and permitting requirements, and execute your critical SLR adaptation plans.
For more information on SLR services, contact:
Read full article here.

111 S. King Street, Suite 170
Honolulu, Hawai'i 96813
(808) 523-5866 |
https://g70.design