Death by Amazon? Not in Hawaii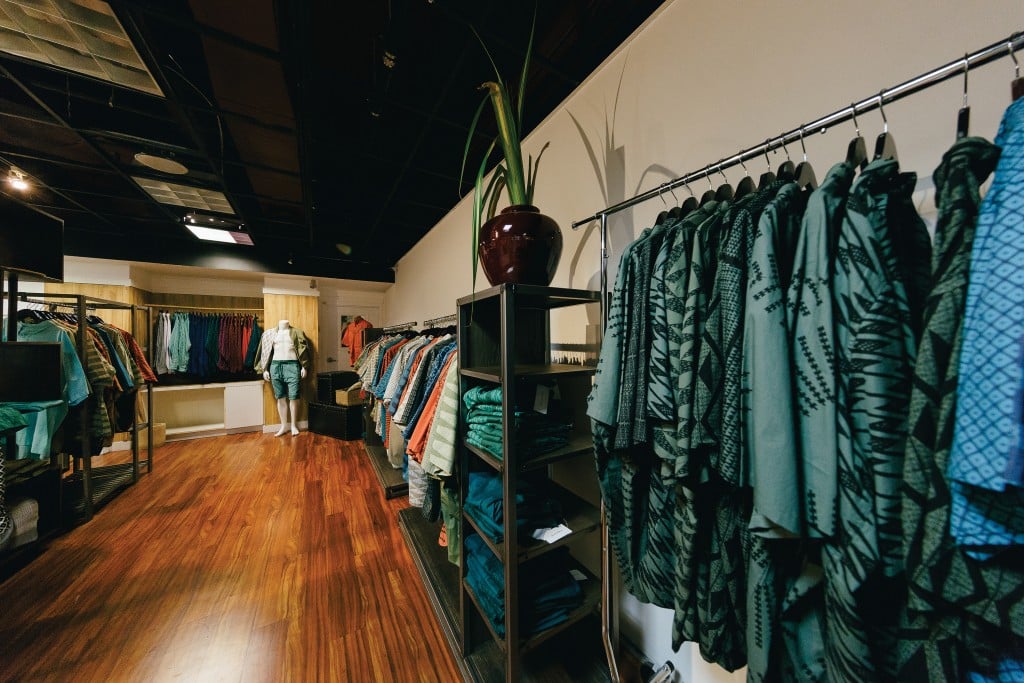 If national news reports are any indication, retailers should all hunker down for the impending Mall Armageddon. Myriad online headlines foretell the imminent doomsday: "The Great Retail Apocalypse of 2017," "Malls Are Doomed," and "The Retail Bubble Has Now Burst" are just a few. A Credit Suisse report in May predicted 20 to 25 percent of the country's shopping malls will close within five years.
The research firm Cushman & Wakefield says mall visits declined a whopping 50 percent nationwide from 2010 to 2013, and major chains such as Sears, Macy's and RadioShack have closed hundreds of stores, including in Hawaii. Amazon and other websites are cited as the main force pulling consumers away from brick-and-mortar stores.
But, as with so many things, Hawaii is different than the Mainland. Local retailers are more optimistic than those headlines suggest and, more important, they are taking innovative steps to ensure long-term sales growth rather than taking a last stand. Of course, a booming local economy and low unemployment mean plenty of tourists and local people have money to spend.
Leigh Drewry, specialty leasing manager for the Queen Kaahumanu Center on Maui, explains that Hawaii embraced online shopping much earlier than Mainland consumers due to our geographic isolation. As a result, local malls have dealt with serious competition from online shopping for far longer than Mainland stores.
"Growing up in Hawaii, there's stuff that you want that you simply can't get, regardless if you had a retail store here. Online has become a way of life for us," she says.
Both locals and visitors to Hawaii also understand that some things just can't be experienced online. "You can walk into a space and just feel the energy there, feel the care and you get to actually interact with the people there," says Kahana Kalama, founder of clothing brand Aloha Beach Club.
"The culture of the brand, the culture of the store, is something that you can just feel. That's something that's really hard to translate online."


Kahana Kalama, Owner, Aloha Beach Club
After opening his flagship store in San Diego, Kalama opened a Kailua store in 2014 and an Ala Moana pop-up this April. He says about 75 percent of his sales still come from the brick-and-mortar stores, and his significantly smaller Hawaii locations often outsell the San Diego store.
"The culture of the brand, the culture of the store, is something that you can just feel. That's something that's really hard to translate online."
Kalama's Ala Moana location has been busy, and he's considering another pop-up or a permanent location in Ala Moana.
"I was just surprised at how many people wanted to come into the store," Kalama says. "I always thought online would grow much faster than the store, but people just like coming into the store."
Manaola Yap also emphasizes a personalized customer experience, something that can only be accomplished in a physical store. Yap is a self-taught fashion designer who infuses Hawaiian elements and culture into his clothing.
"Big box stores, corporate stores … Those stores are the ones that are dying because their products are not necessarily tied to anything," he says. "But for us, it's not just a shirt. You're buying a piece of artwork, and you're buying a piece of culture and story. And that's something that has more intrinsic value and outshines all of the market trends."
Yap has strong support from Hawaiian cultural practitioners and local shoppers in Honolulu, but he also welcomes the opportunity to share his culture with visitors.
"With the Ala Moana location, our marketplace has changed with the tourism coming in, and because our whole mission is also to sustain culture and to educate, it's wonderful to have that location because we do attract a lot of tourists and we get to share with them our contemporary expression of our art."
Yap says that, despite Mainland market trends, his "brand will still continue to be a destination" because of its deep roots to the culture and region.
Many local malls have adopted that same approach, closely tying their offerings to Hawaii's unique sense of place.
International Market Place revamped its shopping center to reflect the story of the land. Placards detail the history and culture of the center's iconic banyan tree and Don the Beachcomber's tree house, and an entire court is dedicated to Queen Emma. "We worked very closely in the design with historical and cultural consultants to help us understand the significance of this property," says GM Michael Fenley.
International Market Place hosts about 50 events each year in addition to its free nightly hula show. For its one-year anniversary in August, the center held celebratory events throughout the month. "We had all these special activities and activations at the mall, including lei making, the Royal Hawaiian Band (coming) down, unveiling the Don Ho statue on August 13 – all these things that continue to tell our story from the past to the future generations," says Breana Grosz, assistant marketing and sponsorship director.
Those and other efforts have paid off. "We saw 30 percent more vehicles parked in our garage in June than we saw on average in the first quarter of the year," Fenley says. "The increase has been substantial."
He says International Market Place opened last year with about 30 merchants. "We now have over 70 merchants and we expect by year-end we'll have over 80 merchants," he says. "We believe we will be 85 percent leased by year-end. We believe we will fill out the center next year, and much of that will occur in the first or second quarter."
International Market Place primarily caters to tourists in Waikiki, so online shopping isn't as big a threat. "Shopping is one of the top activities for people on vacation," Fenley says. "People love to go shop wherever they vacation to get local merchandise and local flavor, something they can't find back home. Every week we have 80,000 new tourists come to Waikiki and they all want to shop, to one degree or another."
"People love to go shop wherever they vacation to get local merchandise and local flavor, something they can't find back home."


Michael Fenley, GM, International Market Place
Hawaii isn't totally isolated from Mainland trends, though. The loss of an anchor or mini-anchor store can be dangerous for malls, and centers can be forced to deal with national closures despite the local branch's positive growth and initiatives. "Sometimes those decisions do affect us, but we choose to see them as opportunities," Fenley says.
Two stores closed this year at the Market Place, and both were owned by BCBG, a bankrupt women's fashion retailer that closed stores across the country. "But we were able to take that closed store, find a local jeweler, Philip Rickard, and have him open a store in that space," he says. "His business has been phenomenal, he's extremely pleased to be here and we are equally pleased to have him here.
"Every time a store closes, it simply creates another opportunity for a retailer to come in."
Some spaces, like the 60,000-square-foot former Sports Authority store at Ward Village, are harder to fill. "So we co-created the Hub with the Honolulu Biennial to structure an amazing artistic experience," says Melisa Preus, VP of leasing at the Howard Hughes Corp.
The Hub features 20 artist exhibitions presenting Hawaii as a bridge between East and West rather than a state in the middle of nowhere. "We were trying to think of how to repurpose it to be forward-thinking in a very large space," Preus explains.
Ward Village has responded to the desires of Hawaii residents and designed new ways to draw people to the area. "They want a creative product; they want an innovative retail space," Preus says. "We were fortunate enough to position and strategically plan the South Shore Market, which focuses on boutique retail, art, restaurants and on-site event activations such as New Wave Friday."
New Wave Fridays, hosted on the second Friday of each month, feature art, seasonal events, free in-store samples, giveaways and pau hana drink specials. The Kakaako Farmers Market every Saturday also draws locals.
Ward Village is a neighborhood, with residential towers building a customer base for the shops, art galleries, restaurants and movie theaters. "And with Whole Foods opening next year, I think that's going to add to the experience," she says.
"The fact that we're a neighborhood – we're not really a standard mall – we're a neighborhood that people will be able to live, work and play in. I think this is pretty much the first of its kind in Hawaii."
The Queen Kaahumanu Center holds a farmers market three days a week and plans seasonal events, partnering with companies to provide free food and giveaways that draw locals to the mall. Past events include celebrating healthy living and Valentine's Day during February's "heart month," boys and girls days, a Halloween costume contest, and ringing in the holidays with light snowfall in the mall. The "Let it Snow" campaign won a national award.
All of these community events offer low-cost activities for local families and increase mall traffic, Drewry says. "The economy isn't so great yet on Maui that people aren't still looking for affordable ways to entertain their families."
International Market Place has employed another strategy to draw locals to the tourist-centric Waikiki. "We recognized that we had an opportunity to build a three-level shopping center, and it was clear that two levels of that center could be retail. The third level needed to be something that would attract people up from the street level, and there's no better way to attract people to go up levels than with food," Fenley laughs.
That vision led to the Grand Lanai, a chef-driven restaurant collection. Several restaurants feature celebrity chefs, and the high-end cuisine has enticed locals and tourists alike. "We are drawing the local residents in a much stronger way than we had anticipated, but I'd say it's largely due to our great selection of restaurants on the Grand Lanai," Fenley says. "We were thinking it was going to be something along 90 percent tourists 10 percent local residents, and we were way off base. It's somewhere closer to a 70-30 or 60-40 split."
Data from the Bureau of Labor Statistics shows that, for the first time, Americans spent more money at restaurants and bars than grocery stores in 2016. This radical shift has been attributed to the desire to have meals with friends and family as well as experiences worthy of posting on social media.
International Market Place has embraced a fusion of food experience and social media. Ayesha Curry, celebrity chef and wife of basketball superstar Stephen Curry, barbecues tailgate-style at International Smoke. "When she posts about her restaurant and if she's going to be on property, we see positive interactions with guests and they'll normally come to see her," Grosz says.
"It's really fun to see her engage and interact with customers online and then come to meet her. She and chef Michael Mina had a cookbook signing and I believe some 400 people showed up."
In addition to using social media to cross-promote mall and retailer activities, International Market Place encourages people to take pictures and tag the center on social media. "We've identified areas that we call 'selfie spots,' " Grosz says. "We have a few areas throughout the property that have these markings on the ground and encourage people to take photos."
Social media initiatives mirror the overall strategy of local malls – create unique, Hawaii-centered experiences that are impossible to replicate online.
"People want to have an experience," Fenley says. "They want to be able to memorialize that experience through photographs and postings on social media, so we were really focused on creating a unique experience, one that would not only attract people, but once they got here, would entice them to linger."